Gregory Vladimir Roe (born May 17, 1990) is a Canadian acrobatic specialist, coach, and athlete who has won several national gold medals in the gymnastics and trampoline disciplines. Greg is well known in the acrobatic industry for his daring skills and stunts. He has appeared on numerous television shows including America's Got Talent (2015), Discovery Channel, Daily Planet, and Das Supertalent (Germany), showcasing his unique acrobatic talents.
He currently operates his own business, Greg Roe Trampoline and works on a wide variety of projects around the world.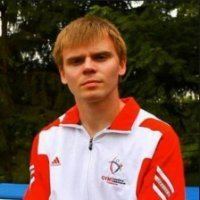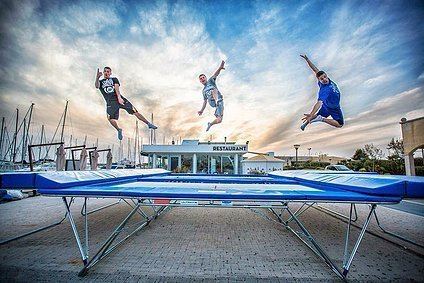 Vladimir Demidov was born on May 17, 1990 in Moscow, Russian SFSR, Soviet Union, (now Moscow, Russia) Roe spent the first five years of his life in an orphanage until he was adopted by a Canadian family. Maureen and Randy Roe, from Brampton, Ontario, Canada, welcomed Roe into their home along with their son, Douglas. Roe embraced his new Canadian culture but would keep his Russian name as a middle name, becoming Gregory Vladimir Roe.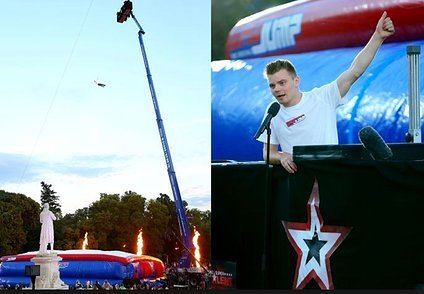 Greg Roe found his calling in college in the fitness industry and began to dive into the literature. He attended Humber College (North Campus) in Etobicoke, Toronto from 2009-2010. Roe then applied to University of Guelph-Humber's Kinesiology program (2011–2013) to obtain his Bachelor's Degree. His trampoline career was taking off at the same time and he was named to Team Canada in 2010.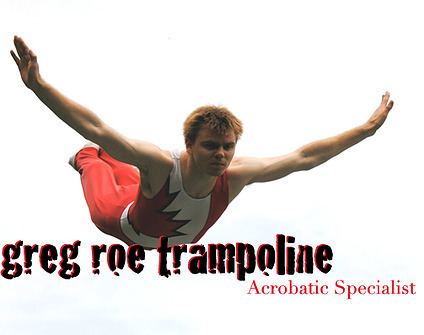 During his last year at university, Roe interned at the Canadian Sport Centre Ontario (CSCO) where he would test Olympic athletes from across Canada. He later worked at CSCO as a fitness tester and worked with different teams on a contract basis.
Along with his Kinesiology background, Roe is certified by the National Canadian Coaching Program for Level 2 Gymnastics, Level 3 Trampoline Coach, Weightlifting, and International Society for the Advancement of Kinanthropometry Level 1. Greg is also CanFit Pro Certified and has a valid CPR and Risk Management Certification.
His first gym, Gymnastics Giants, closed when Roe was 11 years old and he moved to Bramalea Gymnastics under head coaches Doron Kernerman and Titus Ruddock. He was eventually awarded the top male athlete at Bramalea and began winning medals at competitions.
Bramalea Gymnastics eventually closed due to lack of funding and Greg was forced to move to another gym. This time when he went to Gymnastics Mississauga he was accepted. Roe then began working with Men's coaches Chris Foo and Gary Isaacs. He won a gold medal at the Canadian Nationals on the Parallel Bars in 2007 in Level 6 Open National Level.
Roe began training for Junior National competitions but decided the strict environment did not give him the freedom to train the way he wanted. He then made the decision to move out of the gymnastics program and into trampoline in 2008. From there he began competing trampoline full time and excelled with his gymnastics background.
After leaving gymnastics in 2008, Roe quickly adapted to the sport of trampoline. During his gymnastics career he had attended SkyRiders Trampoline facility in Richmond Hill Ontario, just north of Toronto. He trained only once a week as a recreational athlete to compliment his gymnastics training.
Once Roe began to compete in trampoline, he quickly moved through the levels, winning Canadian Nationals in his first year at the Junior National Level. He earned his way onto Team Canada only two years later and was consistently placing top three nationally. In 2010 he began to compete internationally, representing Canada at several World Cup competitions.
He was named Senior National Synchronized Champion along with teammate Sebastien St-Germain in 2013. He also received a Highest Difficulty Award at the Aalsmeer Flower Cup in The Netherlands in March 2011.
Roe began teaching at the age of 12 as a 'Coach In Training' (CIT) at Bramalea Gymnastics. He began to host coaching clinics and now trains athletes and other coaches around the world in Cirque du Soleil performers, and Lords of Gravity; a popular basketball dunk team in Hungary.
His clinics include methodology of training and conditioning as well as importance of skill development in a step-by-step approach.
After leaving Team Canada Roe decided to study marketing and business development.
In 2013 he partnered with inGear Productions and leading airbag manufacturer Bagjump Action Sports GmbH (Austria) and began a series of training clinics across Europe. He also performed at the Baltic Games in 2014 (Poland), Bravalla Festival(Sweden), on Das Supertalent (Germany) in 2014, and on America's Got Talent in 2015.
Roe has helped create a trampoline based charity named Seabound International that provides trampolines and programs in Honduras. He also supports the U.S based charity Massive Amounts Of Good (MAOG).
Das Supertalent – 2014 Season 8, Episode 9
Discovery Channel - 2014
Daily Planet – December 2014
America's Got Talent - 2015 - Season 10, Episode 6
Ripley's Believe It Or Not - 2016