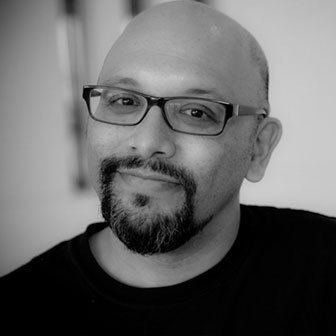 Greg Neri was raised in Los Angeles. He moved to Santa Cruz, California to attend the University of California at Santa Cruz. Initially pursuing a career as a filmmaker, he later became Head of Production for two award-winning interactive media agencies in Los Angeles. In 2001, he illustrated his first book for Scholastic, but turned to writing in 2005. He currently resides in Tampa, Florida with wife, daughter, and cat.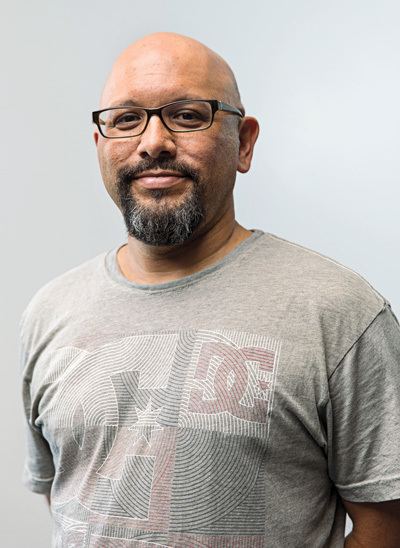 Chess Rumble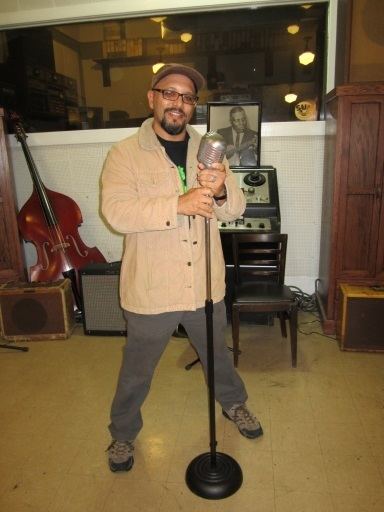 Neri's 2007 debut novella, Chess Rumble (Lee and Low Books, 2007), is about an 11-year-old inner city teen named Marcus who is one punch away from being kicked out of school. Angry at his sister's death and his absent father, Marcus fights back with his fists when he's pushed to the brink by a bully. But when Marcus meets CM, a street-wise chess master, he's challenged to fight his battles on the chess board.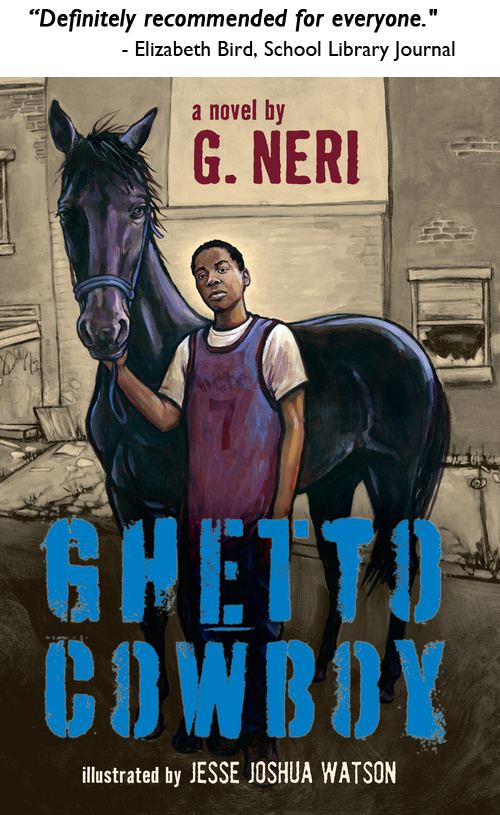 Inspired by inner-city school chess enrichment programs, Chess Rumble explores the ways this strategic game can empower teens with life skills.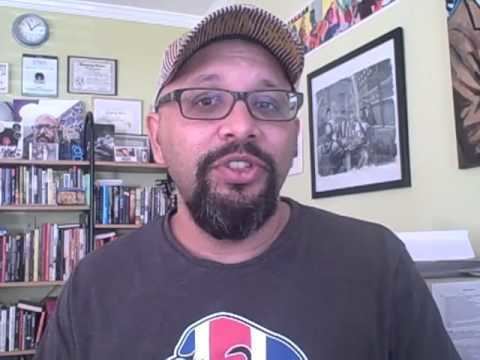 Chess Rumble received high acclaim from critics and bloggers. School Library Journal said "This book will become a standby pick for reluctant readers." The book was highly honored, being named a Notable Book by the American Library Association, the International Reading Association, and the National Council of Teachers of English. In 2010, Neri received the Lee Bennett Hopkins Promising Poet Award from the International Reading Association for his free-verse on Chess Rumble.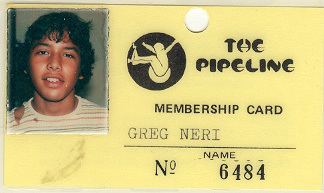 Surf Mules
Neri's first novel Surf Mules (G.P. Putnam's Sons, 2009/ Carolrhoda Labs, 2014), revolves around two California surfers who find themselves embroiled in a world of disorganized crime. Logan Tom and his lifelong buddy Z-boy inadvertently get sucked into the world of drug muling right out of high school. This leads them on a harrowing and funny journey across country which pushes their friendship to the limits. The novel ends tragically, but Logan Tom emerges as a survivor bent on finding his way through life.
Surf Mules received great reviews from the major journals. Booklist said that Surf Mules is "Harrowing... Neri delivers a powerful story that doesn't flinch... Sometimes brutal, but always realistic, this will find an audience among teens looking for gritty contemporary fiction."
Yummy
His most acclaimed work to date, the graphic novel Yummy: the Last Days of a Southside Shorty (Lee and Low Books, 2010) is about Robert "Yummy" Sandifer, who was eleven years old in 1994 when he became a fugitive from justice after accidentally killing a neighbor girl. Neri creates a fictional narrator who watches what happens to Yummy when he seeks help from the gang he is trying to impress. Instead, they turn on him when he becomes too much of a liability to them. The book asks hard questions: Was Yummy a thug who got what he deserved? Or was he just as much of a victim as the girl he killed?
The book won a 2011 Coretta Scott King Author Honor Award and was named one of the Best Books of 2010 by Publishers Weekly, Booklist, and Kirkus Reviews. It also has received five starred reviews from the major journals and a slew of awards and honors.
Ghetto Cowboy
His novel Ghetto Cowboy (Candlewick Press, 2011) is inspired by the real life black urban cowboys in Philadelphia. The story is about an 11-year-old named Cole who is abandoned on the doorstep of the father he's never met—a black urban cowboy in Philly. Stuck in a strange new world filled with odd characters and big animals, Cole befriends a runt of a horse named Boo. He thinks about running away, but when the City threatens to destroy his dad's stables, Cole finds his inner cowboy. Together with Boo, Cole rallies the other cowboys to defend their turf, the Cowboy Way. Neri has said he was inspired by an article in Life magazine.
The Christian Science Monitor called it "A heartwarming story about inner-city kids who bond with a band of forgotten race horses. Jesse Joshua Watson's realistic pencil and graphite wash illustrations combine with Neri's gritty street language to make a powerful story. The rhythm of the writing, the smells and sounds of the neighborhood, the developing relationship between a boy and his estranged father add up to an appealing novel, especially for an under-written-for segment of young male readers."
Knockout Games
Knockout Games (Carolrhoda Lab, 2014) is based on the real-life origins of the infamous knockout games in St. Louis of recent years. The story concerns a white girl who falls in with a group of middle graders and high schoolers who play the dreaded game. It's kind of like Lord of the Flies meets Oliver Twist meets Fight Club, only its set in urban St. Louis and is YA. Kirkus Reviews gave it a starred review, saying: "The results are thrilling... the author's meaty ideas and exciting action sequences blend together perfectly. Neri's main concern is the "post-racial" urban landscape, raising many talking points while letting readers come to their own conclusions. Harsh and relentless, a tough but worthy read."
Hello, I'm Johnny Cash
This is Neri's first picture book and biography (Candlewick Press, 2014), charting the rags to riches rise of the Man in Black, Johnny Cash. Told in beautiful free-verse and illustrations by A.G. Ford worthy of Dorothea Lange, this book for older kids is heart-wrenching and inspiring. Kirkus Reviews gave it a starred review, saying: "This illustrated biography of the "Man in Black" uses poetry to chronicle pivotal moments in his life, from boyhood to stardom. Each poem borrows its title from one of Cash's songs. The narrative is well-researched, age-appropriate and beautifully expressive. The exquisite oil illustrations capture the setting and the emotion of each poem, allowing readers to feel as if they are there with J.R. as he works the harsh Arkansas fields or in the audience as Johnny whips the crowd into a frenzy plucking out his tunes on the guitar. An exceptional portrait of one of the most recognizable musicians of all time."
Tru & Nelle
This book has received much praise and several starred reviews. The New York Times reported that Neri's middle grade novel (Houghton Mifflin Harcourt, 3/1/2016) is a detective story starring Harper Lee and Truman Capote as children growing up in the Deep South during the Depression. Based on a true story, its basically Huck Finn meets the Hardy Boys with elements that make up the true story behind To Kill a Mockingbird. Gary D. Schmidt, the Newbery Honor author of Lizzie Bright and the Buckminster Boy and The Wednesday Wars said, "Tru & Nelle is a wonderfully imaginative re-creation of the childhoods of two great American writers, but even more, it is a novel that affirms the mysterious and glorious ways that friendship reaches across boundaries of all sorts to claim unexpected kinship." Charles J. Shields, the author of Mockingbird: A Portrait of Harper Lee said, "If you've ever wanted to run through the backyards of dusty old Maycomb, Alabama in search of high adventure and mystery, just like Scout, Dill, and Jem, then this is your chance. Greg Neri has recreated the childhoods of Harper Lee, Truman Capote, and Jennings Carter— the real-life models for the kids in To Kill a Mockingbird— and spun new adventures for them."
Elizabeth Bird, a School Library Journal blogger, summed up Neri's approach by saying, "Maybe part of the reason I like Greg Neri so much is that he's not afraid to be as "urban" as "urban" can be. He writes in dialect, sets his stories in cities, talk about gangs and other contemporary issues, and produces stories that no one else is telling. That no one else is even attempting to tell. Because if there's one thing Neri does well it's tell a tale that needs to be told."
In some recent interviews, Neri was asked about what themes he writes about and for whom. His responses were as follows:
"I definitely write books for boys in urban landscapes. My characters are the neglected, the misunderstood. And I'm definitely drawn to unique worlds that most people don't know about, be it inner city chess, ghetto cowboys, surf mules, or junior gangsters in the southside of Chicago. My theme, I guess, is about finding your way through the urban jungle by stepping through unexpected doors that open and change your life."
"I'm trying to re-think the notion of what a book means to urban teens. Many teens can make it through high school without ever having read a book of fiction. But that's because to them, books are big, full of words, and told in a voice that is alien to them. Most of these kids are now born into a more visual society, so I think playing with graphic novels and illustrations and using voices and characters that you don't see often in literature is a big plus for reluctant readers in the city. I see my books as gateway books to Jane Austen."
"My books are provocative by nature. They deal with subject matters many adults might feel uncomfortable talking about: Gangs, drugs, teen violence, sex, stalking, life in the inner city. I try to show these topics honestly without dogma or stigma attached. They show the truth as I have seen it and hopefully, they provoke discussion and thought. I hope readers get something real out of Logan's fictional journey to adulthood. His decisions are very real. The key for him and for us, is to learn from these choices, good and bad, and to keep moving forward."
"Community has been very important in my journey as a writer. I would not be where I am today without them. Teachers and librarians have given me tons of love and support and keep asking for more, which makes me want to write more. And my readers, those urban teen boys who don't like to read, inspire me to write for them when I see them getting turned onto reading…sometimes literally in front of my eyes. All these folks keep me going and I see them getting inspired by what I write, so we feed off each other for sure."
On Diversity in Literature "I write books for young people. Many of my characters are characters of color who live in urban centers like the Bronx or Philly or Chicago. They speak in urban dialects. They deal with gangs, poverty, gentrification, broken families. But the books are hopeful in their search for belonging, for love, for connections. They are books for humans. Many of my readers don't read because they don't see people like themselves or hear voices they recognize. Comments I hear over and over: this is my story, this is my world. Why aren't there other books like this? Where's your next book? I point them to folks like Walter Dean Myers, Sharon Flake, Matt de la Pena and many others but they usually have read those and the very short list of my contemporaries. When they run out of titles, they read them again. And again.
My books will never be on the NYT Bestseller list and are hard to spot in your neighborhood Barnes and Noble. But they are widely read. I travel the country going to schools where they cannot keep them on the shelves. For every dog eared copy, hundreds of kids read them, passing them along like they can't believe what they are seeing: themselves. Seeing themselves on a page is like discovering that you are worthy of being written about. That you belong in this world that will write about everything under the sun except you. Now the publishers have to step up to the plate and recognize the vast untapped audience out there just waiting for them. The publishing world better wake up to the fact that the world is browning– and I don't mean just from global warming. The audience potential for kids of color is huge, if only they could realize how to tap into the kids like the ones who read my books. The smartest publishers will not ignore this world because it isn't being exploited (and I mean that in a good way) but embrace it and make money from it… This lack of books about kids of color is definitely not from a lack of talented writers out there but a lack of houses unwilling to seek them out."