Founder

Mikhail Gorbachev






Similar

The Gorbachev Foundation, Greenpeace, World Water Council, Club of Rome, Plant‑for‑the‑Planet
Interview with xavier guijarro from green cross international
Green Cross International (GCI) is a global independent non-profit and non-governmental environmental organisation (NGO) working to address the inter-connected global challenges of security, poverty eradication and environmental degradation through a combination of advocacy and local projects. .
Contents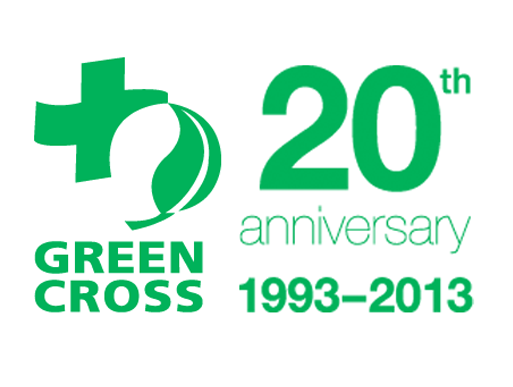 It was founded by former Soviet Union President and Nobel Peace Prize laureate Mikhail Gorbachev in 1993, building upon the work started by the 1992 Earth Summit in Rio de Janeiro, Brazil. Green Cross International has been an active player in the Rio+20 conferences.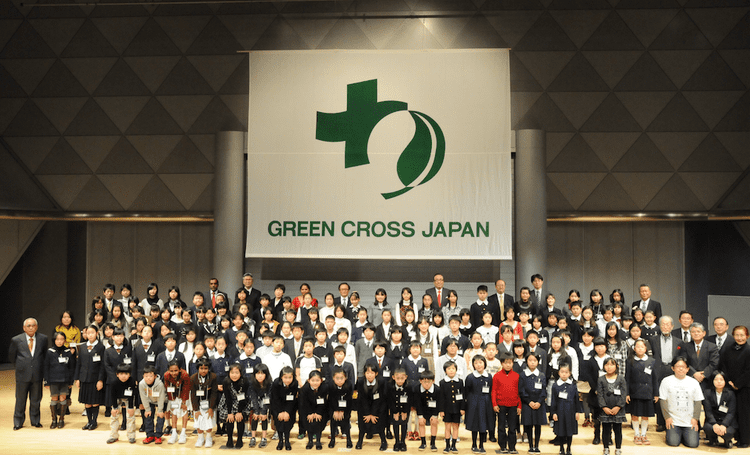 GCI is headquartered in Geneva and has a growing network of national organizations in various countries.
Green cross international
History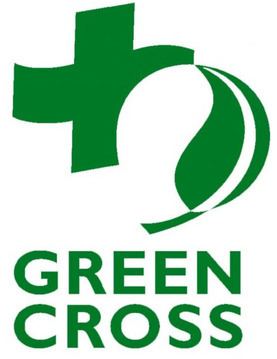 In January 1990 during an address to the Global Forum on Environment and Development for Survival, President Mikhail Gorbachev (the former President of the USSR) brought up the idea for an organisation that would apply the medical emergency response model of the International Committee of the Red Cross to ecological issues and expedite solutions to environmental problems that transcend national boundaries.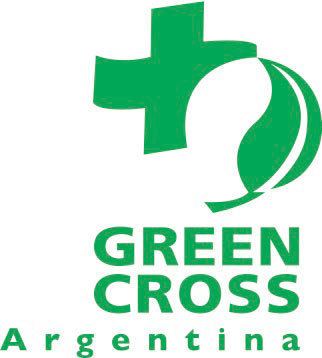 Developing this idea, delegates at the Earth Summit in Rio de Janeiro (June 1992), approached Mikhail Gorbachev urging him to create and launch such an organisation. Meanwhile, the Swiss Parliamentarian Roland Wiederkehr founded the 'World Green Cross' with the same objective. The two organisations merged in 1993 to form Green Cross International (GCI).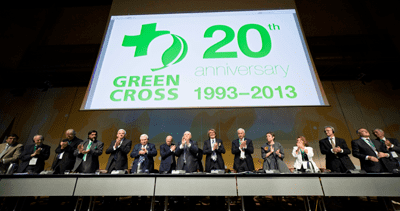 GCI was then formally launched in Kyoto on 18 April 1993. Upon the invitation of Mikhail Gorbachev, many renowned figures joined its Board of Directors and its Honorary Board.
Green Cross International has a general consultative status with the Economic and Social Council of the United Nations and with UNESCO. It is also an observer organisation with the United Nations Framework Convention on Climate Change (UNFCCC) and has regular cooperation with UNEP, UN-OCHA and UN-HABITAT as well as other international organisations
To date, Green Cross International is represented in 31 countries around the world. National offices are located in Argentina, Australia, Belarus, Bolivia, Brazil, Bulgaria, Burkina Faso, Canada, Côte d'Ivoire, Czech Republic, Denmark, Estonia, France, Germany, Ghana, Hungary, Italy, Japan, Jordan, Korea, Netherlands, Pakistan, Poland, Romania, Russia, Spain, Sri Lanka, Swaziland, Sweden, Switzerland, Ukraine, Uzbekistan and the USA.
Mikhail Gorbachev
Mikhail Gorbachev – Nobel Peace Prize laureate and former President of the USSR - is the Founding President of Green Cross International, which he established in 1993 in response to the 1992 Rio Earth Summit call to create a "Red Cross for the environment".
Areas of Activity
From advocacy programmes at national and international levels to training individuals on how to construct rainwater-harvesting systems, Green Cross provides comprehensive programmes that further the values of cooperation among all stakeholders. The human relationship with nature crosses all boundaries and transcends all ideas of class, which necessitates a solution that goes beyond good governance and good policy, and hinges on the shared responsibility for a sustainable and just future for all.
Water for Peace Programme
GCI has various water related activities seeking to prevent and resolve conflicts over natural resources. The objectives are to promote cooperation between countries that share river waters and sanitation needs of people for water. GCI focuses its programs on the nexus between security, poverty and the environment. The organization works to address these issues both at an advocacy level with key international stakeholders, campaigns and local projects to address these inter-connected challenges.
GCI has launched the following initiatives:
Right to Water and Sanitation
Water for Peace
Smart Water for Green Schools
Right to Water and Sanitation
Green Cross supported the drive for safe-drinking water and sanitation to be recognized as a Human Right in 2010.
In August 2014, the UN Watercourses Convention entered into force following Vietnam's ratification of the Convention.
Smart Water for Green Schools
The Smart Water for Green Schools (SWGS) project is our flagship on-the-ground activity for providing sustainable access to safe drinking water and sanitation to tens of thousands of people in Asia, Africa, Latin America and Europe, with more countries coming online in the future.
SWGS is currently providing safe drinking water to more than 70,000 people within around 70 communities in Argentina, Bolivia, China, Ghana, Ivory Coast, Kenya, Mexico and Ukraine.
Environmental Security and Sustainability
Weapons of mass destruction pose clear threats to the environment and people. Oil spills and toxic waste dumps are common. These toxic waste dumps can result in a variety of pollution-related diseases. The Green Cross Environmental Security and Sustainability (ESS) programme works to address these challenges with education, outreach, dialogue, assessments, and action. 20,000 nuclear weapons are stockpiled in nine countries – enough to destroy civilization. The program has managed to clean up dumped toxic chemicals, including pesticides and agricultural fertilizers, in developing countries.
The following initiatives are part of the Environmental Security and Sustainability Programme:
Nonproliferation, arms control, disarmament
Weapons demilitarization
Pollution reduction, toxic waste cleanup
Environmental emergencies preparedness
Value Change
GCI seeks to attain a value and behaviour shift through initiatives such as the Earth Charter, the Earth Dialogues and the Environmental Education and Awareness Programme. The idea is to sensitise people with a positive awareness of and responsibility towards these common threats to humanity posed by poverty, insecurity and environmental destruction. Positive awareness of, and responsibility of actions and environment are important in order to promotes and secure conditions for all people to enjoy.
The following three initiatives fall under the Value Change programme:
Education for Environmental Sustainability
Earth Charter
Earth Dialogues
Social and Medical (SOCMED)
The Legacy of the Cold War Programme, the Social and Medical Care Programme and Post-War Environmental Analysis are implemented worldwide to assist those affected by the environmental consequences of wars, conflicts and man-made calamities. Activities include support to children, families and communities suffering long-term socio-economic, medical and psychological stresses brought on by exposure to the Chernobyl nuclear disaster and the use of Agent Orange during the Vietnam War.
A number of previously implemented projects include analysis of the environmental impacts of wars and conflicts in Kuwait, the Middle East, the Balkans, Argentina, Burkina Faso, and South Asia, ensuring that environmental rehabilitation is now regularly included within the umbrella of humanitarian assistance during and following conflicts. Expertise has also been developed in the clean-up and conversion of military bases to civilian use, dealing with nuclear contamination, and the environmentally responsible destruction of conventional and chemical weapons stockpiles.
The following initiatives address GCI's SOCMED programme:
Health care
Social care
Education
Smart Energy
Rising global energy demand and over-reliance on fossil fuels are the main drivers of climate change. To meet the needs of over 9 billion people by 2050, energy production must double. But to protect the climate, greenhouse gas emissions must be cut by 80%. Maintaining the same path is a recipe for environmental and humanitarian disaster.
The Smart Energy programme works to foster a secure, equitable and sustainable energy future. Advocacy and practical projects are means to promote energy conservation and accelerate the transition from a carbon-based economy to a clean and sustainable energy model accessible to all.
Elements of the Smart Energy Programme:
Renewable Energy
Smart Energy
Green Cross International Board of Directors
The Board of Directors and the Honorary Board of Green Cross International are composed of the following members:
Board of Directors
Mikhail Gorbachev, Chairman; Alexander Likhotal, President & CEO (ex officio); Sander Mallien, Treasurer, Green Cross Switzerland President; Dominika Kulczyk, Green Cross Poland President; Jean-Michel Cousteau, President of Green Cross France & Territories; Mario Soares, Former President of Portugal; Sergey Baranovskiy, Green Cross Russia President; Martin Bäumle, Green Cross Switzerland President; Shoo Iwasaki, Green Cross Japan President; Robert S. Bucklin, Global Green USA Chairman; Ernst von Weizsäcker, Co-President of the Club of Rome; Ashok Khosla, Chairman of Development Alternatives; Taynah Reis, Green Cross Brazil President Elio Pacilio, Green Cross Italy Founder
Honorary Board
Princess Basma bint Talal, Jordan Victor Danilov-Danilyan, Russia Prof. Istvan Lang, Hungary Dr. Rita Levi Montalcini, Italy Dr. Ruud Lubbers, Netherlands Prof. Wangari Maathai, Kenya Pat Mitchell, USA Adolf Ogi, Switzerland H. E. Javier Perez de Cuellar, Peru Robert Redford, USA Dr. Karan Singh, India Rabbi Awraham Soetendorp, Netherlands David Suzuki, Canada Dr. Monkombu M. S. Swaminathan, India Diane Meyer Simon, USA Ted Turner, USA Dr. Evgeny Velikhov, Russia Wakako Hironaka, Japan
References
Green Cross International Wikipedia
(Text) CC BY-SA