Dates

26 Jan 1994 – 25 Sep 1997




Causes

Drug-trade criminal dispute
Great Nordic Biker War | Stuff That I Find Interesting
The Great Nordic Biker War, sometimes called the Great Northern Biker War or Great Scandinavian Biker War, refers to the violent gang war that began in 1994 and continued until 1997 in many parts of Scandinavia, mainly involving Hells Angels MC and Bandidos MC but also involving many prospect and support clubs. The cities mainly affected by the war were Copenhagen in Denmark, Helsinki in Finland, Oslo in Norway, and Helsingborg and Malmö in Sweden.
Contents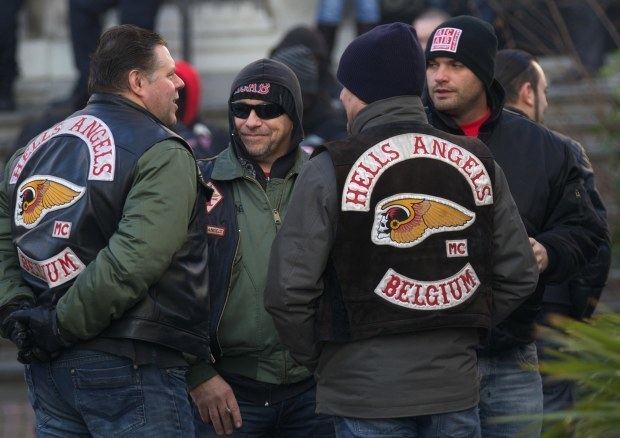 The Copenhagen MC War (1983–85)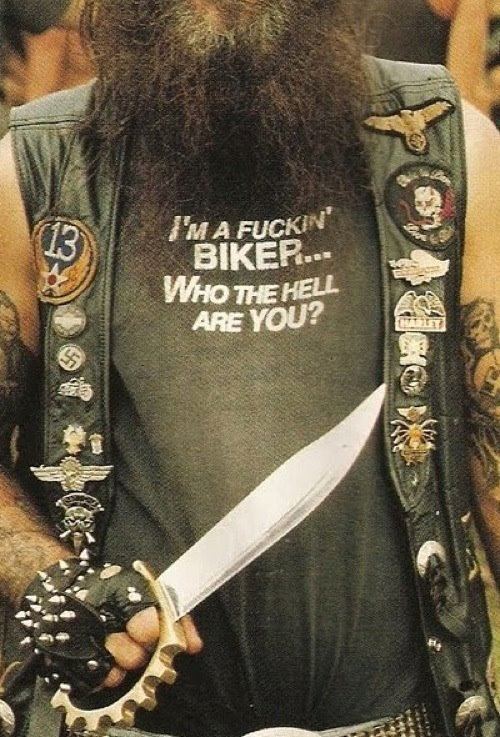 On 30 December 1980, the then "United MC" was appointed the first Hells Angels (HA) chapter in Scandinavia. Their long-standing opponents "Filthy Few" were not keen to accept the new chapter at any level. Along with several members of other Copenhagen MC-clubs they formed the hard anti-Hells Angels MC-crew known as Bullshit MC. They settled at Christiania, benefited from the cannabis trade there, and, in September 1983, paid a visit to a well-known Hells Angels pub. This visit instigated a bloodbath that would last for the following two years and four months. The result of this first Scandinavian MC-war was the murder of eight Bullshit members (including three presidents), one Hells Angels member, and two innocent people. In addition, Bullshit MC members were also prime suspects for the murder of two non-bikers during the war. When the police visited the former club house of Bullshit in 1986, they also found the corpse of a man beneath the clubhouse floor. The first war was limited to Copenhagen alone, unlike the second, and the number of deaths during the Copenhagen war met or exceeded the number of deaths in the following war. Unlike the second war, the first had a clear winner and no "peace treaty" was required.
The second MC War in Scandinavia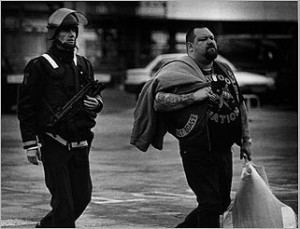 In 1984 Morticians MC was formed and by the early 1990s, there were many motorcycle clubs across Scandinavia. In 1992, the Morticians and Hells Angels, who had been on good terms until then, became rivals as both clubs transformed from bike enthusiasts into criminal organizations. The Morticians then changed their name to Undertakers MC and became allies of the Bandidos, whose only European chapter was based in Marseille, France at that point. In 1993, the Undertakers merged with the Bandidos to become Bandidos MC Denmark. In 1994 the Hells Angels tried to prevent Morbids MC from growing into an established biker gang and potential rival in Sweden. The Morbids then joined an alliance with the Bandidos, who backed-up their prospect club. Outlaws MC also joined with the Bandidos in Norway. This eventually led to a drug-trade war between the two most powerful outlaw biker gangs in Scandinavia, the Hells Angels and the Bandidos, which the police described as a "deadly game" to prove 'who's the toughest'. Many of the port cities in Scandinavia, particularly Copenhagen, were used to smuggle drugs in from Spain and the Netherlands.
The conflict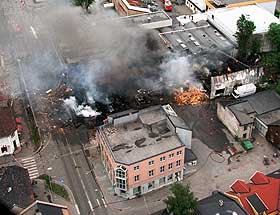 According to a 1997 report by The New York Times, the Bandidos presence in the Nordic countries at the time of the war consisted of around 130 members from at least seven chapters while the Hells Angels contingent was made up of around 290 members in total from 15 chapters, with 85 in Sweden, 110 in Denmark, 70 in Norway and 25 in Finland.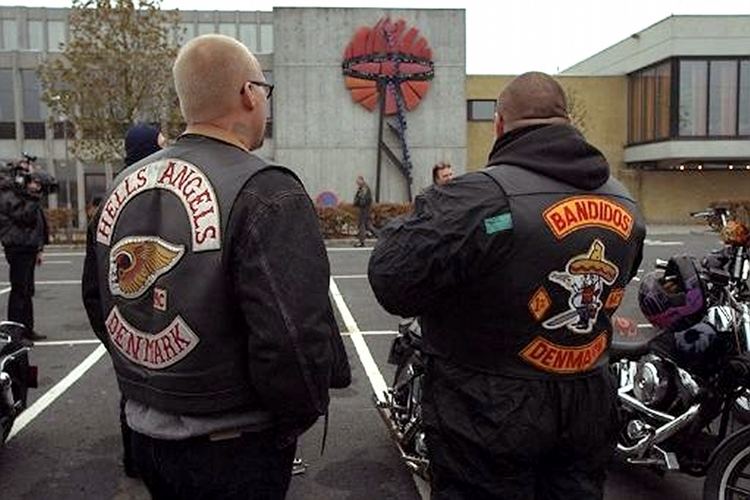 The first incident was a shooting at the clubhouse of Morbids MC, on 26 January 1994 in Helsingborg, Sweden, but no one was injured or killed. In February 1994, there was a shoot-out between Hells Angels and Bandidos members in the same city, resulting in the death of Joakim Boman, a Hells Angels member. Just days later, an anti-tank rocket was fired at the Hells Angels clubhouse. On 22 June 1994, the president of Klan MC, an ally of the Bandidos in Finland, was shot dead by the Hells Angels and on 19 February 1995, the war reached Norway as a shoot-out in Oslo between the Hells Angels and Bandidos ended in one biker being wounded.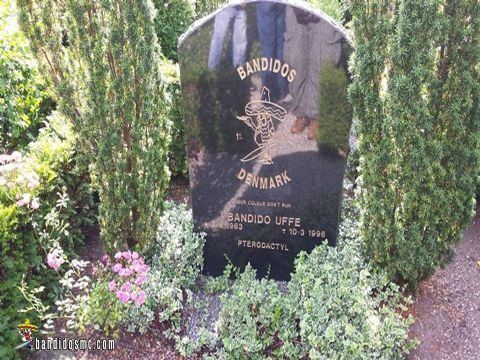 Michael "Joe" Ljunggren, the president of Bandidos MC Sweden, was assassinated on 17 July 1995 and the Bandidos retaliated by firing anti-tank rockets at the clubhouses of Hells Angels prospect clubs in Helsinki, Finland and Helsingborg, Sweden nine days later. Two Bandidos members were later sentenced, Kai Tapio Blom was given six years imprisonment and Antti Tauno Tapani was given four years. When Bandidos MC Finland's president arrived at a Helsinki court house for the trial of Blom and Tapani, he was attacked and beaten by Hells Angels and Cannonball MC members. A Hells Angels-owned tattoo parlour in Helsinki was later destroyed in retaliation.
On Christmas Day 1995, two Hells Angels members were beaten up by Bandidos at a nightclub in Copenhagen, signalling the beginning of the war in Denmark. In January 1996, there was a series of bombings in Norway, Hells Angels prospect club, Screwdrivers MC's clubhouse in Hamar and the Hells Angels' clubhouse in Oslo were the targets. A Hells Angels-owned bar in Helsinki, Finland was also bombed a month later. On 1 March 1996, the Hells Angels attacked the Bandidos' Helsinki clubhouse where two Bandidos members suffered gunshot wounds. Jarkko Kokko, the vice-president of Bandidos MC Finland and one of the men shot, died sixteen days later in hospital from his wounds. Two Hells Angels prospects were later arrested for the murder, Ilkka Ukkonen was sentenced to twelve and a half years in prison and Jussi Penttinen was given six years.
On 10 March 1996, there were twin attacks on Bandidos members at airports in Denmark and Norway; at Fornebu airport in Oslo, several Bandidos were wounded and at Kastrup Airport in Copenhagen, Bandidos who were returning from a weekend in Helsinki were shot, three wounded and one, Uffe Larsen, was killed. Six Hells Angels members and associates were arrested and sentenced to a total of 53 years in prison, and one was given a life sentence. In April and May 1996, there was another series of bombings as the Hells Angels clubhouses in Helsingborg, Sweden and southern Denmark were attacked and the clubhouse of a Hells Angels prospect club, Avengers MC, was also attacked in Aalborg, Denmark.
Jan "Face" Krogh Jensen, a Danish Bandidos member, was shot and killed in Drammen, Norway on 15 July 1996 and Hells Angels supporter was shot six days later in Oslo. Two Hells Angels were also shot and wounded that month in Malmö, Sweden and at Jyderup prison in Denmark. On 28 August, the vice-president of Hells Angels MC Sweden was shot and wounded in Helsingborg.
In October 1996, there were three attacks on Hells Angels clubhouses; in the third of these, an explosion in Malmö wounded twelve civilian bystanders and three days later, an anti-tank rocket was fired at a clubhouse in Copenhagen during a party. Hells Angels member Louis Linde Nielsen and guest Janne Krohn were both killed. Bandidos prospect Niels Poulsen was convicted of carrying out the attacks and sentenced to life in prison. On the 30th, a car bomb exploded outside the Hells Angels clubhouse in Oslo. Toward the end of 1996, there were shootings of Bandidos members in Horsens and Aalborg in Denmark.
At the beginning of 1997, a member of Hells Angels, Kim Thrysöe Svendsen was murdered in Aalborg and the president of the Outlaws, Thore "Henki" Holm and a French member were shot and wounded by a member of Untouchables MC, a Hells Angels ally. Bandidos foot-soldiers were also shot in Amager and Køge in Denmark. The Bandidos responded by ordering shootings on Hells Angels members and allies in Frederiksberg, Copenhagen.
On 4 June 1997, a car bomb exploded outside a Bandidos clubhouse in Drammen, Norway, killing Irene Astrid Bækkevold, a civilian passing by in her car. A Hells Angels member was convicted of the bombing in 2002. Three days later, Björn Gudmandsen was killed and three other Bandidos were wounded after a shooting in Liseleje, Denmark. Hells Angels member Vagn Smith was convicted of the murder and sentenced to life imprisonment. The last incident happened on 11 April when the Bandidos clubhouse in Dalby, Denmark was bombed.
The war ended on 25 September 1997 as "Big" Jim Tinndahn, the president of all of the Bandidos' European chapters, shook hands with Hells Angels Europe president Bent "Blondie" Nielsen in front of Danish TV news cameras.
Aftermath
By the end of the war, 11 murders and 74 attempted murders had been committed and 96 people were wounded. Both clubs signed a treaty saying that no more chapters would be opened up in Scandinavia, but both sides had already broken the treaty by the end of the 1990s. In Denmark, a law that banned motorcycle clubs from owning or renting property for their club activities was passed. The law has subsequently been repealed on constitutional grounds.
References
Great Nordic Biker War Wikipedia
(Text) CC BY-SA