France




51,580




Provence-Alpes-Cote dAzur




Jerome Viaud



Grasse ( Provencal Occitan: Grassa in classical norm (and Italian) or Grasso in Mistralian norm) is a commune in the Alpes-Maritimes department (of which it is a sub-prefecture), on the French Riviera.
The town is considered the worlds capital of perfume. It obtained two flowers in the Concours des villes et villages fleuris contest and was made "Ville dArt et dHistoire" (town of art and history).
Three perfume factories offer daily tours and demonstrations, which draw in many of the regions visitors. In addition to the perfumeries, Grasses other main attraction is the Cathedral, dedicated to Notre Dame du Puy and founded in the 11th century. In the interior, are three works by Rubens and one by Jean-Honore Fragonard, a French painter native of the town.
Other sights include:
Saracen Tower, standing at 30m.
Monumental gate of the Hotel de ville
International Museum of Perfume
Musee dArt et dHistoire de Provence
Church of Plascassier, built in 1644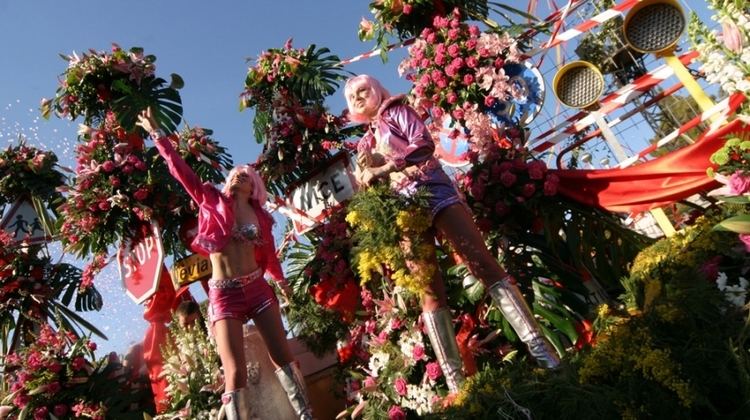 There is an annual Fete du Jasmin or La Jasminade, at the beginning of August. The first festival was on Aug.3-4, 1946. Decorated floats drive through the town, with young women in skimpy costumes on board, throwing flowers into the crowd. Garlands of jasmine decorate the town center, and the fire department fills a fire truck with jasmine-infused water to spray on the crowds. There are also fireworks, free parties, folk music groups and street performers. There is also an annual international exhibition of roses ("Expo Rose") held in May each year.
Grasse Wikipedia
(,)http://museedeflandre.lenord.fr/Portals/0/Collections/Chefsdoeuvre/Chefsdoeuvre_23_02_big.jpg(,)http://s.plurielles.fr/mmdia/i/96/0/tranches-de-bacon-grillees-10739960pganq.jpg%3Fv%3D1(,)http://museedeflandre.lenord.fr/Portals/0/Collections/Chefsdoeuvre/Chefsdoeuvre_23_01_big.jpg(,)http://static1.webedia.fr/partners/occitane_en_us/4/79/4/%40/863b0c783932b78c10ae3e7e7d1a5f1f-650x0.jpg(,)http://static1.webedia.fr/partners/occitane_en_us/4/79/4/%40/e10fcaa3aa55097723052b15eb8e2d5c-650x0.jpg(,)http://blogs.ionis-group.com/iseg/mcs/paris/idees-initiatives-creation/media/cupcakes.jpg(,)http://static1.webedia.fr/partners/occitane_en_gb/2/72/2/%40/631422cbd8e1db702e1ecdd550920422-650x0.jpg(,)http://media-cdn.tripadvisor.com/media/photo-s/05/d1/2c/21/tml-apart-hotel-grasse.jpg(,)http://images-00.delcampe-static.net/img_large/auction/000/069/274/460_001.jpg%3Fv%3D1(,)http://www.vitacucine.com/cuisines-bains-dressing-cuisiniste-06-nice-cannes-grasse-antibes-images/cuisines-bains-dressing-cuisiniste-06-nice-cannes-grasse-antibes-1.png(,)http://media-cdn.tripadvisor.com/media/photo-s/07/81/9c/f7/gargantua-grassois-le.jpg(,)http://static.seety.pagesjaunes.fr/asset_site_0381b0d5-e3c2-4567-9350-6d73b1917f63/6730bef9-1404-4a72-97ba-4f3d44bd489c_page_home(,)http://www.villas-leader.com/Repo/biens/18/photos/114.jpg(,)http://media-cdn.tripadvisor.com/media/photo-s/02/b9/6a/18/lou-pignatoun.jpg(,)http://www.extenso.org/documents/images/articles/mythes/photo-230.jpg(,)http://www.villas-leader.com/Repo/biens/132/photos/791.jpg
(,)http://www.frenchrivieracruiseclub.com/media/k2/items/cache/0d0c19531d6e29f793ed165732978408_XL.jpg(,)http://yesicannes.com/wp-content/uploads/2014/05/exporose2014.jpg(,)http://scienceblogs.com/usasciencefestival/files/2013/01/Neil-deGrasse-Tyson-2-1.jpg(,)https://thewelltravelledpostcard.files.wordpress.com/2014/12/grasse-french-riviera-art-deco-poster.jpg(,)http://2.bp.blogspot.com/-AJiRqhEyjWY/UWLTMRG8bRI/AAAAAAAAKUk/VGtPrnwb2sE/s1600/Grasse.jpg(,)http://www.frenchinnormandy.com/wp-content/uploads/2015/02/grassematine-image9-1030x1030.png(,)http://housecoteazur.files.wordpress.com/2012/12/copy-housecoteazurcom12.jpg%3Fw%3D1000%26h%3D228%26crop%3D1(,)http://int.rendezvousenfrance.com/sites/default/files/grasse_atout_france_emmanuel_valentin_ret.jpg