Graham Norman Hawkins (5 March 1946 – 28 September 2016) was an English football player and manager.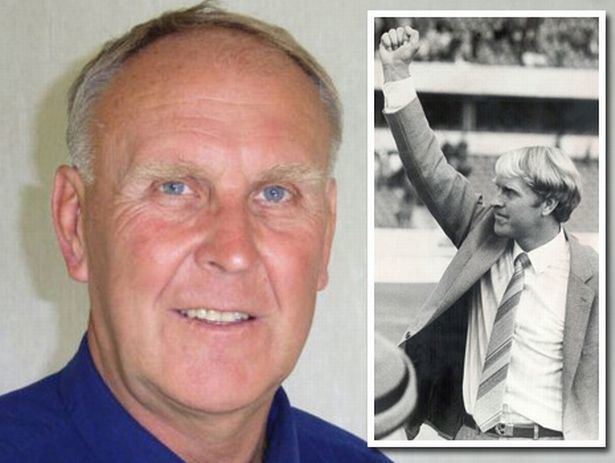 A defender, he began his career at Wolverhampton Wanderers in 1964, and helped the club to win promotion out of the Second Division in 1966–67. He moved on to Preston North End in December 1967. In seven years with Preston he made 245 league appearances, and also served as their captain as they won the Third Division title in 1970–71. He signed with Blackburn Rovers in 1974, playing over 100 games in a four-year spell, helping the club to the Third Division title in 1974–75. He was sold to Port Vale in January 1978, where he first entered into coaching, before his departure in late 1979. He made a total of 502 league and cup appearances in the Football League.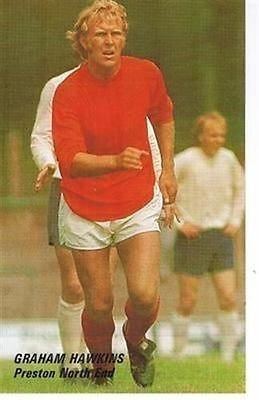 Serving as Shrewsbury Town's assistant manager, he was given the top job at Wolves in 1982. He led the club to promotion out of the Second Division in 1982–83, before he lost his position in April 1984. Following this he coached in Saudi Arabia and then was made Head of Player Development at the Football League.
Hawkins began his career with Wolverhampton Wanderers, making his debut in the Black Country derby against West Bromwich Albion on 10 October 1964. Under the stewardship of Andy Beattie, Wolves suffered relegation out of the First Division in 1964–65. Following a sixth-place finish in the Second Division in 1965–66, the club were returned to the top-flight after new manager Ronnie Allen secured a second place in 1966–67. In three years as a senior professional at Molineux, Hawkins made 34 league appearances.
He moved to Jimmy Milne's Preston North End in December 1967. After a slow start to his Deepdale career, primarily due to injury, he became a regular and was appointed captain at the young age of 22. The "Lambs" finished the 1967–68 season just one place above the Second Division relegation zone, before rising to 14th place in 1968–69 under the stewardship of Bobby Seith. Preston finished bottom of the division in 1969–70, though finished just three points short of safety. Under new manager Alan Ball, the club made an immediate return to the second tier, winning the Third Division championship by a one-point margin over Fulham in 1970–71. Preston flirted with relegation in 1971–72 and 1972–73, but failed to avoid the drop in 1973–74 despite being led by former World Cup winner Bobby Charlton. Hawkins had played a total of 245 league games for Preston in his seven seasons at Deepdale.
Hawkins moved to Blackburn Rovers in June 1974. Under the stewardship of Gordon Lee, Rovers won the Third Division title in 1974–75. For his performances that season, Hawkins was named on the PFA Team of the Year. Now managed by Jim Smith, the club finished mid-table in the Second Division in 1975–76 and 1976–77, before launching an unsuccessful promotion bid in 1977–78. Hawkins featured in 109 league games in his four seasons at Ewood Park.
He later finished his playing career at Bobby Smith's Port Vale, signing as a player-youth coach for £6,000 from Blackburn in January 1978. He scored one goal in 16 Third Division appearances in the 1977–78 relegation campaign, and was appointed as the first team coach in May 1978, before being promoted to assistant manager by new boss Dennis Butler in September 1978. Hawkins scored twice in 46 games in 1978–79, missing just three Fourth Division matches all season long. When Butler stepped down as manager in August 1979, Hawkins was expecting to be appointed as caretaker-manager. However, the board appointed Alan Bloor in this role, and Bloor took up the position on a full-time basis the following month. Feeling slighted by this, Hawkins resigned his position and took out an unfair dismissal claim, but dropped the claim in April 1980 when the club offered compensation.
Upon leaving Vale Park, Hawkins was appointed as Graham Turner's assistant at Shrewsbury Town. He returned to Wolverhampton Wanderers as manager, having been appointed after the Derek Dougan-led takeover saved the club from extinction in August 1982. He guided Wolves to promotion back to the top-flight at the first attempt, finishing runners-up to Queens Park Rangers in the Second Division in 1982–83. However, life in the First Division was much tougher, and the side were relegated after a disastrous 1983–84 campaign. Hawkins was dismissed in April 1984, after a run of just one win in fourteen games.
He later coached in Saudi Arabia, and then worked as the Football League's head of player development.
Hawkins was diagnosed with non-Hodgkin lymphoma in August 2009. He died on 27 September 2016 at the age of 70.
Sourced from Graham Hawkins profile at the English National Football Archive

(subscription required)
Individual
PFA Third Division Team of the Year: 1974–75
with Wolverhampton Wanderers
Football League Second Division runner-up: 1966–67
with Preston North End
Football League Third Division champion: 1970–71
with Blackburn Rovers
Football League Third Division champion: 1974–75
as Wolverhampton Wanderers manager
Football League Second Division runners-up: 1982–83