While not prosecuted for obscenity, the film was seized and confiscated in the UK under Section 3 of the Obscene Publications Act 1959 during the video nasty panic.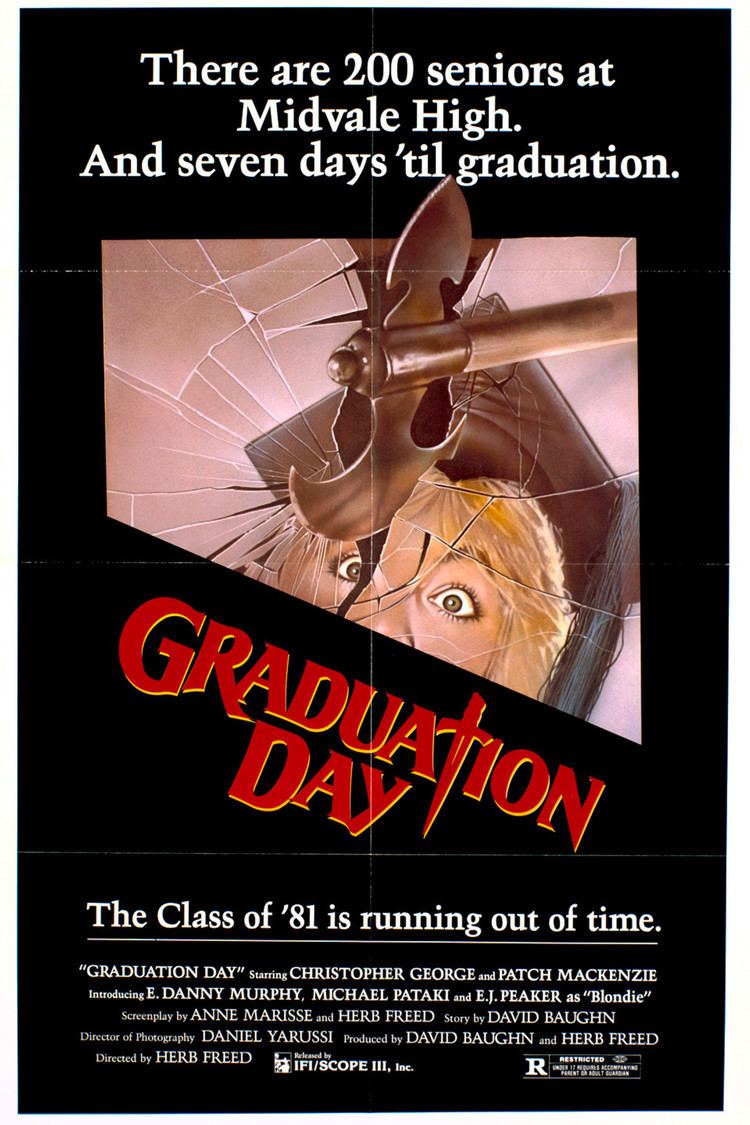 During a high school track meet at Midvale High School, track runner Laura Ramstead (Ruth Ann Llorens) is pushed by the crowd and her demanding coach. Apparently, Laura collapses after crossing the finish line after completing a 100 meter race in 30 seconds, and is announced to be dead upon examination.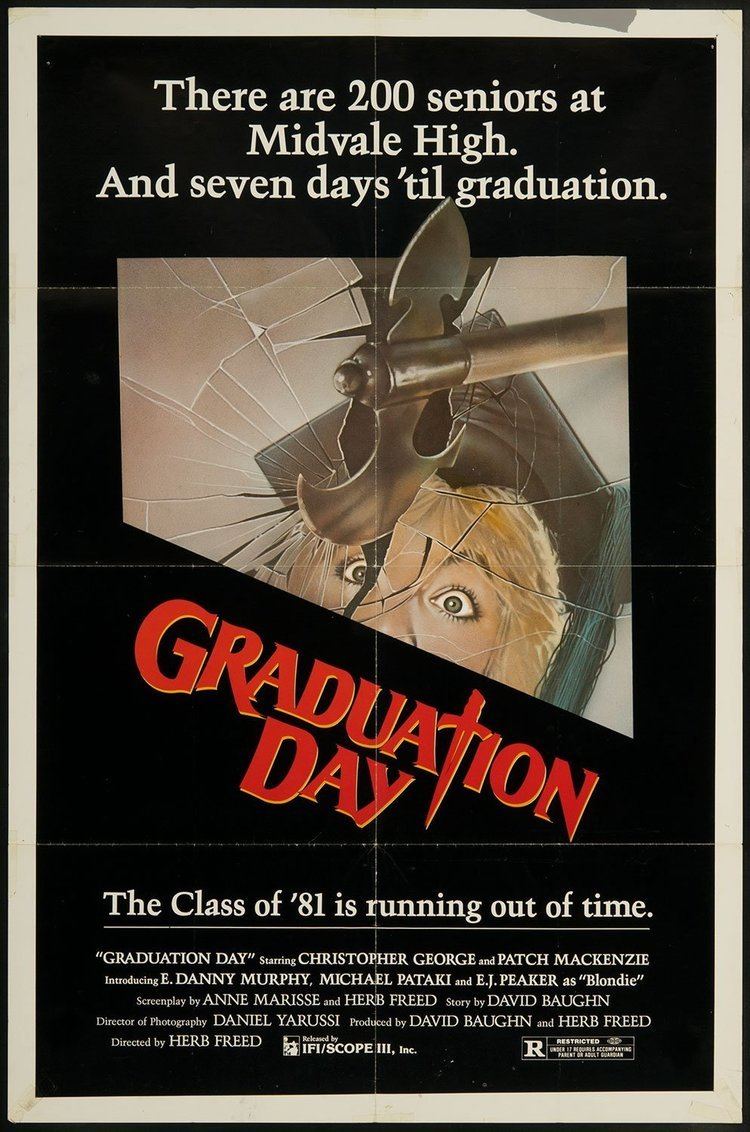 Days later, Laura's older sister Anne Ramstead (Patch Mackenzie) returns from the US Navy to visit her mother (Beverly Dixon) and her grumpy stepfather Ronald (Hal Boker) in town. After being dropped off from a truck driver, she notices a girl named Paula running into a wooded area, who is then killed by an assailant wearing black gloves and having a stopwatch. At the school, the assailant steals a photo of the track team and crosses out Paula's face after circling Laura's face. Meanwhile, Anne arrives home, planning to leave after graduation day, and discusses with her mother about Laura's demise. After, Anne unpacks her belongings upstairs including a gray sweatshirt and a pair of black gloves.
Track member Sally (Denise Cheshire) is walking through the woods and encounters Anne, who is heading for the auditorium as a special guest for a graduation rehearsal. Later, Anne goes to visit Kevin (E. Danny Murphy), who was Laura's boyfriend. Kevin shows Anne a photo album of Laura, and Anne gives Kevin one of Laura's track medals in which he thanks her for. Track team mean girl Dolores (Linnea Quigley) seduces a teacher in the music room. The next day, an unfocused Sally goes to the locker room after trying to concentrate with her gym bar routine, where she is killed by the assailant wearing a fencing mask and ends the stopwatch after 30 seconds. Later, Principal Gugilone (Michael Pataki) slices an apple with a knife, where he puts it in his desk drawer containing a stopwatch and various knives. Inside the school, Anne speaks to Coach Michaels, who is frustrated on being blamed for Laura's death, when in reality a blood clot in her heart killed her.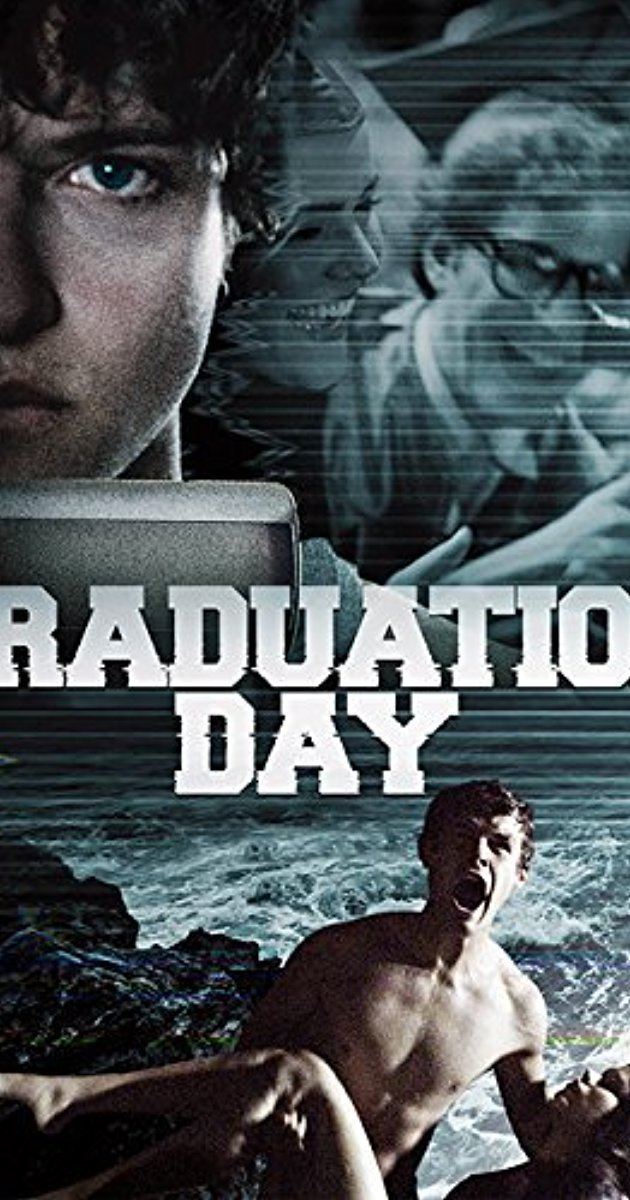 Soon, the masked killer begins to murder many of the track members and students, causing a concern for parents to contact Principal Gugilone about the missing children and resulting an investigation from Inspector Halliday (Carmine Argenziano). While Dolores is chased through the woods during a local festival at night. No one is able to hear her screams for help over the festival's loud music and she is eventually beheaded by the murderer.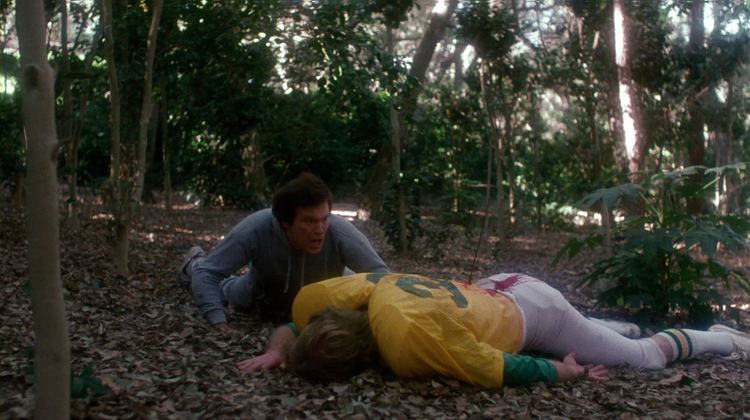 Halliday speaks to an angry Michaels, in which the coach responds that he was fired due to bad publicity and being accused. In the locker room, two bullies named Doris (Vanna White) and Joanne (Karen Abbott) discover Sally's body in a locker, prompting Michaels as well as Kevin to the area. Kevin suddenly accuses Michaels as the killer, resulting a fight and Michaels subduing Kevin before fleeing. In the woods, Kevin catches up to Michaels, where he reveals himself as the killer and turns hostile on Michaels. During the struggle, Halliday shoots Michaels instead of Kevin, assuming the coach was the killer. Kevin then lies to how Michaels was going to kill him. Sometime later, Anne investigates Kevin's house upon the discovery of Laura's corpse in his room, giving chase as the murderous Kevin follows her. While fighting in the track field much to her horror, Anne discovers Dolores's decapitated head. Kevin is ultimately pushed into spikes by Anne and seemingly kills him.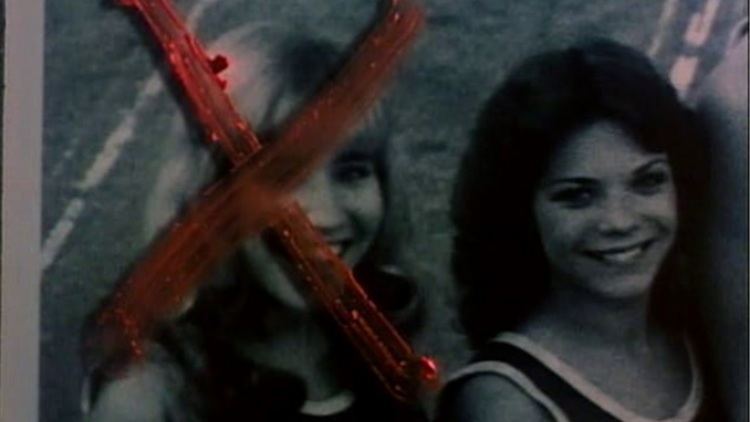 After giving her statement to the police, a traumatized Anne returns home that night and hallucinates an undead Kevin in her room, when it reality is just her drunk stepfather Ronald. The next morning, Anne impassively says goodbye and leaves the town on a bus while the Graduation Day banner remains hung over the main street.
In an post-credits scene, the killer's hand ends the stopwatch at 30 seconds.
Patch Mackenzie as Anne Ramstead
E. Danny Murphy as Kevin Badger
Christopher George as Coach George Michaels
Michael Pataki as Principal Guglione
E. J. Peaker as Blondie
Linnea Quigley as Dolores
Denise Cheshire as Sally
Billy Hufsey as Tony Fisk
Tom Hintnaus as Peter
Vanna White as Doris
Karen Abbott as Joanne
Linda Shayne as Paula Brentwood
Richard Balin as Mr. Rodgers
Carmen Argenziano as Inspector Halliday
Virgil Frye as Officer MacGregor
Carl Rey as Ralph Johnson
Erica Hope as Diana
Beverly Dixon as Elaine Ramstead
Hal Bokar as Roland Corliss
Troma Entertainment released the film on VHS through Media Pictures. It received international distribution.
Troma Team Video released the film on DVD in 2000 and a special "Troma Retro" edition in 2009.
It was released on Blu-ray as Number 01 of 88 Films' "Slasher Classics Collection" series on October 13, 2014.
The film grossed $23,894,000 in the U.S. against its $250,000 budget, making it a box office success.
The film was panned upon release but over the years the film has obtained a large cult following. Rotten Tomatoes, it currently holds a 50% approval rating, with an average of 5.2/10 based on 6 reviews, indicating mixed reviews.
Allmovie gave the film an unfavorable review, opining that it is "More notable for the few early star appearances and music numbers than any horror-tinged moment".