George William Trout




Grace Trout




Evergreen Cemetery






March 18, 1864 (

1864-03-18

)

Maquoketa, Iowa




Women's rights activist




Thomas Wilbur Trout Philip Wilbur Trout




1955, Jacksonville, Florida, United States
Grace Belden Wilbur Trout (March 18, 1864 – October 21, 1955) was an American suffragist who was president of the Chicago Political Equality League. She was instrumental in getting the Illinois legislature to pass a law allowing women to vote in local and national elections.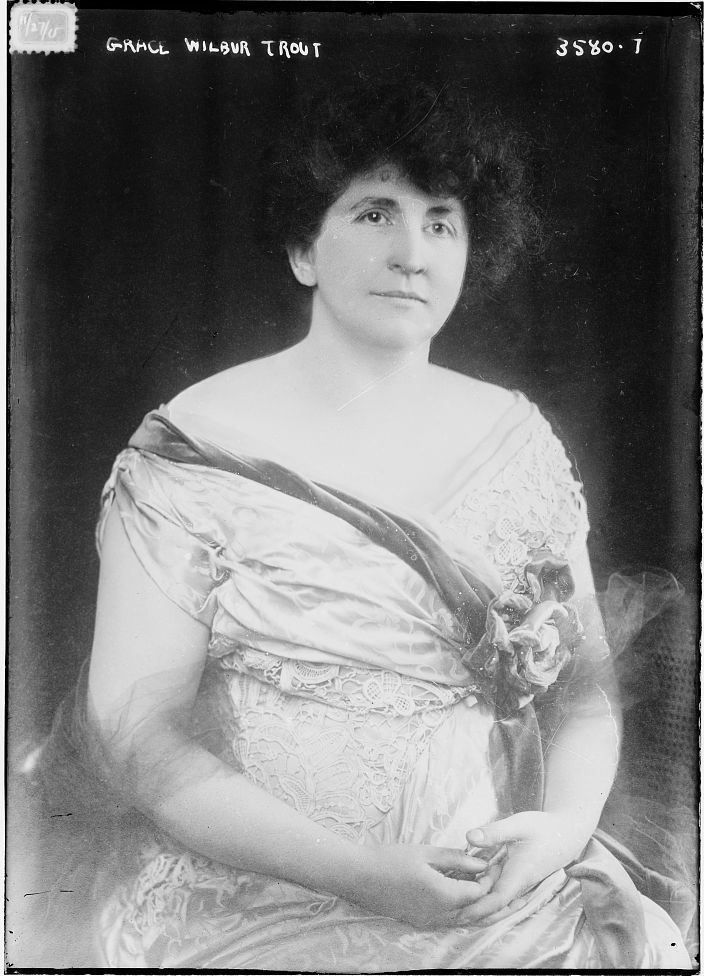 Trout was born on March 18, 1864 in Maquoketa, Iowa.
She married George William Trout and had four children, one son dying in childhood and one son dying in 1912 at the age of 21.
Trout became president of the Chicago Political Equality League in 1910, founded in 1894. The league published pamphlets and circulated petitions to lobby the state legislature to grant women voting rights.
In 1910, Trout and other activists such as Catherine Waugh McCulloch made speaking tours of Illinois arguing for suffrage. Two years later, at the annual convention of the Illinois Equal Suffrage Association (IESA) on October 1–2, 1912, Trout was elected president of that association. She changed the IESA's tactics, setting new goals such as creating more local organizations and lobbying individual legislators to support suffrage.
A partial suffrage bill was introduced in 1913, permitting women to vote "for Presidential electors and for all local offices not specifically named in the Illinois Constitution", but not for state representatives, Congressional representatives, or governor. Trout mobilized a public show of support and the resulting bill was passed on June 11 (83 votes for, 58 votes against) and signed by Governor Dunne on June 26, 1913. Efforts to repeal or weaken the law in 1915 failed, in part due to the IESA's opposition.
Trout's goals did not extend to challenging racial segregation. When African-American Ida B. Wells wanted to march in a March 3, 1913 demonstration in Washington DC, Trout demanded that segregation be preserved to avoid offending Southern marchers who might boycott the event, and therefore all the black suffragists would have to march in their own group, not with their respective state delegations. While Trout was personally opposed to such exclusion, she was more concerned with avoiding the potential boycott. The day of the event, Wells "slipped out of the crowd along the parade route" to join the Illinois delegation.
In 1921 Trout moved to Jacksonville, Florida and became the first president of the Planning and Advisory Board and president of the Jacksonville Garden Club. She resided at an estate called Marabanong.
Trout died on October 21, 1955 in Jacksonville, Florida and was buried in Evergreen Cemetery in Jacksonville, Florida.
Grace Wilbur Trout (1912). A Mormon wife. Charles H. Kerr. Retrieved

17 February

2013.
"Side Lights on Illinois Suffrage History", Journal of the Illinois State Historical Society (1908-1984), Vol. 13, No. 2 (Jul., 1920), pp. 145–179.
Grace Wilbur Trout Wikipedia