Goppinti Alludu (English: Son-in-Law of Great Family) is a 2000 Telugu, comedy film produced by Nandamuri Rama Krishna with his home production Ramakrishna Horticulture Cine Studios banner, and directed by E V V Satyanarayana. The film features Nandamuri Balakrishna, Simran, Sanghavi, Sadhika in the lead roles and music composed by Koti. The film is a remake of Hindi Movie Hero No. 1 (1997). The film was released on 21st July 2000 to positive reviews and become hit at the box office.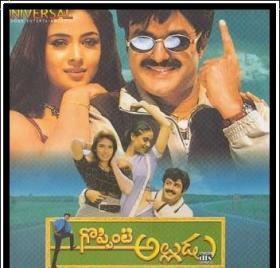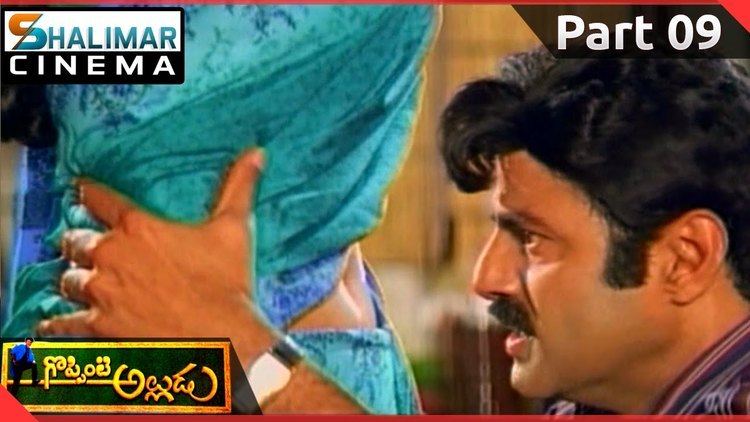 Murali Manohar (Nandamuri Balakrishna) is the son of the industrialist SVR (SP Balasubramanyam). He arrives India from Switzerland after finishing his graduation. SVR fixes a girl Jiddu Balamani (Sadhika) for him and asks him to marry her. To get rid of unwanted marriage, Manohar escapes back to Switzerland.
Sowmya (Simran) is the granddaughter of Achyuta Ramayya (Satyanarayana). Achyuta Ramayya's family consists of 3 of his daughters and their husbands and their kids along with Sowmya and Jalandhara (Sanghavi). Jalandhara is the straight daughter of the son of Achuta Ramayya and Sowmya is the daughter of the keep of the son of Achuta Ramayya. Hence everyone in the family except for Achuta Ramayya demeans and harass Sowmya that she is the daughter of a keep. Jalandhara has lot of hatred towards Sowmya and she tries to be diplomatic with Sowmya but backstabs her without Soumya's knowledge every time
Sowmya gets a job offer as a bank Manager in Switzerland. Here the stage is set for the introduction between Manohar and Sowmya at the airport followed by Manohar teasing her in the flight. As Mr. Subba Rao (Chalapathi Rao) did not come to the airport to receive Sowmya, she is forced to take the help of Manohar.
SVR and his cook come to Switzerland to search Manohar. Sowmya shifts her accommodation to her boss Paramahamsa (Prithvi) guest house. Then her boss tries to rape her and Sowmya escapes from him and starts running on the road. Here come the 15 minutes guided tour of Switzerland with SVR and his cook running the roads for Manohar, Subba Rao searching for Sowmya, Boss running after Sowmya, Manohar chasing the boss to help Sowmya. In this chasing sequence, Manohar expresses his love to her and Sowmya accepts. At the end of 15 minutes of running senseless, Boss is sent to jail, SVR accepts the love of Sowmya and Manohar.
SVR decides to go to Achyuta Ramayya's house and ask the hand of Sowmya for his son. On the way due to some unforeseen accident, SVR runs Achuta Ramayya down with his car and fractures his legs. Achyuta Ramayya refuses to get Sowmya married to Manohar.
Sowmya decides to elope with Manohar. But Manohar convinces her that they should get married with the consent of their families as it will be useful for everybody in the long run. And the next thing you see is Manohar joining Achyuta Ramayya's house as a cook named as Bheemudu and winning the heart of everybody. But Jalandhara comes to know that the cook is none but the Manohar. She takes every opportunity to disturb the discreet romance of the love birds and seduce Manohar.
As Jalandhara starts vying for the blood of Sowmya desperately, Manohar tries sincerely to win the hearts of the Sowmya family members. To know how all ended well, you gotta watch this film on the silver screen.
Art: Raju
Choreography: Taara, Tarun
Dialogues: Janardhan Maharshi
Lyrics: Bhuvanachandra, Bhaskarabhatla, Samavedam Shanmukha Sarma, Surendra Krishna
Playback: SP Balu, Chitra, Sukhwinder Singh, Devan, Poornima, Manasa
Music: Koti
Story: Ramakrishna Studios Unit
Editing: Kotagiri Venkateswara Rao
Cinematography: Nandamuri Mohana Krishna
Producer: Nandamuri Rama Krishna
Screenplay - Director: E V V Satyanarayana
Banner: Ramakrishna Horticulture Cine Studios
Release Date: 21st July 2000
Music composed by Koti. Music released on Supreme Music Company.
Upon release, the film received positive reviews from critics. Jeevi from Idlebrain gave a three commented "EVV exploited and played with the unexposed comic timing of Balayya in this film. He has done a wonderful job ".
VCDs and DVDs on – Universal Videos, SHALIMAR Video Company, Hyderabad