Full Name

Gjergj Fishta




Name

Gjergj Fishta




Resting place

Shkoder, Albania




Role

Poet




Nationality

Albanian




Books

Lahuta e Malcis




Education

Catholic Theology







Born

September 23, 1871 (

1871-09-23

)

Fishte, Dajc, Lezhe, modern Albania, then Ottoman Empire




Occupation

Poet, writer, priest, translator, member of the Albanian parliament




Died

December 30, 1940, Shkoder, Albania
Gjergj fishta gjuha shqipe recitur nga reshat arbana poem
Gjergj Fishta (October 23, 1871 – December 30, 1940) was an Albanian Franciscan, poet, rilindas, and a translator. Notably he was the chairman of the commission of the Congress of Monastir, which sanctioned the Albanian alphabet. In 1921 he became the Vice President of the Albanian parliament, and in 1937 he completed and published his epic masterpiece Lahuta e Malcís, an epic poem written in the Gheg dialect of Albanian. It contains 17,000 lines and is considered the "Albanian Iliad".
Contents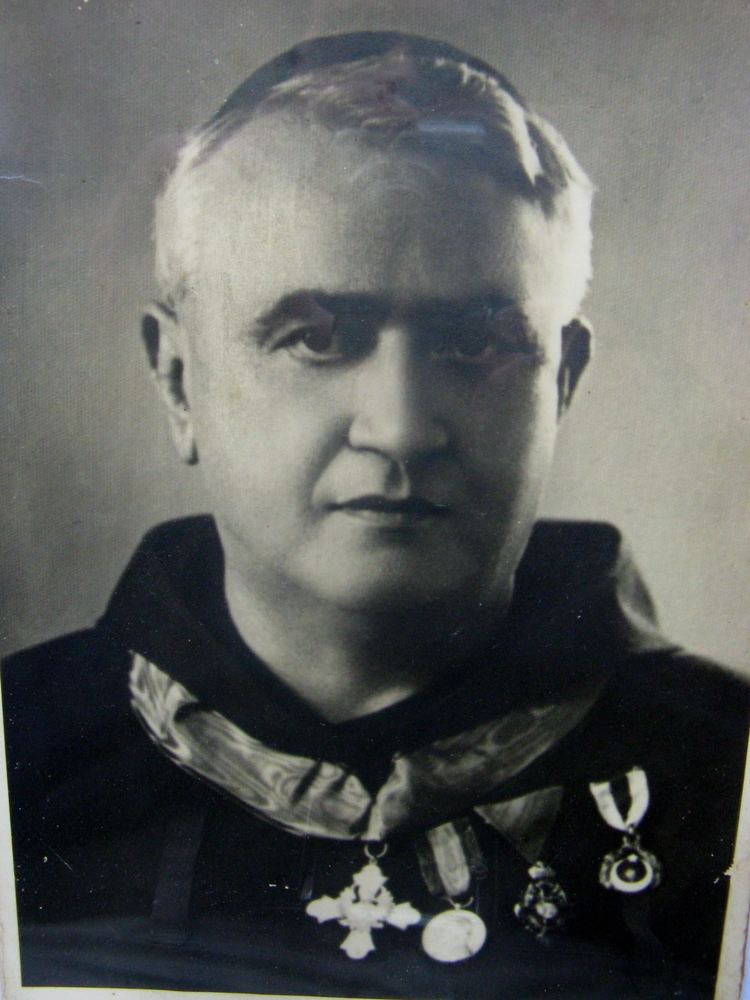 28 nentor 1913 gjergj fishta reciton reshat arbana
Biography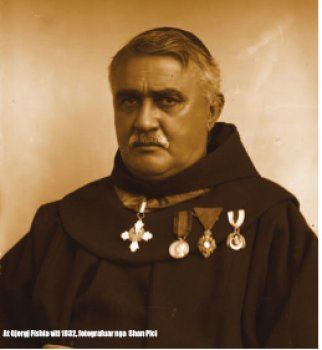 Born in Fishtë, Dajç (otherwise called Zadrimë), Lezhë, Albania (then Ottoman Empire), Fishta studied philosophy and Catholic theology in Bosnia (seminaries in Kraljeva Sutjeska, Livno, Kreševo), among Bosnian Croats. In 1902, he became the head of the Franciscan gymnasium in Shkodër (Collegium Illyricum). Fishta was under influence of Croatian Franciscan monks as a student in monasteries in Austria-Hungary, when he wrote his main work Lahuta e Malcís, influenced by the national epics of the Croatian and Serbian literature according to Robert Elsie. Elsie further hypothesized that in Lahuta e Malcís, he substituted the struggle against the Turks with struggle against the Slavs, propagating Anti-Slavic feelings. After the World War II the authorities in Yugoslavia and Albanian historiography controlled by communist regime in Tirana (influenced by Yugoslav communists) proscribed Fishta's works as anti-Slavic propaganda. In Soviet historiography he was referred to as "former agent of Austro-Hungarian imperialism" who took position against Slavic people and Pan-Slavism because they opposed "rapacious plans of Austro-Hungarian imperialism in Albania" and had a role in Catholic Clergy's preparation "for Italian aggression against Albania".
As a representative of the Society for the Unity of the Albanian Language, Fishta participated and was elected for president of the committee in the Congress of Monastir (today Bitola in Macedonia, then Ottoman Empire) held in 1908. Participants of the congress accepted Fishta's proposal for the Latin Bashkimi alphabet, and many of its elements were merged into the Istanbul alphabet resulting in the standard Albanian alphabet. In 1916, he was core founder of the Albanian Literary Commission, where he unsuccessfully tried to place Shkodra subdialect as standard literary Albanian.
He interpreted Albania in the conference of Paris on 1919. From the beginning of April 1919 to 1920, he served as Secretary of the Albanian delegation to the Paris Peace Conference. At the end of 1920, he was elected to parliament by Shkodër, and in 1921 he became the Vice President of the Albanian parliament. In 1924, Fishta supported Fan Noli in his attempt to found a democratic system in Albania. After the establishment of the Zogu Regime, Fishta left willingly to go into exile in Italy in 1925/26, before he resumed his position as teacher and writer in Shkodër, where he died in 1940.
Through both his work as a teacher as well as through his literary works, Fishta had a great influence on the development of the written form of his native Gheg Albanian. Fishta worked moreover as a translator (of Molière, Manzoni, Homer, et al.).
Works
Lahuta e Malcís, epic poem, (Zara, 1902)
Anzat e Parnasit, satire, (Sarajevo, 1907)
Pika voese më vonë ri botuar si Vallja e Parrizit, (Zara, 1909)
Shqiptari i qytetnuem, melodrama, (1911)
Vëllaznia apo Shën Françesku i Assisi-t, (1912)
Juda Makabe, tragedy, (1914)
Gomari i Babatasit, Shkodër, (1923)
Mrizin e Zanave, Shkodër, (1924)
Lahuta e Malcís (2d. ed.), Gesamtdruck, (Shkodër 1937). In English The Highland Lute, trans. by Robert Elsie and Janice Mathie-Heck. I. B. Tauris (2006) ISBN 1-84511-118-4
Fishta was editor of the magazine Hylli i Dritës (1913) and the newspaper Posta e Shypnisë (1916–1917).
References
Gjergj Fishta Wikipedia
(Text) CC BY-SA