Years active

1989–2010




Name

Gireesh Puthenchery




Role

Lyricist








Born

1 May 1961 (

1961-05-01

)

Kozhikode, Kerala




Occupation

Lyricist, screenwriter,poet




Died

February 10, 2010, Kozhikode




Spouse

Beena Puthenchery (m. ?–2010)




Children

Dinanath Puthenchery, Gireesh Jithin Krishnan Puthenchery, Gireesh Dinanath Puthenchery




Albums

Thacholi Varghese Chekavar




Movies

Pallavur Devanarayanan, Meleparambil Aanveedu, Kinnaripuzhayoram, Onnaman, Kerala House Udan Vilp




Similar People

M Jayachandran, Sujatha Mohan, Raveendran, K S Chithra, K J Yesudas
Remembering the great lyricist gireesh puthenchery part1
Gireesh Puthenchery (1 May 1961 – 10 February 2010) was a noted Malayalam lyricist and screenwriter. He also served as a governing council member of the Indian Performance Rights Society (IPRS). He won the Kerala State Film Award for Best Lyrics seven times. He died on 10 February 2010 in Kozhikode.
Contents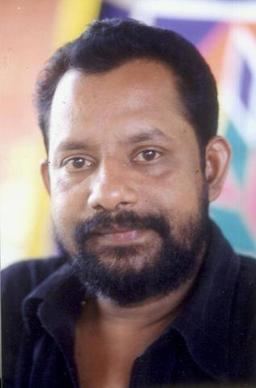 Dinanath son of gireesh puthenchery turns lyricist
Life and career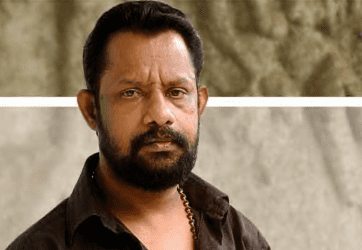 Gireesh Puthenchery was born to Pulikkal Krishna Panicker and Meenakshiyamma in Puthenchery near Ulliyeri village in Koyilandy taluk in Kozhikode district (Calicut). His father was an astrologer and Ayurvedic practitioner and his mother was a Carnatic musician.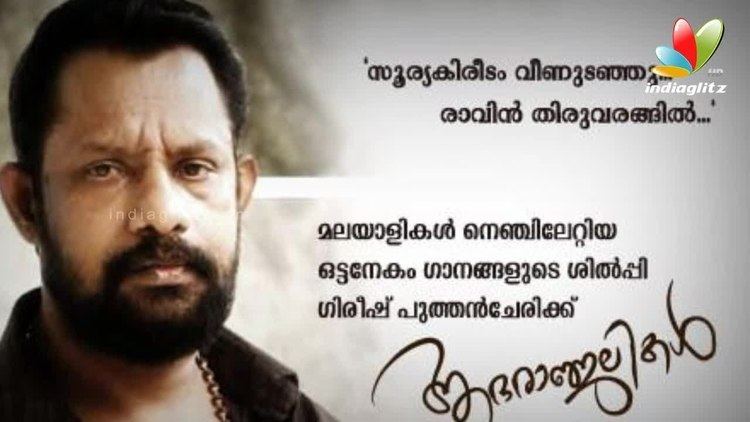 Beginning his career with the 1990 film Enquiry, Gireesh went on to write lyrics for about 1599 songs in about 344 Malayalam films. His first popular hit songs were from the 1992 movie Johnny Walker. During a career spanning over two decades, he had penned many hit songs in Malayalam cinema. He wrote the most number of film songs in Malayalam. He was also one of the most honoured lyricists, having won the State Award seven times including four in consecutive years from 2001 to 2004. Cassanova, released in 2012, was his last film.
Besides writing lyrics for several hit songs, Gireesh had also written the screenplay for the films Brahmarakshassu, Pallavur Devanarayanan and Vadakkumnadhan and the story for Kinnaripuzhayoram, Meleparambil Aanveedu and Kerala House Udan Vilpanakku. He was scripting a film by the name of Raman Police, in which Mohanlal was expected to play the lead role.
Death
Gireesh Puthenchery, a chronic diabetic and hypertensive patient, was admitted to a private hospital in Kozhikode after he suffered a stroke on 6 February 2010. He was twice operated upon, but his condition did not improve and he suffered a brain haemorrhage and died at the hospital on 10 February 2010. He is survived by his wife Beena and two sons Jithin Krishnan and Dinanath.
Selected filmography
Lyricist:
Pranaya Sandhyayoru Vensooryante (Ore Kadal – 2007)
Yamuna Veruthe(Ore Kadal – 2007)
En Jeevane (Pularmanjupol Nee) - 2005 (Composer - Rahul Raj, Director Tom George Kolath)
Kanmani Ninte Oramakal Mathram (Chakravalathinappuram – 1988)
Janmantharangalil (Enquiry – 1990)
Shanthamee Rathriyil (Johnny Walker – 1992)
Thamberin Thaalam (Thalasthanam – 1992)
Sooryakireedom Veenudanju (Devaasuram – 1993)
Angopangam Swaramukharam (Devaasuram – 1993)
Vande Mukunda Hare (Devaasuram – 1993)
Nandakishora Hare Madhava (Ekalavyan – 1993)
Kaikkudanna Niraye (Maya Mayuram – 1993)
Vellithinkal Poonkinnam (Meleparambil Aanveedu – 1993)
Paal Nilavil Swayam Nanyuvano (Pravachakan – 1993)
Porunee Varilam Chandralekhe (Kashmeeram – 1994)
Olachangalee Omanachangathee (Kinnaripuzhayoram – 1994)
Poonilamazha Peythirangiya (Manathe Kottaram – 1994)
Maanam Thelinje Ninnal (Thenmavin Kombath – 1994)
Enthe Manassiloru Naanam (Thenmavin Kombath – 1994)
Oru Poovithalin Naru Punchiriyayi (Agnidevan – 1995)
Nilavinte Neelabhasma (Agnidevan – 1995)
Yatheemin Sulthan Vanne (Chantha – 1995)
Manjil Pootha Sandhye (Minnaminunginum Minnukettu – 1995)
Malar Maasam (Nirnayam – 1995)
Ponnambili Pottum Thottu (No. 1 Snehatheeram Bangalore North – 1995)
Japamam Veda Sadhakamayi (Punnaram – 1995)
Thechippove Thenkashippove (Radholsavam – 1995)
Maaleyam Marodalinju (Thacholi Varghese Chekavar – 1995)
Devakanyaka Sooryathamburu (Ee Puzhayum Kadannu – 1996)
Rathingal Poothali Charthi (Ee Puzhayum Kadannu – 1996)
Neeyurangiyo Nilave Mazhanilave (Hitler – 1996)
Ponnum Poovum Varichoodam (Ishthamanu Nooruvattom – 1996)
Nilakkayalolam (Kaanakkinavu – 1996)
Manassu Oru Manthrikakkoodu (Kaliveedu – 1996)
Chola Kilikal (The Prince – 1996)
Harimuraleeravam (Aaraam Thampuran – 1997)
Paadi Thodiyiletho Ponnanjilimel (Aaraam Thampuran – 1997)
Manathe Chandiranothoru (Chandralekha – 1997)
Thaamarappoovil Vaazhum Deviyallo Nee(Chandralekha – 1997)
Pinneyum Pinneyum (Krishnagudiyil Oru Pranayakalathu – 1997)
Ee Thennalum Thinkalum Pookkalum (Nee Varuvolam – 1997)
Manjolum Rathri Maanju Yathramozhiyode (Oru Yathramozhi – 1997)
Aattuthottilil Ninne Kidathi Urakki Melle (Poonilamazha – 1997)
Doore Maamara Kombil (Varnappakittu – 1997)
Manikyakkallal Menjumenanje Mamanikkottaram (Varnappakittu – 1997)
Aarodum Mindathe (Chinthavishtayaya Shyamala – 1998)
Malayannar Kannan Margazhi Thinkale (Kaikkudanna Nilavu – 1998)
Moovanthi Thazhvarayil (Kanmadam – 1998)
Swarnadala Kodikal Mudrakalakkiya Manassin Maaya Nadanalayam (Manjukaalavum Kazhinju – 1998)
Doore Oru Thaaram (Meenathil Thalikettu – 1998)
Neeyente Pattil Sree Ragamayi (Nakshathratharattu)
Sundariye Sundariye (Oru Maravathoor Kanavu – 1998)
Enthe Mulle Pookkathoo (Panchaloham – 1998)
Aaro Viral Neeti (Pranayavarnangal – 1998)
Ethrayo Janmayi Ninne Njan Thedunnu(Summer in Bethlahem – 1998)
Oru Rathri Koodi Vidavangave (Summer in Bethlahem – 1998)
Ponnu Vithachalum Pavizham Methichalum (Aayiram Meni – 1999)
Pularveyilum Pakalmukilum (Angane Oru Avadhikalathu – 1999)
Punchirithanchi Konchikko (Dil Se.. – 1999)
Anuraagapuzha Vakkil (English Medium – 1999)
Melevinninmuttathare (Ezhupunnatharakan – 1999)
Mizhiyoram Oru Moham (James Bond – 1999)
Njanoru Pattu Paadam (Megham – 1999)
Thumbayum Thulasiyum Kudamulla Poovum (Megham – 1999)
Yathrayayi Sooryanguram (Niram – 1999)
Vennila Kombile Rappadi (Usthaad – 1999)
Deenadayalo Raama (Arayannangalude Veedu – 2000)
Manassin Manichimizhil (Arayannangalude Veedu – 2000)
Manimuttathavani Panthal (Dreams – 2000)
Parayam Njan Marannu (Millennium Stars – 2000)
Pazhanimala Murukanu Pallivel Aayudham (Narasimham – 2000)
Kanakamunthirikal (Puraradhivasam – 2000)
Dhum Dhum Dhum Dhum Dooreyetho Rakkilippattil (Raakkilipaattu – 2000)
Niranaazhi Ponnil Manalaryan Nellil (Valyettan – 2000)
Yadhuvamsha Yaamini (Dubai – 2001)
Kudamulla Kammalaninjal (Ee Parakkum Thalika – 2001)
Chandamani Sandhyakalude Nadayil (Praja – 2001)
Akasha Deepangal Sakshi (Raavanaprabhu – 2001)
Ariyathe Ariyathe Ee Pavizha Varthinkal Ariyathe (Raavanaprabhu – 2001)
Marannittumenthino Manassil Thulumbunna (Randam Bhavam – 2001)
Pathinaalam Ravinte Pira Pole Vannallo (Sharjah To Sharjah – 2001)
Chingamasam Vannuchernnam (Meesha Madhavan – 2002)
Ente Ellamellamalle (Meesha Madhavan – 2002)
Karimizhikkuriviye Kandeela (Meesha Madhavan – 2002)
Sreelavasantham Peeliyuzhinju (Nandanam – 2002)
Karmukil Varnante Chundil (Nandanam – 2002)
Innale Ente Nenjile (Balettan – 2003)
Chilamboli Katte (C.I.D. Moosa – 2003)
Vaavo Vave Vannummakal Sammanam (Ente Veedu Apoontem – 2003)
Urangaathe Raavurangee Njan (Gourisankaram – 2003)
Enthe Innum Vannela (Gramaphone – 2003)
Marakkudayal Mukham Marakkyum (Manassinakkare – 2003)
Melle Onnu Padi Ninne (Manassinakkare – 2003)
Thamara Noolinal Memme (Mullavalliyum Thenmavum – 2003)
Aaroral Pularmazhayil (Pattalam – 2003)
Pamba Ganapathi Paarin Adhipathi (Pattalam – 2003)
Pinneyumwtho Rakkili Paadi (Akale – 2003)
Junile Nilamazhayil (Nammal Thammil – 2004)
Thotturumiyirkkan (Rasikan – 2004)
Omale Nee Oonjalaadan Vaa (Wanted – 2004)
Enthu Paranjaalum Nee Entethalle Vaave (Achuvinte Amma – 2005)
Thiranurayum Churul Mudiyil (Anandabhadram – 2005)
Aararum Kaanathe Aromal Thaimulla (Chandrolsavam – 2005)
Munthiri Paadam (Kochi Rajavu – 2005)
Oru Chiri Kandal (Ponmudipuzhayorathu – 2005)
Marannuvo Poomakale (Chakkaramuthu – 2006)
Mallikappoo Pottu Thottu (Madhuchandralekha – 2006)
Attinkarayorathe (Rasathanthram – 2006)
Arappavan Ponnu Kondu (Vaasthavam – 2006)
Gange Thudiyil Unaraum (Vadakkumnadhan – 2006)
Kalabham Tharam (Vadakkumnadhan – 2006)
Panasandhayaoru (Ore Kadal – 2007)
Ravereyayi Poove (Rock & Roll – 2007)
Ishtakkarikkishtappettoru Pattu (Sooryan – 2007)
Manassiloru Poomaala (Innathe Chintha Vishayam – 2008)
Amma Mazhakkarinu Kann Niranju (Madampi – 2008)
Oh Priya (Twenty:20 – 2008)
Mullulla Murikkinmel (Vilapangalkappuram – 2008)
Koovaram Kili Paithale (Banaras – 2009)
Enikku Paadanoru Pattilundoru Pennu (Ivar Vivahitharayal – 2009)
Mayunnu Pakal (Meghatheerdham – 2009)
Nattu Pattu Ketto (Vairam – 2009)
Happy Husbands (Happy Husbands – 2010)
Shikkar full song (Shikkar – 2010)
Scriptwriter:
Brahmarakshassu (1990)
Pallavur Devanarayanan (1999)
Vadakkumnadhan (2006)
Story:
Meleparambil Aanveedu (1993)
Kinnaripuzhayoram (1994)
Kerala House Udan Vilpanakku (2004)
Awards
Kerala State Film Awards:
2004 – Best Lyricist – Kathavasheshan
2003 – Best Lyricist – Gourisankaram
2002 – Best Lyricist – Nandanam
2001 – Best Lyricist – Ravanaprabhu
1999 – Best Lyricist – Punaradhivasam
1997 – Best Lyricist – Krishnagudiyil Oru Pranayakalathu
1995 – Best Lyricist – Agnidevan
Asianet Film Awards
2008 – Best Lyricist Award – Madambi
2006 – Best Lyricist Award – Vadakkumnadhan
2004 – Best Lyricist Award – Maampazhakkaalam
Filmfare Award for Best Lyricist – Malayalam
2006 – Best Lyricist Award – Vadakkumnadhan
2008 – Best Lyricist Award – Madambi
References
Gireesh Puthenchery Wikipedia
(Text) CC BY-SA