Lieutenant

Daniel McKee




Political party

Democratic




Party

Democratic Party




Succeeded by

Seth Magaziner




Spouse

Andrew Moffit (m. 2001)




Preceded by

Frank Caprio




Role

Governor of Rhode Island




Preceded by

Lincoln Chafee




Name

Gina Raimondo








Full Name

Gina Marie Raimondo




Born

May 17, 1971 (age 44) Smithfield, Rhode Island, U.S. (

1971-05-17

)


Alma mater

Harvard University New College, Oxford Yale Law School




Office

Governor of Rhode Island since 2015




Children

Cecilia Moffitt, Thompson Moffitt




Parents

Joseph Raimondo, Josephine Piro Raimondo




Education

Yale Law School (1998), Harvard University (1993), La Salle Academy, Providence, New College, Oxford




Profiles




Twitter

Google+

YouTube
Newsmakers 1 23 2014 ri governor candidate gina raimondo
Gina Marie Raimondo (born May 17, 1971) is an American politician, businesswoman, venture capitalist, and the 75th and current governor of Rhode Island. Raimondo, a member of the Democratic Party, is the first woman to serve as governor of Rhode Island. Prior to her election as governor, she served as the general treasurer for Rhode Island and was the second Rhode Island woman to serve as treasurer. She was selected as the Democratic candidate for Rhode Island's governorship in the 2014 election. Raimondo won the election with 41% of the vote, in a three-way race, against the mayor of Cranston, the Republican Allan Fung, and businessman Robert Healey, on November 4, 2014.
Contents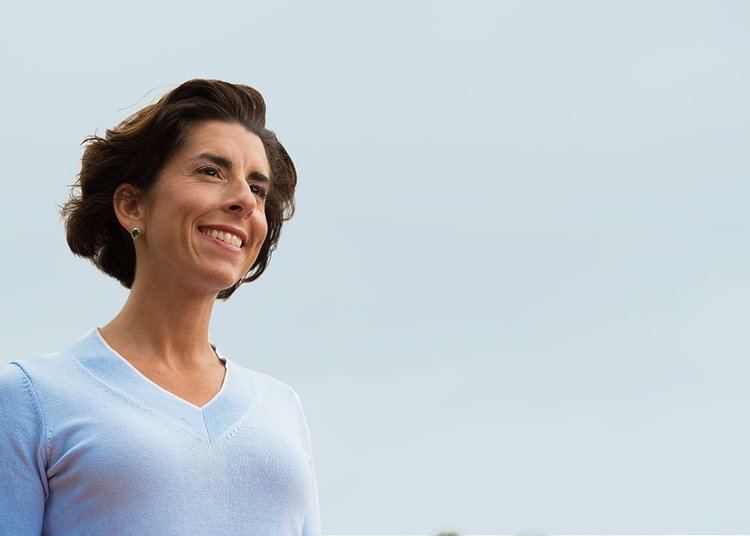 Hillary clinton in rhode island to support gina raimondo for governor
Early life and education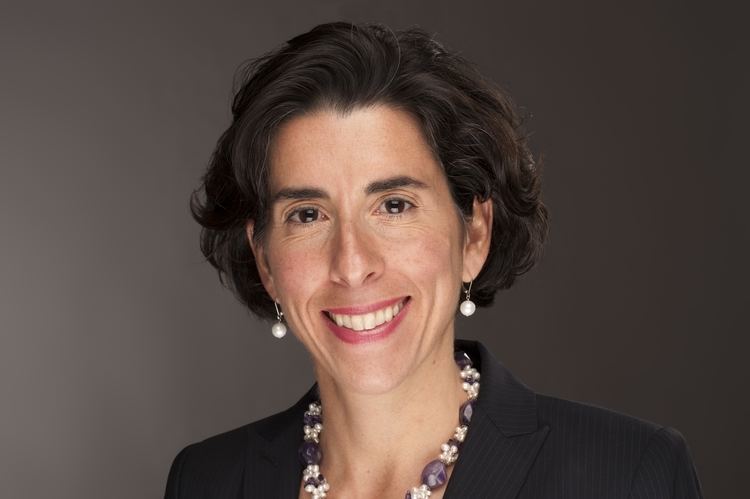 Gina Marie Raimondo was born May 17, 1971 in Smithfield, Rhode Island, where she later grew up. Of Italian descent, she is the youngest of Josephine (Piro) and Joseph Raimondo's three children. Her father worked for a watch company. Raimondo graduated from La Salle Academy, as one of the first girls allowed to attend the Providence Catholic Institution, where she was valedictorian.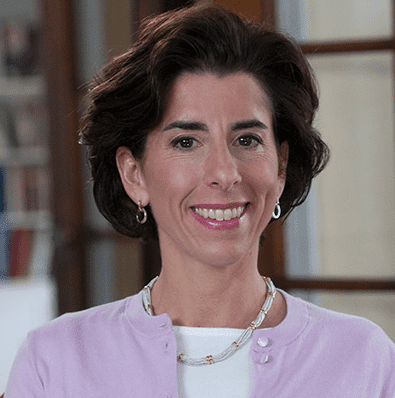 Raimondo graduated with a B.A. magna cum laude in Economics from Harvard College in 1993. She attended Oxford University as a Rhodes Scholar, where she received M.A. and D.Phil. degrees in Sociology. Raimondo then received her J.D. from Yale Law School in 1998.
Early career
Following her graduation from Yale Law School, Raimondo served as a law clerk to federal Judge Kimba Wood of the United States District Court for the Southern District of New York. Later, Raimondo acted as Senior Vice President for Fund Development at the Manhattan offices of Village Ventures, a venture capital firm based in Williamstown, Massachusetts, and backed by Bain Capital and Highland Capital Groups. Raimondo returned to Rhode Island in 2000 to co-found the state's first venture capital firm, Point Judith Capital. Point Judith subsequently relocated its offices to Boston, Massachusetts. At Point Judith, Raimondo served as a general partner covering health care investments; she retains some executive duties with the firm.
General treasurer of Rhode Island
On November 2, 2010, Raimondo defeated her Republican opponent, Kernan King, for the office of general treasurer. She defeated Mr. King by a wide margin of 62 percent to 38 percent. She received 201,625 votes, more than any other Rhode Island candidate during the 2010 elections. She is the second woman, after Republican Nancy J. Mayer of Bristol, to serve in that capacity since 1940.
Pension policies
During her first year as General Treasurer, she headed the effort to reform Rhode Island's public employee pension system, which was 48% funded in 2010. In April 2011, Raimondo led the state retirement board to reduce the state's assumed rate of return on pension investments from 8.25 percent to 7.5 percent. In May 2011, Raimondo released "Truth in Numbers", a report that advocated for benefit cuts as the solution to Rhode Island's pension problems, and she helped lead the effort to cut pensions, along with Gordon Fox, who was then speaker of the House. The Rhode Island Retirement Security Act (RIRSA) was enacted by the General Assembly on November 17, 2012, with bipartisan support in both chambers. The next day, Lincoln Chafee signed RIRSA into law. A Brown University poll, conducted in December 2011, found that 60 percent of Rhode Island residents supported the pension reform. The legality of RIRSA was challenged in court by the public employee unions, but a settlement was reached in June 2015.
Under Raimondo's tenure the pension fund was criticized for underperforming its peers. Some of Raimondo's critics attributed the underperformance to a sharp increase in fees paid to hedge fund managers, while her supporters argue investments in hedge funds stabilize investments during market downturns for more consistent returns overtime.
Municipalities
Raimondo created the Ocean State Investment Pool (OSIP), a low-cost investment vehicle intended to help the state and municipalities better manage and improve the investment performance of their liquid assets, which are used for day-to-day operations including payroll and operating expenses. $500 million in funds could be eligible for the program, which would enable Treasury "to extend its expertise to municipalities and improve investment returns by creating economies of scale." The program launched in April 23, 2012.
Transparency
In 2011, Raimondo led a review of the state's bond disclosure practices and updated the information statement and related bond disclosure information that will accompany future bond offerings. In conjunction with the changes to bond disclosure policies, Raimondo launched the state's first 'Investor Relations Portal', which includes financial information and related reports from the office of the general treasurer, the Employees' Retirement System of Rhode Island, the state budget office, the department of revenue, and the state office of the auditor general.
But transparency in hedge funds is not that simple. After a struggle to get the information in August 2013 The Providence Journal got info from some funds "Among the information redacted: what companies the funds invest in, past returns and withdrawal rates, how much the partners earn and their personal stakes in their funds, even such details as the identities of traders and the funds' outside auditing and accounting firms."
Payday lending
During the Rhode Island General Assembly's 2012 session, Raimondo advocated for a decrease in the maximum allowable interest rate on payday loans in Rhode Island. She hosted a roundtable discussion with then Providence Mayor Angel Taveras and members of the Rhode Island Payday Reform Coalition. Raimondo submitted letters to the Senate and House Corporations Committees in support of payday reform legislation. She wrote, "Far too many families are facing financial challenges that might be mitigated or avoided through a greater understanding of personal finance," and "payday loans exploit that lack of understanding…. With numerous economic challenges, Rhode Island should not permit the sale of a financial product that traps so many customers in a cycle of debt." Raimondo wrote an op-ed in the edition of May 29, 2012 of The Providence Journal in support of payday lending reform.
Governor of Rhode Island
Raimondo was elected governor of Rhode Island on November 4, 2014, winning 41% of the vote in a three-way race, defeating challengers Allan Fung (R) and Robert J. Healey of the Moderate Party. Raimondo is the first female governor of Rhode Island. She is also one of six current female governors of the United States: the others being Kate Brown of Oregon, Susana Martinez of New Mexico, Mary Fallin of Oklahoma, Kay Ivey of Alabama, and Kim Reynolds of Iowa. During her first year as governor, she advocated expanding the state's Earned Income Tax Credit (EITC), raising the minimum wage, lowering the state's minimum corporate tax rate, and eliminating the tax on commercial energy use.
Community service
Raimondo serves as vice chair of the board of directors of Crossroads Rhode Island, the state's largest homeless services organization. Until 2011, she was a trustee at Women and Infants Hospital and chair of its Quality Committee. She has served on the boards of La Salle Academy and Family Service of Rhode Island.
Fellowships and awards
Raimondo is a member of the Council on Foreign Relations and an Aspen Institute Rodel fellow. She was awarded an honorary degree from Bryant University, in 2012; and has received awards from the northern Rhode Island chamber of commerce and the YWCA of northern Rhode Island. Raimondo was elected alumni fellow at Yale, in 2014.
Personal life
On November 1, 2001, Raimondo married Andrew Kind Moffit, in Providence, Rhode Island. The couple has two children, Cecilia and Thompson Moffit. The family resides on the east side of Providence.
References
Gina Raimondo Wikipedia
(Text) CC BY-SA