Covid-19
Animalia




Vetigastropoda




Trochidae




Trochidae




Mollusca




Trochoidea




Gibbula




Genus







Gibbula cineraria, Gibbula magus, Gibbula divaricata, Gibbula pennanti, Gibbula ardens
Gibbula is a genus of small sea snails, marine gastropod molluscs in the family Trochidae, the top snails.
The species in this genus occur through all seas, except on the coast of the American continent.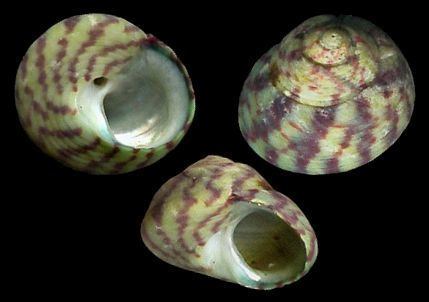 The cyrtoconoid (= approaching a conical shape but with convex sides) shell is usually perforate or umbilicate. The spire is moderately elevated. The whorls are often gibbous or tuberculose beneath the sutures, smooth or spirally ribbed. The last whorl is generally angular at the periphery. The aperture is subrhomboidal. The columella is oblique, dentate or subsinuous at the base. The outer lip is acute. The central tooth and the lateral teeth of the radula have well-developed denticulate cusps.The outer lateral teeth are wider.
Species within the genus Gibbula include.
Species brought into synonymy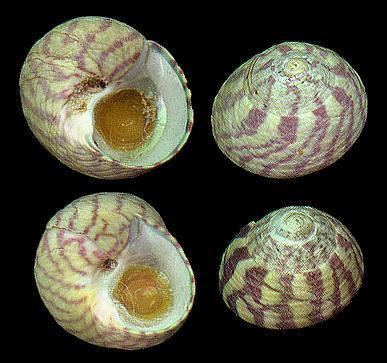 Gibbula (Calliotrochus) cummingae Kilburn, 1977: synonym of Calliotrochus marmoreus (Pease, 1861)
Gibbula aegyptica Chenu, 1859: synonym of Gibbula fanulum (Gmelin, 1791)
Gibbula affinis cognata Pilsbry, H.A., 1903: synonym of Clanculus cognatus (Pilsbry, 1903)
Gibbula aglaia Bartsch, 1915: synonym of Gibbula tryoni Pilsbry, 1889
Gibbula altimirai Nordsieck 1982: synonym of Gibbula nivosa A. Adams, 1851
Gibbula apicalis Nordsieck 1972: synonym of Gibbula ardens Von Salis, 179)
Gibbula approximata Turton, 1932: synonym of Gibbula cicer (Menke, 1844)
Gibbula articulata (Gould, 1861): synonym of Pseudominolia articulata (Gould, 1861)
Gibbula aurantia Nordsieck, F. & F. García-Talavera, 1979 : synonym of Gibbula racketti (Payraudeau, 1826)
Gibbula awajiensis G. B. Sowerby III, 1914: synonym of Conotalopia mustelina (Gould, 1861)
Gibbula barbara Monterosato 1884: synonym of Gibbula ardens Von Salis, 179)
Gibbula bellinii Coen 1930: synonym of Gibbula magus (Linnaeus, 1758)
Gibbula becki Turton, 1932: synonym of Gibbula multicolor (Krauss, 1848)
Gibbula bicolor Risso 1826: synonym of Gibbula ardens Von Salis, 179)
Gibbula concinna (Philippi, 1847): synonym of Eurytrochus concinnus (Pilsbry, 1889)
Gibbula conemenosi Monterosato 1888: synonym of Gibbula adansonii (Payraudeau, 1826)
Gibbula cummingae Kilburn, 1977: synonym of Calliotrochus marmoreus (Pease, 1861)
Gibbula danieli (Crosse, 1862): synonym of Eurytrochus danieli (Crosse, 1862)
Gibbula declivis Forskål, 1775 : synonym of Rubritrochus declivis (Forskål, 1775)
Gibbula De Gregorii Caramagna, 1888: synonym of Ethminolia degregorii (Caramagna, 1888)
Gibbula delicata Coen 1937: synonym of Gibbula leucophaea (Philippi, 1836)
Gibbula distincta Turton, 1932: synonym of Gibbula multicolor (Krauss, 1848)
Gibbula docastana Preston, 1909: synonym of Eurytrochus strangei (Adams, A., 1853)
Gibbula filosa Garrett, 1872: synonym of Eurytrochus danieli (Crosse, 1862)
Gibbula forskadauri Nordsieck 1982: synonym of Gibbula magus (Linnaeus, 1758)
Gibbula fucata Gould, 1861: synonym of Gibbula multicolor (Krauss, 1848)
Gibbula fulgens Gould, 1861 : synonym of Gibbula cicer (Menke, 1844)
Gibbula funiculata Carpenter, 1864: synonym of Lirularia lirulata (Carpenter, 1864)
Gibbula galbina Hedley & May, 1908: synonym of Nanula galbina H(edley & May, 1908)
Gibbula gaudiosa Gould, 1861: synonym of Gibbula cicer (Menke, 1844)
Gibbula gibbosula Brusina, 1865: synonym of Gibbula racketti (Payraudeau, 1826)
Gibbula globulosa Turton, 1932: synonym of Gibbula cicer (Menke, 1844)
Gibbula gorgonarum P. Fisher, 1883 : synonym of Callumbonella suturalis (Philippi, 1836)
Gibbula huberi Oberling, 1970: synonym of Gibbula vimontiae Monterosato, 1884
Gibbula incinta Sowerby, 1894: synonym of Gibbula tryoni Pilsbry, 1889
Gibbula ivanicsi Brusina: synonym of Gibbula adansonii Payraudeau, 1826
Gibbula isseli Monterosato, 1888: synonym of Gibbula racketti (Payraudeau, 1826)
Gibbula kalinota Adams A. 1851: synonym of Gibbula ardens Von Salis, 179)
Gibbula kowiensis Turton, 1932: synonym of Gibbula benzi (Krauss, 1848)
Gibbula lacunata Carpenter, 1864: synonym of Lirularia lirulata (Carpenter, 1864)
Gibbula lauta Turton, 1932: synonym of Gibbula multicolor (Krauss, 1848)
Gibbula legrandi Tate, R. & May, W.L. 1901: synonym of Minopa legrandi (Petterd, 1879)
Gibbula macculochi Hedley, 1907: synonym of Eurytrochus maccullochi (Hedley, C., 1907)
Gibbula marmorea (Pease, 1861): synonym of Calliotrochus marmoreus (Pease, 1861)
Gibbula micans Suter, 1897: synonym of Cantharidus artizona A. Adams, 1853
Gibbula miniata (Anton, 1838): synonym of Clanculus miniatus (Anton, 1838)
Gibbula musiva Gould, 1861: synonym of Gibbula cicer (Menke, 1844)
Gibbula nassauiensis "Chemnitz, J.H." Stearns, R.E.C., 1893: synonym of Gibbula senegalensis Menke, 1853
Gibbula obesula Locard, 1898: synonym of Calliostoma obesulum (Locard, 1898)
Gibbula obliquata (Gmelin, 1791): synonym of Gibbula umbilicalis (da Costa, 1778)
Gibbula optabilis Carpenter, 1864: synonym of Lirularia lirulata (Carpenter, 1864)
Gibbula ornata Turton, 1932: synonym of Gibbula multicolor (Krauss, 1848)
Gibbula pantanellii Caramagna, 1888: synonym of Monilea pantanellii (Caramagna, 1888)
Gibbula parcipicta Carpenter, 1864: synonym of Lirularia lirulata (Carpenter, 1864)
Gibbula perspectiva G.B. Sowerby, 1900: synonym of Agagus agagus Jousseaume, 1894
Gibbula pintado Gould, 1861: synonym of Gibbula benzi (Krauss, 1848)
Gibbula phasianella (Deshayes, 1863): synonym of Calliotrochus marmoreus (Pease, 1861)
Gibbula polychroma Turton, 1932: synonym of Gibbula multicolor (Krauss, 1848)
Gibbula protumida Locard 1886: synonym of Gibbula magus (Linnaeus, 1758)
Gibbula pseudotumida Nordsieck, 1982: synonym of Gibbula racketti (Payraudeau, 1826)
Gibbula pulchella Turton, 1932: synonym of Gibbula multicolor (Krauss, 1848)
Gibbula pulcherrima A. Adams, 1855: synonym of Rubritrochus pulcherrimus (A. Adams, 1855)
Gibbula punctocostata A. Adams, 1853: synonym of Astele punctocostata (A. Adams, 1853)
Gibbula purpurata Brusina, 1865 : synonym of Gibbula rarilineata (Michaud, 1829)
Gibbula purpurea Coen 1930: synonym of Gibbula albida Gmelin, 1791
Gibbula pygmaea Risso, 1826: synonym of Gibbula racketti (Payraudeau, 1826)
Gibbula richardi (Payraudeau, 1826): synonym of Phorcus richardi (Payraudeau, 1826)
Gibbula rotella Monterosato 1888: synonym of Gibbula nivosa A. Adams, 1851
Gibbula redimita Gould, 1861: synonym of Lirularia redimita (Gould, 1861)
Gibbula reedi Verco, 1907: synonym of Fossarina (Minopa) reedi (Verco, 1907)
Gibbula reevei (Montrouzier in Souverbie & Montrouzier, 1866): synonym of Trochus reevei Montrouzier in Souverbie & Montrouzier, 1866
Gibbula sanguinea Risso 1826: synonym of Gibbula ardens Von Salis, 179)
Gibbula sepulchralis (Melvill, 1899): synonym of Priotrochus obscurus obscurus (Wood, 1828)
Gibbula specialis Coen 1937: synonym of Gibbula divaricata (Linnaeus, 1758)
Gibbula subcincta Monterosato 1888: synonym of Gibbula ardens Von Salis, 179)
Gibbula sulcosa Adams A. 1851: synonym of Gibbula ardens Von Salis, 179)
Gibbula sulliottii Monterosato, 1888: synonym of Gibbula adansonii (Payraudeau, 1826)
Gibbula taiwanensis Chen, 2006 : synonym of Pseudotalopia taiwanensis (Chen, 2006)
Gibbula tasmanica Petterd, 1879: synonym of Nanula tasmanica (Petterd, 1879)
Gibbula tesserula Tenison-Woods, 1880: synonym of Chlorodiloma odontis (W. Wood, 1828)
Gibbula thalia Bartsch, 1915: synonym of Gibbula cicer (Menke, 1844)
Gibbula thiara Coen 1930: synonym of Gibbula albida Gmelin, 1791
Gibbula townsendi Sowerby III, 1895: synonym of Agagus agagus Jousseaume, 1894
Gibbula tuberculosa auct. non d'Orbigny, 1842: synonym of Arene bitleri Olsson & McGinty, 1958
Gibbula variegata Risso, 1826: synonym of Gibbula varia (Linnaeus, 1758)
Gibbula venusta Adams A. 1851: synonym of Gibbula ardens Von Salis, 179)
Gibbula virescens Nordsieck 1972: synonym of Gibbula adansonii (Payraudeau, 1826)
Gibbula vulcanica Coen 1930: synonym of Gibbula magus (Linnaeus, 1758)
Gibbula whitechurchi Turton, 1932: synonym of Ilanga whitechurchi (Turton, 1932)
Nomen dubium
Gibbula rosea (Gmelin, 1791)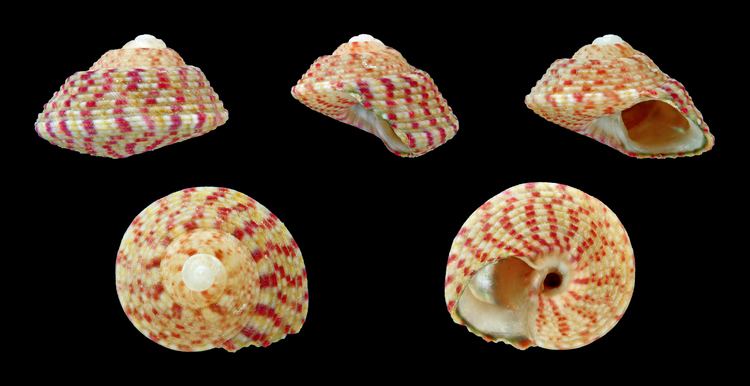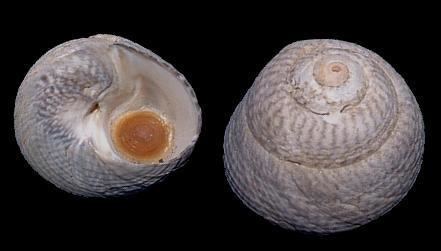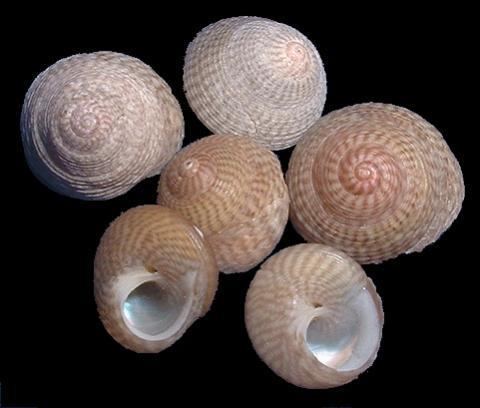 Gibbula Wikipedia