Allegiance

Nazi Germany


Name

Gerhard Schopfel




Rank

Major


Years of service

1937–45




Service/branch

Luftwaffe





Born

19 December 1912Erfurt (

1912-12-19

)


Died

17 May 2003(2003-05-17) (aged 90)Bergisch Gladbach-Refrath


Unit

JG 26, JG 54, JG 4, JG 6
Military career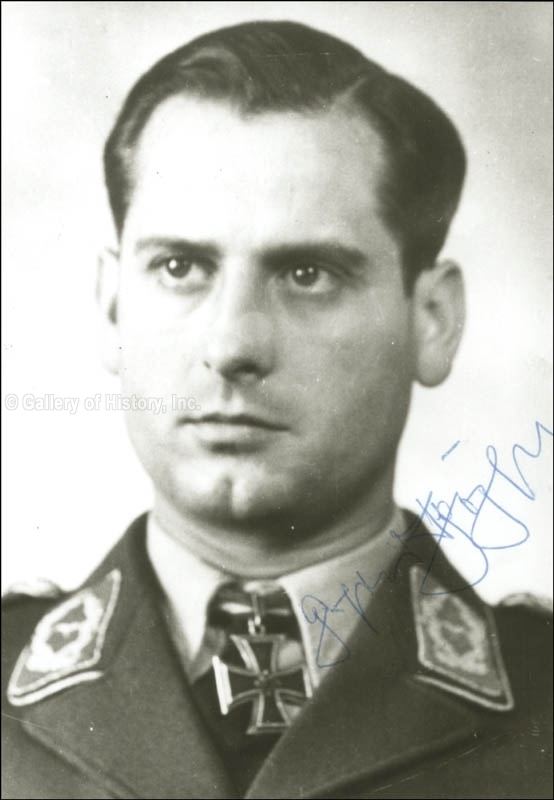 Gerhard "Gerd" Schöpfel was born on 19 December 1912 at Erfurt in Thüringen. Schöpfel was initially assigned to I./Jagdgeschwader 233 (JG 233—233rd Fighter Wing). However, in June 1938 he was transferred to the Stab (HQ) flight of I./Jagdgeschwader 334 (JG 334—334th Fighter Wing), which became I./Jagdgeschwader 132 (JG 132—132nd Fighter Wing) and, ultimately, I./Jagdgeschwader 26 (JG 26—26th Fighter Wing). Oberleutnant Schöpfel was assigned as commander of 9./JG 26 (9th Squadron) on 23 September 1939.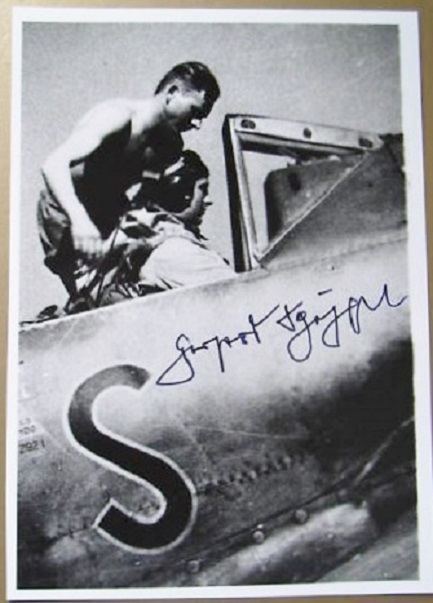 After achieving 20 victories in the Battle of France and the Battle of Britain (the 11th Luftwaffe pilot to reach that mark).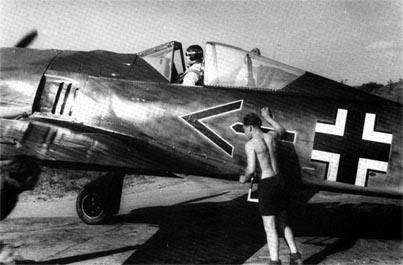 On 1 December 1941 he was promoted to Major and on 6 December 1941 became Geschwaderkommodore of JG 26 when Galland was again promoted, this time to General der Jagdflieger. Through 1942, JG 26 and Jagdgeschwader 2 (JG 2—2nd Fighter Wing) were the only defense in northern France as the RAF took the fight back to them. Schöpfel left JG 26 on 10 January 1943, with 45 victories, to take up a number of administrative roles - firstly as the I-a (Operations Officer) at Jafü Brittany. He then went to serve as Fighter Operations Officer for the South Italy Command from July (during the critical Sicily landings) and then Jafü (Fighter Leader) Norway from January 1944.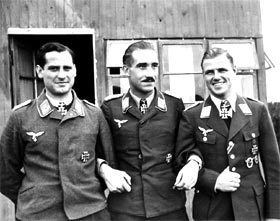 He returned to a combat command on 1 May 1944, briefly joining the staff of III./Jagdgeschwader 54 (JG 54—54th Fighter Wing) for a month. This was based in Germany on Reich Defense, and he mentored the newly promoted Gruppenkommandeur Siegfried Schnell who had previously commanded the 9./JG 2 squadron alongside Schöpfel on the Channel Front. Then on 1 June 1944, he was appointed Geschwaderkommodore of the newly set up Jagdgeschwader 4, also based on Defense of the Reich. The original Gruppe I./JG 4, formed in mid 1943, had previously been based in Romania defending the oilfields, and was currently based in northern Italy. The new II. and III./JG 4 Gruppen were authorised in mid July, and I./JG 4 transferred to Germany to join them to bring his Geschwader up to full strength. However, on 6 August wounded when he was shot down near Schwerin flying Messerschmitt Bf 109 G-6 (Werknummer 440728—factory number). His injuries were serious enough that he had to give up his command on 6 August to ObstLt Gerhard Michalski.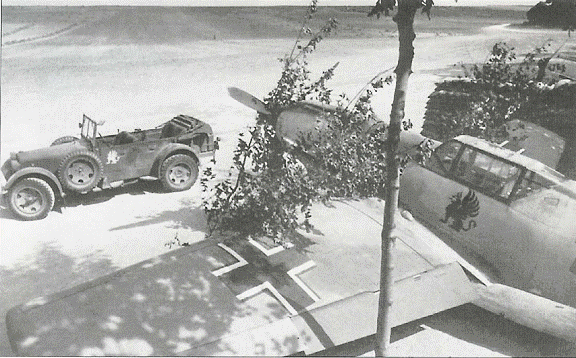 In October 1944 Schöpfel was appointed to the newly created role of Jafü (Fighter Leader) Hungary. In February 1945 he commanded the Luftkriegsschule 2 (training school) at Gatow. On 10 April he was appointed the final Geschwaderkommodore of Jagdgeschwader 6 (JG 6—6th Fighter Wing) based in northern Czechoslovakia.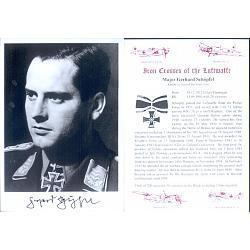 After serving on the Eastern Front for a month, Schöpfel was captured by Soviet forces, and was interned for four and a half years in the Soviet Union. He returned to Germany upon his release in December 1949 and.
Later life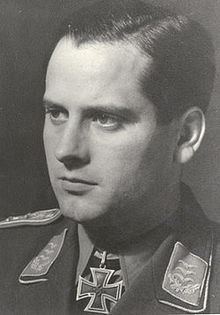 He took jobs as a chauffeur and a merchant before obtaining an executive position with Air Lloyd in Bonn in the 1960s, in an office next to his former commander Adolf Galland. He died of natural causes on 17 May 2003 aged 90.
Awards
Ehrenpokal der Luftwaffe (27 August 1940)
Iron Cross (1939) 2nd and 1st class
German Cross in Gold on 9 December 1941 as Hauptmann in the III./JG 26
Knight's Cross of the Iron Cross on 11 September 1944 as Hauptmann and Gruppenkommandeur of the III./JG 26 "Schlageter"
References
Gerhard Schöpfel Wikipedia
(Text) CC BY-SA