Georgia




1,010 (1999)




3.9 sq mi




Georgia



Georgetown is a city in Quitman County, Georgia, United States. The population was 973 at the 2000 census.
Settled in the early 1830s, Georgetown was first named Tobanana for the nearby creek. The Tobanana Post Office was established on January 10, 1833. On September 21, 1836, the name of the town was changed to "Georgetown" after the historic neighborhood in Washington, D.C..
Georgetown was designated in 1859 as the county seat of Quitman County and was laid-out as a town by order of the Inferior Court. The town was incorporated by Act of the Legislature on December 9, 1859.
A brigade of Federal Cavalry, commanded by General Benjamin H. Grierson, camped for a time near Georgetown on the banks of the Tobanana Creek at the close of the American Civil War.
Georgetown was destroyed by fire in 1903; every building except for the post office and three houses were destroyed by the fire.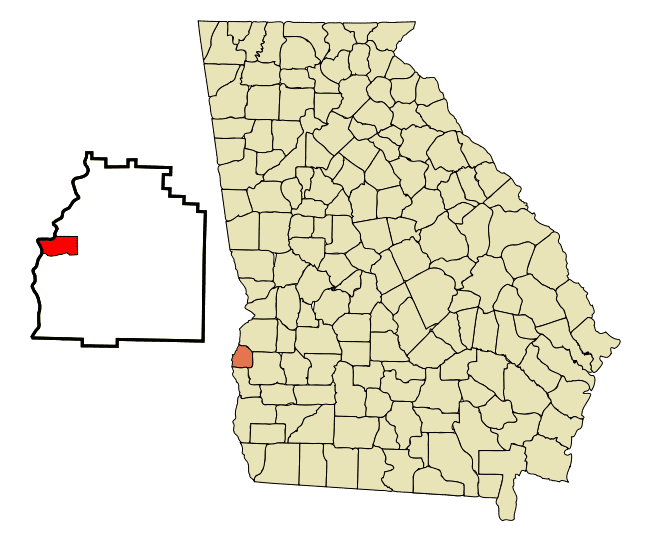 Georgetown is located at 31°53?02?N 85°06?05?W.
According to the United States Census Bureau, the city has a total area of 3.9 square miles (10 km2), of which, 2.7 square miles (7.0 km2) of it is land and 1.2 square miles (3.1 km2) of it (30.46%) is water.
Georgetown, Quitman County, Georgia Wikipedia
(,)http://www.georgiaencyclopedia.org/sites/default/files/styles/article-gallery-lowres/public/m-9593.jpg%3Fitok%3DEBflr66D(,)http://www.georgiaencyclopedia.org/sites/default/files/styles/article-gallery-lowres/public/m-9584.jpg%3Fitok%3DLz-dqABz(,)http://www.georgiaencyclopedia.org/sites/default/files/styles/article-gallery-lowres/public/m-9450.jpg%3Fitok%3DSeSxNDai(,)http://cdn3.vtourist.com/19/4144547-quitman_county_courthouse_Georgetown.jpg(,)https://familysearch.org/learn/wiki/en/images/8/87/GAQuitman.JPG(,)http://upload.wikimedia.org/wikipedia/commons/thumb/e/e2/Quitman_County_Georgia_Incorporated_and_Unincorporated_areas_Georgetown_Highlighted.svg/500px-Quitman_County_Georgia_Incorporated_and_Unincorporated_areas_Georgetown_Highlighted.svg.png
(,)http://upload.wikimedia.org/wikipedia/commons/thumb/e/e2/Quitman_County_Georgia_Incorporated_and_Unincorporated_areas_Georgetown_Highlighted.svg/650px-Quitman_County_Georgia_Incorporated_and_Unincorporated_areas_Georgetown_Highlighted.svg.png(,)http://www.georgetown-quitman.org/wp-content/gallery/quitman1/dscn0261.jpg(,)http://www.georgetown-quitman.org/wp-content/gallery/quitman1/tiffanyfish.jpg(,)http://www.rurallibraryproject.org/images/Georgetown/DSCN1239Small.jpg
(,)http://images.secondspace.com/p/MOS/15/29/6XL_02.jpg(,)http://images.secondspace.com/p/MOS/15/29/6XL_17.jpg(,)http://images.secondspace.com/p/MOS/17/00/3XL_03.jpg(,)http://images.secondspace.com/p/MOS/20/27/7XL_07.jpg(,)http://images.secondspace.com/p/SUP/B5/81/C3/A9/72/20XL_03.jpg(,)http://images.secondspace.com/p/SUP/B5/81/C3/A9/72/20XL_09.jpg(,)http://images.secondspace.com/p/SUP/B5/81/C3/A9/72/20XL_04.jpg(,)https://c2.staticflickr.com/6/5090/5326384248_0ebee3ec0c.jpg(,)http://mw2.google.com/mw-panoramio/photos/medium/10708656.jpg