United Kingdom


29 km2


28,836 (2007)




University College of the Cayman Islands, The Cayman Islands Civil Service College



George Town is a city situated on the Grand Cayman island of the Cayman Islands. It serves as the capital of the Cayman Islands, in the British West Indies. As of 2007, the city had a population of 28,836, making it the second largest city (by population) of all the British Overseas Territories.
George Town is the heart of the Cayman Islands financial industry, there are close to 600 Bank and Trust companies in the Cayman Islands. The Caymanian government offices are located in the city.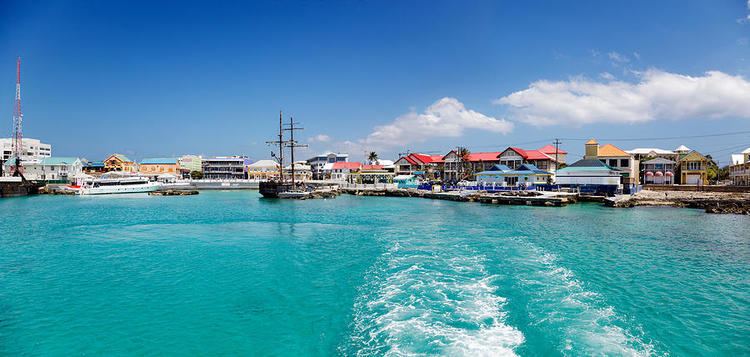 George Towns city limits extend from the east at the edge of the South Shore District, north just beyond Owen Roberts International Airport, south to Hog Sty Bay and west to Seven Mile Beach and the West Bay District. George Towns famous Seven Mile Beach is a long crescent of coral-sand beach extending up to the West Bay region of Grand Cayman and is the most popular and populated area for tourists on the island.
The financial services generated CI$1.2 billion of GDP in 2007 (55% of the total economy), 36% of all employment and 40% of all government revenue. The Cayman Islands currently ranks fifth internationally in terms of value of liabilities booked and sixth in terms of assets booked. It has branches of 40 of the world's 50 largest banks. The Cayman Islands are the second largest captive domicile in the world with more than 700 captives, writing more than US$7.7 billion of premiums and with US$36.8 billion of assets under management. There are more than 9,500 funds under licence with globally recognised legal, audit/accounting and fund administration services (incl. the Big Four auditors). Major law firms such as Maples and Calder have established themselves in the Cayman Islands. Similarly, large accounting firms such as KPMG, Ogier, Ernst & Young and Deloitte are also present. As a result, Cayman is a leader in captive domiciles, hedge fund registrations and is considered a major international banking center.
Guyanese cuisine is very similar to the rest of the Anglo Caribbean. The food reflects the ethnic makeup of the country and its colonial history, and includes African, Creole, East Indian, Portuguese, Amerindian, Chinese and European (mostly British) influences and dishes. The food is diverse and includes dishes such as curry and roti, and Cookup Rice, the local variation on the Caribbean rice and peas. The one pot meal while not the national dish is one of the most cooked dishes. With its various versions, according to what type of meat, peas and other ingredients available, is a true reflection of the country.
Dishes have been adapted to Guyanese tastes, often by the addition of herbs and spices. Unique preparations include Pepperpot, a stew of Amerindian origin made with meat, cassareep (a bitter extract of the cassava), and seasonings. Other favourites are cassava bread, stews, and Metemgie, a thick rich type of soup with ground provision, coconut milk and large dumplings (called Duff), eaten with fried fish or chicken. Homemade bread-making, an art in many villages, is a reflection of the British influence that includes pastries such as cheese rolls, pine (pineapple) tarts, and patties.
Curry is widely popular in Guyana and includes most types of meat that can be curried including chicken, seafood, goat, lamb, and even duck. Guyanese style Chow Mein is another dish that is cooked regularly in many homes.
Caribbean ground provisions (known colloquially as provisions) are part of the staple diet and include cassava, sweet potato, edoes and others. There is an abundance of fresh fruits, vegetables and seafood on the coast.
Most individuals use fresh fruits to make their own beverages, which are called "local drink", which are made from readily available fruits or other parts of plants. Popular homemade drinks are Lime Wash (like lemonade), pine drink (from a pineapple)mauby, made from the bark of a tree; sorrel drink, made from hibiscus; ginger beer (made from ginger root), and peanut punch.
Fresh fish and seafood are an integral part of the Guyanese diet especially in the rural areas and small villages along the coast. Popular fish types include gilbaka, butter fish. tilapia, catfish, and hassa. The crab soups with okra from the Berbice coastal region resemble the Louisiana Creole soups like gumbo.
Christmas and Old Years Night (New Years) is the most celebrated time for Guyanese for food and festivities. Advance preparation is part of the exciting pre-preparation for Christmas celebrations. It starts with the preparation and soaking of fruits and rum or wine for Black Cake weeks or sometimes months ahead to intensify the flavor. Local drinks such as Ginger beer, Maubi, and Sorrel are fermented and require a sitting (pre-preparation) period prior to making. Ginger Beer is the Christmas drink of Choice, similar to the popularity of Egg Nog in North America. Some dishes certain to be served are Guyana pepperpot, garlic pork, black cake, sponge cake and Home Made bread. Some of the local drinks and food require advance preparation.
Guyanese style Chinese food and fried chicken are the most popular restaurant and take-out items, and are found in the bigger towns. Popular Chinese dishes include lo mein, chow mein, and Chicken in the ruff (fried rice with Chinese-style fried chicken).
George Town, Cayman Islands Wikipedia
(,)http://upload.wikimedia.org/wikipedia/commons/0/0a/Waterfront,_George_Town,_Grand_Cayman.jpg(,)http://www.visitcapitalcity.com/imagens/city/George-Town/Kents-Cave-Grand-Cayman.jpg(,)http://www.grand-cayman-wanderer.com/images/history-of-cayman-isl1.jpg(,)http://www.grand-cayman-wanderer.com/images/history-cayman-islands2.jpg(,)http://upload.wikimedia.org/wikipedia/commons/2/2d/Heroes_Square_of_George_Town.jpg(,)http://www.visitcapitalcity.com/imagens/city/George-Town/EARLY-MORNING-GEORGE-TOWN.jpg(,)http://upload.wikimedia.org/wikipedia/commons/0/08/Butterfield_Bank_in_Georgetown,_Grand_Cayman.jpg(,)http://media-cdn.tripadvisor.com/media/photo-s/02/69/3a/9a/filename-img-3061-jpg.jpg(,)http://www.nationaltrust.org.ky/wp-content/themes/ANF_MVC/Images/Cayman_Islands_National_Trust_Heritage_Properties_List_Map%2520(20111208).jpg(,)http://tours42plus.com/attachment%3Ffile%3DG8bRO%252B8FBwSY06oJr6kxoA%253D%253D(,)http://www.compasscayman.com/uploadedImages/Image-From-obscurity-to-offshore-giant.jpg%3Fn%3D9084
(,)http://images.fineartamerica.com/images-medium-large-5/george-town-waterfront-cayman-islands-jo-ann-snover.jpg(,)http://www.charterworld.com/images/user/The%2520Caymans%2520Islands%2520Map.jpg(,)http://www.seyeneco.com/images/wallpaper/pirate_ship_at_george_town_grand_cayman_islands_wallpaper_1024.jpg(,)http://cdn2-b.examiner.com/sites/default/files/styles/image_content_width/hash/d7/5e/d75e09fa155cf634b516f79ce0e7c56b.jpg%3Fitok%3Dh5B36MQw(,)http://www.charterworld.com/images/user/Stingray%2520encounter%2520in%2520the%2520Cayman%2520Islands%2520%2520-%2520Credit%2520Ty%2520Sawyer.jpg(,)http://en.wikipedia.org/wiki/Cayman_Islands(,)http://images.fineartamerica.com/images-medium-large/georgetown-cayman-islands-donna-walsh.jpg(,)http://cache1.asset-cache.net/gc/128953770-aerial-view-of-george-town-on-grand-cayman-gettyimages.jpg%3Fv%3D1%26c%3DIWSAsset%26k%3D2%26d%3Dt%252Bvk1FUP8gY4czOV6ZZEfNx5gBZHEHpNbhRX7zKigs0%253D(,)http://cache4.asset-cache.net/gc/140495097-cruiser-in-the-harbour-george-town-grand-gettyimages.jpg%3Fv%3D1%26c%3DIWSAsset%26k%3D2%26d%3D%252FZImzHHwhw6tRPQE0oNCaDf5sfQb5tvj42zkB61lpbvO3QxoUuLLtXSj544gNiAGFkVd4Y9FOcO2cXHEckuc%252BA%253D%253D(,)http://imgc.allpostersimages.com/images/P-473-488-90/67/6747/H12Z100Z/posters/richard-cummins-stores-on-harbour-drive-george-town-grand-cayman-cayman-islands-greater-antilles-west-indies.jpg
(,)http://www.caymanactivityguide.com/Sightseeing/GeorgeTown/CaliShoreSnorkel.jpg(,)http://caymanislandsdiscounts.com/caliEntrance2.jpg(,)http://static.travel.usnews.com/images/destinations/76/george_town.jpg(,)http://media-cdn.tripadvisor.com/media/photo-s/01/de/fd/b1/spashdown.jpg(,)http://media-cdn.tripadvisor.com/media/photo-s/03/48/b6/ab/my-bar.jpg(,)http://media-cdn.tripadvisor.com/media/photo-s/01/7e/88/9b/stingray-city-sadbar.jpg(,)http://www.orangesmile.com/common/img_final_large/georgetown_sightseeing.jpg
(,)https://mycaymanianlife.files.wordpress.com/2013/05/jennifer-avventura-batabano-cayman-islands-2013-10.jpg%3Fw%3D640%26h%3D480(,)http://www.travelvivi.com/wp-content/uploads/2013/02/George-Town.jpg(,)http://wac.6628.edgecastcdn.net/806628/cidot/Portals/0/Images/AboutCayman/Grand%2520Cayman.png(,)http://i.dailymail.co.uk/i/pix/2014/01/04/article-2533681-1A69CD8600000578-773_634x420.jpg(,)http://www.ieyenews.com/wordpress/wp-content/uploads/2013/10/Pirates-Cayman.jpg(,)http://www.easyvoyage.co.uk/images/villes/61430/570x360/9963.jpg(,)http://www.scmp.com/sites/default/files/styles/980w/public/2013/06/15/cayman.jpg%3Fitok%3DZ9HXteDv(,)http://greatworldgetaways.com/wp-content/uploads/2013/01/George-Town-Harbour-Grand-Cayman.jpg%3F1dbc64
(,)http://www.visitcapitalcity.com/imagens/city/George-Town/HEROES-SQUARE-PUBLIC-LIBRARY-GEORGE-TOWN.jpg(,)http://www.theodora.com/wfb/photos/cayman_islands/cayman_national_bank_george_town_cayman_islands_photo_wikipedia.jpg(,)http://images2.mygola.com/george-town-cayman-islands-national-museum_6400108_l.jpg(,)https://www.cruisingexcursions.com/imgCrop/Ports/5/st-george-port-in-bermuda.jpg(,)http://www.visitcapitalcity.com/imagens/city/George-Town/George-Town-waterfront-Cayman-Islands.jpg(,)http://www.traveljournals.net/pictures/l/6/65734-breezes-by-the-bay-view-of-georgetown-george-town-cayman-islands.jpg(,)https://c1.staticflickr.com/3/2280/2648143936_6c6fb7845e.jpg
(,)http://www.planetware.com/photos-large/CAY/cayman-george-town.jpg(,)http://www.planetware.com/photos-large/CAY/cayman-islands-stingray-city.jpg(,)http://media-cdn.tripadvisor.com/media/photo-s/03/dc/e2/87/sunset-house.jpg(,)http://ds-lands.com/data_images/top_cityes/george-town/george-town-04.jpg(,)http://caymanyp.com/wp-content/uploads/2012/06/discover-grandcayman1.jpg(,)http://www.tourist-destinations.com/wp-content/uploads/2013/08/george-town-cay.jpg