Covid-19
University of Michigan




Cultural anthropology




Gayle Rubin




University of Michigan




1994




University of Michigan




Anthropologist




Samois






Association for Queer Anthropology Ruth Benedict Book Prize (2012)




The Valley of the Kings: Leathermen in San Francisco, 1960–1990




Deviations: A Gayle Rubin Reader
Gayle S. Rubin (born 1949) is an American cultural anthropologist best known as an activist and theorist of sex and gender politics. She has written on a range of subjects including feminism, sadomasochism, prostitution, pedophilia, pornography and lesbian literature, as well as anthropological studies and histories of sexual subcultures, especially focused in urban contexts. She is an Associate Professor of Anthropology and Women's Studies at the University of Michigan in Ann Arbor.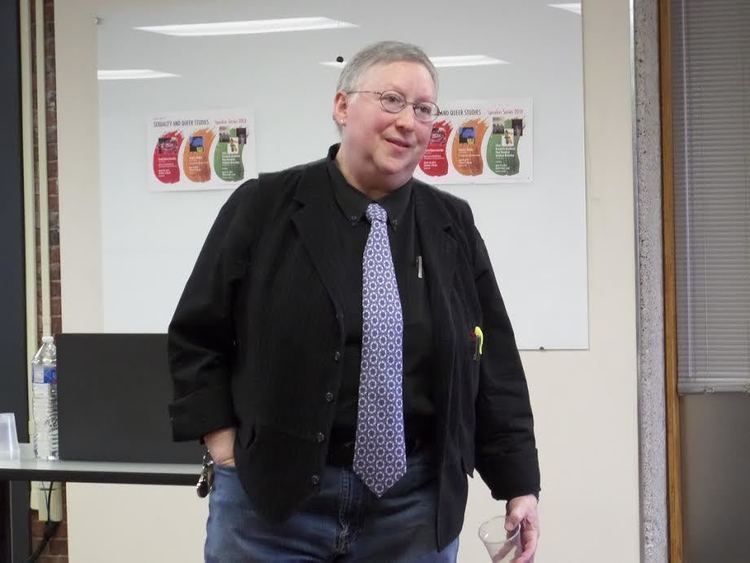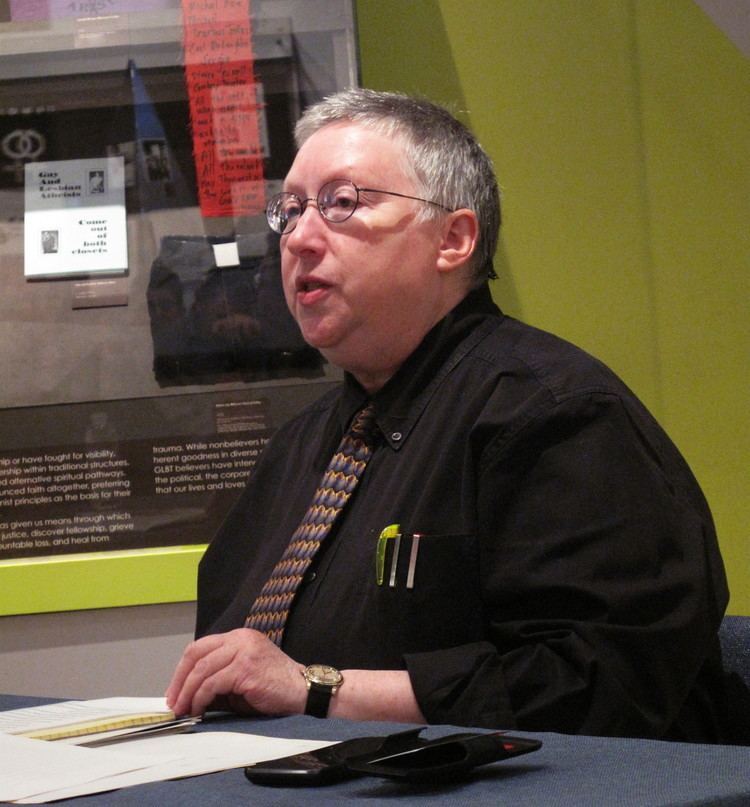 In 1968 Gayle Rubin was part of an early feminist consciousness raising group active on the campus of the University of Michigan and also wrote on feminist topics for women's movement papers and the Ann Arbor Argus. In 1970 she helped found Ann Arbor Radicalesbians, an early Lesbian Feminist group.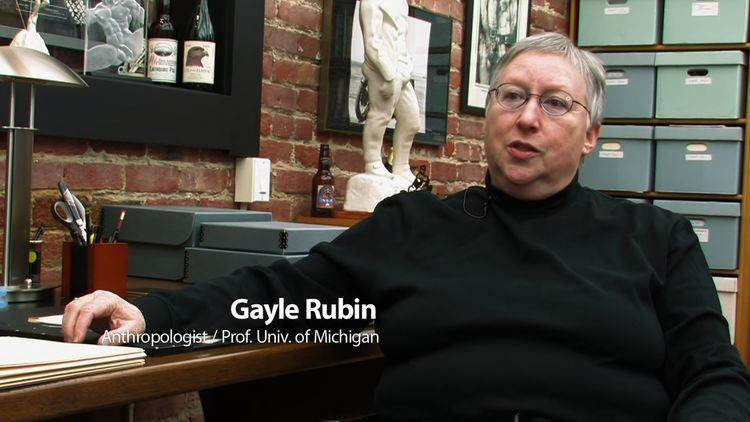 Rubin first rose to recognition through her 1975 essay The Traffic in Women: Notes on the 'Political Economy' of Sex, in which she attempts to discover historical social mechanisms by which gender and compulsory heterosexuality are produced, and women are consigned to a secondary position in human relations. The paper's argument that there is a difference between gender and sex has become central to women's studies.
In 1978 Rubin moved to San Francisco to begin studies of the gay male leather subculture seeking a view of a minority sexual practice neither as a clinical entity nor through individual psychology but as an anthropologist wanting to study a contemporary community. On June 13 of that year, Rubin, together with Patrick Califia and 16 others founded the first known lesbian SM group, Samois. The group disbanded in May 1983, and Rubin was involved in founding a new organisation, "the Outcasts", the following year. Rubin became a prominent "pro-sex activist" in the feminist sex wars of the late 1970s and 1980s, giving a now-classic paper at the volatile 1982 Barnard Conference on Sexuality in New York City.
In the field of public history, Rubin was a member of the San Francisco Lesbian and Gay History Project, a private study group founded in 1978; its members included Allan Berube, Estelle Freedman and Amber Hollibaugh. Rubin also is a founding member of the GLBT Historical Society (originally known as the San Francisco Bay Area Gay and Lesbian Historical Society), established in 1985. She served on the Board of Directors of the Leather Archives and Museum from 1992 to 2000. Arguing the need for well-maintained historical archives for sexual minorities Rubin has written that "queer Life is full of examples of fabulous explosions that left little or no detectable trace... those who fail to secure the transmission of their histories are doomed to forget them".
In 1994, Rubin completed her PhD in anthropology at the University of Michigan with a dissertation titled The Valley of the Kings: Leathermen in San Francisco, 1960–1990.
She is associate professor of anthropology, women's studies and comparative literature at the University of Michigan, Ann Arbor, and the 2014 F. O. Matthiessen Visiting Professor of Gender and Sexuality at Harvard University.
In the essay "The Traffic in Women: Notes on the 'Political Economy' of Sex", Rubin discussed the trafficking of women, which she believes results from the "sex/gender system," a phrase she originated, meaning "the set of arrangements by which a society transforms biological sexuality into products of human activity, and in which these transformed sexual needs are satisfied." She takes as a starting point writers who have previously discussed gender and sexual relations as an economic institution (Karl Marx and Friedrich Engels) which serves a conventional social function (Claude Levi-Strauss) and is reproduced in the psychology of children (Sigmund Freud and Jacques Lacan). She asserts that these writers fail to adequately explain women's subjugation; therefore, Rubin offers a reinterpretation of their ideas. Rubin addresses Marxist thought by identifying women's role within a capitalist society. She argues that the reproduction of labor power depends upon women's housework to transform commodities into sustenance for the worker. A capitalistic system cannot generate surplus without women, yet society does not grant women access to the resulting capital.
Rubin argues that historical patterns of female oppression have constructed this role for women in capitalist societies. She attempts to analyze these historical patterns by considering the sex/gender system. According to Rubin, "Gender is a socially imposed division of the sexes." She cites the exchange of women within patriarchal societies as perpetuating the pattern of female oppression, referencing Marcel Mauss' Essay on the Gift and using his idea of the "gift" to establish the notion that gender is created within this exchange of women by men in a kinship system. Women are born biologically female, but only become gendered when the distinction between male giver and female gift is made within this exchange. For men, giving the gift of a daughter or a sister to another man for the purpose of matrimony allows for the formation of kinship ties between two men and the transfer of "sexual access, genealogical statuses, lineage names and ancestors, rights and people" to occur. When using a Marxist analysis of capitalism within this sex/gender system, the exclusion of women from the system of exchange establishes men as sellers and women as their commodities fit for exchange. She ultimately hopes for an "androgynous and genderless" society in which sexual difference has no socially constructed and hierarchical meaning.
In her 1984 essay "Thinking Sex", Rubin interrogated the value system that social groups — whether left- or right-wing, feminist or patriarchal — attribute to sexuality which defines some behaviours as good/natural and others (such as pedophilia) as bad/unnatural. In this essay she introduced the idea of the "Charmed Circle" of sexuality, that sexuality that was privileged by society was inside of it, while all other sexually was outside of, and in opposition to it. The binaries of this "charmed circle" include couple/alone or in groups, monogamous/promiscuous, same generation/cross-generational, and bodies only/with manufactured objects. The "Charmed Circle" speaks to the idea that there is a hierarchical valuation of sex acts. In this essay, Rubin also discusses a number of ideological formations that permeate sexual views. The most important is sex negativity, in which Western cultures consider sex to be a dangerous, destructive force. If marriage, reproduction, or love are not involved, almost all sexual behavior is considered bad. Related to sex negativity is the fallacy of the misplaced scale. Rubin explains how sex acts are troubled by an excess of significance.
Rubin's discussion of all of these models assumes a domino theory of sexual peril. People feel a need to draw a line between good and bad sex as they see it standing between sexual order and chaos. There is a fear that if certain aspects of "bad" sex are allowed to move across the line, unspeakable acts will move across as well. One of the most prevalent ideas about sex is that there is one proper way to do it. Society lacks a concept of benign sexual variation. People fail to recognize that just because they do not like to do something does not make it repulsive. Rubin points out that we have learned to value other cultures as unique without seeing them as inferior, and we need to adopt a similar understanding of different sexual cultures as well.
2012 Association for Queer Anthropology Ruth Benedict Book Prize
2000 Leather Archives and Museum "Centurion"
2000 National Leather Association Lifetime Achievement Award
1992 Pantheon of Leather Forebearer Award
1988 National Leather Association Leather Woman of the Year Award
Deviations: A Gayle Rubin Reader (Durham, NC: Duke University Press, 2012).
"Samois", in Marc Stein, ed., Encyclopedia of Lesbian, Gay, Bisexual, and Transgender History in America (New York: Charles Scribner's Sons, 2003). (PDF download.)
"Studying Sexual Subcultures: the Ethnography of Gay Communities in Urban North America", in Ellen Lewin and William Leap, eds., Out in Theory: The Emergence of Lesbian and Gay Anthropology. (Urbana: University of Illinois Press, 2002)
"Old Guard, New Guard", in Cuir Underground, Issue 4.2, Summer 1998. (Online text.)
"Sites, Settlements, and Urban Sex: Archaeology And The Study of Gay Leathermen in San Francisco 1955–1995", in Robert Schmidt and Barbara Voss, eds., Archaeologies of Sexuality (London: Routledge, 2000).
"The Miracle Mile: South of Market and Gay Male Leather in San Francisco 1962–1996", in James Brook, Chris Carlsson, and Nancy Peters, eds., Reclaiming San Francisco: History, Politics, Culture (San Francisco: City Lights Books, 1998).
"From the Past: The Outcasts" from the newsletter of Leather Archives & Museum No. 4, April 1998.
"Music from a Bygone Era", in Cuir Underground, Issue 3.4, May 1997. (Online text.)
"Elegy for the Valley of the Kings: AIDS and the Leather Community in San Francisco, 1981–1996", in Martin P. Levine, Peter M. Nardi, and John H. Gagnon, eds. In Changing Times: Gay Men and Lesbians Encounter HIV/AIDS (University of Chicago Press, 1997).
The Valley of the Kings: Leathermen in San Francisco, 1960–1990. University of Michigan, 1994. (Doctoral dissertation.)
"Of catamites and kings: Reflections on butch, gender, and boundaries", in Joan Nestle (Ed). The Persistent Desire. A Femme-Butch-Reader. Boston: Alyson. 466 (1992).
Misguided, Dangerous and Wrong: An Analysis of Anti-Pornography Politics, 1992. (PDF download)
"The Catacombs: A temple of the butthole", in Mark Thompson, ed., Leatherfolk — Radical Sex, People, Politics, and Practice, Boston, Alyson Publications, 1991, ISBN 1555831877, pp. 119–141, reprinted in Deviations. A Gayle Rubin Reader, Duke University Press, 2011, ISBN 0822349868, pp. 224–240, http://occupytampa.org/files/tristan/introfem/final/introfem%20final%20final/Gayle_S._Rubin_Deviations_A_Gayle_Rubin_Reader_a_John_Hope_Franklin_Center_Book__2011.pdf, retrieved September 30, 2014.
"Thinking Sex: Notes for a Radical Theory of the Politics of Sexuality, in Carole Vance, ed., Pleasure and Danger (Routledge & Kegan, Paul, 1984. Also reprinted in many other collections, including Abelove, H.; Barale, M. A.; Halperin, D. M.), The Lesbian and Gay Studies Reader (New York: Routledge, 1994).
"The Leather Menace", Body Politic no. 82 (33–35), April 1982.
"Sexual Politics, the New Right, and the Sexual Fringe" in The Age Taboo, Alyson, 1981, pp. 108–115.
"The Traffic in Women: Notes on the 'Political Economy' of Sex", in Rayna Reiter, ed., Toward an Anthropology of Women, New York, Monthly Review Press (1975); also reprinted in Second Wave: A Feminist Reader and many other collections. (PDF download.)
Gayle Rubin Wikipedia