Nationality

Norwegian




Name

Gardar Einarsson




Role

Artist









Born

1976 (age 38–39)

Norway




Known for

Painting, Installation art, Sculpture
Gardar Eide Einarsson - Astrup Fearnley Museet
Gardar Eide Einarsson (born January 12, 1976) is a Norwegian-born artist currently living and working in Tokyo and New York City.
Contents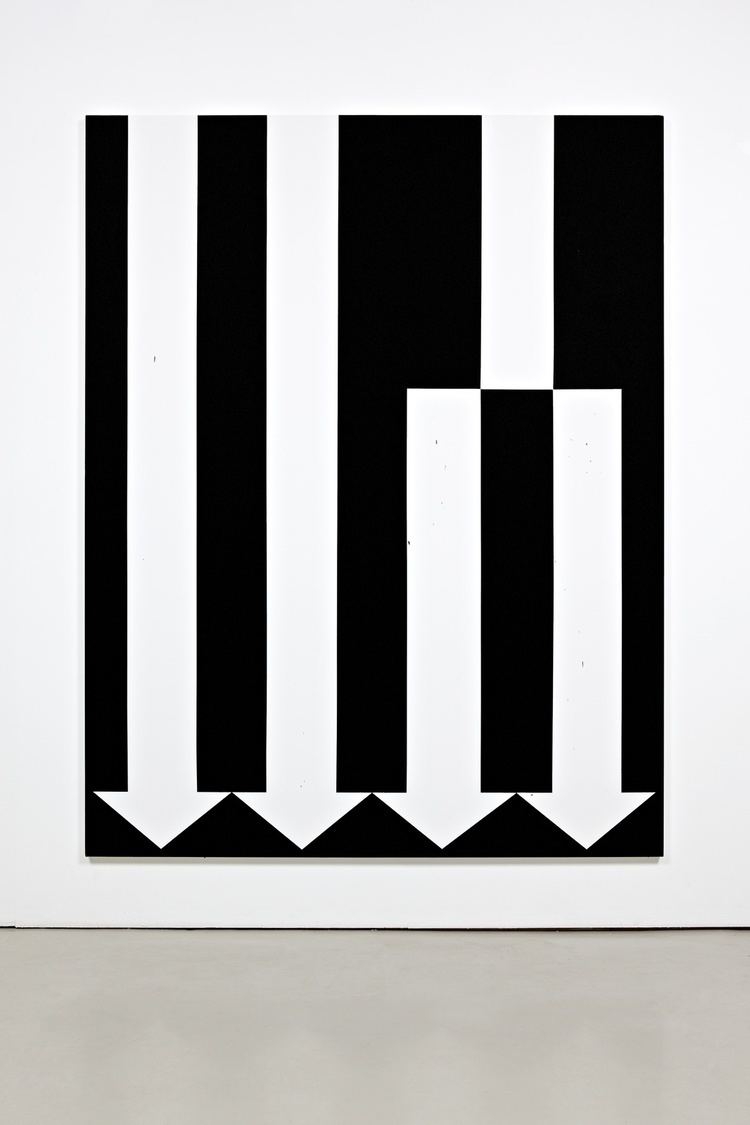 Gardar eide einarsson interview the violence under the surface
Education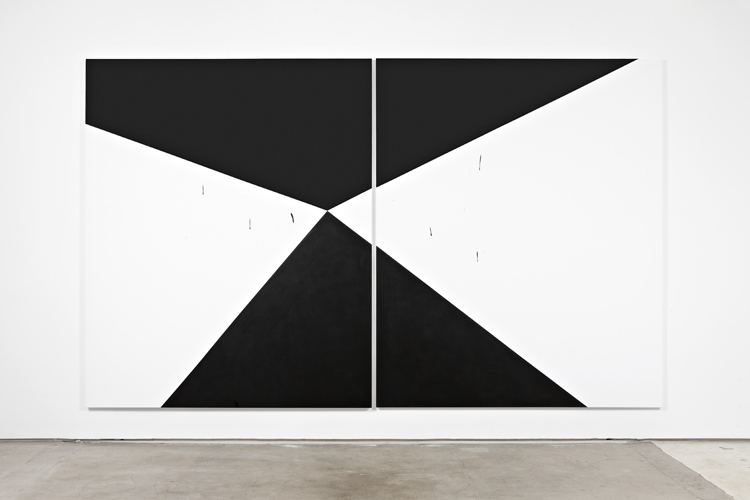 Whitney Museum of American Art Independent Study Program, 2002–03
Cooper Union School of Architecture, Architecture and Urban Studies Program, New York, 2002–03
Whitney Museum of American Art Independent Study Program, Studio Program, New York, 2001–02
Staatliche Hochschule fur Fine Arts - Städelschule, Frankfurt am Main, 1999 - 2000
National Academy of Fine Art, Bergen, 1996 - 2000
Einar Granum School of Fine Art, Oslo, 1994 – 96
Work
Gardar Eide Einarsson (Norwegian, b. 1976) is an artist whose work encompasses installation, printmaking, painting and sculpture. In his work, he critically explores various forms of social transgression and arguments for political subversion and appropriates and recontextualizes imagery from subcultures. His artistic practice comprises a wide range of media, such as text, installations, and drawing.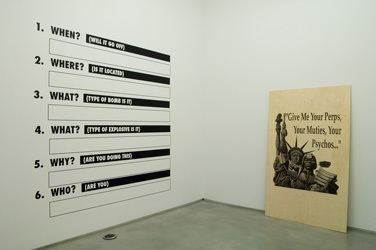 Einarsson's work incorporates acts of appropriation and the re-contextualization of imagery and information. He adopts and endows elements of cultural ephemera with a political charge, attempting to transform various materials into signifiers of dissent. His sources range from book cover graphics, mail-order catalogues, police instruction manuals, everyday objects and institutional architecture.
He lives and works in New York City and Tokyo.
Exhibitions
Solo exhibitions
SHTF, TEAM Gallery, Venice, CA, USA, 2016
Distinct Functionation Layers Establish Hierarchy and Order, Galleri Nils Staerk, Copenhagen, DK, 2016
FREEDOM, MOTHERFUCKER. DO YOU SPEAK IT?, TEAM Gallery, New York City, USA, 2015
Gardar Eide Einarsson, "A Madman, a Patient, a Condemned Man, a Worker or a Schoolboy" ARoS Aarhus Art Museum, Aarhus, Denmark, 2015
Gardar Eide Einarsson, Standard Oslo, Oslo, Norway, 2014
"Gardar Eide Einarsson, Maureen Paley Gallery, London, UK, 2014
Sorry If I Got It Wrong, But Something Definitely Isn't Right, TEAM Gallery, New York City, USA, 2012
"Gardar Eide Einarsson, Maureen Paley Gallery, London, UK, 2012
Art | 42 | Basel | Unlimited, June 2011, Basel, Switzerland, 2011
Gardar Eide Einarsson: ANOTHER MODERN MOMENT COMPLETED, TEAM Gallery, New York City, USA, 2010
Gardar Eide Einarsson: Judge, TEAM Gallery, New York City, USA, 2007
Gardar Eide Einarsson: Art | 37 | Basel | Statements, Basel, Switzerland, 2006
Gardar Eide Einarsson: leashed or confined, TEAM Gallery, New York City, USA, 2005
Special Projects
Versuchsstation des Weltuntergangs, Bergen Kunsthall, 2013
Power Has a Fragrance, Kunsthalle Fridericianum, Kassel, 2011
Power Has a Fragrance, Reykjavik Art Museum, 2011
Whitney Biennial, Whitney Museum of American Art, New York, 2008
South of Heaven, Frankfurter Kunstverein, Frankfurt (Germany), 2007
Selected group exhibitions
Gardar Eide Einarsson and Oscar Tuazon, Maureen Paley Gallery, London, UK, 2017
Gardar Eide Einarsson and Per Krohg, Standard Oslo, Oslo, Norway, 2016
Golden Eggs, TEAM Gallery, New York City, USA, 2016 (organized by Alissa Bennett)
Speak through Art, Kaviar Factory, Henningsvær, Norway, 2014
The Disappearance of the Fireflies, Prison Sainte Anne Avignon, France, 2014
The Moderna Museet Collection/ Unpainted Paintings, Moderna Museet, Stockholm, Sweden, 2014
Take Liberty, The National Museum of Art, Architecture and Design, Oslo, Norway, 2014
Chez Perv, with Oscar Tuazon and Matias Faldbakken, Team, New York, USA, 2014
New Ways of Doing Nothing, (curated by Vanessa Joan Müller and Cristina Ricupero), Kunsthalle Wien, Vienna, Austria, 2014
El Teatro Del Mundo/The Theatre of the World, Museuo Tamayo, Mexico City, Mexico, 2014
The Crime Was Almost Perfect (curated by Cristina Ricupero), Witte de With Center for Contemporary Art, Rotterdam, The Netherlands, 2014
Lies about Painting, Moderna Museet, Gasverksgatan, Malmö. Sweden, 2013
Awaiting Immanence (curated by Peter J. Amdam), Carl Kostyál, Stockholm, Sweden, 2013
Out of Memory (curated by Eleanor Cayre), Marianne Boesky Gallery, New York, USA, 2013
To be with art is all we ask, Astrup Fearnley Museum of Modern Art, Oslo, Norway, 2012
A Child's Guide to Good & Evil, Ramiken Crucible, New York, USA, 2012
La Décadence, Yvon Lambert, Paris, France, 2012
Unpainted paintings – materials that speak (curated by Magnus af Petersens), Rathole Gallery, Tokyo, Japan, 2012
At the Edge – Berkeley Art Museum and Pacific Film Archive BAM/PFA, Berkeley, CA, USA, 2012
Oscar knows Gardar. Gardar knows Matias. Matias knows Fredrik. Fredrik sort of knows Gardar.Gardar knows Marius. And that Gardar knows Matias we already know. But Matias also knows Anders, STANDARD (OSLO), Oslo, Norway, 2012
Breuning, Bäckström, Einarsson, Gamdrup, Kvie, Kvium, Lagomarsino, Rødland, Storch, Superflex – Nils Stærk, Copenhagen, Denmark, 2012
F for Freedom – Galeria Filomena Soares, Lisbon, Portugal, 2012
Black Swan (curated by Dominic Sidhu), Regen Projects, Los Angeles, USA, 2011
In the Name of the Artists – American Contemporary Art from the Astrup Fearnley Collection, Biennal Pavilion, São Paulo, Brazil, 2011
I love ALDI, Wilhelm Hack Meseum, Ludwigshafen am Rhein, Germany, 2011
Vanishing Points: paint and paintings from the Debra and Dennis Scholl collection, Miami, USA, 2011
New York Minute, Garage Center for Contemporary Culture, GCCC, Moscow, Russia, 2011
Pawnshop, Thessaloniki Biennial, Thessaloniki, Greece, 2011
It's Great To Be In New Jersey, Honor Fraser Gallery, Los Angeles, USA (Curator), 2011
Ricupero and Alexis Valliant, Schirn Kunsthalle, Frankfurt, Germany, 2011
I don't know if it makes any sense – I feel quite dizzy and a little drunk due to the blow. I will return with more info shortly…, IMO, Copenhagen, Denmark, 2011
LITOS GRAFERA, Kunst Centret Silkeborg Bad, Silkeborg, Denmark., 2011
Investigations of a Dog, Magasin 3, Stokholm, Sweden, (curated by Tessa Praun) North By New York: New Nordic Art, Scandinavia House, New York, USA, 2011
The Last First Decade, Ellipse Foundation, Cascais, Portugal, 2011
To The Arts, Citizens!, Serralves Museum of Contemporary Art, Porto, Portugal, 2011
Secret Societies: To Know, To Dare, To Will, To Keep Silence, Schirn Kunsthalle, Frankfurt, Germany, 2011
Supernature: An Exercise in Loads, AMP, Athens, Greece, 2011
Ever Prosperit, Bugada & Cargnel, Paris, France, 2011
It is it, Espacio 1414, Santurce, Puerto Rico, 2011
RE-DRESSING, Bortolami Gallery, New York City, New York, September 2010
Tracks, New acquisitions in Malmö Art Museum collection of Nordic Contemporary Art, Konstmuseum, Malmö, Sweden, 2010
To The Arts, Citizens!, Museu Serralves, Museu de Art Contemporanea, Porto, Portugal, 2010
Les Recherches d'un Chien, La Maison Rouge, Paris, France, 2010
Where Do We Go From Here?, Selections from La Coleccion Jumex, CAC, Cincinnati, USA, 2010
When Do You See Yourself in Ten Years?, STANDARD (OSLO), Oslo, Norway, 2010
Is There Any Hope for an Optimistic Art?, Moscow Museum of Modern Art, Moscow, Russia, 2010
Investigations of a Dog, Ellipse Foundation, Alcoitao, Portugal, 2010
Ever Prosperity, Bugada & Cargnel, Paris, France, 2010
Is is it, Espacio 1414, Santurce, Puerto Rico, 2010
17th Biennale of Sydney – The Beauty and the Distance (curated by David Elliot), Sydney, Australia, 2010
I Like the Work, but my Wife Is Still Concern. Please Keep Me Inform about New Works – Gardar Eide Einarsson, Marius Engh and Matias Faldbakken, STANDARD (OSLO), Oslo, Norway, 2010
Chasing Napoleon, Palais de Tokyo, Paris, France, 2009
That's All Folks, Stadshallen, Bruges, Belgium, 2009
Where Do We Go From Here?: Works from the Jumex Collection, The Bass Museum, Miami, FL, USA, 2009
Zwischen Zonen: La Coleccion Jumex Mexiko, MUMOK, Vienna, Austria, 2009
Beg, Borrow and Steal, Rubell Family Collection, Miami, USA, 2009
I love Malmö, Kumuu Art Museum, Tallinn, Estonia, 2009
Investigations of a Dog, Works from the FACE Collections, Turin, Italy, 2009
Minimal Means, Frank Cohen Collection, Wolverhampton, UK, 2009
Living Together (curated Emma Dexter and Xabier Arakistain), The Centro Cultural Montehermoso, Victoria-Gasteiz, Spain, TOUR: MARCO Museum, Vigo, Spain, 2009
Dark Summer, Galerie Rodolphe Janssen, Brussels, Belgium, 2009
The World is Yours, Louisiana Museum for Moderne Kunst, Humlebæk, Denmark, 2009
New York Minute, Museo D'Arte Contemporanea Roma, Rome, Italy, 2009
Every Revolution is A Roll of the Dice, (curated by Bob Nickas) Paula Cooper Gallery, New York, USA, 2009
Lessons in the Art of Falling, (curated by Jonas Ekeberg and Elisabeth Byre), Preus Museum, Horten, Norway, 2009
Rotating Views #2, Astrup Fearnley Museum of Modern Art, Oslo, Norway, 2009
Einarsson, Rhodes, Whitney, Team Gallery, New York, 2009
We Never Met Before, But It's With Great Anticipation Of Your Understanding That I'm Writing You And I Hope You Will In Good Faith Give A Deep Consideration To My Proposal Below, STANDARD (OSLO), Oslo, 2008
Whitney Biennial 2008, (curated by Shamim Momin and Henriette Huldisch), Whitney Museum, New York, USA, 2008
Listen Darling…The World is Yours, (curated by Lisa Phillips), Ellipse Foundation, Cascais, Portugal, 2008
Norsk Hydros Kunstsamling, Heine Onstad Kunstsenter, Høvikodden, Norway, 2008
The Soft Shields of Pleasure, Den Frie Udstilling, Copenhagen, Denmark, 2008
Hardcore, Sørlandet Kunstmuseum, Kristiansand, Norway, 2008
That was then..This is Now, P.S.1, New York, USA, 2008
Lights On: Norsk Samtidskunst, (curated by Gunnar Kvaran, Hanne Beate Ueland and Greta Arbu), Astrup Fearnley Museum of Modern Art, Oslo, Norway, 2008
Murder Letters, (curated by David Rimanelli), Galeria Filomena Soares, Lisbon, Portugal, 2008
Meet Me Around the Corner: Works from the Astrup Fearnley Collection, Astrup Fearnley Museum for Modern Art, Oslo, Norway, 2008
Carnegie Art Award 2008; Royal College of Art, London, UK; Konstakademien, Stockholm, Sweden; The Göteborg Museum of Art, Sweden; Listasafn Kópavogs, Kópavogur /Reykjavík, Iceland; Den Frie Udstilling, Copenhagen, Denmark; Museum of Contemporary Art Kiasma, Helsinki, Finland; Genève or/Centre International d'Art Contemporain, Switzerland, 2008
Heine Onstad Kunstsenter, Høvikodden, Oslo, Norway, 2008
Norsk Hydros Kunstsamling, Heine Onstad Kunstsenter, Høvikodden, Norway, 2008
Sweet Bird of Youth, (curated by Hedi Slimane), Arndt & Partner, Berlin, Germany, 2007
Paintings, Props and Problems (Still Unresolved) (curated by Eivind Furnesvik), STANDARD (OSLO), Oslo, Norway, 2007
Time Past – Time Present – Istanbul Museum of Modern Art, Istanbul, Turkey, 2007
Every Revolution is a Roll of the Dice, (curated by Bob Nickas), Ballroom Marfa, Marfa, Texas, USA, 2007
Mafia: Or One Unopened Packet of Cigarettes, (curated by Eivind Furnesvik), Gagosian Gallery, New York, USA, 2007
My Sweet Sixteen Party, Galerie Rodolphe Janssen, Brussels, Belgium, 2007
Painting, Space, and Society, Gotensborgs Konsthall, Gotensborgs, Sweden, 2007
Kick it til it breaks, (curated by Debra Singer), The Kitchen, New York, USA, 2007
Last Attraction Next Exit, (curated by Neville Wakefield), Max Wigram, London, England, 2007
Conditions of Display, (curated by Gean Moreno), The Moore Space, Miami, USA, 2007
Extraordinary Rendition, (curated by Max Andrews), Nogueras Blanchard, Barcelona, Spain, 2007
Bastard Creature, Palais de Tokyo, Paris, France, 2007
In Practice Projects, (curated by Sarina Basta), Sculpture Center, New York, USA, 2007
White Light, Sorlandets Kunstmuseum, Kristiansand, Norway, 2007
Group Show, Taka Ishii Gallery, Tokyo, Japan, 2007
I Love Malmo- Works from the Malmo Art Museum, Turku Art Museum, Turku, Finland, 2007
Survivor, Bortolami Dayan, New York, (curated by David Rimanelli), 2006
War on 45/My Mirrors are Painted Black for You, (curated by Banks Violette), Bortolami Dayan, New York, USA, 2006
In The Poem About Love… Artists Space, New York, USA, 2006
And Yet It Moves! MOT London, UK, 2006
Bring the War Home, Elizabeth Dee Gallery, New York, USA, 2006
Collection 2005/06 Galerie Rodolphe Janssen, Brüssel, Belgium, 2006
Déjà 5 ans seulement! Galerie Loevenbruck, Paris, France, 2006
I Love My Scene 2, Mary Boone Gallery, New York, USA, 2006
Opacity Wiener Secession, Vienna, Austria, 2006
Gardar Eide Einarsson / Performance Swiss Institute, New York, USA, 2006
Defamation of Character, (curated by Neville Wakefield), P.S.1., New York, USA, 2006
Coming Together, The National Museum of Art, Architecture and Design, Oslo, Norway, 2006
View Nine: Scene 2, Mary Boone Gallery, New York, USA, 2006
Down By Law, Wrong Gallery for the 2006 Whitney Biennal, Whitney Museum, New York, USA, 2006
The Complex of Respect, (curated by Philipe Pirotte), Kunsthalle Bern, Bern, Switzerland, 2006
Marc Selwyn Fine Art, (curated by Clarissa Dalrymple), Los Angeles, USA, 2006
Samle Sammen, National Museum of Art, Architecture and Design, Oslo, Norway, 2006
Skate Culture, (curated by Jonas Ekeberg and Gardar Eide Einarsson), Preus Museum, Horten, Norway, 2006
Theater of Life – Rhetorics of Emotions, (curated by Nicholas Schafhausen), Stadtische Galerie im Lenbachhaus, Munich, Germany, 2006
Mafia: Or One Unopened Packet of Cigarettes, STANDARD (OSLO), Oslo, Norway, 2006
Norwegian Sculpture Biennial, Vigelandsmuseet, Oslo, Norway, 2006
Street: behind the Cliché, (curated by Nicholas Schafhausen), Witte de With, Rotterdam, The Netherlands, 2006
Downstrokes and Feedback, (curated by Lisa Schiff), Allston Skirt Gallery, Boston, 2005
In the Poem About Love You Don't Write The Word Love, (curated by Tanya Leighton), CCA Glasgow, Glasgow, Scotland, 2005
L'Altro, Lo Stesso, (curated by Irene Calderoni), FrancoSoffiantino Artecontemporanea, Turin, Italy, 2005
Blast G Fine Art, (curated by Paul Brewer), Washington D.C. USA, 2005
The 9th International Istanbul Biennale, (curated by Vasif Kortun and Charles Esche), Istanbul, Turkey, 2005
Next Generation: no ordinary sanctity, (curated by Shamim M. Momin), Kunstraum Deutsche Bank, Salzburg, Austria, 2005
Walls 'n Things, (curated by Clarissa Dalrymple), Nicole Klagsbrun, New York, USA, 2005
To Be Continued, Nils Stærk Contemporary Art, Copenhagen, Denmark, 2005
Greater New York, P.S.1, New York, USA, 2005
Roberts and Tilton Gallery, Los Angeles, USA, 2005
Populism, (curated by Lars Bang Larsen, Cristina Ricupero & Nicolaus Schaffhausen), Stedelijk Museum, Amsterdam, The Netherlands; TOUR: National Museum of Art, Oslo, Norway; Contemporary Art Centre, Vilnius, Lithuania; Frankfurter Kunsverein, Frankfurt, Germany, 2005
Damien Deroubaix, Gardar Eide Einarsson, Jakob Kolding, Team Gallery, New York, USA, 2005
Blast, G Fine Art, Washington D.C., USA, 2005
15 minutes, Stedelijk Museum Bureau, Amsterdam, The Netherlands, 2005
Opacity, (curated by Nina Montmann and Trude Iversen), UKS, Oslo, Norway, 2005
Adaptations, Apex Art, New York, USA & Museum Friedericianum, Kassel, Germany, 2004
Art Film Basel, Art 35 Basel/ Stadtkino Basel, Switzerland, 2004
Boys Keep Swinging, (curated by Mai-Thu Perret), Champion Fine Arts, New York, USA, 2004
Black Friday, (curated by Christoph Keller), Galerie Kamm, Berlin, Germany, 2004
France, La Piste Noir, (curated by Marc-Olivier Wahler), Galerie Loevenbruck, Paris, France, 2004
Now And Ten Years Ago, (curated by Stephan Dillemuth), Kunstwerke, Berlin, Germany, 2004
Planet B: Das B-Movie in der zeitgenössichen Kunst, Magazin 4, Brussels, Belgium, touring exhibition: Palais Thurn und Taxis, Bregenz, Austria, 2004
New Acquisitions, Malmo Art Museum, Malmo, Sweden, 2004
No More Reality, Nils Staerk Contemporary Art, Copenhagen, Denmark, 2004
The Spectacle and Pleasure Principle or the Carnivalesque, Shedhalle, Zürich, Switzerland, 2004
The Lines, (curated by Rebecca Gordon Nesbitt), Apex Art, New York, USA, 2003
10th Biennale de l'image en mouvement, (curated by Charles Esche), Centre pour l'image Contemporaine, Geneva, Switzerland, 2003
24/7: New York-Vilnius, Contemporary Art Centre, Vilnius, Lithuania, 2003
Kunstladen, (curated by Maria Lind), Kunstverein München, Munich, Germany, 2003
Art For the People, National Touring Exhibitions, Bergen Kunsthall, Kunstnernes Hus, Norway, 2003
Electric Visions, The State Hermitage Museum, St. Petersburg, Russia, 2003
Put Out More Flags, Sutton Lane, London, UK, 2003
Definitively Provisional, Whitechapel Project Space, London, UK, 2003
Esplanaden, Charlottenborg Exhibition Hall, Copenhagen, Denmark, 2002
Where am I Now 2, National Museum of Contemporary Art, Oslo, Norway, 2002
CMYK/Greyscale, Tramway, Glasgow, Scotland, 2002
Strike, Wolverhampton Art Gallery, Wolverhampton, UK, 2002
Schpaa, Bergen Kunstforening/ Bergen Kunsthall/ Den Frie Udstilling, Copenhagen/ Bergen, Denmark/Norway, 2001
Audit, Casino Luxembourg Forum d' Art Contemporain, Luxembourg, 2001
Reol, Galleri OTTO, Copenhagen, Denmark, 2001
Kosmos, (curated by Charles Esche), Rooseum Center for Contemporary Art, Malmo, Sweden, 2001
What's Wrong, The Trade Apartment, London, UK, 2001
Coal by Any Other Name, American Fine Arts, New York, USA, 2000
Festival Junge Talente, Offenbach am Main, Germany, 2000
Presenting the Piece, Galleri OTTO/ Rhizom, Aarhus, Denmark, 2000
Propaganda Village, Galleri G.I/ Henie Onstad Artcenter, Oslo, Norway, 2000
Momentum- Nordic Festival for Contemporary Art, Moss, Norway, 2000
Residencies
IASPIS, Stockholm, Sweden, 2004
Künstlerhaus Bethanien, Berlin, Germany, 2002–03
NIFCA Nordic Institute for Contemporary Art, Suomenlinna, Helsinki, Finland, 2001
Solo Publications
The Mess, Karma, New York, USA, 2014
Stainless Steel/ Fluorescent Pink, Rathole Books, Tokyo, Japan, 2014
Gardar Eide Einarsson, Versuchsstation Des Weltuntergangs, Bergan Kunsthall, and Sternberg Press, Norway, 2013
Power Has a Fragrance, Astrup Fearnley Museum of Modern Art, Norway, 2011
South of Heaven, Revolver, Frankfurt am Main, Germany, 2007
Catalogues
Kvaran, Gunnar; Ueland, Hanne Beate and Årbu, Grete (ed.): Lights On!, Astrup Fearnley Museum of Modern Art / Skira, Oslo, 2008
Huldisch, Henriette and Momin, Shamim M.: The Whitney Biennial, Whitney Museum of American Art, New York, USA, 2008
Einarsson, Gardar Eide and Keller, Christoph: South of Heaven, Revolver Verlag, Frankfurt am Main, Germany, 2007
Einarsson, Gardar Eide and Keller, Christoph: Long Haired and Freaky People Need Not Apply, Revolver Verlag, Frankfurt am Main, Germany, 2004
Art For the People, Riksutstillinger, Bergen Kunsthall a.o, Norway, 2003
CMYK/Greyscale, Tramway, Glasgow, Scotland, 2002
Strike, Wolverhampton Art Gallery, Wolverhampton, UK, 2002
Esplanaden, Charlottenborg Exhibition Hall, Copenhagen, Denmark, 2002
Audit, Casino Luxembourg Forum d' Art Contemporain, Luxembourg, 2001
Kosmos, Rooseum Center for Contemporary Art, Malmö, Sweden, 2001
Osculum Infame, Nordic Institute for Contemporary Art, Helsinki, Iceland, 2001
Schpaa, Bergen Kunstforening/ Bergen Kunsthall/ Den Frie Udstilling, Copenhagen/
Bergen, Denmark/Norway, 2001
Festival Junge Talente, Offenbach am Main, Germany, 2000
Momentum- Nordic Festival for Contemporary Art, Moss, Norway, 2000
Published Work
Bunch of Motherfuckers: Unfinished Individuation and Meshworks of Equivalence, The Vital Coincidence, Walther Koenig Verlag, Cologne, 2004
Lars Von Trier, Something is going to happen, Frotté Factory, Oslo, 2004
You Just Don't Get it Dad, So Fuck Off, The Academy and the Corporate Public, Permanent Press Verlag, Cologne, 2004
Hardcore, Self-organization and Alternativity, We Are All Normal- Nordic Artist Writings, NIFCA, Copenhagen/ Helsinki, 2004
Oh My What A Dazzling Display, The Mock Commodity Fetishism of Klaus Thejl Jacobsen, Galleri Nicolai Wallner Notes on Asskissing & Corporate Strategies of the *RAF, Corporate Mentality, Lukas and Sternberg, New York, 2004
Total Revolution, True Lies, Pork Salad Press, Copenhagen, 2004
Rotation a NIFCA Project in Media Space, Nordic Institute for Contemporary Art/Morgenbladet, Oslo/Helsinki, 2001
Terje Nicolaisen's Deriving Practice, Terje Nicolaisen, Tegneforbundet, Oslo, 2001
Billedkunst Magazine, regular critic and member of editorial board Publication Series for Oslo Kunsthall, editor, 2001
Metronome, Frankfurt/Main a.o., 2000
UKS Forum For Samtidskunst 1/2 2000, guest editor, 2000
Public Collections
Astrup Fearnley Museum of Modern Art, Oslo, Norway
Berkeley Art Museum, Berkeley
Los Angeles County Museum of Art
Malmo Art Museum, Malmo
Moderna Museet, Stockholm
Museum of Contemporary Art, Los Angeles
Museum of Modern Art, New York
Norwegian National Museum of Art, Oslo, Norway
Sweden Museum für Moderne Kunst, Frankfurt Am Main, Germany
References
Gardar Eide Einarsson Wikipedia
(Text) CC BY-SA