History:

Not yet completed




East end:

Ballia




Length

1,047 km




West end:

Noida




States:

Uttar Pradesh





The Ganga Expressway project was launched by Uttar Pradesh Chief Minister Mayawati after coming to power in 2007. The project aims to construct a 1047 km access controlled eight-lane expressway running along the Ganga (Ganges) River. This expressway will connect Greater Noida to Ballia thus ensuring high speed connectivity between the Eastern and Western boundaries of Uttar Pradesh. The proposed expressway from Ballia to Greater Noida is also planned to provide a flood control embankment — floods being a major cause of agricultural and environmental damage, diseases and deaths during India's monsoon season. The expressway will connect major cities in the state of Uttar Pradesh, passing through Varanasi, Mirzapur, Allahabad, Pratapgarh, Rae Bareli, Unnao, Kanpur, Kannauj, Hardoi, Farrukhabad, Shahjahanpur, Badaun, Bulandshahr.
Contents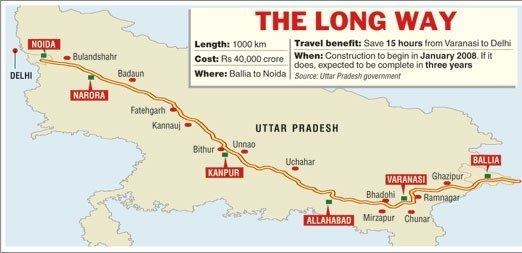 Construction work on Ganga Expressway has not yet started because of an order from the High Court of Uttar Pradesh. The order instructed that the state and the concessionaire complete a full environmental study and obtain permission from the central government before embarking on the construction. The concessionaire has completed the study and submitted its proposal with Ministry of Environment and Forests in New Delhi, in April 2011, to obtain environmental clearances, as required by recently enacted Indian environmental laws.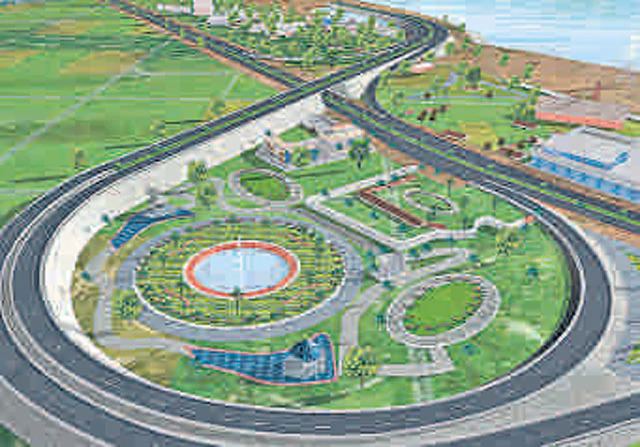 Divisions
The expressway has been divided into four sectors:
Motivation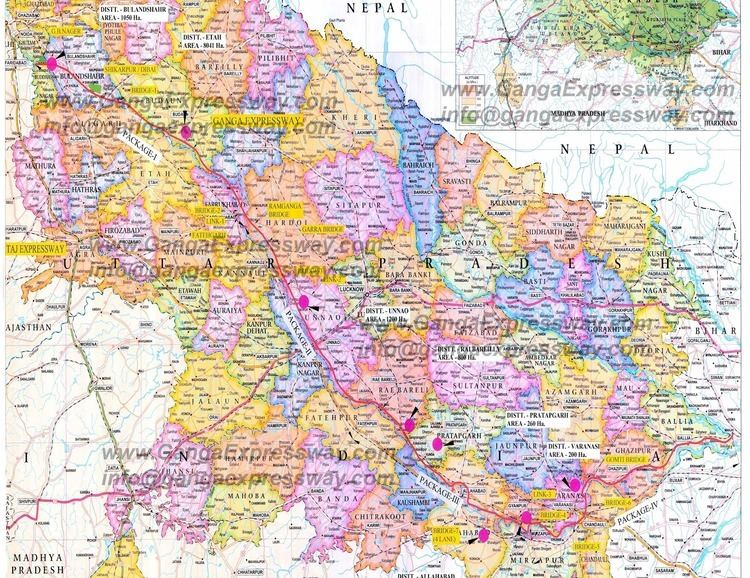 The infrastructure development department of the Government of Uttar Pradesh, in its 2007 proposal request for Ganga Expressway, explained the motivation for Ganga Expressway. The government claimed every year many parts of the state of Uttar Pradesh face flooding of Ganga on its left bank, resulting in loss of life, usable land and property. To mitigate this problem the state government's irrigation department proposed the construction of a bund (embankment) along the left bank of river Ganga from Narora to UP/Bihar Border (Ghazipur). The state government decided to use this necessary embankment and build an access-controlled eight-lane expressway on top of the embankment. The government claims the following benefits as its motivation in the proposal: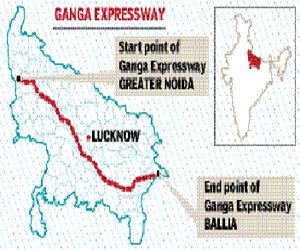 Provide flood protection to large population and number of villages along river
Decongest the increasing traffic on the existing network of roads
Fast and safe connectivity resulting in savings in fuel, travel time and transportation cost to society
Reduction in accidents
Reduction in pollution
Employment opportunity to people
Development of local industry, agriculture and handicrafts
Development of tourism and pilgrimage
Transporting, processing and marketing of agricultural products
Better approach to medical and educational services
Quick transportation of perishable goods like fruits, vegetables and dairy products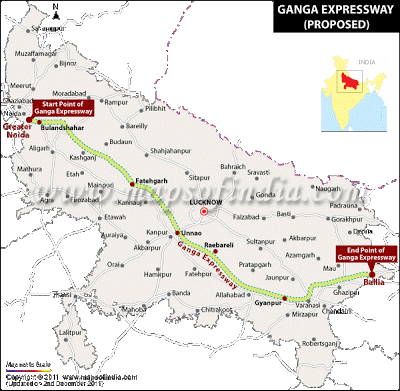 According to the Indian Red Cross, the Indian sub-continent is highly prone to droughts and floods. Floods are the most regular and devastating, with an average of 18.6 million hectare of land flooded annually, and the Indian Red Cross Society identified over 40 million hectare of the land as flood prone.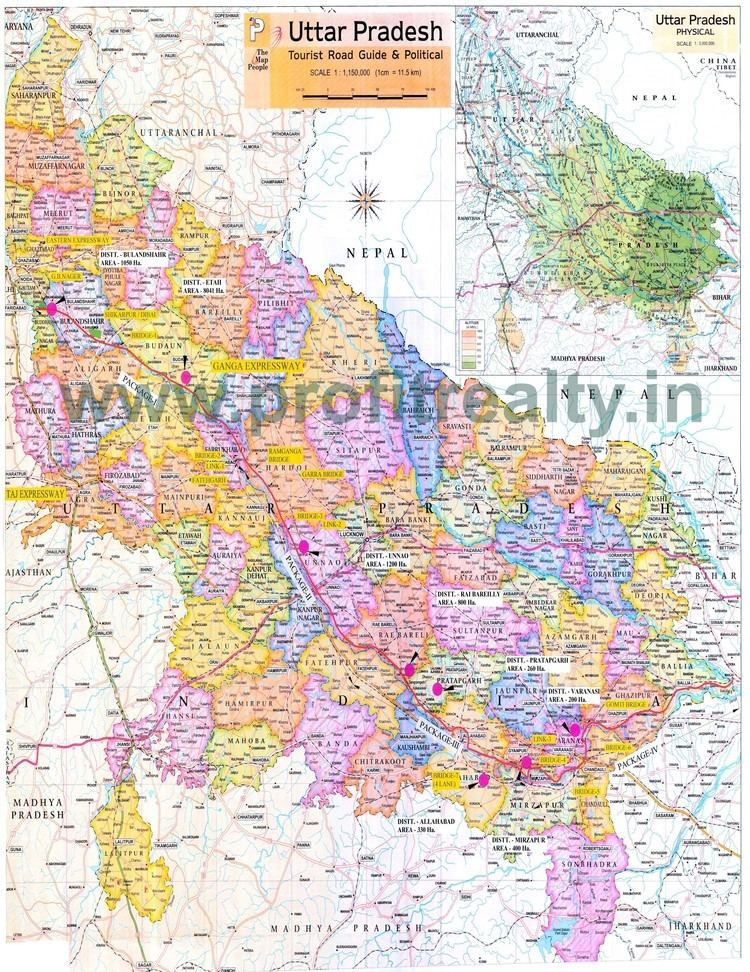 According to India's Ministry of Home Affairs, between 1990-2000, about 30 million people were affected by disasters every year, over 4000 people lost their lives every year in India, and the nation suffers heavy losses in economic assets from these disasters every year. In this report, India's Ministry of Home Affairs claims it is the poor and the under-privileged who are worst affected by natural disasters; additionally, these disasters retard socio-economic development, further impoverishing the impoverished. The routine flood relief, drought relief, and other disaster relief efforts lead to diversion of scarce resources from development to rehabilitation and reconstruction.
The Ganga basin floods are frequent. The river Ganga and some tributaries of Ganga in the state of Uttar Pradesh, flood more than once every year. Uttar Pradesh has experienced massive flooding in 1998, 2000, 2001, and 2008. At least 2000 people were killed in Uttar Pradesh in 1998 floods alone. The incidence of flood is frequent mainly in the eastern Ganga Plain regions, and 30 districts of the state of Uttar Pradesh are prone to flooding. The exact location of flooding along the river Ganga in the state of Uttar Pradesh changes every year because of changing water flows, local pollution and rainfall patterns in Ganga's tributaries: Sharada, Rapti, Chhoti Gandak, Ghaghara, Great Gandak, Burhi Gandak and Kosi., The routine flooding inundates, destroys and pollutes on average over 237,000 hectares of farms and wetlands every year in eastern Uttar Pradesh. The Ganga Expressway project proposes to dedicate 15,120 hectares of land to build flood-preventing embankment and an expressway on top of this embankment.
Construction and problems
The construction of the expressway is going to be done under a Public-private partnership model. The state government of Uttar Pradesh accepted bids from various infrastructure companies. A total of 18 developers submitted proposal to build the expressway. Some of the companies which submitted the bids included:
DLF Universal
GMR Group
Jaypee Group
Larsen & Toubro
Omaxe-GVK-Nagarjuna
Reliance Infrastructure
Unitech Group
The Uttar Pradesh government awarded the Ganga Expressway contract to Jaypee Infratech Pvt. Ltd. According to the contract, Jaypee will build the expressway at no cost to public finance, in exchange for the right to maintain, operate and collect tolls on the expressway for a 35-year period and right to procure and develop a few land parcels for commercial activity along the 1000+ kilometer expressway. The construction was anticipated to be started by April 2008.
However, a series of land acquisition issues, legal challenges and judicial motions have prevented construction work on the Ganga Expressway.
According to the Uttar Pradesh government's Expressway Industrial Development Authority 2009-2010 update, the land required for the Ganga Expressway project is 26,374 hectares (264 square kilometers). This land area includes land for the expressway, supporting exits and links, and associated land parcels.
The Ganga Expressway, the state government claims, will be on top of a flood-controlling left bank embankment along theriver Ganga, with a total length of 1047 kilometers, featuring four bridges over river Ganga, 39 additional major bridges, 199 minor bridges, 1248 culverts, 25 interchanges, 23 flyovers, 187 vehicular underpasses, 244 pedestrian passes. About 65% of the required land area for the Ganga Expressway project will be dedicated as embankment to prevent annual floods and the resulting agricultural, environmental and property damage.
Uttar Pradesh, one of the states in northern region of India, has total area of 294,411 square kilometers (113,673 sq mi). The Ganga Expressway, once it is fully complete and in commercial use, will represent less than 0.1% of the state's land area.
To address the land acquisition issues, the government of Uttar Pradesh announced a revised land acquisition policy in June 2011. This policy is part of what the state government calls "Karar Niyamavali," the guiding policy for land acquisition by the government from the citizens of its state. This policy's section 6 provides certain protections to any farmer whose land has been fraudulently transacted. The rules require that any fraudulent transaction be considered for appeal and cancelled. The farmer whose land has been fraudulently transacted has a right to compensation and damages from the state government whenever fraud is discovered and reported.
The revised land acquisition policy provides the following compensation to the farmers from whom land is being acquired:
An annuity for 33 years of Rs. 23,000 per acre ($510 per acre every year), plus an increase every year of Rs. 800 per acre; or,
A lump sum upfront payment of Rs. 276,000 per acre ($6,100 per acre)
According to The Financial Times in 2008, farmland prices in France were euro 6,000 per hectare ($2,430 per acre; Rs. 109,350 per acre.)
According to the United States Department of Agriculture, as of January 2010, the average farmland value in the United States was $2,140 per acre (Rs. 96,300 per acre). Farmland prices in the United States varied between different parts of the country, ranging between $480 per acre to $4,690 per acre.
Environment impact and controversy
The environment impact and controversy of the Ganga expressway is multi-faceted.
Environmental controversy with expressway
After the expressway project was launched, a petition was filed jointly by Varanasi-based Ganga Mahasabha and Mirzapur-based Vindhya Environmental Society in Allahabad-based High Court of the state of Uttar Pradesh. The petitioners alleged the proposed Ganga Expressway would expose large parts of the state to environmental hazards.
In May 2009, the High Court found that the state had failed to obtain proper clearance from its state-level environment impact assessment authority. The court restrained the state government from continuing further with Ganga Expressway project. It ordered that the state obtain prior environmental clearance before continuing with the project.
The government of Uttar Pradesh accepted the court order and stopped work on the flood-control embankment and expressway.
According to the Department of Infrastructure and Industrial Development of the Government of Uttar Pradesh, applications to obtain court-ordered environmental clearances were filed in July and August 2009.
Critiques of the expressway include one or more of the following:
The bank of river Ganges is known for its fertility and productivity. India must not sacrifice land area to roads when the world is facing problems feeding its population.
Each year the river brings fertile silt which may be responsible for high fertility of the area. The expressway built will act as a dam that is impervious to any water flow. one side of the river, it will act as a dam. One side of the road will develop a desert, on another side huge amount of mud will be deposited on the riverbed. Within the few years, river Ganges will be full of mud, and then the river will find its way into cities causing permanent floods in Uttar Pradesh.
Construction of the embankment would also require large amount of soil, which would be dug from the nearby agricultural field. This will create dug out holes, where rainwater will collect permanently, promoting centers of water-borne diseases.
Construction of the expressway may cause unpredictable damage to trees and wetlands.
Ganga Expressway will lead to economic development along the expressway. Industry established along the expressway will dump all their industrial effluents and garbage directly into the river Ganges. This will worsen the pollution problem with river Ganges.
Environmental controversy without expressway
Ganga Expressway is envisioned to be built on top of a bund which the government claims will help control floods. Floods are an environmental risk, according to the United Nations. Floods can change river morphology, cause soil contamination, discharge effluents and release contaminants from storage.
A European Commission study claims catastrophic floods endanger lives and cause human tragedy as well as heavy economic losses. In addition to economic and social damage, the European Commission claims floods can have severe environmental consequences, for example when installations holding large quantities of toxic substances are inundated by floods or when wetland areas are destroyed by the floods.
In a book published by the United Nations University Press on sustainable development of Ganges-Brahmaputra-Meghna (GBM) basins, several authors present their scientific studies on floods and the environment and social impact of flood control and other infrastructure projects in GBM basins. Shah claims the GBM region supports about 10% of the world population, even though it represents just 0.12% of the world's total geographical area. The GBM basin, which includes the state of Uttar Pradesh, contains the largest concentration of the poorest in the world. GBM basin is prone to floods, which causes recurring flood damage, affecting these poorest.
According to data presented by Shah, as of 2001, the floods of 1988 and 1996 were amongst the worst in recent times. He presents data over 120 years, from 1871 to 1990, showing India experiences abundant rains, and the rainfall amounts in each decade of the period he studied have been more or less the same, along with resultant floods. Despite recurring floods, Shah claimed the GBM basin – as of 2001 — completely lacks the known methods of flood control: civil structures such as storage reservoirs for flood waters. Without such reliable civil structures for flood control, Shah claims GBM basin population will need to "live with floods," by reducing the loss of human lives and misery to the people and livestock.
In the same book, Verghese claims that if there is a cost of doing something, the cost of not doing is all too often overlooked. Verghese suggests the cost of not doing something can be far greater.
Supporters of the expressway consider the critiques as without merit:
The ability to feed population is less a function of agriculture area, more a function of agriculture yields per hectare. Amartya Sen, the India-born Nobel Laureate in economics, claims prohibiting the use of fertile agricultural land for industries is ultimately self-defeating. Sen claims industry is based near cities, rivers, coast lines, expressways and other places for logistical necessities, quality of life for workers, cost of operations, and various reasons. Sen, further suggests that even though the land may be very fertile, industrial production generates many times more than the value of the product produced by agriculture. History of industrialization and global distribution of industry hubs, Sen claims, show that the locations of great industry, be it Manchester, London, Munich, Paris, Pittsburgh, Shanghai or Lancashire, these were all on heavily fertile land. Industry always competes with agriculture, Sen claims, because the shared land was convenient for industry for trade and transportation. Amartya Sen further argues that in countries like Australia, the US or Canada, where agriculture has prospered, only a very tiny population is involved in agriculture. Agriculture prospers by increasing productivity and efficiency. Most people move out to industry. Industry has to be convenient, has to be absorbing. When people move out of agriculture, total production does not go down; rather, per capita income increases. For the prosperity of industry, agriculture and the economy, India needs industrialization. Those in India, who in effect prevent industrialization, either by politically making it impossible for entrepreneurs to feel comfortable in starting a business, or by making it difficult to buy land for industry, do not serve the interest of the poor well, claims Sen.
The area proposed to be dedicated for Ganga Expressway will be less than 0.1 percent of land area of the state of Uttar Pradesh. Currently, over 30% of farm produce spoils in states like Uttar Pradesh because of lack of highways connecting rural farms to where the demand for food is. The expressway will allow faster transport and less spoilage.
The proposed idea of an expressway on embankment has been built and is in use in the other countries. For example, in 1964, the United States used a similar idea to address the serious and repetitive flooding problem from its major river Mississippi. After the flood embankment was approved and built, the land around Mississippi remains one of agriculturally most productive areas of America. There are no instances of poor construction, big holes, sitting water and water borne diseases on the dry side of the embankment. Embankments are usually built, not like a dam, but with periodic gates that allowed controlled amounts of water and silt to flow from one side to other.
The present annual floods of Ganges cause routine damage to wetlands, livestock and life. The expressway and embankment can prevent this damage.
Proper pre-treatment of solid waste and industrial effluents is an established technology. India must welcome, adopt and require such pollution prevention and water treatment technologies. A road network may help the state of Uttar Pradesh establish river water treatment centers to solve the pollution problem with river Ganges.
Dredging of rivers is an established technology. This can provide the fertile silt for farms along river.
References
Ganga Expressway Wikipedia
CC BY-SA