India




Hindi




Himachal Pradesh




Una



Gagret is a town and a nagar panchayat in Una district in the state of Himachal Pradesh, India. It is situated in the PUNJAB region of Indian Subcontinent. Gagret falls under Hamirpur parliamentary Constituency and is a constituency for Himachal Pradesh Legislative Assembly.Gagret is situated near Swan or Sombhadra river; Swan is a seasonal river. Gagret forms a border place when one moves from Punjab to Himachal Pradesh via Hoshiarpur.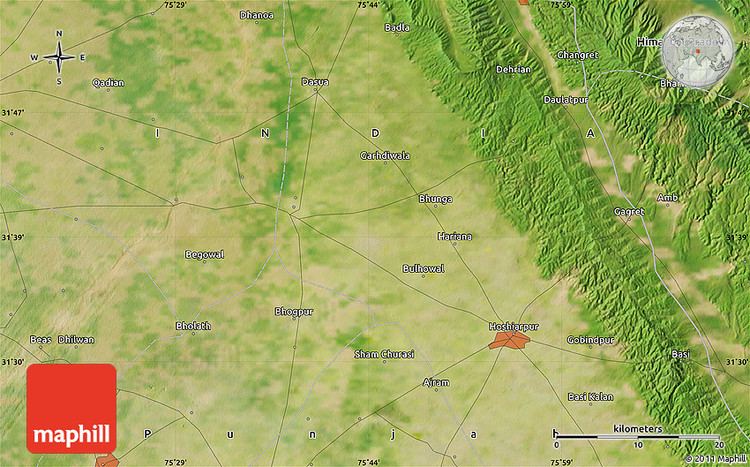 Gagret is located at 31.67°N 76.07°E? / 31.67; 76.07. It has an average elevation of 439 metres (1440 feet).
Shivbari temple, also known as Shiv Drone Mandir is around 1 km from Gagret Chowk on Gagret to Bharwain road is an ancient temple.
Bombay Picnic Spot is nearby picnic destination which comprises a Hotel-restaurant and Amusement park. It is around 10 km from Gagret on way to Dhramshala.
Chhinmastika Dham,also known as Chintapurani Mata Mandir is famous religious place and is 22 km from Gagret. Other famous religious places are Dera Baba Bharbhag Sigh ji Nr. Amb, Sadashiv temple at Talmehra village. There is also a temple of tara devi 2 km from Gagret on Hoshiarpur Road.
Gagret is the fastest-developing town in Himachal Pradesh, as many companies have established their manufacturing units in Gagret: Fewa Electrical Corporation (Fine Group), Tigaksha Metallics Pvt. Ltd. (Supermax Personal Care Pvt. Ltd.), Luminous India, MBD Group to name a few. Gagret is also known for its wholesale steel market.
Gagret Wikipedia
(,)http://maps.maphill.com/atlas/31n35-75e40/maps/satellite-map/satellite-map-of-31n35-75e40.jpg(,)http://maps.maphill.com/atlas/31n35-75e40/panoramic-maps/shaded-relief-map/shaded-relief-panoramic-map-of-31n35-75e40.jpg(,)http://maps.maphill.com/atlas/31n35-75e40/location-maps/gray-map/gray-location-map-of-31n35-75e40.jpg(,)http://maps.maphill.com/atlas/31n35-75e40/panoramic-maps/satellite-map/satellite-panoramic-map-of-31n35-75e40.jpg(,)http://maps.maphill.com/atlas/31n35-75e40/location-maps/satellite-map/satellite-location-map-of-31n35-75e40.jpg(,)http://mw2.google.com/mw-panoramio/photos/medium/3587099.jpg(,)http://mw2.google.com/mw-panoramio/photos/medium/33966244.jpg(,)http://mw2.google.com/mw-panoramio/photos/medium/75618932.jpg(,)http://mw2.google.com/mw-panoramio/photos/medium/21084935.jpg
(,)http://npgagret.in/images/slider_1.jpg(,)http://mw2.google.com/mw-panoramio/photos/medium/40087573.jpg