Alma mater

Bard College




Role

Film actress




Children

Rosemary Dapkins




Name

Gaby Hoffmann




Parents

Viva, Anthony Herrera


Years active

1989–present




Education

Bard College




Occupation

Actress




Partner

Chris Dapkins








Full Name

Gabriella Mary Hoffmann




Born

January 8, 1982 (age 41) (

1982-01-08

) New York City, New YorkUnited States


Movies and TV shows

Transparent, Field of Dreams, Now and Then, Uncle Buck, Crystal Fairy & the Magical


Similar People

Chris Dapkins, Amy Landecker, Jill Soloway, Jeffrey Tambor, Amy Madigan
A conversation with gaby hoffmann sxsw film 2016
Gabriella Mary "Gaby" Hoffmann (born January 8, 1982) is an American film and television actress best known for her roles on Sleepless in Seattle, Transparent and Girls, which garnered her nominations for the Primetime Emmy Award for Outstanding Supporting Actress in a Comedy Series and Primetime Emmy Award for Outstanding Guest Actress in a Comedy Series in 2015, respectively. Additionally, she is remembered as a child actress from the films Field of Dreams, Uncle Buck, Now and Then, and Volcano.
Contents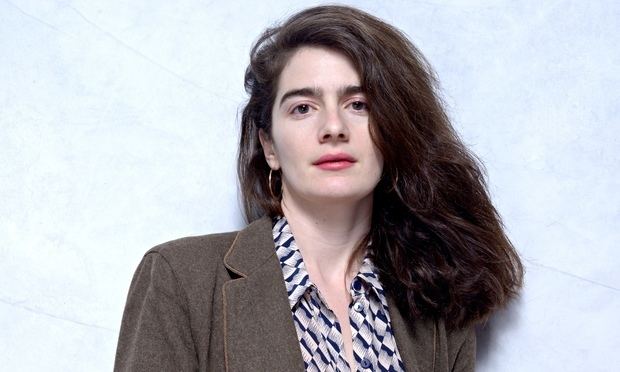 This issue makes actress gaby hoffmann emotional
Early life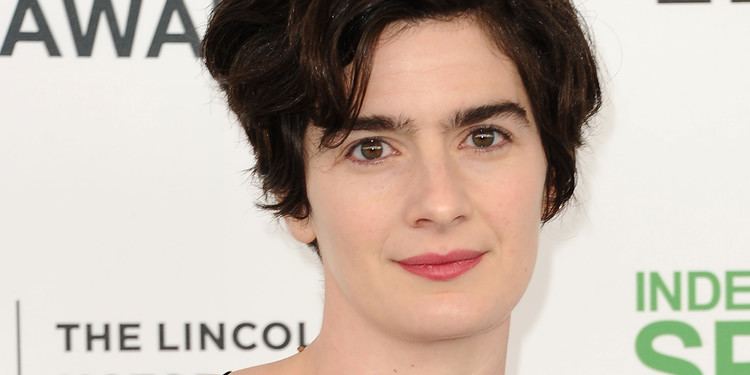 Hoffmann was born in Manhattan, New York City, New York. Her mother, Viva (born Janet Susan Mary Hoffmann), is an actress, writer and former Warhol superstar, and her father, Anthony Herrera, was a soap opera actor best known for his role as James Stenbeck from As the World Turns. Viva and Herrera were estranged shortly after Hoffmann's birth; she was raised by her mother at the Chelsea Hotel in New York. Her father did not have a significant presence in her life. Hoffmann's birth is documented in Brigid Berlin's The Andy Warhol Diaries. An entry dated January 10, 1982, two days after Hoffmann was born, says that a friend of Warhol's telephoned Warhol and told him that they were going to the Chelsea Hotel to see Viva and her new baby.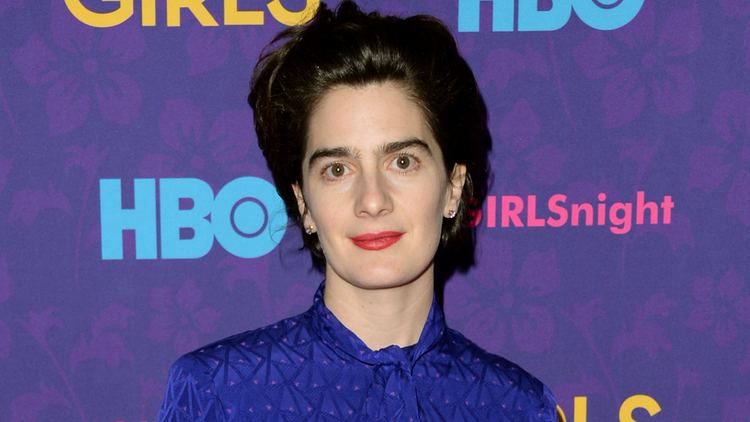 Hoffmann's mother was raised in a devout Catholic family on Long Island, the daughter of an attorney. She was previously married to director Michel Auder in 1969. Gaby Hoffmann has a half-sister, Alexandra "Alex" Auder, who is 11 years older. Auder teaches yoga in New York City. Hoffmann's father was raised in Wiggins, Mississippi by his maternal grandparents. Herrera died in 2011 from cancer.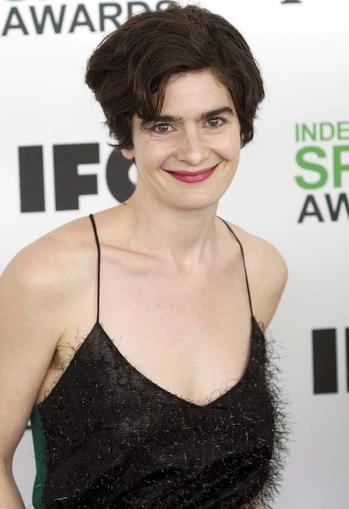 Hoffmann attended elementary school in Manhattan at P.S. 3 on Hudson Street in the West Village, then another school in Hell's Kitchen. After she moved to Los Angeles in 1994, she attended the Buckley School, before finally graduating from Calabasas High School in 1999.
Life at the Chelsea Hotel
Until July 1993, Hoffmann lived in Manhattan's Chelsea Hotel (now a landmark), which Hoffmann later said she enjoyed. According to Hoffmann, she and her best friend Talya Shomron would roller-skate in the hallways, spy on the drug dealer across the hall, and persuade the bellman to go to the neighborhood delicatessen at night to fetch them ice cream.
Hoffmann recalled, "I grew up in downtown New York in the '80s. I have a friend who grew up with me, and she puts it well. She says, 'If you grew up where we grew up, if you weren't an artist, a drag queen, queer, or a drug addict, then you were the freak [unusual one].' I grew up in a world where I guess what is considered unusual or abnormal for the rest of America was very much considered the norm." She also reported in an interview that there had been gunfire and a rape at the hotel shortly before they moved out of it.
Hoffmann and her mother left the Chelsea Hotel after a long-standing dispute with the management that ended in eviction. Regardless, Gaby's connection to the hotel resulted in a significant effect on her future. The idea for the 1994 sitcom Someone Like Me originated after Gail Berman (former president of Viacom's Paramount Pictures) read a New York Times article about the hotel which referred to a children's book that Viva and friend Jane Lancellotti wrote, Gaby at the Chelsea (a take on Kay Thompson's 1950s classic Eloise books). Berman became the show's producer.
Adolescence on the West Coast
When Hoffmann was 11, after leaving the Chelsea, Hoffmann and her mother moved to the west coast to a two-bedroom rented house in Woodland Hills, Los Angeles, California, which was badly damaged in the January 17, 1994 Northridge earthquake. While regrouping their living situation, Gaby and her mother temporarily lived at The Oceana Suites Hotel in Santa Monica, California.
College and assorted jobs
After she graduated from Calabasas High School in 1999, Hoffmann followed her half-sister Alex's example and entered New York's Bard College to pursue a degree in literature and writing. Around 2001, she temporarily left her acting career to complete her studies and graduated in 2004; her senior thesis was a documentary film.
After college, she spent much of her 20s drifting. She interned with a chef in Italy, and then trained to be a doula after helping deliver Alex's children. For a time, Hoffmann and a boyfriend lived in an old trailer in the Catskill Mountains.
Childhood acting career
Hoffmann began her acting career at the age of four to help pay the family bills by acting in commercials. In 1989, she starred in her first movie, Field of Dreams, with Kevin Costner. 1989's Uncle Buck followed, working beside John Candy and up-and-coming child star Macaulay Culkin. However, she grew tired of the rigors of screen performance and temporarily retired. Nevertheless, upon hearing that Culkin (whom she disliked when they worked together) was making a lot of money in feature films, her "competitive spirit got the best of her," as she later put it, and she re-entered the profession. She went on to star in This Is My Life (1992), Sleepless in Seattle (1993) with Tom Hanks and The Man Without a Face with Mel Gibson (who also directed the film). According to Hoffmann, it was the praise she received for her performance in This is My Life which encouraged her to pursue a full-time acting career in Hollywood as it gave her the confidence she needed to handle major roles.
In 1994, Hoffmann was given the starring role in her own sitcom Someone Like Me (on NBC) about a young girl, Gaby, and her dysfunctional family. Although generally well received, the show only lasted six episodes. Publicity work for the show included personal appearances by Hoffmann on late night talk shows like The Tonight Show with Jay Leno and Late Show with David Letterman.
After Someone Like Me, Hoffmann won the lead role opposite Shelley Long in the 1995 TV film Freaky Friday, a remake of the 1976 film of the same name starring Jodie Foster and Barbara Harris. In the same year as Freaky Friday, Hoffmann starred as Young Samantha (the childhood counterpart to Demi Moore's character) in the coming-of-age feature film, Now and Then.
In 1995, Hoffmann played Andrea Eagerton in the CBS TV film Whose Daughter Is She?.
Teen and college years: 1996–2003
Between 1996 and 2001, Hoffmann landed roles in several films including Everyone Says I Love You (1996), Volcano (1997), Snapped (1998), The Hairy Bird (1998), 200 Cigarettes (1999), Coming Soon (1999), Black & White (1999), You Can Count on Me (2000), and Perfume (2001).
Theatre work in New York: 2003–2007
Between 2003 and 2007, Hoffmann largely concentrated on a theatre career in New York. Roles included 24 Hour Plays (as Denise at the American Airlines Theatre), The Sugar Syndrome (Williamstown Theatre Festival – July/August 2005), and Third (Mitzi E. Newhouse Theater/Lincoln Center Theater – September – December 2005). In late 2005, she starred in an episode of Law & Order: Criminal Intent. She also appeared in the Broadway play Suburbia, alongside Kieran Culkin and Jessica Capshaw at the Second Stage Theatre on 43rd Street in New York City, which ran from September to October 2006. Hoffmann then returned to the 24 Hours Plays where she acted alongside Jennifer Aniston.
Return to film work: 2007–present
Since 2007, Hoffmann has made a gradual return to film acting. In 2007, she starred in the film Severed Ways: The Norse Discovery of America. In 2008, she appeared in Guest of Cindy Sherman, a documentary on art-scene commentator Paul Hasegawa-Overacker's relationship with enigmatic photographer Cindy Sherman. Later in 2008, Hoffmann appeared in the documentary Chelsea on the Rocks, which is a tribute to the Chelsea Hotel where she grew up. Directed by Abel Ferrara, the documentary highlights the many personalities and artistic voices that have emerged from the legendary residence.
In 2009, Hoffmann had a supporting role in Todd Solondz's Life During Wartime, and the thriller 13 with Mickey Rourke (released in 2010).
More recently, Hoffmann has starred alongside Michael Cera in Crystal Fairy & the Magical Cactus (2013). While shooting the film in Chile, she and Cera took mescaline for her performance in a climactic scene.
Recent guest appearances have been in the television series Louie and Girls in Season 3. Hoffmann said that she will be coming back in season 4 of Girls.
In 2013, she completed work on the lead role of a Web series entitled Lyle, created by Stewart Thorndike and Jill Soloway. It was shot in NYC. She subsequently acquired an apartment in Brooklyn's Fort Greene section. In October 2013, she starred in the 1910s installment of Vanity Fair's The Decades Series, "The First March", directed by Gilly Barnes.
Hoffmann has discussed her full frontal nude scenes in a few of her recent projects including Crystal Fairy, Girls and the Amazon series Transparent. On nudity, Hoffmann said: "People are obsessed with actresses being hairless, fatless Barbie dolls. They can't imagine that people would want to be anything other than that. When they are, it's looked at as almost a political statement. Look at Lena Dunham. She is a gorgeous woman and people can't stop talking about how brave she is to show herself naked, which I find totally condescending and ridiculous. If Angelina Jolie was naked onscreen no one would say she was brave. The implication is that Lena's brave because she doesn't look the way she's supposed to look. I think that's a shame."
Jill Soloway wrote the role Hoffmann plays in Transparent for her after seeing her performance on Louis C.K.'s third season of Louie.
In 2016 she appeared in video as an onstage "stand-in" during the Nostalgic For the Present concert tour of Australian singer Sia Furler for her song, "Unstoppable."
Personal life
Hoffmann has a daughter, Rosemary, born in November 2014, with longtime boyfriend, cinematographer Chris Dapkins (born on November 19, 1980). She lives in the Fort Greene neighborhood of Brooklyn.
Filmography
Actress
-
Eric (TV Mini Series) (filming)
as
Cassie Anderson
2022
Winning Time: The Rise of the Lakers Dynasty (TV Series)
as
Claire Rothman
- Promised Land (2022) - Claire Rothman
- Acceptable Loss (2022) - Claire Rothman
- California Dreaming (2022) - Claire Rothman (credit only)
- Invisible Man (2022) - Claire Rothman
- Memento Mori (2022) - Claire Rothman
- Pieces of a Man (2022) - Claire Rothman
- Who the F**k Is Jack McKinney (2022) - Claire Rothman
- The Best Is Yet to Come (2022) - Claire Rothman
- Is That All There Is? (2022) - Claire Rothman
- The Swan (2022) - Claire Rothman
2014
Transparent (TV Series)
as
Ali Pfefferman / Rose Pfefferman
- Transparent Musicale Finale (2019) - Ali Pfefferman
- They Is on the Way (2017) - Ali Pfefferman
- Desert Eagle (2017) - Ali Pfefferman
- Babar the Borrible (2017) - Ali Pfefferman
- I Never Promised You a Promised Land (2017) - Ali Pfefferman
- Cool Guy (2017) - Ali Pfefferman
- Born Again (2017) - Ali Pfefferman
- Pinkwashing Machine (2017) - Ali Pfefferman
- Groin Anomaly (2017) - Ali Pfefferman
- House Call (2017) - Ali Pfefferman
- Standing Order (2017) - Ali Pfefferman
- Exciting and New (2016) - Ali Pfefferman
- Off the Grid (2016) - Ali Pfefferman
- If I Were a Bell (2016) - Rose Pfefferman
- Life Sucks and Then You Die (2016) - Ali Pfefferman (credit only)
- The Open Road (2016) - Ali Pfefferman
- Oh Holy Night (2016) - Ali Pfefferman
- Just the Facts (2016) - Ali Pfefferman
- To Sardines and Back (2016) - Ali Pfefferman
- When the Battle Is Over (2016) - Ali Pfefferman
- Elizah (2016) - Ali Pfefferman (credit only)
- Man on the Land (2015) - Ali Pfefferman
- Oscillate (2015) - Ali Pfefferman
- The Book of Life (2015) - Ali Pfefferman
- Bulnerable (2015) - Ali Pfefferman
- Mee-Maw (2015) - Ali Pfefferman
- Cherry Blossoms (2015) - Ali Pfefferman
- New World Coming (2015) - Ali Pfefferman
- Flicky-Flicky Thump-Thump (2015) - Ali Pfefferman
- Grey Green Brown & Copper (2015) - Ali Pfefferman
- Kina Hora (2015) - Ali Pfefferman
- Best New Girl (2014) - Ali Pfefferman
- Looking Up (2014) - Ali Pfefferman
- The Symbolic Exemplar (2014) - Ali Pfefferman
- The Wilderness (2014) - Ali Pfefferman
- Wedge (2014) - Ali Pfefferman
- Moppa (2014) - Ali Pfefferman
- Why Do We Cover the Mirrors? (2014) - Ali Pfefferman
- Rollin' (2014) - Ali Pfefferman
- The Letting Go (2014) - Ali Pfefferman
- Pilot (2014) - Ali Pfefferman
- Original Pilot (2014) - Ali Pfefferman
2014
Girls (TV Series)
as
Caroline Sackler
- Goodbye Tour (2017) - Caroline Sackler
- Good Man (2016) - Caroline Sackler
- Home Birth (2015) - Caroline Sackler
- Sit-In (2015) - Caroline Sackler
- Two Plane Rides (2014) - Caroline Sackler
- Only Child (2014) - Caroline Sackler
- Dead Inside (2014) - Caroline Sackler
- She Said OK (2014) - Caroline Sackler
2016
High Maintenance (TV Series)
as
Gaby
- Tick (2016) - Gaby
2014
Manhattan Romance
as
Emmy
2014
Pauline Alone (Short)
as
Pauline
2014
Veronica Mars
as
Ruby Jetson
2013
Goodbye World
as
Laura Shepherd
2013
F to 7th (TV Series)
as
Devon
- Straight Talk (2013) - Devon
2013
Crystal Fairy & the Magical Cactus
as
Crystal Fairy
2012
Louie (TV Series)
as
April
- Something Is Wrong (2012) - April
2011
Confidante (Short)
as
Sam
2011
The Surrogate Mary
as
Sally
2011
Homeland (TV Series)
as
CNN Producer
- Clean Skin (2011) - CNN Producer
2011
The Good Wife (TV Series)
as
Rhonda Cerone
- Killer Song (2011) - Rhonda Cerone (as Gaby Hoffman)
2010
Private Practice (TV Series)
as
Emily Wendel
- Just Lose It (2010) - Emily Wendel
2009
The Eastmans (TV Movie)
as
Dr. Sally Eastman
2009
Life During Wartime
as
Wanda (as Gaby Hoffman)
2007
Severed Ways: The Norse Discovery of America
as
Orn's Wife
2005
Law & Order: Criminal Intent (TV Series)
as
Rachel Coburn / Burnett
- The Good Child (2005) - Rachel Coburn / Burnett
2001
Perfume
as
Gabrielle Mancini
2000
You Can Count on Me
as
Sheila
1999
Coming Soon
as
Jenny Simon
1999
200 Cigarettes
as
Stephie
1996
Everyone Says I Love You
as
Lane
1995
Whose Daughter Is She? (TV Movie)
as
Andrea Eagerton
1995
Freaky Friday (TV Movie)
as
Annabelle Andrews
1994
Someone Like Me (TV Series)
as
Gaby Stepjak
- What I Did for Art (1994) - Gaby Stepjak
- El Presidente (1994) - Gaby Stepjak
- The Guy (1994) - Gaby Stepjak
- When Moms Collide (1994) - Gaby Stepjak
- The Lying Game (1994) - Gaby Stepjak
1993
The Man Without a Face
as
Megan Norstadt
1993
Sleepless in Seattle
as
Jessica
1992
This Is My Life
as
Opal Ingels
1989
Uncle Buck
as
Maizy Russell (as Gaby Hoffman)
1989
Field of Dreams
as
Karin Kinsella (as Gaby Hoffman)
Director
2018
Room 104 (TV Series) (1 episode)
- Woman in the Wall (2018)
2017
Transparent (TV Series) (1 episode)
- Babar the Borrible (2017)
Soundtrack
2016
Transparent (TV Series) (performer - 2 episodes)
- Transparent Musicale Finale (2019) - (performer: "Sepulveda Boulevard", "Goddamn House", "Where Have You Been?", "Father's House", "Father's House (Reprise)")
- When the Battle Is Over (2016) - (performer: "When the Battle Is Over" - uncredited)
2014
Veronica Mars (performer: "Holding My Breath")
Thanks
2015
Everything Is Copy (Documentary) (special thanks)
Self
2022
Winning Time: The Forum (TV Mini Series)
as
Self
- Episode #1.4 (2022) - Self
2022
Hollywood Insider (TV Series)
as
Self
- The Legacy of John Candy: America's Uncle - From 'Planes, Trains, and Automobiles' to 'Uncle Buck' (2022) - Self
2017
Finding Your Roots with Henry Louis Gates, Jr. (TV Series documentary)
as
Self
- Relatives We Never Knew We Had (2017) - Self
2017
Ok! TV (TV Series)
as
Self
- Team (2017) - Self
2017
Chelsea (TV Series)
as
Self
- Dinner Party: Getting Schooled (2017) - Self
2016
The 68th Primetime Emmy Awards (TV Special)
as
Self - Nominee
2016
E! Live from the Red Carpet (TV Series)
as
Self
- The 2016 Screen Actors Guild Awards (2016) - Self
2016
The Late Show with Stephen Colbert (TV Series)
as
Self
- Steven Tyler/Gaby Hoffmann/Lapsley (2016) - Self
2015
Everything Is Copy (Documentary)
as
Self
2015
The 67th Primetime Emmy Awards (TV Special)
as
Self - Nominee
2015
2015 Primetime Creative Arts Emmy Awards (TV Special)
as
Self - Nominee
2015
72nd Golden Globe Awards (TV Special)
as
Self (uncredited)
2014
Transparent: Meet the Pfeffermans (Video short)
as
Self
2014
IMDb: What to Watch (TV Series documentary)
as
Self
- Transparent (2014) - Self
2014
By the Fans: The Making of the Veronica Mars Movie (Video documentary)
as
Self
2014
The 2014 Film Independent Spirit Awards (TV Special)
as
Self - Nominee
2013
Vanity Fair: Decades (TV Mini Series documentary short)
- 1910's: The First March (2013) - (as Gaby Hoffman)
2013
10 Days of Different: Sundance Film Festival (TV Series documentary)
as
Self
- Gaby Hoffman (2013) - Self
2008
Chelsea on the Rocks (Documentary)
as
Self
2008
Guest of Cindy Sherman (Documentary)
as
Self
1993
Late Night with Conan O'Brien (TV Series)
as
Self - Guest
- Penny Marshall/Gaby Hoffmann/Harland Williams (1994) - Self - Guest
- Gaby Hoffmann/Gabriel Byrne/The Breeders (1993) - Self - Guest
1994
The Tonight Show with Jay Leno (TV Series)
as
Self - Guest
- Episode #3.47 (1994) - Self - Guest
Archive Footage
2021
If You Build It: 30 Years of Field of Dreams (Documentary)
as
Self (uncredited)
2017
A Great Big Story: Then & Now with Thora Birch (TV Movie documentary)
as
Samantha (uncredited)
2016
Entertainment Tonight (TV Series)
as
Self
- Episode #36.91 (2016) - Self
2016
Author: The JT LeRoy Story (Documentary)
as
Self (uncredited)
2014
Chelsea Lately (TV Series)
as
Nellie in 'Obvious Child'
- Episode #8.92 (2014) - Nellie in 'Obvious Child'
2005
50 Cutest Child Stars: All Grown Up (TV Movie documentary)
as
Self
References
Gaby Hoffmann Wikipedia
(Text) CC BY-SA