Name

Frederick Swann




Role

Concert organist








Born

1931

West Virginia, United States




Occupation

Organist, Composer, and President of the American Guild of Organists (2002–2008)




Similar People

Virgil Fox, Felix Hell, Christopher Herrick, Leo Sowerby, Joan Lippincott




Education

Northwestern University



Frederick swann crystal cathedral organ five hymns
Frederick L. Swann (born 1931) is an American church and concert organist, recording artist, choral conductor, and former president of the American Guild of Organists. Music critic Tim Smith called Swann "one of the country's most distinguished organists". He is Organist Emeritus of the Crystal Cathedral and the First Congregational Church of Los Angeles.
Contents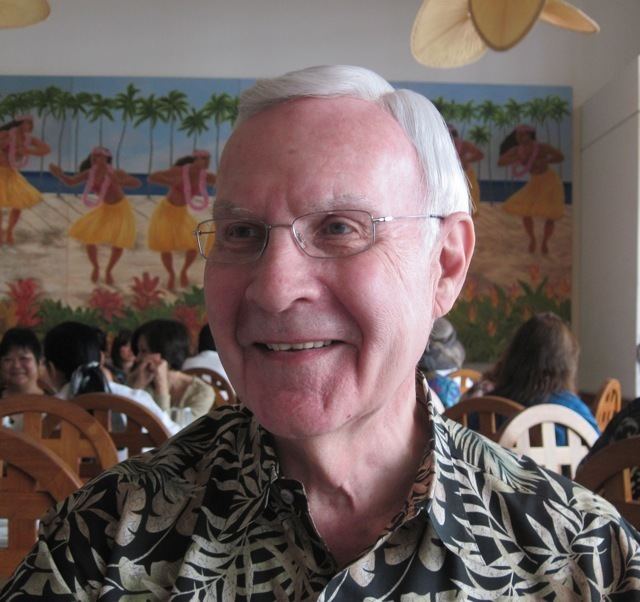 Swann currently lives in Palm Desert, California, where he is Artist-in-residence at St. Margaret's Episcopal Church and University Organist and Artist Teacher of Organ at the University of Redlands.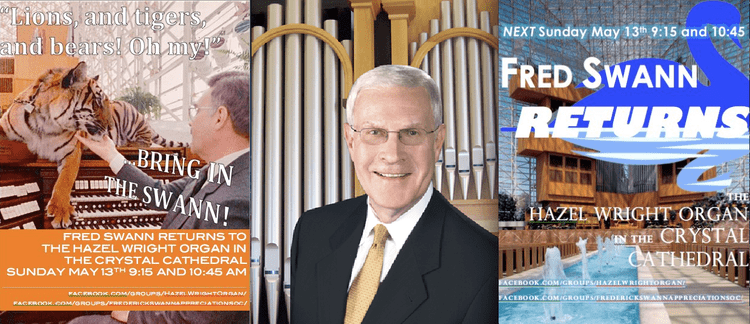 Frederick swann on the bench with dr carol
Early years and education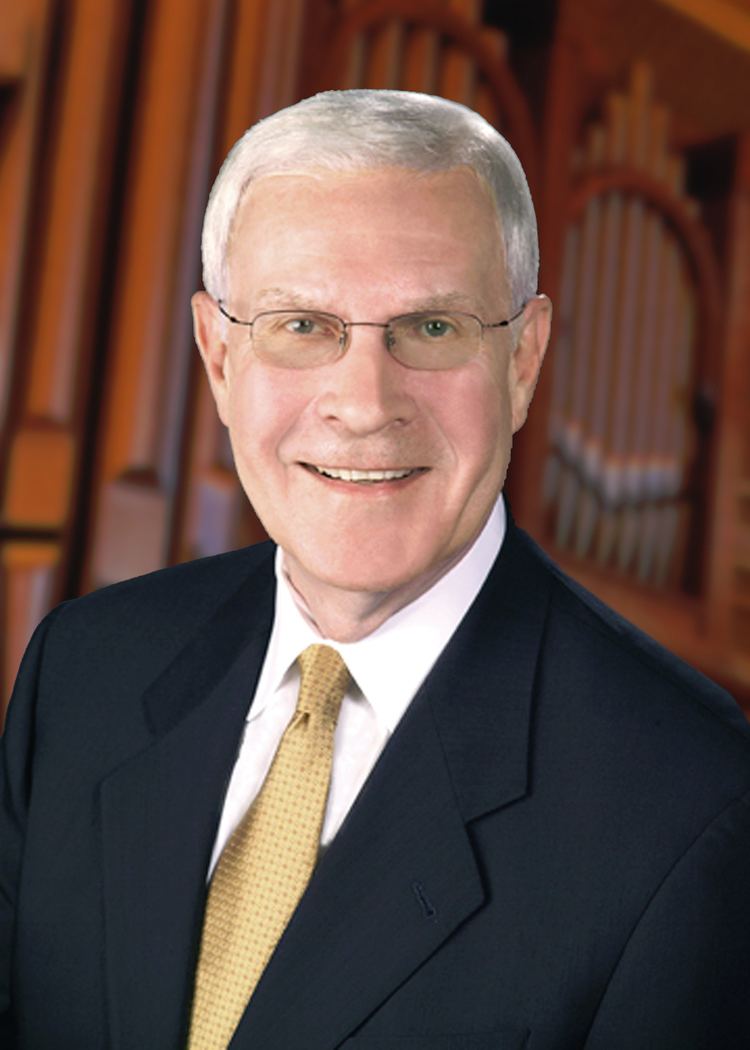 Frederick Swann was born in West Virginia in 1931. The son of Methodist bishop Theodore M. Swann, he began taking piano lessons as a 5-year old from the organist at Braddock Street United Methodist Church in Winchester, Virginia, where his father was pastor 1937–1943. He told an interviewer in later years that he was "mesmerized when I saw the organ console for the first time" at the church and soon began taking organ lessons. By the age of ten, Swann was playing the church's organ for services when his teacher died suddenly.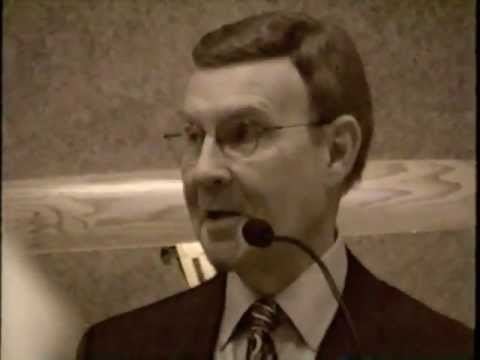 Swann's older brother, Edgar, also an organist, was killed in action early in World War II. A sister died in September 2008.
The Swanns moved to Staunton Virginia in 1943 and Frederick, known then as "Freddie" continued his organ study with Dr. Carl Broman, professor of music at Mary Baldwin College. Lessons were on the Emmons Howard organ at Trinity Episcopal Church. After graduating from Robert E. Lee High School in Staunton, Virginia, where he played the piano for the school's chorus, Swann attended Northwestern University. He earned degrees in music from Northwestern University and the old School of Sacred Music at the Union Theological Seminary in the City of New York, both degrees granted "with distinction".
Career as an organist
Swann was associated with the music ministry of the famed Riverside Church in New York City from 1952 through 1982, first as substitute organist (1952–1957), then as organist (1957–1965) joining organist Virgil Fox there until the latter's departure in 1964. Between 1966–1982, Swann was organist, choir director, and director of music at Riverside.
Beginning in 1982, Swann was organist and music director at the Crystal Cathedral in Garden Grove, California, where he presided over their main "Hazel Wright" double-organ, and appeared on their weekly televised service. His performances were characterized by music critic Daniel Cariaga as "splendid, probing, brilliant and entertaining".
Swann then served as organist of the First Congregational Church of Los Angeles between 1998 and 2001, playing one of the largest church organs in the world. The instrument has more than 20,000 individual pipes.
As a concert organist, he frequently performs at recitals throughout North America, Europe and the Far East. In one recent season, Mr. Swann performed more than 40 recitals throughout North America and in two European tours, including special appearances at Notre Dame Cathedral in Paris, St. Paul's Cathedral in London; and Passau Cathedral in Germany. He is known for dedicating new organs, said to exceed 600 in churches, concert halls, and auditoriums during his career. Swann was chosen to dedicate the new instruments at Orchestra Hall in Chicago, Illinois, with the Chicago Symphony in 1981 and at Davies Symphony Hall in San Francisco, California, with the San Francisco Symphony, in 1984. September 9, 2003 he dedicated the largest church organ in Asia, 104 stops, 119 Ranks, 6820 Pipes, located in YounDong Presbyterian Church, Seoul, Korea. On September 30, 2004, he played the inaugural concert of the 6,125-pipe organ of the Los Angeles Philharmonic at Walt Disney Concert Hall. The following month, he performed at the largest pipe organ in the island nation of Bermuda, playing the 88-rank organ of St. Paul's Anglican Church there.
Swann is currently Artist-in-residence at St. Margaret's Episcopal Church in Palm Desert, California.
Teaching
Swann has served on the faculties of New York City's Union Theological Seminary School of Sacred Music, Teacher's College of Columbia University, and chaired the Organ Department of the Manhattan School of Music for ten years. He is currently University Organist and Artist Teacher of Organ at the University of Redlands in California.
AGO role and awards
In 2002, Swann was elected president of the American Guild of Organists (AGO). He was re-elected in July, 2006, to a third two-year term as president of the 25,000 member organization.
In 2002, he was named "International Performer of the Year" by the New York City Chapter of the AGO. On April 13, 2008, the AGO saluted him at an AGO Gala recital at First Congregational Church in Los Angeles as the "Crown Prince of the King of Instruments" for his "dedicated service ... for more than a half century". On July 1, 2008, Swann was succeeded by Eileen Guenther as president of the AGO. At the AGO's July, 2010, national convention in Washington, D.C., Swann was presented the Edward Hansen Award for Outstanding Leadership by the organization's vice president, John Walker.
Published works
Swann's published compositions include Let the Whole Creation Cry and Trumpet Tune in D Major (1991), along with organ arrangements of familiar hymns such as Amazing Grace, How Great Thou Art, Fairest Lord Jesus and O God Our Help in Ages Past. His discography of organ and choral recordings includes:
At Riverside Church
Easter — The Way to Emmaus
Four Masterworks for Organ
Great Organs of 1st Congregational Church
Hymns on the Crystal Cathedral Organ
Music from Riverside (4 vols.)
The Mystic Organ
O Magnify the Lord
Riverside Revisited
Sing We Now of Christmas
Swann at the Organ of the National Shrine
Swann plays Franck at Riverside Church
We Sing the Power
"Frederick Swann In Hawaii Vol. 1"
"Frederick Swann In Hawaii Vol. 2"
References
Frederick Swann Wikipedia
(Text) CC BY-SA