Books

Church Architecture: Plans, Elevations, and Views of Twenty-one Churches and Two School-houses, Photo-lithographed from Original Drawings, with Numerous Illustrations Shewing Details of Construction, Church Fittings, Etc

Structures




Similar People

Calvert Vaux

, Richard Upjohn, Frederick Law Olmsted, Jacob Wrey Mould, Thomas Jefferson
Abandoned Asylum Aerial Tour
Frederick Clarke Withers (4 February 1828 – 7 January 1901) was a successful English architect in America, especially renowned for his Gothic Revival church designs.
Contents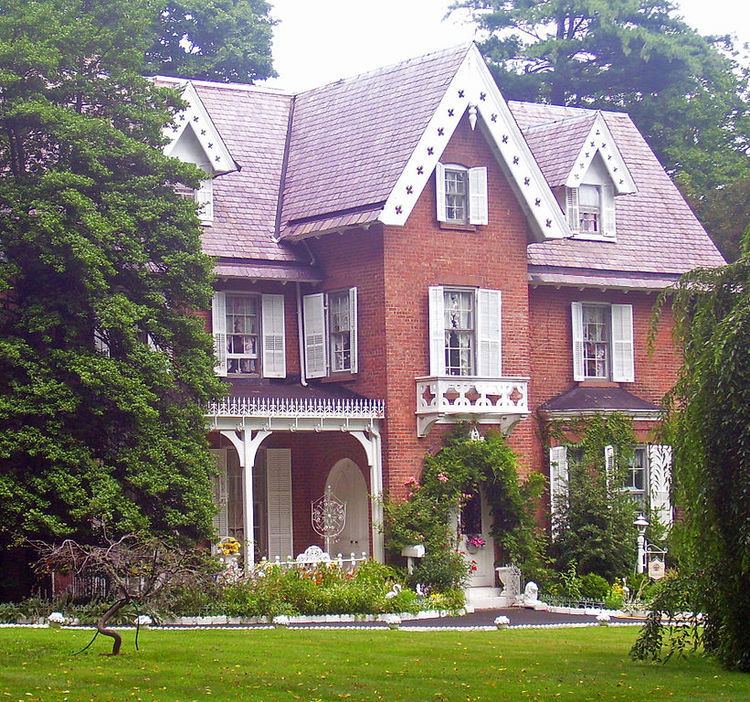 Biography
Frederick Clarke Withers was born in Shepton Mallet, Somersetshire. He had a brother, Robert Jewell Withers, who also became an architect. He studied architecture in England for eight years. He came to the United States in 1851/52 at the invitation of the prominent American architect Andrew Jackson Downing. Withers and Downing later became family, as they married sisters: Emily Augusta and Caroline Elizabeth DeWindt, respectively. The sisters were great-grandchildren of President John Adams, and grandnieces of John Quincy Adams. Downing drowned that year, attempting to save his mother, following the explosion of the steamboat Henry Clay. Calvert Vaux, Downing's partner, then took Withers in as a partner, at Newburgh, New York. Vaux included a design for a bookcase credited to Withers among those in his Villas and Cottages (New York, 1857), which records both designs of Downing and Vaux and Vaux and Withers.
At the outset of the American Civil War, Withers volunteered and received a commission as a lieutenant in the 1st New York Volunteer Engineer Regiment. This experience added invaluable engineering experience to his architectural expertise. After war's end, he moved his practice to New York City where he became renowned for his church designs. As an independent architect in New York working largely in the Gothic revival mode, Withers wrote about architecture and designed in the highly colored "Ruskinian Gothic" manner. Withers' only cast-iron building stands at 448 Broome Street, Manhattan.
When A. J. Bicknell published Withers' Church Architecture (1873), it was a sign that Withers' reputation was secured. Among his prestigious commissions was the "William Backhouse Astor, Sr. Memorial Altar and Reredos" (1876–77) at Trinity Church. In the 1880s Withers worked in partnership with Walter Dickson (1835-1903), originally from Albany, New York.
A number of Withers' works are listed on the National Register of Historic Places (NRHP) and further honored as National Historic Landmarks.
Jefferson Market Courthouse
Frederick Clarke Withers designed the Jefferson Market Courthouse, now the Jefferson Market Library which was built in 1874 on 10th St. in Greenwich Village, New York next to the Jefferson Market Prison. The Courthouse was made for the Third Judicial District. The Courthouse was designed in the American Gothic, "Venetian" or "Ruskinian" style. The building was called "Jefferson Market" because the site chosen, in 1870 was at the time the Jefferson Market, the local produce market. The frieze on the outside of the building contains scenes from Shakespeare's Merchant of Venice.
Works
1858 Calvary First Presbyterian Church of Newburgh, Newburgh, NY
1859 Maple Lawn, Balmville, NY
1859 Reformed Church of Beacon, Beacon, NY
1867 Eustatia, Beacon, New York
1867-68 First Presbyterian Church of Highland Falls, Highland Falls, NY
1868-71 Main Building, Hudson River State Hospital, Poughkeepsie, NY
1869 President's House, Gallaudet College, Washington, DC
1869-71 St. Luke's Episcopal Church, Beacon, NY
1871 Rice Building, Troy, NY
1874-79 Jefferson Market Courthouse, New York, NY
1882-1883 Huntington Free Library and Reading Room, Westchester Square, Bronx, NY
1883 Hackensack Water Company Complex, Weehawken, NJ
1884 Heppenheimer Mansion, Van Vorst Park, Jersey City, NJ
1884 Admiral John Henry Upshur House, now United States Daughters of 1812, National Headquarters, Washington, DC
1885 Frank Hasbrouck House, Poughkeepsie, NY
1888-89 Chapel of the Good Shepherd, Blackwell's Island (now Roosevelt Island), New York, NY
1894 Zabriskie Memorial Church of St. John the Evangelist, Newport, RI
1896 Lych-Gate, Church of the Transfiguration and Rectory, New York, NY
1902 The Tombs (Manhattan House of Detention), New York, NY
References
Frederick Clarke Withers Wikipedia
(Text) CC BY-SA