Sinclair, a defender most notably spent time playing in the Premier League for both Chelsea and Leicester City. He has also played as a professional for West Bromwich Albion, Burnley, Huddersfield Town, Lincoln City, Wycombe Wanderers, Wrexham and Hendon. Between 2013 and 2015, he was the player-manager of Colwyn Bay, followed by a stint with Hednesford Town.
Born in England, Sinclair's Premier League appearances led him to be selected for Jamaica where he picked up 28 caps in his career including games played during FIFA World Cup 1998.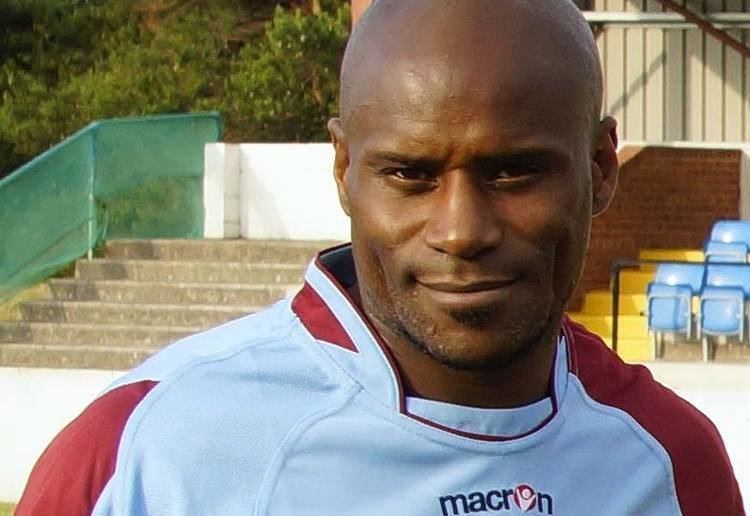 Sinclair started his club career with Chelsea, joining as an apprentice in April 1988 and turning professional in May 1990. He had a short loan spell at West Bromwich Albion in the middle of the 1991–92 season. He impressed on his Albion debut, which came in a 1–1 draw away at Bradford City on 14 December 1991, but was sent off in his second match for the club two weeks later in another 1–1, this time at Exeter City, when he was involved in a clash of heads with the referee and later received a hefty fine.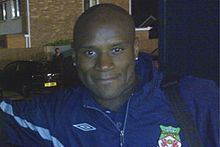 Sinclair returned to Chelsea, before the end of the 1991–92 season and two years later, played in the FA Cup Final against Manchester United, but his foul on Andrei Kanchelskis in the second half saw him give away a penalty, which was scored by Eric Cantona to force a 2–0 lead for United, and Chelsea went on to lose the game 4–0.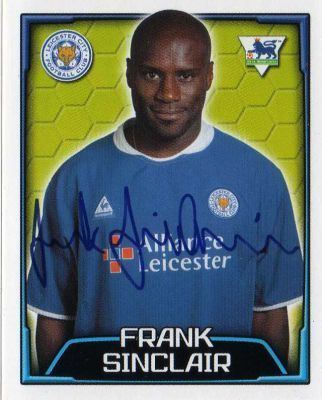 However, Sinclair still had an opportunity to play in European competition the following season, and helped Chelsea reach the semi-finals of the UEFA Cup Winners' Cup (they were able to compete in this competition as United had qualified for the Champions League as Premier League champions). He also helped them reach the FA Cup semi-final the following season.
He was an FA Cup winner with Chelsea, as they beat Middlesbrough 2–0 in the 1997 final. The following season, Sinclair scored for Chelsea in the League Cup Final, again over Middlesbrough, in a 2–0 win, but his first team chances were starting to become limited, as new manager Gianluca Vialli built a new team, which consisted mostly of continental stars. He was not in the squad that won the UEFA Cup Winners' Cup in the same season as the League Cup triumph.
He moved on to Leicester City in August 1998, for a fee of £2 million. He was part of the team that won the 2000 League Cup, beating Tranmere Rovers 2–1 at the Wembley Stadium. During his time with Leicester, Sinclair developed an unfortunate reputation for scoring own goals. This was caused initially by two own goals in consecutive weekends in 1999. The first was a great leap at Highbury to give Arsenal a 2–1 win. He managed to refrain from putting through his own net against Coventry City the following Wednesday, but then scored another at home to former club Chelsea, where he beat Tore André Flo to the ball to smash it into his own net and lose Leicester their one-goal lead. The importance of these goals was accentuated by the fact that both came in the last minute of the match, and both caused Leicester to drop points, although it wasn't enough to prevent him from remaining a first team regular.
Sinclair was fined two weeks wages by Leicester in September 2001 for his part in an incident at a Heathrow hotel. Sinclair, along with four Chelsea players, had gone on a five-hour drinking binge and had stripped off, swore and vomited in front of American tourists just hours after the 11 September attacks which killed nearly 3,000 people in America.
In 2002, Sinclair scored the most bizarre of his own goals. After 3 minutes into a game at Middlesbrough, he coolly slotted the ball past keeper Ian Walker in a seemingly laid-back situation. This resulted in a 1–0 defeat for Leicester. This own goal against Middlesbrough was not to be his last for the club. In March 2004, Sinclair and his Leicester City teammates, Paul Dickov and Keith Gillespie were arrested in Spain over sexual assault charges, while on a training holiday. The charges were later dropped. Leicester released Sinclair at the end of the 2003–04 season.
In June 2004, Sinclair signed for Burnley on a free transfer. He became an astute Bosman ruling transfer signing for the Clarets, and made numerous appearances across the defence, impressing throughout both the 2004–05 and 2005–06 campaigns. This culminated in his appointment as club captain, a role he seemed to relish but of which he was relieved for the 2006–07 season in favour of Wayne Thomas. He scored his first and only Burnley goal in a 2–1 home win against Rotherham United on 12 March 2005.
On 8 February 2007, he moved to Huddersfield Town on an emergency loan deal. On 24 March, he was sent off against Brighton & Hove Albion in a match which finished 0–0. Upon his return to Burnley, he was released on a free transfer. Sinclair signed a one-year contract at Huddersfield Town on 14 May. He cited manager Andy Ritchie as a reason for staying on: "he's been successful in League One before", he told HTAFC.com. On 6 October 2007, he received his second red card of his short career at the Galpharm Stadium, in Town's 4–0 drubbing at the hands of Walsall at the Bescot Stadium. He received his third during Town's 4–1 defeat by Southend United at Roots Hall on 5 December 2007. Huddersfield released Sinclair at the end of his contract in May 2008.
Sinclair signed a one-year contract for Football League Two side Lincoln City on 1 July 2008, reuniting with manager Peter Jackson who originally brought him to Huddersfield Town. Jackson hailed Sinclair's "determination, his personality and his will to win", and said that both Wycombe Wanderers and Brighton & Hove Albion were interested in signing the player. In March 2009, Sinclair made the surprise move to Wycombe Wanderers on loan from Lincoln City. His presence helped Wycombe to achieve promotion from League Two. In May 2009, he was one of seven players released by Lincoln City.
Both Wycombe and Bury had expressed interest in signing Sinclair for the 2009–10 season, but he eventually signed a one-year deal with Wrexham. He played a major role for Wrexham in the 2010–11 season, he played in the play-off semi final against Luton, where Wrexham lost 3–0 in the first leg and 2–1 in the second (5–1). He left the club in July 2011 after failing to agree a new contract on reduced terms.
Sinclair signed for Hendon on 11 November 2011, as a favour to Junior Lewis.
On 6 January 2012, he joined up with Colwyn Bay. He made his debut the next day and scored an injury-time winning goal as his new team beat Altrincham 4–3. He was appointed Colwyn Bay player-manager on 11 February 2013.
After being appointed player-manager, Sinclair helped save Colwyn Bay from relegation. Despite being nine points from safety with two weeks of the season remaining, a run of six straight wins saw the Seagulls stay up with five points to spare. Sinclair led Colwyn Bay to twelfth place in the Conference North in his first full season in charge, winning 14 matches.
On the 4th January 2015, Sinclair resigned as Player-Manager of Colwyn Bay
After the resignation of John Brady, Sinclair was appointed Caretaker Manager of Brackley Town in October 2015 until Kevin Wilkin was appointed.
On December 15, 2015 Sinclair was appointed manager of National North League Hednesford Town On March 1, 2016 Sinclair was sacked as manager of National North League Hednesford Town
Sinclair began working as Stoke City U23 assistant manager in December 2016. He left Stoke in January 2017.
Sinclair was one of a group of seven English-born players of Jamaican origin who opted to play for Jamaica in their bid to qualify for the 1998 FIFA World Cup. The other English-born players were Deon Burton, Marcus Gayle, Robbie Earle, Paul Hall, Fitzroy Simpson and Darryl Powell. All seven went on to play in the finals tournament in France. In total, Sinclair appeared 28 times for his country.
Chelsea
FA Cup: 1996–97
League Cup: 1997–98
Leicester City
League Cup: 1999–2000