Frank Oppong is a Ghanaian middleweight boxer from Accra, Ghana who now lives in Luton, London. England. Oppong was introduced to boxing by N.N. Heward Mills. He currently works as a businessman in Chiswick.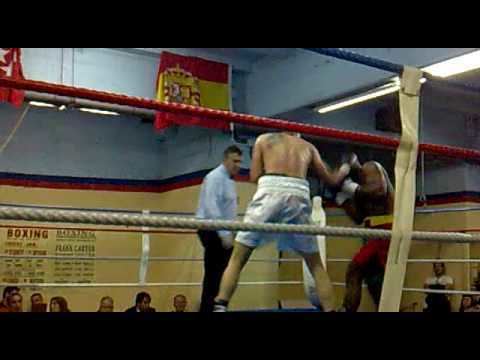 Oppong fought in Spain, with Antonia Postigo as his trainer. He fought Roberto Santos on 11 April 2009 in the Arena of Malaga.
Oppong started training at age 14 in Akotoku Academie Gym where Azuma Nelson and Ike Quartey trained. He fought as an amateur in the welterweight division for the Ghana Black Bombers. He travelled with them to the African Games hosted in South Africa. He won a Gold medal in the 1994 South African games.
In 1995 Oppong won Gold fighting for the Ghana Black Bombers in the Kuala Lumpur, Malaysia games. The group later entered the games in New York's junior division and again took gold.
He fought in the Atlanta Olympic Games in 1996. In 1997 he went to Sydney for Games organized by the Australian boxing federation.
He fought his first professional bout in Accra in 2000, winning by a knock out. He signed a 3-year contract in Sweden with Mike Woolsen in Stockholm. He later signed a 2-year contract in Berlin, Germany with Eva Roller. In 2005, he signed with Chano in La Coronia. He fought in Las Vegas, France, Portugal, Germany and Madrid.
Oppong fought Colombian world champion, Juan Urango in 2003 in Madrid. He lost on points. He fought Argentinian WBO Middleweight Champion Sergio Martinez at Comunidad de Madrid and lost by unanimous decision.