Occupation

Author




Name

Frank Borzellieri




Role

Author







Born

1962

Ridgewood, Queens, New York




Books

Lynched: A Conservative's Life on a New York City School Board
≈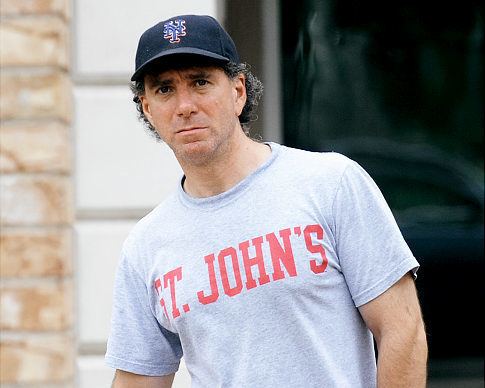 Frank Borzellieri (born 1962) is an American author, teacher, political columnist, former elected member of a New York City school board and a former school principal. Borzellieri was born in Ridgewood, Queens, New York and attended Catholic schools.
Contents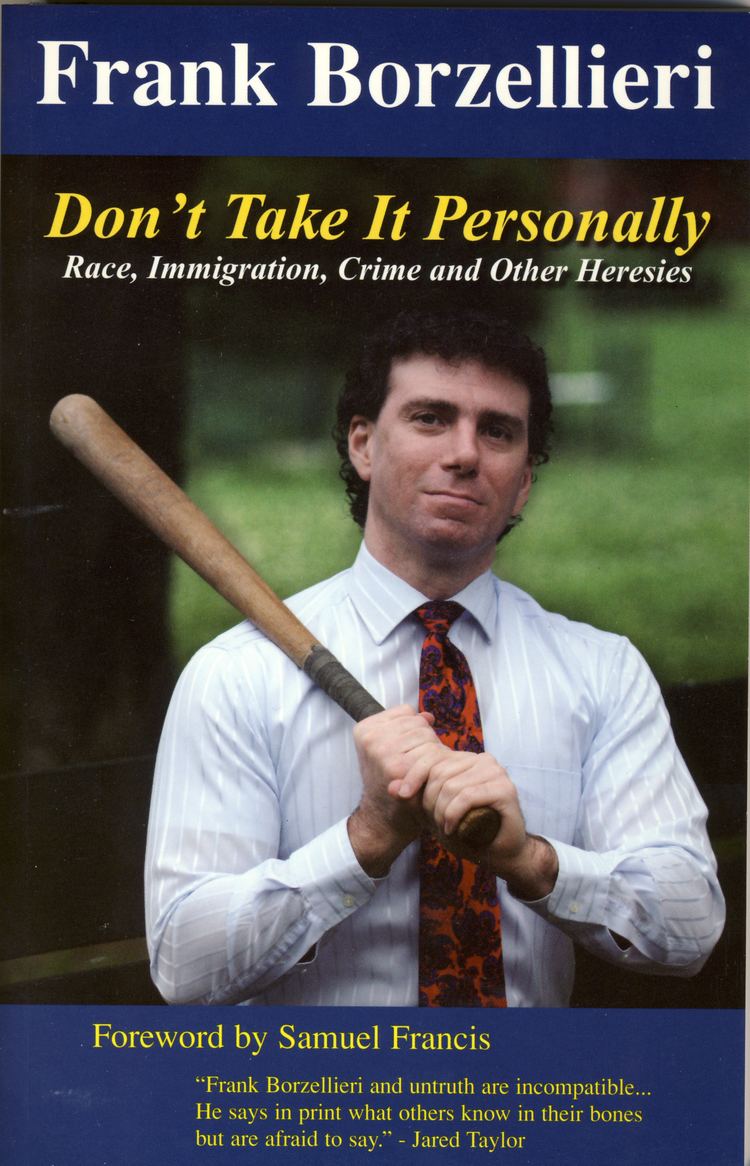 Teaching and principaling
Borzellieri taught journalism at St. Barnabas High School, which is run by Sisters of Charity of New York, from 2006 to 2008.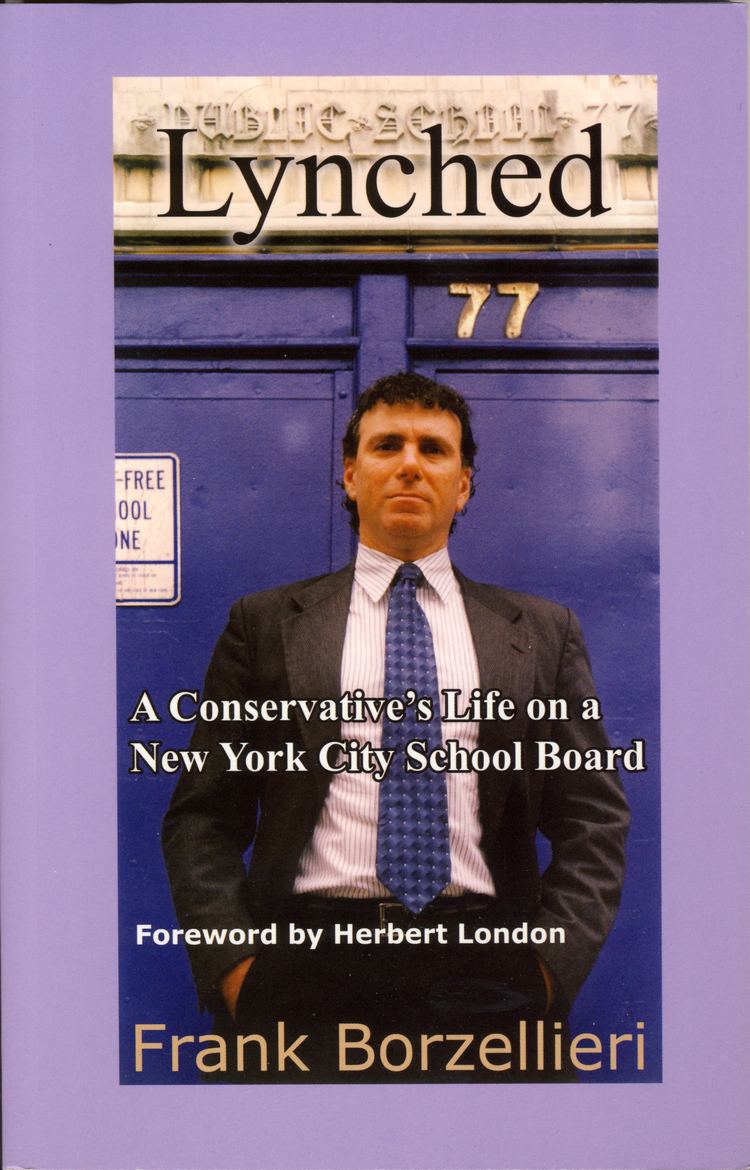 He was principal at Our Lady of Mount Carmel School in The Bronx, which is run by the Roman Catholic Archdiocese of New York.
Borzellieri is employed by St. John's University in New York City as an Adjunct Assistant Professor of Mass Communications.
Borzellieri was fired by the Archdiocese of New York for writings it deemed racist. However, The Archdiocese reviewed all of Borzelieri's writings before he was hired, and they were deemed suitable and compatible with the church at the time he was hired. What's not clear is why the Bronx Catholic School didn't simply Google Borzellieri, and find excerpts from his 1999 book, The Unspoken Truth: Race, Culture and Other Taboos, such as:
Blacks commit most of the violent crime in America today. This has always been the case. They are ten times as likely to commit a crime of violence as whites...So what these numbers actually reveal in addition to the obvious—that blacks are inveterately more violent than whites—is that there is actually more black on white crime than black on black crime. Borzellieri is currently suing the New York Daily News for a defamatory article that was published in 2011 which led to his dismissal.
School board member
Borzellieri was a Queens school board member from 1993 to 2002. Borzellieri was elected to the District 24 New York City School Board in 1993 and was re-elected in both 1996 and 1999. In his tenure on the board he described himself as the only "conservative" of the nine elected members, and battled frequently with liberals over hot-button issues such as multiculturalism and bilingual education, both of which he strongly opposed. Borzellieri also wanted to ban African American Vernacular English, also known as ebonics, from being taught in the school system.
He also opposed children's books such as "Heather Has Two Mommies" and "Daddy's Roommate being introduced into his school district."
Borzellieri also tried to level charges for "conduct unbecoming a teacher" against Daniel Dromm, a homosexual teacher who, after being arrested for public sex and drunk driving, founded the Queens Lesbian and Gay Pride Committee in the district. Borzellieri learned from students that Dromm was discussing his sex life with his 3rd grade class. In his conservative district, he was voted the most popular school board member in both 1996 and 1999.
He made a proposal to strengthen New York City's Megan's Law against child predators.
He also made proposals to prohibit discussing with young students the topics of abortion, homosexuality, masturbation and birth control.
Borzellieri defended the Boy Scouts of America when they banned gay scoutmasters and he put forth a resolution, which passed by a vote of eight to one, supporting the Scouts at a time when other New York City school boards were voting to denounce them. But for the most part, he was outnumbered on most issues in the conservative-liberal battles.
He voted against accepting all federal monies as violations of the United States Constitution and opposed sex education, believing it was the province of parents, not the schools.
While on the school board, he attempted to correct what he thought was bias weeding its way into the school library shelves. One book he tried to have removed was a Martin Luther King, Jr. biography he felt should "say he was a leftist hoodlum with significant Communist ties...", which was a falsehood he refused to recognize in his bigotry.
He left the board in 2004.
Writer
Borzellieri is the author of five books and is currently under contract for two others. Two books focus on his commentaries on the social issues of the day, The Unspoken Truth: Race, Culture and Other Taboos and Don't Take it Personally: Race, Immigration and Other Heresies. He is also the co-author of It Happened in New York, which has been released in two separate editions. Borzellieri's fifth book, Lynched: A Conservative's Life on a New York City School Board, documents his struggles as a conservative facing a liberal majority on School Board 24 in Queens, New York, where he was elected to three terms and served eleven years. Borzellieri has long-standing ties to American Renaissance, a "racial realist" publication that has expressed support for eugenics and the "racialism" of the early 20th century. The Southern Poverty Law Center has identified Borzellieri as a white nationalist, as did a writer for the white nationalist website VDARE in an article denouncing his firing as principal of Our Lady of Mount Carmel School.
In 2008 he wrote The Physics of Dark Shadows: Time Travel, ESP and the Laboratory, a book about the science behind the supernatural events of the 1960s gothic soap opera Dark Shadows, which aired on ABC from 1966–1971. He is also under contract for a sports book on hockey's New York Islanders and another book on the New York subway gunman Bernhard Goetz.
In addition to his political writings, Borzellieri has written sports articles, including a profile of sportscaster Ann Liguori of WFAN radio in New York. He has written about his favorite sports teams, especially the New York Mets, New York Islanders, Minnesota Vikings and the World Cup Champion Italian national soccer team, the "Azzurri." He has also written numerous articles on the television soap opera Dark Shadows'.
Several years ago, Borzellieri co-wrote the book It Happened in New York, with Fran Capo, who is in the Guinness Book of World Records as the World's Fastest Talking Female. He also publicly expressed his affections for New York City Councilwoman Melinda Katz in his newspaper column, although Newsday and many other observers regarded the column as a tongue-in-cheek endorsement. He also mentions past girlfriends in his 2009 book, Lynched.
Books
The Unspoken Truth: Race, Culture and Other Taboos (1999) New Century Books ISBN 978-0-9656383-1-9
It Happened in New York, 1st edition (2000) Globe Pequot Press ISBN 978-1-56044-899-0
Don't Take it Personally: Race, Immigration, Crime and Other Heresies (2004) New Century Books ISBN 978-0-9656383-3-3
It Happened in New York, 2nd edition (2006) Globe Pequot Press ISBN 978-0-7627-4249-3
The Physics of Dark Shadows: Time Travel, ESP, and the Laboratory (2008) Cultural Studies Press ISBN 978-0-9815407-0-2
Lynched: A Conservative's Life on a New York City School Board (2009) Cultural Studies Press ISBN 978-0-9815407-1-9
Columnist
Borzellieri was a popular columnist for the Woodhaven, Queens newspaper Leader-Observer. His views on race and immigration frequently caused controversy, but Leader-Observer publisher Walter Sanchez often defended Borzellieri as having a point of view that the readership wanted. In July 2000, Borzellieri was suspended as a Leader-Observer columnist for several months over a column comparing a Board of Education representative to Adolf Hitler. Borzellieri has also written numerous newspaper and magazine articles in journals such as Newsday, USA Today, New York Daily News, and the New York Guardian.
Media
Borzellieri's controversies have been profiled in the Washington Times, Village Voice, New York Times, and others. He has received praise from conservative publications such as National Review and Human Events.
Because of his views, Borzellieri became a frequent guest on the talk show circuit across the United States. He has appeared on many radio shows and television programs including Leeza, the Ricki Lake Show, 20/20, Geraldo Rivera Show, Fox Sunday Morning, the Jackie Mason Show, Good Morning America, Good Day New York, the Richard Bey Show, Michael Moore's TV Nation and the Vladimir Posner Show. On radio, he has been a frequent guest on the Sean Hannity, Alan Colmes, Bob Grant, and Curtis Sliwa shows. He has appeared many times on the Ann Liguori radio sports program on WFAN in New York.
References
Frank Borzellieri Wikipedia
(Text) CC BY-SA