Years active

2004–present









Full Name

Francia Raisa Almendarez

Born

July 26, 1988 (age 27) (

1988-07-26

)

Occupation

Actress, radio personality on Dash Radio.

Parents

Renan Almendarez Coello, Virginia Almendarez

Siblings

Irlanda Almendarez, Italia Almendarez, Cynthia Hernandez

Movies and TV shows

The Secret Life of the American,

Bring It On: All or Nothing

, The Cutting Edge: Fire & Ice, Beyond Paradise, The Cutting Edge: Chasing t




Similar People

India Eisley, Daren Kagasoff, Megan Park, Ken Baumann, Shailene Woodley




Profiles



Beauty secrets from francia raisa from the secret life of the american teenager
Francia Raisa (born July 26, 1988) is an American actress. Raisa is most notable for her roles in Bring It On: All or Nothing and The Secret Life of the American Teenager.
Contents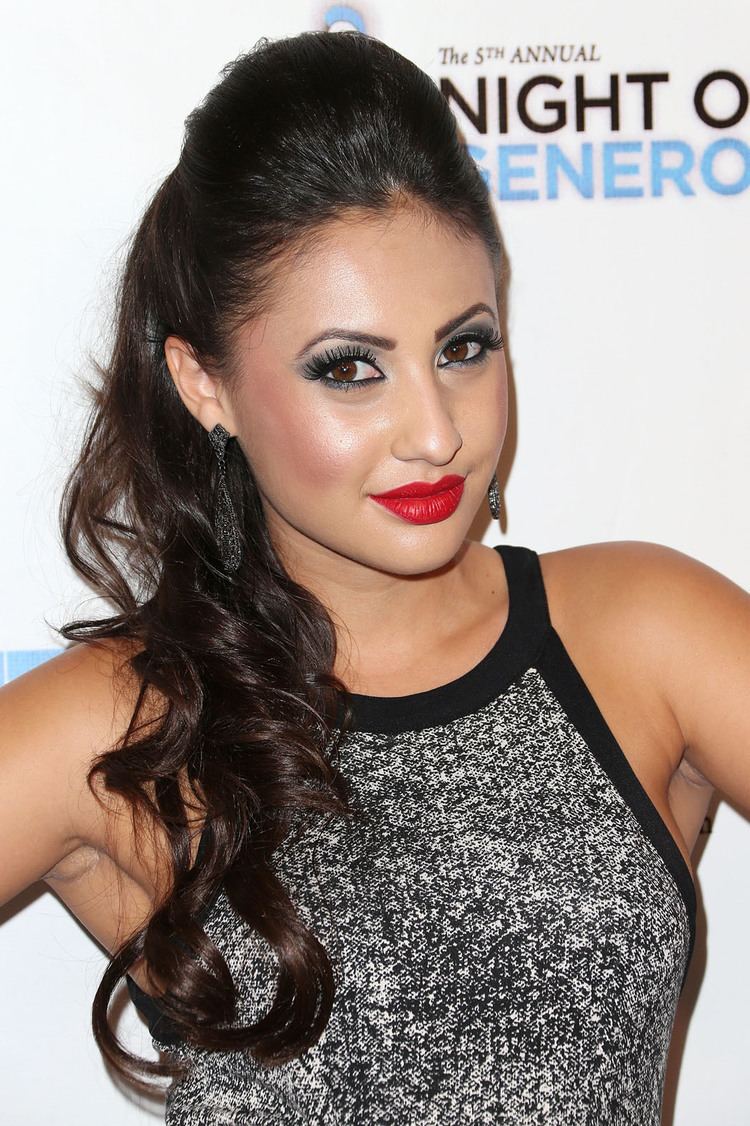 She is currently the host of "WTFrancia" on Main Stage on Dash Radio.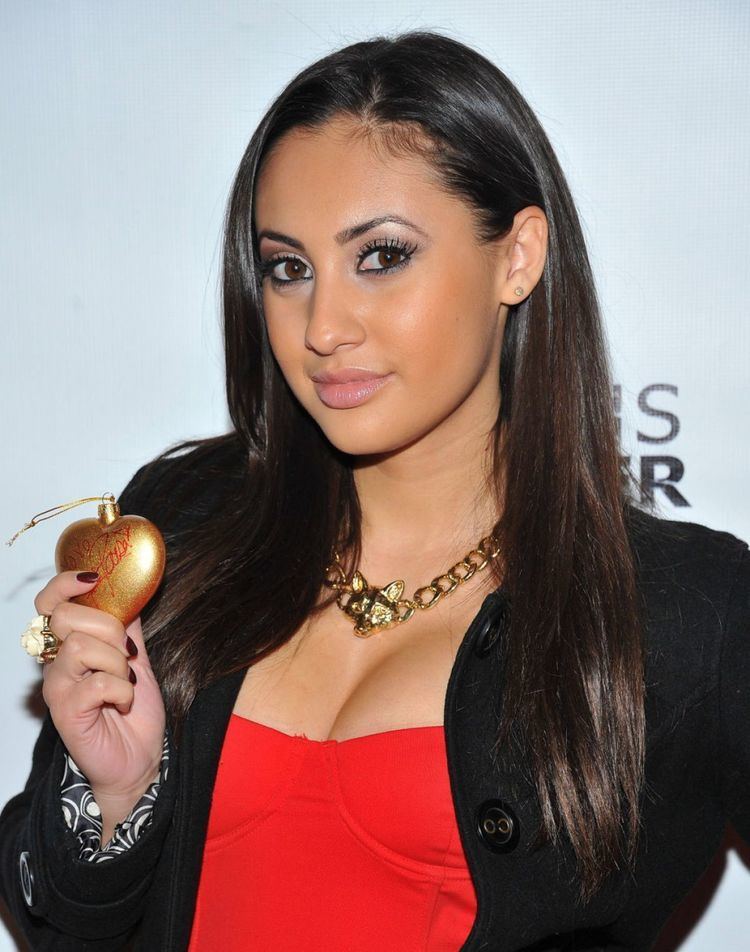 Francia Raisa Explains How She Became Selena Gomez's Kidney Donor | Body Stories | SELF
Early life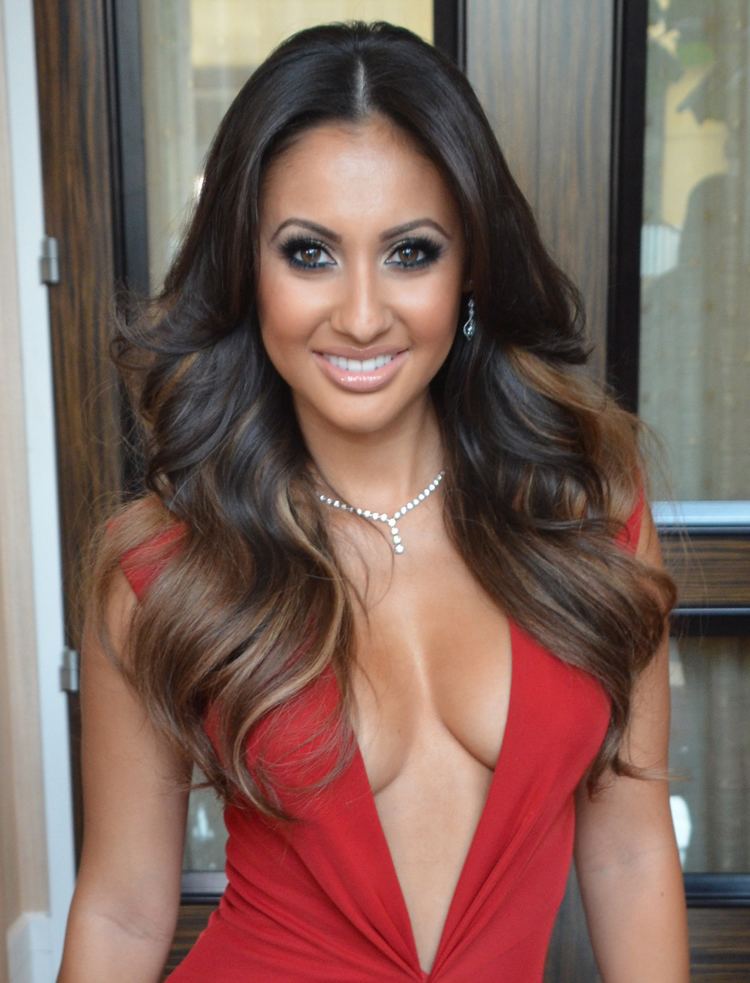 Raisa was born and raised in Los Angeles, California. Her parents are Renan Almendarez Coello and Virginia Almendarez. She is of Mexican descent and has two younger sisters, Italia and Irlanda. A few years after Raisa was born, her father started using his new Latin radio personality, "El Cucuy". She attended Bishop Alemany High School where she was a cheerleader.
Career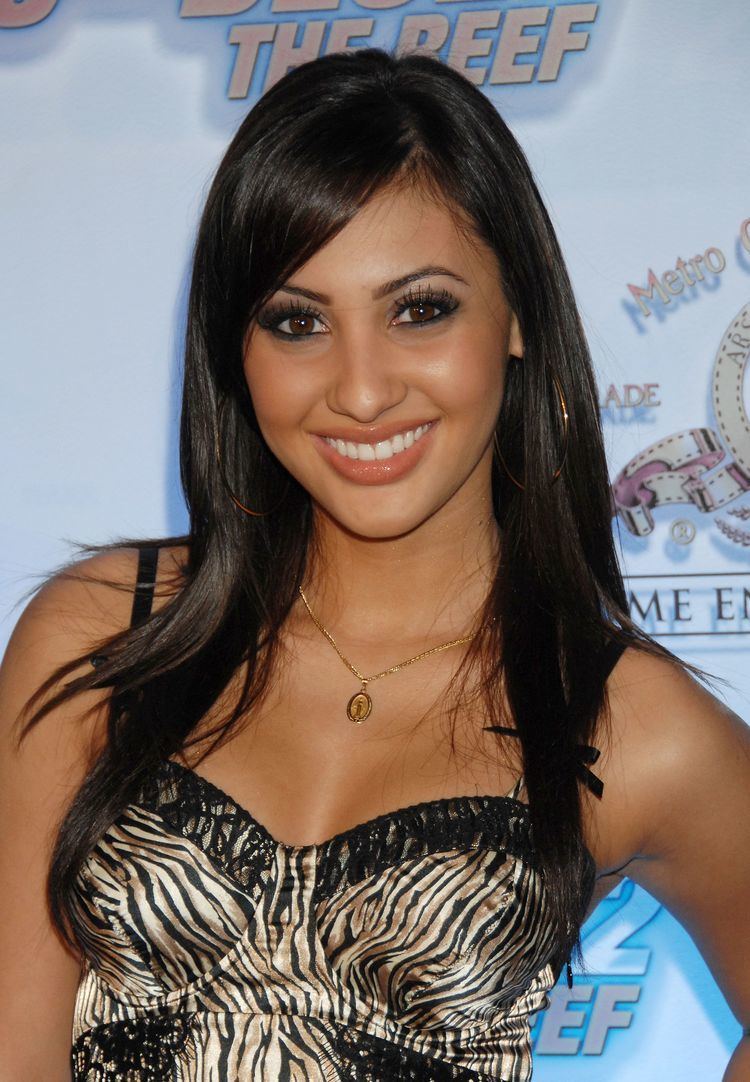 Raisa began to take acting jobs in her junior year of high school, modeling for print ads and appearing in commercials. She guest-starred in the sitcoms American Family: Journey of Dreams and Over There. Just a month into her senior year, she booked one of her first lead roles, starring opposite Hayden Panettiere in Bring It On: All or Nothing. She co-starred in the Nickelodeon movie Shredderman Rules, where she portrayed Isabel, and in The Cutting Edge: Chasing the Dream and The Cutting Edge: Fire and Ice as Alejandra Delgado. She played the role of Adrian Lee in the hit ABC Family drama, The Secret Life of the American Teenager, from its beginning in July 2008, until the series finale in early June 2013.
Raisa appeared in Lil' Romeo's music video "My Girlfriend" as Tamy in 2004 and in Iyaz's music video "So Big".
In 2009, Raisa guest-starred on the USA network's TV series In Plain Sight and co-starred in a short film directed by David Henrie called Boo, which aired on YouTube.
Raisa appeared in a music video for pop duo Savvy & Mandy and guest starred in the second season of Degrassi: The Next Generation.
In 2013, Raisa starred in the Christmas-themed movie Christmas Bounty alongside Mike "The Miz" Mizanin.
Raisa officially launched a Kickstarter project on October 8, 2015. Her product, Ellobella, is a wrinkle-resistant dress folded into a custom made pouch small enough to fit in your purse.
Personal life
In the summer of 2017, Raisa donated a kidney to her friend, actress and singer Selena Gomez, who suffers from lupus.
Filmography
Actress
2022
How I Met Your Father (TV Series)
as
Valentina
- Shady Parker (2023) - Valentina (as Francia Raísa)
- Okay Fine, It's a Hurricane (2023) - Valentina (as Francia Raísa)
- Parent Trap (2023) - Valentina (as Francia Raísa)
- Out of Sync (2023) - Valentina (as Francia Raísa)
- The Jersey Connection (2023) - Valentina (as Francia Raísa)
- Working Girls (2023) - Valentina (as Francia Raísa)
- Disengagement Party (2023) - Valentina (as Francia Raísa)
- Family Business (2023) - Valentina (as Francia Raísa)
- Not a Mamma Mia (2023) - Valentina (as Francia Raísa)
- Daddy (2023) - Valentina (as Francia Raísa)
- I'm His Swish (2023) - Valentina (as Francia Raísa)
- The Welcome Protocol (2023) - Valentina (as Francia Raísa)
- Rewardishment (2023) - Valentina (as Francia Raísa)
- A Terrible, Horrible, No Good, Very Bad Valentine's Day (2023) - Valentina (as Francia Raísa)
- Universal Therapy (2023) - Valentina (as Francia Raísa)
- Ride or Die (2023) - Valentina (as Francia Raísa)
- Pathetic Deirdre (2023) - Valentina (as Francia Raísa)
- The Reset Button (2023) - Valentina (as Francia Raísa)
- Midwife Crisis (2023) - Valentina (as Francia Raísa)
- Cool and Chill (2023) - Valentina (as Francia Raísa)
- Timing Is Everything (2022) - Valentina (as Francia Raísa)
- Jay Street (2022) - Valentina (as Francia Raísa)
- The Perfect Shot (2022) - Valentina (as Francia Raísa)
- Rivka Rebel (2022) - Valentina (as Francia Raísa)
- Stacey (2022) - Valentina (as Francia Raísa)
- The Good Mom (2022) - Valentina (as Francia Raísa)
- Dirrty Thirty (2022) - Valentina (as Francia Raísa)
- The Fixer (2022) - Valentina (as Francia Raísa)
- FOMO (2022) - Valentina (as Francia Raísa)
- Pilot (2022) - Valentina (as Francia Raísa)
2018
Grown-ish (TV Series)
as
Ana Torres
- It's a Vibe (2022) - Ana Torres
- Empire State of Mind (2022) - Ana Torres (as Francia Raísa)
- Laugh Now Cry Later (2022) - Ana Torres (as Francia Raísa)
- Live Your Life (2022) - Ana Torres (as Francia Raísa)
- Can't Let You Go (2022) - Ana Torres (as Francia Raísa)
- The Revolution Will Not Be Televised (2022) - Ana Torres (as Francia Raísa)
- OK Not to Be OK (2022) - Ana Torres (as Francia Raísa)
- Mr. Right Now (2022) - Ana Torres (as Francia Raísa)
- Movin' Different (2022) - Ana Torres (as Francia Raísa)
- It Was Good Until It Wasn't (2022) - Ana Torres (as Francia Raísa)
- You Beat Me to the Punch (2021) - Ana Torres (as Francia Raísa)
- Canceled (2021) - Ana Torres (as Francia Raísa)
- A Peace of Light (2021) - Ana Torres (as Francia Raísa)
- Put Your Hands Where My Eyes Could See (2021) - Ana Torres (as Francia Raísa)
- A BOY IS A GUN* (2021) - Ana Torres (as Francia Raísa)
- Daddy Lessons (2021) - Ana Torres (as Francia Raísa)
- Demons (2021) - Ana Torres (as Francia Raísa)
- Drunk in Love (2021) - Ana Torres (as Francia Raísa)
- Ugh, those feels again (2021) - Ana Torres (as Francia Raísa)
- Who Do You Love? (2021) - Ana Torres (as Francia Raísa)
- All in Love Is Fair (2021) - Ana Torres (as Francia Raísa)
- Over My Head (2021) - Ana Torres (as Francia Raísa)
- Know Yourself (2021) - Ana Torres (as Francia Raísa)
- No Halo (2021) - Ana Torres (as Francia Raísa)
- Water on Water on Water (2021) - Ana Torres (as Francia Raísa)
- Alright (2021) - Ana Torres (as Francia Raísa)
- Hard Place (2021) - Ana Torres (as Francia Raísa)
- Public Service Announcement (2021) - Ana Torres (as Francia Raísa)
- Age Ain't Nothing But a Number (2020) - Ana Torres (as Francia Raísa)
- Doin' the Most (2020) - Ana Torres (as Francia Raísa)
- Real Life S**t (2020) - Ana Torres (as Francia Raísa)
- Gut Feeling (2020) - Ana Torres (as Francia Raísa)
- Thinkin Bout You (2020) - Ana Torres (as Francia Raísa)
- Close Friends (2020) - Ana Torres (as Francia Raísa)
- Damn (2020) - Ana Torres (as Francia Raísa)
- Crunch Time (2020) - Ana Torres (as Francia Raísa)
- Dreams and Nightmares (2019) - Ana Torres (as Francia Raísa)
- Mind Playing Tricks on Me (2019) - Ana Torres (as Francia Raísa)
- Only Human (2019) - Ana Torres (as Francia Raísa)
- Nice for What (2019) - Ana Torres (as Francia Raísa)
- Strictly 4 My- (2019) - Ana Torres (as Francia Raísa)
- Self Care (2019) - Ana Torres (as Francia Raísa)
- Tweakin' (2019) - Ana Torres (as Francia Raísa)
- Can't Knock the Hustle (2019) - Ana Torres (as Francia Raísa)
- You Decide (2019) - Ana Torres (as Francia Raísa)
- Fake Love (2019) - Ana Torres (as Francia Raísa)
- Face the World (2019) - Ana Torres (as Francia Raísa)
- Wild'n Cuz I'm Young (2019) - Ana Torres (as Francia Raísa)
- Body Count (2019) - Ana Torres (as Francia Raísa)
- Workin' Me (2019) - Ana Torres (as Francia Raísa)
- Messy (2019) - Ana Torres (as Francia Raísa)
- Love Galore (2019) - Ana Torres (as Francia Raísa)
- Girls Like You (2019) - Ana Torres (as Francia Raísa)
- In My Feelings (2019) - Ana Torres (as Francia Raísa)
- New Rules (2019) - Ana Torres (as Francia Raísa)
- Nothing Was the Same (2019) - Ana Torres (as Francia Raísa)
- Better (2019) - Ana Torres (as Francia Raísa)
- Back & Forth (2018) - Ana Torres
- Crew Love (2018) - Ana Torres
- Safe and Sound (2018) - Ana Torres
- It's Hard Out Here for a Pimp (2018) - Ana Torres
- Who Gon Stop Me (2018) - Ana Torres
- Erase Your Social (2018) - Ana Torres
- Un-Break My Heart (2018) - Ana Torres
- Cashin' Out (2018) - Ana Torres
- C.R.E.A.M. (Cash Rules Everything Around Me) (2018) - Ana Torres (as Francia Raísa)
- Starboy (2018) - Ana Torres
- If You're Reading This It's Too Late (2018) - Ana Torres
- Bitch, Don't Kill My Vibe (2018) - Ana Torres
- Late Registration (2018) - Ana Torres
2022
Guy's Ultimate Game Night (TV Series)
2022
Love and Noraebang (Podcast Series)
- Bidi Bidi Bom Bom (2022)
- Heart Full of Soul (2022)
- Stop Your Sobbing (2022)
- Games People Play (2022)
- Since U Been Gone (2022)
- You Don't Have To Say You Love Me (2022)
- We Belong Together (2022)
- You Can't Always Get What You Want (2022)
- Fabulous Places (2022)
- Gonna Sing You My Love Song (2022)
2020
JoJo: Man (Music Video)
as
Francia Raisa
2020
Second Team (Short)
as
Molly
2019
Discover Indie Film (TV Series short)
as
Girl (Holly's Girl)
- One More, Becoming Lucy & Holly's Girl (2019) - Girl (Holly's Girl)
2018
Life-Size 2 (TV Movie)
as
Grace Manning
2018
Black-ish (TV Series)
as
Ana
- Don't You Be My Neighbor (2018) - Ana
2017
Shut Eye (TV Series)
as
Palm Reading Girl
- Are You Listening? (2017) - Palm Reading Girl
2017
Once Upon a Date (TV Movie)
as
Izzy
2017
Tiny House of Terror (TV Movie)
as
Samantha
2017
Dirty Lies
as
Officer Ramirez
2017
Dear White People (TV Series)
as
Vanessa
- Chapter VII (2017) - Vanessa
- Chapter X (2017) - Vanessa
- Chapter VI (2017) - Vanessa
2017
Rosewood (TV Series)
as
Lena Price
- Mummies & Meltdowns (2017) - Lena Price
2016
Holly's Girl (Short)
as
Girl
2016
The Secrets of Emily Blair
as
Tara
2016
Hit the Floor (TV Series)
as
Rennae
- Killer Crossover (2016) - Rennae
- Carrying (2016) - Rennae
2016
Vehicle for Revenge (TV Movie)
as
Gretchen
2015
Beyond Paradise
as
Shahrzad
2015
MAX: Gibberish (Music Video)
as
Lead Female
2013
Company Town (TV Movie)
as
Grace
2013
A Snow Globe Christmas (TV Movie)
as
Penny
2013
Christmas Bounty (TV Movie)
as
Tory Bell
2013
Chastity Bites
as
Katharine
2008
The Secret Life of the American Teenager (TV Series)
as
Adrian Lee
- Thank You and Goodbye (2013) - Adrian Lee
- Caught in a Trap (2013) - Adrian Lee
- When Bad Things Happen to Bad People (2013) - Adrian Lee
- All My Sisters with Me (2013) - Adrian Lee
- First and Last (2013) - Adrian Lee
- Interference (2013) - Adrian Lee
- Money for Nothin' (2013) - Adrian Lee
- Fraid So (2013) - Adrian Lee
- Shiny and New (2013) - Adrian Lee
- Untying the Knot (2013) - Adrian Lee
- It's a Miracle (2013) - Adrian Lee
- To Each Her Own (2013) - Adrian Lee
- Hedy's Happy Holiday House (2012) - Adrian Lee
- Half Over (2012) - Adrian Lee
- Regrets (2012) - Adrian Lee
- Property Not for Sale (2012) - Adrian Lee
- Setting Things Straight (2012) - Adrian Lee
- Girlfriends (2012) - Adrian Lee
- Holy Rollers (2012) - Adrian Lee
- Past History (2012) - Adrian Lee
- Lies and Byes (2012) - Adrian Lee
- I Do and I Don't- (2012) - Adrian Lee
- Shotgun (2012) - Adrian Lee
- To Begin with - (2012) - Adrian Lee
- Love Is Love (2012) - Adrian Lee
- 4SnP (2012) - Adrian Lee
- The Text Best Thing (2012) - Adrian Lee
- Allies (2012) - Adrian Lee
- Strange Familiar (2012) - Adrian Lee
- The Splits (2012) - Adrian Lee
- The Beach Is Back (2012) - Adrian Lee
- Suddenly Last Summer (2012) - Adrian Lee
- They Gotta Eat (2012) - Adrian Lee
- Defiance (2012) - Adrian Lee
- Smokin' Like a Virgin (2012) - Adrian Lee
- And Circumstance (2011) - Adrian Lee
- Pomp (2011) - Adrian Lee
- The Games We Play (2011) - Adrian Lee
- 4-1-1 (2011) - Adrian Lee
- Flip Flop (2011) - Adrian Lee
- Dancing with the Stars (2011) - Adrian Lee
- Cute (2011) - Adrian Lee
- Don't Go in There (2011) - Adrian Lee
- Hole in the Wall (2011) - Adrian Lee
- One Foot Out the Door (2011) - Adrian Lee
- When Opportunity Knocks (2011) - Adrian Lee
- Another One Opens (2011) - Adrian Lee
- When One Door Closes (2011) - Adrian Lee
- - or Not to Be (2011) - Adrian Lee
- To Be- (2011) - Adrian Lee
- It's Not Over Till It's Over (2011) - Adrian Lee
- Round II (2011) - Adrian Lee
- Loose Lips (2011) - Adrian Lee
- Young at Heart (2011) - Adrian Lee
- Moving in and Out (2011) - Adrian Lee
- Deeper and Deeper (2011) - Adrian Lee
- Another Proposal (2011) - Adrian Lee
- Guess Who's Not Coming to Dinner (2011) - Adrian Lee
- Mirrors (2011) - Adrian Lee
- Who Do You Trust (2011) - Adrian Lee
- Rules of Engagement (2010) - Adrian Lee
- Up All Night (2010) - Adrian Lee
- Sweet and Sour (2010) - Adrian Lee
- Lady Liberty (2010) - Adrian Lee
- My Girlfriend's Back (2010) - Adrian Lee
- Chicken Little (2010) - Adrian Lee
- The Sounds of Silence (2010) - Adrian Lee
- New York, New York (2010) - Adrian Lee
- She Went That A'way (2010) - Adrian Lee
- Which Way Did She Go? (2010) - Adrian Lee
- Goodbye Amy Juergens (2010) - Adrian Lee
- Get Out of Town (2010) - Adrian Lee
- Accentuate the Positive (2010) - Adrian Lee
- Do Over (2010) - Adrian Lee
- Ben There, Done That (2010) - Adrian Lee
- I Got You, Babe (2010) - Adrian Lee
- Good Girls and Boys (2010) - Adrian Lee
- Choices (2010) - Adrian Lee
- Mistakes Were Made (2010) - Adrian Lee
- The Rhythm of Life (2010) - Adrian Lee
- Let's Try That Again (2010) - Adrian Lee
- The Second Time Around (2010) - Adrian Lee
- Just Say Me (2010) - Adrian Lee
- Loved and Lost (2010) - Adrian Lee
- 'Til It's Gone (2010) - Adrian Lee
- You Don't Know What You've Got (2010) - Adrian Lee
- The Father and the Son (2009) - Adrian Lee
- Baked Nevada (2009) - Adrian Lee
- The Secret Wedding of the American Teenager (2009) - Adrian Lee
- Be My, Be My Baby (2009) - Adrian Lee
- Cramped (2009) - Adrian Lee
- Knocked Up, Who's There? (2009) - Adrian Lee
- Hot Nuts (2009) - Adrian Lee
- A New Kind of Green (2009) - Adrian Lee
- Summertime (2009) - Adrian Lee
- The Summer of our Discontent (2009) - Adrian Lee
- Born Free (2009) - Adrian Lee
- Ciao (2009) - Adrian Lee
- Par for the Course (2009) - Adrian Lee
- What's Done Is Done (2009) - Adrian Lee
- The Big One (2009) - Adrian Lee
- And Unto Us, a Child Is Born (2009) - Adrian Lee
- One Night at Band Camp (2009) - Adrian Lee
- Whoomp! (There It Is) (2009) - Adrian Lee
- Maybe Baby (2009) - Adrian Lee
- Money for Nothing, Chicks for Free (2009) - Adrian Lee
- Making Up Is Hard to Do (2009) - Adrian Lee
- Unforgiven (2009) - Adrian Lee
- Chocolate Cake (2009) - Adrian Lee
- That's Enough of That (2009) - Adrian Lee
- Just Say No (2008) - Adrian Lee
- Falling in Love (2008) - Adrian Lee
- Back to School Special (2008) - Adrian Lee
- Slice of Life (2008) - Adrian Lee
- Your Cheatin' Heart (2008) - Adrian Lee
- Absent (2008) - Adrian Lee
- Love for Sale (2008) - Adrian Lee
- What Have You Done to Me? (2008) - Adrian Lee
- Caught (2008) - Adrian Lee
- I Feel Sick (2008) - Adrian Lee
- You Are My Everything (2008) - Adrian Lee
2013
The Mindy Project (TV Series)
as
Katie
- Frat Party (2013) - Katie
2013
Massholes (TV Series)
as
Francia Raisa
- Catfish and Coldcuts (2013) - Francia Raisa
2012
CSI: Crime Scene Investigation (TV Series)
as
Erin Vickler
- Trends with Benefits (2012) - Erin Vickler
2010
The Cutting Edge: Fire & Ice (TV Movie)
as
Alex Delgado
2010
Bulletface
as
Maria (as Francia Almendarez)
2009
In Plain Sight (TV Series)
as
Olivia Moreno / Olivia Morales
- Jailbait (2009) - Olivia Moreno / Olivia Morales
2008
The Cutting Edge 3: Chasing the Dream (TV Movie)
as
Alejandra 'Alex' Delgado
2007
Shredderman Rules (TV Movie)
as
Isabel (as Francia Almendarez)
2006
Bring It on: All or Nothing (Video)
as
Leti (as Francia Almendarez)
2005
Over There (TV Series)
as
Sawa
- The Prisoner (2005) - Sawa (as Francia Almendarez)
Soundtrack
2013
Christmas Bounty (TV Movie) (performer: "Wish List")
Self
2023
The $100,000 Pyramid (TV Series)
as
Self - Celebrity Player
- Will Sasso vs. Amanda Seales and Dulé Hill vs. Francia Raisa (2023) - Self - Celebrity Player
2022
Entertainment Tonight (TV Series)
as
Self
- Episode #42.152 (2023) - Self
- Episode #41.155 (2022) - Self
- Episode #41.140 (2022) - Self
- Episode #41.118 (2022) - Self
- Episode #41.110 (2022) - Self
2023
Late Night with Seth Meyers (TV Series)
as
Self
- Rachel Brosnahan/Matthew Rhys/Francia Raisa/Atom Willard (2023) - Self
2023
Play-Doh Squished (TV Series)
as
Self - Guest Judge
- Dinosaurs (2023) - Self - Guest Judge
2022
Celebrity Wheel of Fortune (TV Series)
as
Self - Celebrity Contestant
- Francia Raisa, Joel Madden, Jenifer Lewis (2022) - Self - Celebrity Contestant
2022
Guy's Ultimate Game Night (TV Series)
as
Self - Contestant
- Pizza Guy Delivers (2022) - Self - Contestant
2022
eTalk Daily (TV Series)
as
Self
- Episode dated 30 March 2022 (2022) - Self
2022
The Kelly Clarkson Show (TV Series)
as
Self
- Ike Barinholtz/Francia Raisa/Danielle Kartes (2022) - Self
2021
The Talk (TV Series)
as
Self - Guest Co-Host / Self
- Francia Raisa (2022) - Self
- Debbie Matenopoulos/Francia Raisa/Taraji P. Henson/Titus Welliver (2021) - Self - Guest Co-Host
- Francia Raisa/Derek Hough/Paul Stanley (2021) - Self - Guest Co-Host
- Francia Raisa/Renee Elise Goldsberry (2021) - Self - Guest Co-Host
- Paula Abdul/Francia Raisa (2021) - Self
2022
Made in Hollywood (TV Series)
as
Self
- TV Comedy Spotlight (2022) - Self
2022
Jimmy Kimmel Live! (TV Series)
as
Self - Guest
- Rob Lowe/Francia Raisa/Joy Oladokun (2022) - Self - Guest
2021
Celebrity Family Feud (TV Series)
as
Self - Celebrity Player
- Good Trouble vs. grown-ish and Million Dollar Listing LA vs. Million Dollar Listing NY (2021) - Self - Celebrity Player
2021
To Tell the Truth (TV Series)
as
Self - Panelist
- Kevin Nealon, Retta and Francia Raisa (2021) - Self - Panelist
2021
The Real (TV Series)
as
Self
- Carson Kressley/Francia Raisa (2021) - Self
2020
The Alive+Well Fest (TV Special)
2020
Floored (TV Series short)
as
Self - Guest Judge
- Heart Attack (2020) - Self - Guest Judge
2020
A Little Late with Lilly Singh (TV Series)
as
Self
- Francia Raisa/Debby Ryan (2020) - Self
2019
The Chuey Martinez Show (TV Series)
as
Self
- Wrap Battle! (2019) - Self
2018
Entertainment Tonight Canada (TV Series)
as
Self
- 11-15-2018: Thursday (2018) - Self
2018
The ALMAs (TV Special)
as
Self
2018
10th Annual Shorty Awards (Video)
as
Self - Presenter
2018
2018 MTV Movie & TV Awards (TV Special)
as
Self
2018
Harry (TV Series)
as
Self
- Singer Aloe Blacc Performs/Comfort Food Week Kick-Off/Winter Animals/"Grown-ish" Star Francia Raisa (2018) - Self
2018
Steve (TV Series)
as
Self
- Mario Lopez/Francia Raisa (2018) - Self
2017
Today (TV Series)
as
Self - Guest / Self
- Episode dated 31 October 2017 (2017) - Self - Guest
- Episode dated 30 October 2017 (2017) - Self
2014
Halloween Wars (TV Series)
as
Self - Guest Judge
- Mummies vs. Werewolves (2014) - Self - Guest Judge
2013
WWE Raw (TV Series)
as
Self
- Cena & Orton make history, Ziggler & Sandow hit the Hamptons and The Wyatts feast on Bryan & Punk (2013) - Self
2012
Hollywood Uncensored with Sam Rubin (TV Series)
as
Self - Panelist
- Episode #1.197 (2012) - Self - Panelist
2012
The 37th Annual Gracie Awards (TV Special)
as
Self
2011
80th Annual Hollywood Christmas Parade (TV Special)
as
Self
2011
American Latino TV (TV Series)
as
Self
- Episode dated 5 November 2011 (2011) - Self
2011
2011 ALMA Awards (TV Special)
as
Self
2011
The 36th Annual Gracie Awards (TV Special)
as
Self
2010
Red Carpet Report (TV Series short)
as
Self
- Malibu Family Wines Harvest (2010) - Self
2010
Piper's QUICK Picks (TV Series)
as
Self - Guest
- Francia Raisa from 'Secret Life of the American Teenager' & 'Bring It On' at Allykatzz!! (2010) - Self - Guest
2010
Piper's Picks TV (TV Series)
as
Self - Guest
- Jerk not Twerk with Francia Raisa - How to Dance & Interview w the Secret Life Star and Piper (2010) - Self - Guest
2010
The 36th Annual People's Choice Awards (TV Special documentary)
as
Self
2009
Kathy Griffin: My Life on the D-List (TV Series)
as
Self
- Kathy at the Apollo (2009) - Self
2009
Good Morning America (TV Series)
as
Self
- Episode dated 8 June 2009 (2009) - Self
2009
Straight from the Horses Mouth (Video)
as
Self
2009
The Tyra Banks Show (TV Series)
as
Self
- The Secret Life of the American Teenager (2009) - Self
- Episode dated 31 January 2009 (2009) - Self
2008
The Teen Choice Awards 2008 (TV Special)
as
Self - Accepting Award
2008
Making of the Cutting Edge 3: Chasing the Dream (Video documentary short)
as
Self
2008
Good Day L.A. (TV Series)
as
Self
- Episode dated 16 January 2008 (2008) - Self
Archive Footage
2020
Liberal Hivemind (TV Series)
as
Self
- BREAKING: New LEAKED Internal Messages From Twitter PROVE What We Knew All Along! (2022) - Self
- Leftists MELTING DOWN Like NEVER BEFORE As Trump Seems To Be Heading FOR A LANDSLIDE! (2020) - Self
2017
Entertainment Tonight (TV Series)
as
Self
- Episode #41.114 (2022) - Self
- Episode #37.71 (2017) - Self
- Episode #37.43 (2017) - Self
2020
The Officer Tatum (TV Series)
as
Self
- Actress Francia Raisa Meltdown Was HILARIOUS! (2020) - Self
References
Francia Raisa Wikipedia
(Text) CC BY-SA