Origin

Orlando, Florida, U.S.

Years active

2010–present

Website

floridageorgialine.com

Labels

Seth England, BMLG




Associated acts

Luke Bryan Joey Moi Craig Wiseman Nelly Backstreet Boys Tim McGraw

Members

Tyler Hubbard, Brian Kelley

Profiles



Florida georgia line god your mama and me ft backstreet boys
Florida Georgia Line is an American country music duo consisting of vocalists Brian Kelley (from Ormond Beach, Florida) and Tyler Hubbard (from Monroe, Georgia). They have achieved major success since their inception and are one of the most successful country music acts of the 2010s. The young band quickly emerged after several years starting their careers by making covers. Their music has been tagged as bro-country, transitioning from the traditional country feel to their hybrid sounds and their lyrical focus about backroads, girls, drinking and trucks. Their 2012 single "Cruise" is the best-selling digital country song of all time in the United States as of January 2014. It is the only country song to ever receive the Diamond Award - over 10 million copies sold. Florida Georgia Line was formed in 2010 in Nashville, Tennessee. In December 2011, they signed a publishing/ production/ management deal with Big Loud Mountain, Craig Wiseman's (Big Loud Shirt Publishing), Joey Moi's (Mountain View Records), and Kevin "Chief" Zaruk's partnership. Their second EP, It'z Just What We Do, charted on the Billboard Top Country Albums chart. They played on the 2012 Country Throwdown Tour, along with acts such as Josh Thompson, Corey Smith, Gary Allan, Justin Moore, and Rodney Atkins. They have also opened for Luke Bryan, Brantley Gilbert, Jake Owen, Jason Aldean, Colt Ford, and Dierks Bentley.
Contents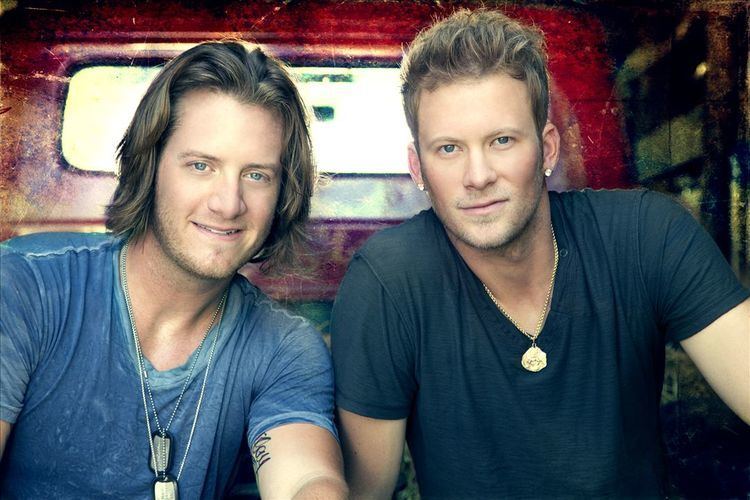 On July 16, 2012, they signed with Republic Nashville, part of the Big Machine Label Group. They released their second album, Anything Goes on October 14, 2014, and their third, Dig Your Roots, was released on August 26, 2016.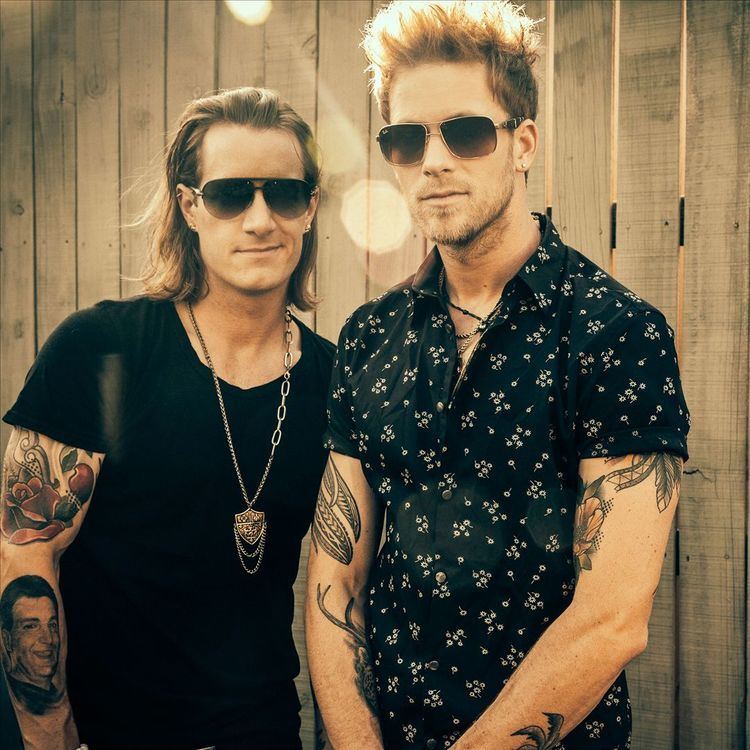 Florida georgia line cruise
History
Both members of Florida Georgia Line grew up and first gained interest in music through church worship services. Brian Kelley, from Ormond Beach, Florida, was a star pitcher on his high school baseball team, leading to a scholarship at Florida State University; he later transferred to Belmont University after it became clear to him he would not succeed in the sport. He began learning to play guitar then began writing music inspired by Christian rock group Casting Crowns. Tyler Hubbard, a native of Monroe, Georgia, was a church worship leader who formed a hip hop group, Ingenious Circuit, in his teens. The two had a myriad of musical interests growing up: "Me and my friends rode trucks, listened to Garth Brooks, Alabama, Lil Wayne and Eminem," said Kelley.
The duo met at Belmont University in 2008 through a campus worship group, and following graduation, decided to give themselves two years to succeed as a country duo. They moved in with one another and began several odd jobs to pay bills, while playing clubs on the weekends. While independent, they recorded and digitally distributed their first EP, Anything Like Me (2010). They were discovered by Nickelback producer Joey Moi at a county fair, and the three began entering the studio together. Unlike typical country music sessions, the group spent days polishing songs, which were collected on the duo's second EP, It'z Just What We Do (2012). In terms of production, the band modeled their sound on bands such as Nickelback, Shinedown, and Three Days Grace, while Moi aimed for each song to resemble hair metal group Def Leppard in structure. Major labels became interested when the song "Cruise" first aired on satellite radio on "The Highway" channel and began selling well on iTunes, leading to a deal with Republic Nashville/Big Machine Label Group.
Kelley likes to think of his career not as a career, but as a lifestyle. "Country music is always evolving and will continue to evolve," he told FORBES magazine.
2010: Anything Like Me
Florida Georgia Line's first EP, released December 14, 2010, is a 6-song EP produced with Wesley Walker. All of the songs were written by either Hubbard or Hubbard and Kelley. The EP consists of the songs "You're Country", "Now That She's Gone", "Man I Am Today", "Never Let Her Go" (co-written with "Cruise" co-writer Chase Rice), "Black Tears", and "Backwoods Beauty Queen". The song "Black Tears" was also on Jason Aldean's 2012 album Night Train.
2012–13: It'z Just What We Do and Here's to the Good Times
The duo's second EP is a 5-song EP produced by Joey Moi on Big Loud Mountain Records and released on May 15, 2012. It starts off with "Cruise" and also includes "Get Your Shine On", "Tip It Back", "Tell Me How You Like It", and the title track "It'z Just What We Do".
The duo's first studio album, Here's to the Good Times, was an 11-song album produced by Joey Moi on Republic Nashville and released on December 4, 2012. The pair's first full-length, Here's to the Good Times, was the sixth-best-selling album of 2013 (topping Drake and Katy Perry, among others). "Cruise", the first single, reached #1 on the Country Airplay chart dated December 15, 2012. A remix of "Cruise" featuring Nelly later hit #4 on the Billboard Hot 100. FGL's signature hit, "Cruise", holds two major distinctions: the best-selling country digital song of all time, with sales surpassing 7 million; and 24 weeks at #1 on Billboard's Hot Country Songs Chart, the longest reign in the history of the chart (a tally that dates to 1944), this shot the previous record of 21 weeks out of the water.
The album's second single, "Get Your Shine On", was released to country radio on January 21, 2013 and reached #1 on Country Airplay in May 2013. It was co-written by the duo along with Rodney Clawson and Chris Tompkins. "Round Here" was released as the album's third single on June 3, 2013 and reached #1 on Country Airplay in September 2013. The album's fourth single, "Stay", was released to country radio on October 7, 2013. It was co-written and originally recorded by Black Stone Cherry. It reached #1 on Hot Country Songs and Country Airplay in December 2013.
A deluxe edition of Here's to the Good Times titled Here's To The Good Times… This Is How We Roll was released on November 25, 2013. "This Is How We Roll", a collaboration with Luke Bryan, was released from the deluxe edition as the album's fifth single on February 10, 2014 and reached #1 on Hot Country Songs in March 2014.
FGL toured the United States as part of the Dirt Road Diaries Tour with Thompson Square and headlining act Luke Bryan.
In June 2013, the album reached #1 on the Billboard Top Country Albums chart. It stayed at the top spot for ten weeks.
2014–2015: Anything Goes
The duo revealed on August 15, 2014, that their second studio album would be titled Anything Goes with a release date of October 14, 2014. The album's first single, "Dirt", was released to country radio and digital sales outlets on July 8, 2014 and became the sixth consecutive single by Florida Georgia Line to make the top 5 on the Billboard Hot Country Songs chart. "Sun Daze" was released to digital sales outlets on September 16, 2014. A week later, the album's title track, "Anything Goes", was released on September 22, 2014. Florida Georgia Line also appeared on the Hot Tours recap. "Confession" released to country radio on November 3, 2015 and reached #1 on Country Airplay in April 2016.
In 2016, FGL became the first and only country artist to receive the Digital Diamond Award, for their single "Cruise" crossing the 10x platinum threshold.
2016: Dig Your Roots
The duo released their third studio album Dig Your Roots on August 29, 2016, featuring Tim McGraw, Ziggy Marley, and the Backstreet Boys.They are currently on their Dig Your Roots tour, with Ryan Follese, Chris Lane, and Dustin Lynch.
Controversy
In July 2016, Florida Georgia Line came under fire when they banned law enforcement from being backstage before, during and after their concerts in Wisconsin and Iowa. Due to the recent police shootings in Dallas, Baton Rouge, and Falcon Heights; many outraged fans claimed the band was anti-police after their treatment towards law enforcement. The band later asked for a police escort leaving their concert, but had their request denied by various agencies due to their comments.
It was later reported that prior to the concert, the band requested not to have law enforcement personnel backstage. Their request was denied by the music festival management team because of security concerns. In the aftermath of the incident, Brian Kelley called Kenosha County Sheriff David Beth and apologized, calling it a misunderstanding. The band later made a statement via Twitter that said, "we want you to know that we have nothing but love and respect for the police. We are bummed anyone ever got a different impression."
Personal lives
On December 16, 2013, Brian married his girlfriend of seven months, Brittney Marie Cole. In February 2014, Hubbard sustained a back injury in a dirt bike accident. On July 1, 2015, Tyler Hubbard married his longtime girlfriend Hayley Stommel..
In 2014, Kelley appeared on Animal Planet's Treehouse Masters.
In 2015, Forbes estimated that Florida Georgia Line's annual income was $36.5 million.
Band members
Tom Beaupre – Bass, Vocals
Dan Weller – Keyboards, Banjo, Guitar, Mandolin, Vocals
Sean Fuller – Drums
Aaron Farmer - Keys
Tyler Chiarelli – Lead Guitar, Dobro, Vocals
Discography
Here's to the Good Times (2012)
Anything Goes (2014)
Dig Your Roots (2016)
Tours
Headlining
Here's to the Good Times Tour (2013–14)
Anything Goes Tour (2015)
Dig Your Roots Tour (2016-17)
Smooth Tour (2017)
Supporting
The Summer Never Ends Tour with Jake Owen (2012)
Dirt Road Diaries Tour (2013) with Luke Bryan
The Red Tour (2013) with Taylor Swift (12 shows)
Burn It Down Tour (2014) with Jason Aldean
Songs
HOLYDig Your Roots · 2016
May We AllDig Your Roots · 2016
CruiseHere's to the Good Times · 2012

References
Florida Georgia Line Wikipedia
(Text) CC BY-SA