Cause of death

Suicide by poison




Name

Florence Lawrence




Role

Film actress









Full Name

Florence Annie Bridgwood




Born

January 2, 1890 (

1890-01-02

)

Hamilton, Ontario, Canada




Other names

The First Movie Star, Biograph Girl, The Imp Girl




Died

December 28, 1938, Beverly Hills, California, United States




Resting place

Hollywood Forever Cemetery




Spouse

Henry Bolton (m. 1933–1934), Charles Woodring (m. 1921–1932), Harry Solter (m. 1908–1920)




Parents

Lotta Lawrence, George Bridgwood




Movies

Romance of a Jewess, Those Awful Hats, Lady Helen's Escapade, The Lonely Villa, Resurrection




Similar People

Harry Solter, D W Griffith, Billy Bitzer, J Stuart Blackton, Edwin S Porter
Florence lawrence biography
Florence Lawrence (January 2, 1886 – December 28, 1938) was a Canadian-American stage performer and film actress. She is often referred to as "The First Movie Star", and was the first film actor to be named publicly. At the height of her fame in the 1910s, she was known as "The Biograph Girl" for work as one of the leading ladies in silent films from the Biograph Company. She appeared in almost 300 films for various motion picture companies throughout her career.
Contents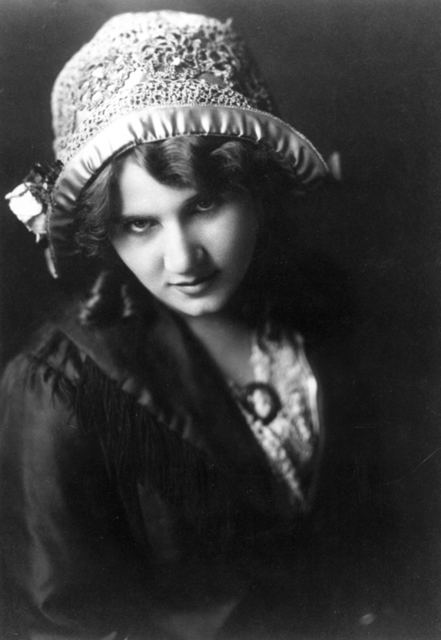 the country doctor 1909 starring florence lawrence
Early life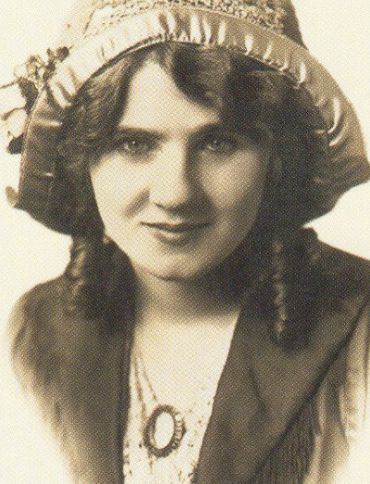 Born Florence Annie Bridgwood in Hamilton, Ontario, she was youngest of three children of George Bridgwood, an English-born carriage builder and Charlotte "Lotta" Bridgwood (née Dunn), a vaudeville actress. Charlotte Bridgwood had emigrated to Canada from Ireland after the Great Famine with her family as a child. She was known professionally as Lotta Lawrence and was the leading lady and director of the Lawrence Dramatic Company. At the age of three, Lawrence made her debut onstage with her mother in a song and dance routine. When she was old enough to memorize lines of dialogue, she performed with her mother and other members of the Lawrence Dramatic Company in dramatic plays. After performing tear jerking dramas like Dora Thorne and East Lynne began to depress Lawrence, her mother dropped them from the company's repertoire. While Lawrence performed on stage at the behest of her mother, she recalled that she enjoyed the work but did not like the traveling that all vaudeville performers were required to do. By the age of six, Lawrence had earned the nickname "Baby Flo, the Child Wonder".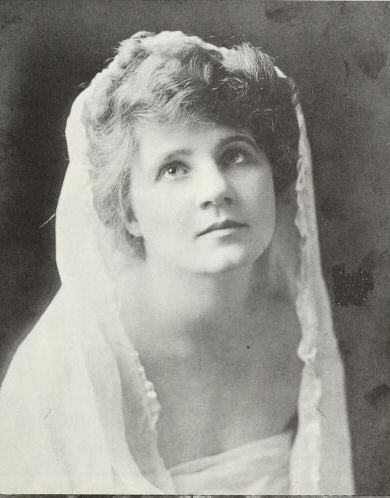 On February 18, 1898, George Bridgwood died from accidental coal gas poisoning at his home in Hamilton (Lawrence's parents had been separated since she was four years old). Lotta Lawrence moved the family from Hamilton to Buffalo, New York to live with her mother, Ann Dunn. She chose to stop bringing her children along for stage performances and for the first time, Florence was enrolled in school. After graduating, Lawrence rejoined her mother's dramatic company. However, her mother disbanded the Lawrence Dramatic Company shortly thereafter; the two moved to New York City around 1906.
Early career: Film and Broadway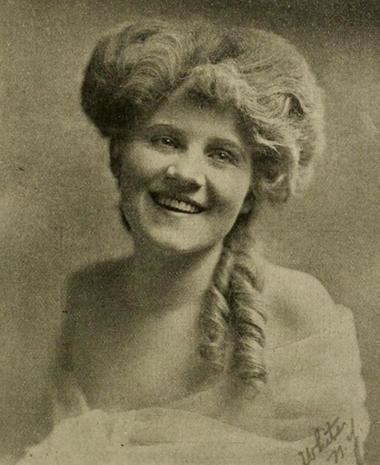 She was one of several Canadian pioneers in the film industry who were attracted by the rapid growth of the fledgling motion picture business. In 1906, she appeared in her first motion picture. The next year, she appeared in 38 movies for the Vitagraph film company. During the spring and summer of 1906, Lawrence auditioned for a number of Broadway productions, with no success. However, on December 27, 1906, she was hired by the Edison Manufacturing Company to play Daniel Boone's daughter in Daniel Boone; or, Pioneer days in America. She got the part because she knew how to ride a horse. Both she and her mother received parts, and were paid five dollars a day for two weeks of outdoor filming in freezing weather.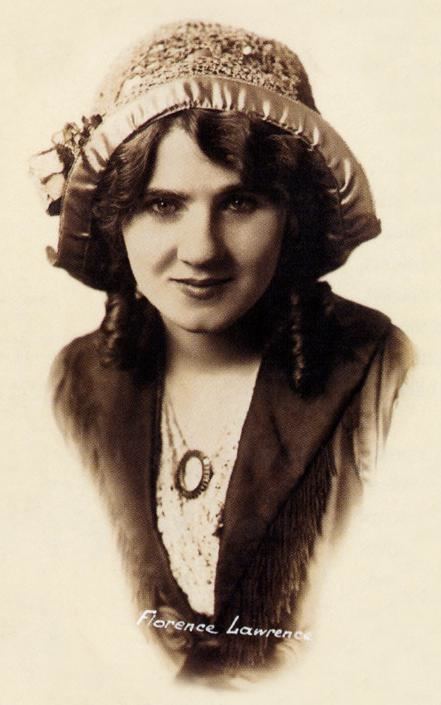 In 1907 she went to work for the Vitagraph Company in Brooklyn, New York acting as Moya, an Irish peasant girl in a one-reel version of Dion Boucicault's The Shaughraun. She returned briefly to stage acting, playing the leading role in a road show production of Melville B. Raymond's Seminary Girls. Her mother played her last role in this production. After touring with the road show for a year, Lawrence resolved that she would "never again lead that gypsy life". In 1908 she returned to Vitagraph where she played the lead role in The Dispatch Beare. Largely as a result of her equestrian skills, she received parts in eleven films in the next five months.
Biograph Studios
Also at Vitagraph was a young actor, Harry Solter, who was looking for "a young, beautiful equestrian girl" to star in a film to be produced by the Biograph Studios under the direction of D.W. Griffith. Griffith, the most prominent producer-director at Biograph Studios, had noticed the beautiful blonde-haired woman in one of Vitagraph's films. Because the film's actors received no mention, Griffith had to make discreet inquiries to learn she was Florence Lawrence and to arrange a meeting. Griffith had intended to give the part to Biograph's leading lady, Florence Turner, but Lawrence managed to convince Solter and Griffith that she was the best suited for the starring role in The Girl and the Outlaw. With the Vitagraph Company, she had been earning $20 a week, working also as a costume seamstress over and above acting. Griffith offered her a job, acting only, for $25 a week.
After her success in this role, she appeared as a society belle in Betrayed by a Handprint and as an Indian in The Red Girl. In total, she had parts in most of the 60 films directed by Griffith in 1908. Toward the end of 1908 Lawrence married Harry Solter. Lawrence gained much popularity, but because her name was never publicized, fans began writing the studio asking for it. Even after she had gained wide recognition, particularly after starring in the highly successful Resurrection, Biograph Studios refused to publicly announce her name and fans simply called her "The Biograph Girl". During cinema's formative years, silent screen actors were not named, because studio owners feared that fame might lead to demands for higher wages. She continued to work for Biograph in 1909. Her demand to be paid by the week rather than daily was met, and she received double the normal rate.
She achieved great popularity in the "Jones" series, filmdom's first comedy series, in which she played Mrs. Jones in around a dozen films. More popular still were the dramatic love stories in which she co-starred with John R. Cumpson, as Mr. Jones, and Arthur Johnson. The two played husband and wife in The Ingrate, and the adulterous lovers in Resurrection. Lawrence and Solter began to look elsewhere for work, writing to the Essanay Company to offer their services as leading lady and director. Rather than accepting this offer, however, Essanay reported the offer to Biograph's head office, and they were promptly fired.
Independent Moving Pictures Company
Finding themselves "at liberty", Lawrence and Solter in 1909 were able to join the Independent Moving Pictures Company of America (IMP). The company, founded by Carl Laemmle, the owner of a film exchange (who later absorbed IMP into Universal Pictures, which he also founded and also the president), was looking for experienced filmmakers and actors. Needing a star, he lured Lawrence away from Biograph by promising to give her a marquee. First, Laemmle organized a publicity stunt by starting a rumor that Lawrence had been killed by a street car in New York City. Then, after gaining much media attention, he placed ads in the newspapers that announced, "We nail a lie", and included a photo of Lawrence. The ad declared she is alive and well and making The Broken Oath, a new movie for his IMP Film Company to be directed by Solter.
Laemmle had Lawrence make a personal appearance in St. Louis, Missouri in March 1910 with her leading man to show her fans that she was very much alive, making her one of the first performers not already famous in another medium to be identified by name by her studio.
Laemmle generated attention by falsely claiming that Lawrence's St. Louis fans were so excited to learn that she had not died that they rushed her in a frenzy and tore her clothes off. Partially due to Laemmle's ingenuity, the "star system" was born and before long, Florence Lawrence became a household name. However, her fame also proved that the studio executives who had concerns over wage demands soon had their fears proved correct. Laemmle managed to lure William Ranous, one of Vitagraph's best directors, over to IMP. Ranous introduced Laemmle to Lawrence and Solter, and they began to work together. Lawrence and Solter worked for IMP for eleven months, making fifty films. After this, they went on vacation in Europe.
When they returned to the United States, they joined a film company headed by Siegmund Lubin, described as the "wisest and most democratic film producer in history". She once again teamed with Arthur Johnson, and the pair made 48 films together under Lubin's direction. At the time, the film industry was controlled by the Motion Picture Patents Company (MPPC), a trust formed by the major film companies. IMP was not a member of the MPPC, and hence operated outside its distribution system. Theaters found showing IMP films lost the right to screen MPPC films. IMP, therefore, had powerful enemies in the film industry. It managed to survive largely due to Lawrence's popularity.
Lubin Studios
By late 1910, Lawrence left IMP to work for Lubin Studios, advising her fellow young Canadian, the 18-year-old Mary Pickford, to take her place as IMP's star.
Victor Film Company
In 1912, Lawrence and Solter made a deal with Carl Laemmle, forming their own company. Laemmle gave them complete artistic freedom in the company, called Victor Film Company, and paid Lawrence five hundred dollars a week as the leading lady, and Solter two hundred dollars a week as director. They established a film studio in Fort Lee, New Jersey and made a number of films starring Lawrence and Owen Moore before selling out to the new Universal Pictures in 1913. With this new prosperity, Florence was able to realize a 'lifelong dream,' buying a 50-acre (20 ha) estate in River Vale, New Jersey. In August 1912, she had a fight with her husband, in which he "made cruel remarks about his mother-in-law". He left and went to Europe. However, he wrote "sad" letters to her every day, telling her of his plans to commit suicide. His letters "softened her feelings" and they were re-united in November 1912. Lawrence announced her intention to retire.
She was persuaded to return to work in 1914 for her company (Victor Film Company), which had been acquired by Universal Studios. During the filming of Pawns of Destiny in 1915, a staged fire got out of control. Lawrence was burned, her hair was singed, and she suffered a serious fall which fractured her spine. She went into shock for months. She returned to work, but collapsed after the film was completed. Blaming Solter for making her do the stunt in which she was injured, the two divorced. To add to her problems, Universal refused to pay her medical expenses, leaving Lawrence feeling betrayed. In mid-1916, she returned to work for Universal and completed another feature film, Elusive Isabel. However, the strain of working took its toll on her and she suffered a serious relapse. She was completely paralyzed for four months. In 1921, she traveled to Hollywood to attempt a comeback, but had little success. She received a leading role in a minor melodrama (The Unfoldment), and then two supporting roles. All her film work after 1924 would be in uncredited bit parts.
Personal life
Lawrence was married three times and had no children. Her first marriage was to actor, screenwriter and director Harry Solter in 1908. They remained married until Solter's death in 1920. She married automobile salesman Charles Byrne Woodring in 1921. They separated in 1929 and Lawrence was granted an interlocutory divorce in February 1931 which was finalized the following year. During the 1920s, Lawrence and Woodring opened a cosmetics store in Los Angeles called Hollywood Cosmetics. The store sold theatrical makeup and also sold a line of cosmetics that Lawrence developed. They continued their partnership after their separation in 1929 but the store was forced to close in 1931.
In 1933, Lawrence wed for the third and final time, to Henry Bolton, who turned out to be an abusive alcoholic and beat Lawrence severely. The union lasted five months.
Besides her film career Lawrence is also credited with designing the first "auto signaling arm"; a predecessor to the modern turn signal, along with the first mechanical brake signal. She did not patent these inventions, however, and as a result she received no credit for–or profit from–either one.
Later years and death
By the late 1920s, Lawrence's career was in decline. She was devastated when her mother, to whom she was close, died suddenly in August 1929. Four months later, she separated from her second husband, Charles Woodring. While Lawrence managed to earn a small fortune during her film career, she made many poor business decisions. She lost much of her fortune after the stock market crash in October 1929 and ensuing economic depression. The cosmetics store that she and her second husband opened in Los Angeles also lost business because of the depression and the couple were forced to close its doors in 1931.
By the early 1930s, Lawrence's acting career consisted of extra and bit parts which were often uncredited. In 1936, Lawrence and other stars from the silent era whose careers had all but ended, signed with Metro-Goldwyn-Mayer after M-G-M head Louis B. Mayer began giving small parts to old stars for $75 a week. Lawrence remained with the studio until her death. In mid 1937, Lawrence was diagnosed with a disease that her doctor described as "a bone disease which produces anemia and depression". This was likely myelofibrosis, a rare bone marrow disease or agnogenic myeloid metaplasia, both of which were incurable at the time. As her health began to decline, she developed depression but attempted to keep working. She moved into a home on Westbourne Drive in West Hollywood with a studio worker named Robert "Bob" Brinlow and his sister.
On the morning of December 28, 1938, Lawrence phoned the offices of M-G-M where she was to report to work that afternoon claiming that she was ill. Some time in the afternoon, Lawrence ingested cough syrup and ant paste at her home in West Hollywood. Accounts differ as to how Lawrence was discovered; some media accounts say her neighbor, Marian Menzer, heard her screams while others say that Lawrence called Menzer herself stating that she poisoned herself. Menzer called an ambulance and Lawrence was rushed to Beverly Hills Emergency Hospital. Doctors were unable to save her and she was pronounced dead at 2:45 p.m. Lawrence left a suicide note in her home addressed to her housemate Bob Brinlow stating:
Dear Bob,
Call Dr. Wilson. I am tired. Hope this works. Good bye, my darling. They can't cure me, so let it go at that. Lovingly, Florence - P.S. You've all been swell guys. Everything is yours.
Lawrence's death was ruled a "probable suicide" owing to her "ill health". The Motion Picture & Television Fund paid for Lawrence's funeral, which was held on December 30, and for her unmarked grave in the Hollywood Cemetery, (now Hollywood Forever Cemetery), in Hollywood. Her grave remained unmarked until 1991 when a British actor who chose to remain anonymous paid for a memorial marker for Lawrence which reads: "The Biograph Girl/The First Movie Star". The date of birth on Lawrence's headstone is given as 1890. This inaccuracy was also stated on her death certificate filled out by the coroner. Lawrence's biographer, Kelly R. Brown, owed this mistake to "Lawrence's own brand of fiction" as she routinely subtracted years off her age. The mistake was repeated by the Pierce Brothers Mortuary where Lawrence's funeral was held although most obituaries printed her correct year of birth of 1886.
Features
The Unfoldment (1922)
Lucretia Lombard (1923)
The Satin Girl (1923)
Gambling Wives (1924)
The Greater Glory (1926)
The Johnstown Flood (1926)
Sweeping Against the Winds (1930)
Homicide Squad (1931)
The Hard Hombre (1931)
Sinners in the Sun (1932)
Secrets (1933)
The Old Fashioned Way (1934, unverified)
Man on the Flying Trapeze (1935, unverified)
Hollywood Boulevard (1936, scenes deleted)
One Rainy Afternoon (1936)
References
Florence Lawrence Wikipedia
(Text) CC BY-SA