Five Guns West is a 1955 Western film set during the American Civil War directed by Roger Corman. It was Corman's first film as director although he had already made two as producer. It was the second of two films he made for the American Releasing Company, which later became American International Pictures.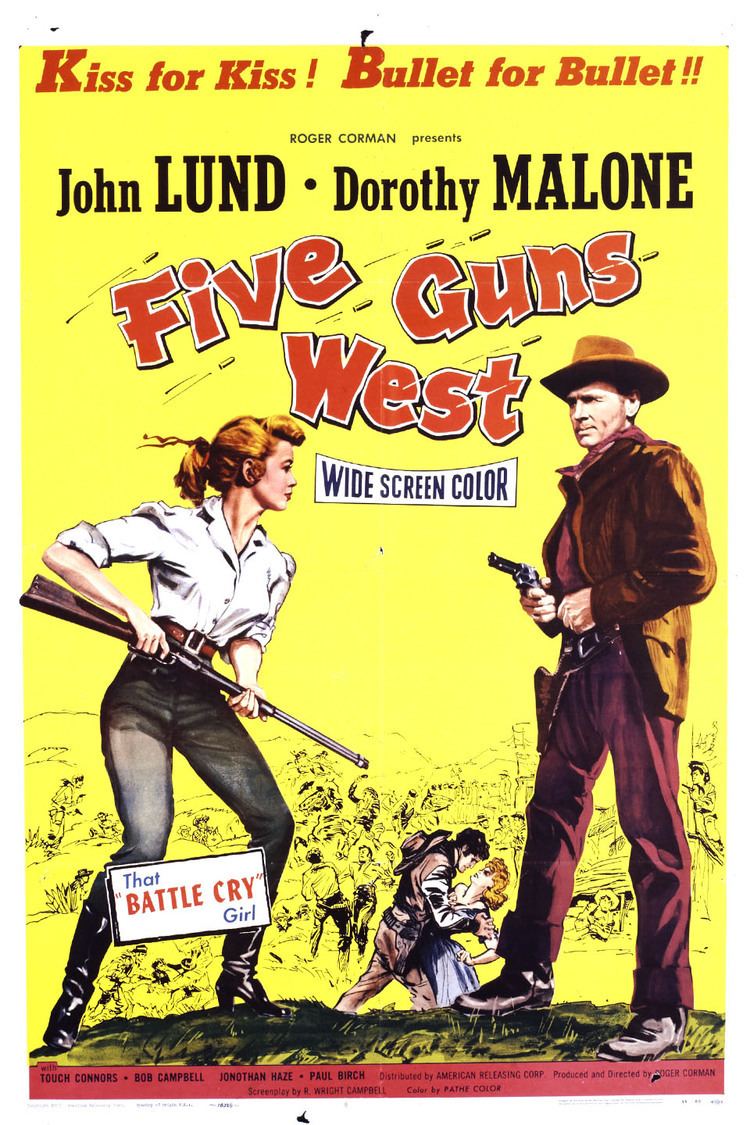 The film stars Dorothy Malone, John Lund and Mike Connors. The cast also includes R. Wright Campbell, who wrote the screenplay.
Five men, due to be hanged, accept a pardon to join the Confederate army. Their tasks is to go after a traitor and a shipment of stolen gold. They end up taking a woman, Shalee Jethro, captive and begin fighting over her, before one of the men, Govern Sturges, intervenes on her behalf.
Dorothy Malone as Shalee Jethro
John Lund as Govern Sturges
Mike Connors as Hale Clinton (billed as Touch Connors)
R. Wright Campbell as John Candy
Jonathan Haze as Billy Candy
This movie was Dorothy Malone's first film following the death of her younger brother.
R. Wright Campbell was paid $200 to write the script; his first screenplay. Corman served as producer and director to save money. R. Wright Campbell acted in addition to the screenplay duties. This marked the first time Corman worked with long time collaborator Floyd Crosby.
It was shot over nine days. Corman reportedly went over budget making the movie.
DVD Savant found "The movie is less interesting for its quality than its place in the development of independent production. " TV Guide gave the movie 2 out of 5 stars, finding it similar to other westerns of the time. Variety found the movie acceptable for smaller venues,but found it to have too much talking and not enough action
The movie is available on line for free from several sites, including Youtube, and released on DVD in 2003