Website

firstcallmusic.org




Past members

Marty McCallBonnie KeenMel TunneyMarabeth Jordan

Albums

Beyond December, La Razon de Cantar

Members

Marty McCall, Bonnie Keen, MaraBeth Jordan, Melodie Tunney

Record labels

Word Records, Myrrh Records

Similar

Dick and Melodie Tunney, Wayne Watson, Russ Taff, David Meece, Michael English
First Call was an American contemporary Christian music (CCM) group, originally consisting of Mel Tunney, Marty McCall, and Bonnie Keen. Mel's husband, Dick Tunney, acted as the arranger and producer for many of the group's early projects.
Contents
Baby comeback by first call band wmv
Group history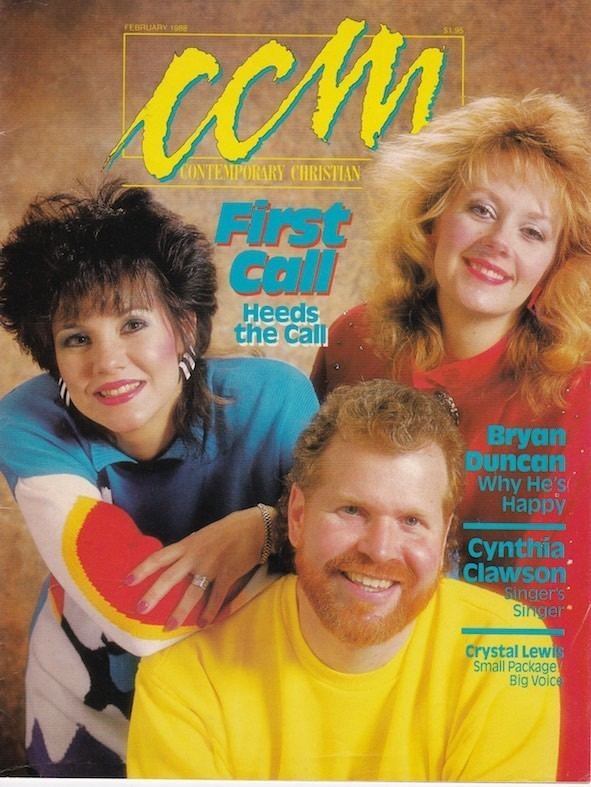 In the 1970s, McCall was a member of a band called Fireworks, while Keen was pursuing a career in musical theater. They met at a studio in Nashville, Tennessee, singing backup for other singers and recording commercial jingles. Dick Tunney met the two during such a session and struck up a friendship. He introduced them to his singer-wife, Melodie. The three saw a benefit in marketing themselves as a ready-made trio for backup vocals and other studio recordings. They were considered the "first call" by music producers—first choice for studio work. But the term also fit with their belief in making their Christian beliefs first in their lives.
None of the three initially foresaw a recording or touring career. As a side project to their backing vocal careers, they agreed to record an a cappella Christmas album called An Evening In December. The album sold very well on the Contemporary Christian market, and propelled the trio into their own music projects. Offers began to come in from high-profile CCM artists such as Amy Grant and Sandi Patty to join them on tour. Their first album of non-Christmas music, Undivided (1986), was followed by Something Takes Over (1987) and God Is Good (1989). The two Christmas music collections, An Evening in December Volume I (1985) and Volume II (1987), have long been bestsellers in the group's catalog. Many comparisons have been made to the group's style similarity to the recording group The Manhattan Transfer and the New York Voices.
Around 1989, Melodie expressed a desire to try different styles of music, and left the group in 1990, yet continued her friendship with Marty and Keen. Marabeth Jordan, another session singer, joined the group's ranks.
The new lineup saw two successful albums, Human Song (1992) and Sacred Journey (1993). Then in 1994 came news that Jordan was involved in an affair with fellow CCM artist Michael English, both of whom were married to other people at the time. The media attention surrounding the affair cost First Call their record deal and Marabeth left the group shortly thereafter.
After the incident, Melodie Tunney returned to the group for a short period to try to reduce damage to the group's image and complete their touring obligations. She also lent her vocals to several projects in which the group was currently involved. In late 1994, First Call acted as the backup group for David L. Cook's inspirational single, "When Heaven is My Home". The song was written and produced for Cook by Dick Tunney.
After signing with Warner Alliance, another Christmas album, 1995's Beyond December, and the eponymously titled album First Call of 1996 were recorded by Marty and Bonnie as a duo.
After reuniting the original group to record two songs for some compilation projects, music publishers Discovery House signed the members of the original lineup to record together again. Their new collection, entitled Rejoice, was released in 2007.
Marty McCall is currently the pastor of Vocal Ministries at McLean Bible Church in McLean, Virginia.
Awards
First Call was a recipient of GMA Dove Awards in the "Group of the Year" category for both 1988 and 1989. They also have multiple Grammy nominations.
Appearances on other albums
1988 Prism: Red (Reunion Records) "If You're Happy And You Know It"
1989 Our Hymns (Word) "O Sacred Head, Now Wounded"
1990 Our Christmas (Word) "Angels We Have Heard on High"
1990 Handel's Young Messiah (Word) "Every Valley Shall Be Exalted"
1992 Wings of Victory - Glen Campbell (New Haven)
1993 Breakaway Praise 2 (Joyful Heart) "I Wanna Thank You Lord," "I Love You Lord"
1993 The New Young Messiah (Sparrow Records) "Rejoice Greatly, O Daughter of Zion"
1993 David T. Clydesdale presents One Special Christmas (Word) "We Need A Little Christmas (Medley)"
1996 Tribute: The Songs of Andraé Crouch (Word) "Can't Nobody Do Me Like Jesus"
1997 The Dan Oxley Praise Band (Brentwood Records) "Bless The Lord"
1998 Artists Acappella - The Signature Songs (Here to Him Music) "Undivided"
2004 Hands Lifted High: Classic Worship Songs with Dennis Jernigan & Friends (Shepherd's Heart Music) "Who Can Satisfy My Soul"
2005 Pressing On: Songs Inspired by the Journey of the Apostle Paul (Discovery House Music) "Three Days Blind," "Living Sacrifices," "Nothing Can Separate Us"
Songs
O Sifuni MunguSomethin' Takes Over · 1987
An Evening in December1985
UndividedUndivided · 1986

References
First Call Wikipedia
(Text) CC BY-SA