Firecreek is a 1968 western movie directed by Vincent McEveety and starring James Stewart and Henry Fonda in his second role as an antagonist that year. The film is similar to High Noon in that it features an entire town of cowards refusing to help a peace officer against outlaws. Stewart plays an unlikely hero, forced into action when his conscience will not permit evil to continue.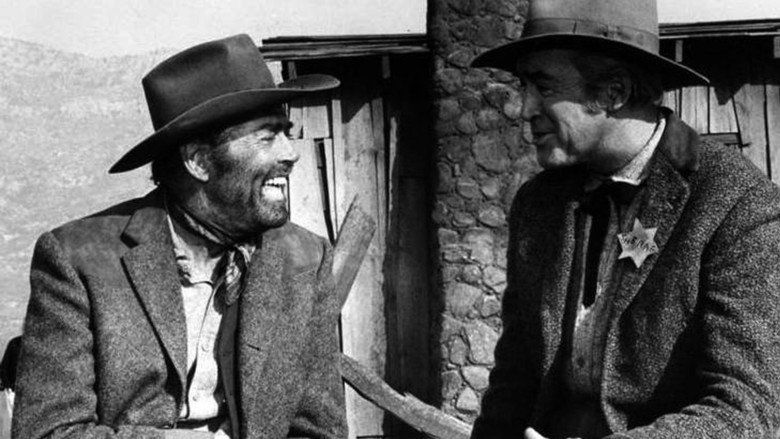 Offscreen close friends Stewart and Fonda's first film together had been the musical comedy On Our Merry Way two decades earlier, and they made The Cheyenne Social Club two years after Firecreek. They had also both appeared in How the West Was Won but had no scenes together despite playing best friends.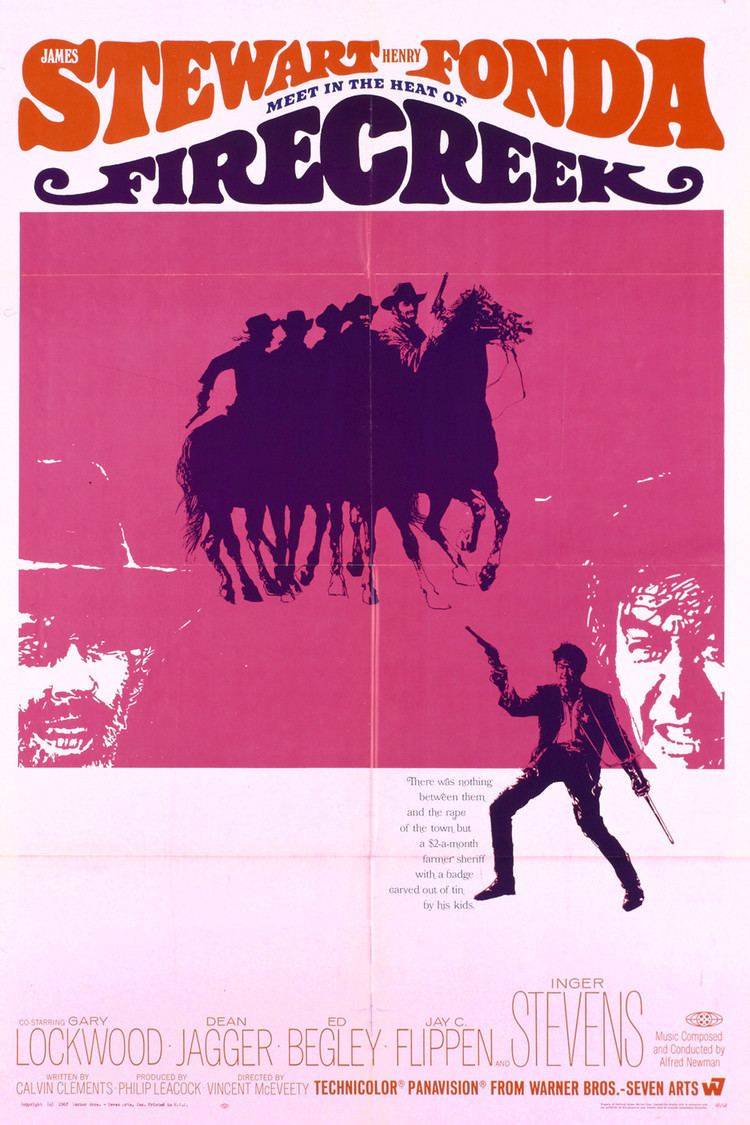 After years of backing away from criminals and gunfights, one resident of the small western town of Firecreek decides to fight back. Part-time sheriff Johnny Cobb (James Stewart) decides to avenge the death of a young man against gunmen led by Bob Larkin (Henry Fonda).
Cobb has a lot on his mind, particularly with his wife Henrietta (Jacqueline Scott) about to give birth. He is a peace-loving farmer whose childishly made sheriff's badge is practically an honorary one.
Larkin's men ride into town and disrupt the peace. Earl (Gary Lockwood), Norman (Jack Elam), and Drew (James Best) run roughshod over the local citizens and Larkin has no inclination to stop it, despite Cobb's requests. Larkin is more interested in getting to know an attractive widow named Evelyn (Inger Stevens).
The only person in town willing to help Cobb is a slow-witted stable boy named Arthur (J. Robert Porter). Who kills ones of Larkins men as he is attacking a woman.
Cobbs wife goes into labour and he has to leave town. While he is gone Larkins men hang Arthur and no one in the town tries to stop them. Cobb cuts Arthur down and goes after Larkin and his men. They all but kill him and he takes them all out except Larkin who is killed by the widow Evelyn as he is about to kill Cobb.