Rosie Perez was nominated for an Academy Award for Best Supporting Actress for her role as Carla Rodrigo. The film was also entered into the 44th Berlin International Film Festival. Jeff Bridges' role as Max Klein is widely regarded as one of the best performances of his career. The film's soundtrack features part of the first movement of Henryk Górecki's Symphony No. 3, subtitled Symphony of Sorrowful Songs. The film's screenwriter was inspired to write the script after he was in a car accident. Yglesias began writing the story after reading about United Airlines Flight 232, that crashed in Sioux City, Iowa in 1989.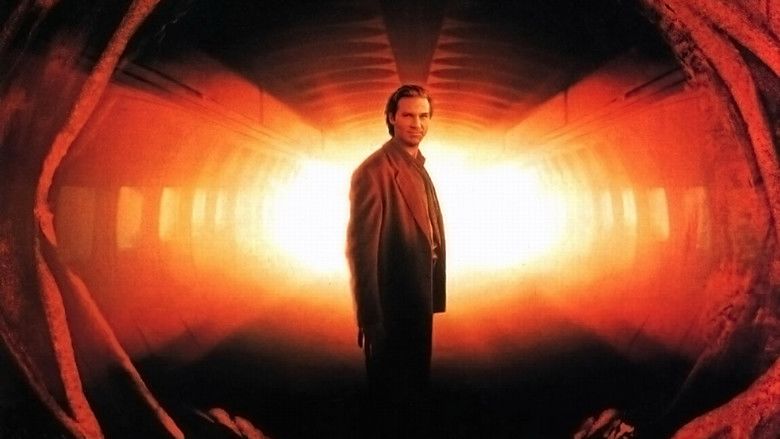 While taking a business trip, architect Max Klein (Jeff Bridges) survives a crash of a flight headed from San Francisco to Houston. As the plane descends, Max inexplicably becomes at peace when he accepts he is going to die. The revelation inspires him to comfort many of the fearful passengers, even moving to sit next to Byron Hummel (Daniel Cerny), a young boy flying alone. The psychological trauma of the experience transforms Max's personality and he enters an altered state of consciousness, rethinking his life and becoming preoccupied with the eternal meanings and the existential questions of life and death itself. Max's reaction to this awakening itself questions the reality of what is real and unreal and what his mind perceives as real through his interaction with others and the chance of living again in everyday life.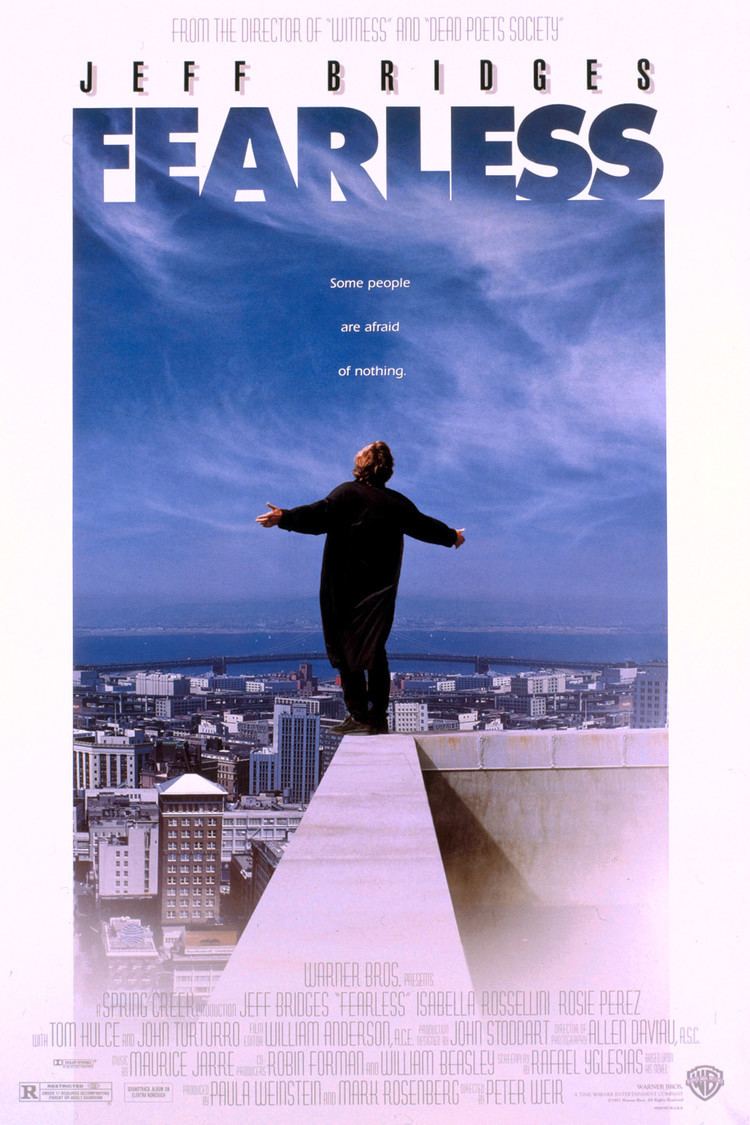 Immediately after the crash, Max, one of the plane's few survivors, rents a car and drives from the crash site in Bakersfield to Los Angeles, stopping on the way to visit his old high school sweetheart, Alison (Debra Monk), whom he hasn't seen in 20 years. During their meal at a restaurant Alison notices Max eating a strawberry and inquires about his allergy to them. Max grins and explains he's "gotten past" his allergic reaction and somehow, confidently finishes it with no problems. He's tracked down at a hotel room the next morning by F.B.I. agents who question his odd choice to not contact his wife and family or remain at the crash site with the other survivors. The airline sends a representative who compensates him with train tickets to go home to San Francisco. Max declines the tickets, stating adamantly that he wants to fly home and has no fear of air travel anymore. On the flight he meets Dr. Bill Perlman (John Turturro), an airline-contracted psychiatrist who offers to counsel Max for post-traumatic stress disorder.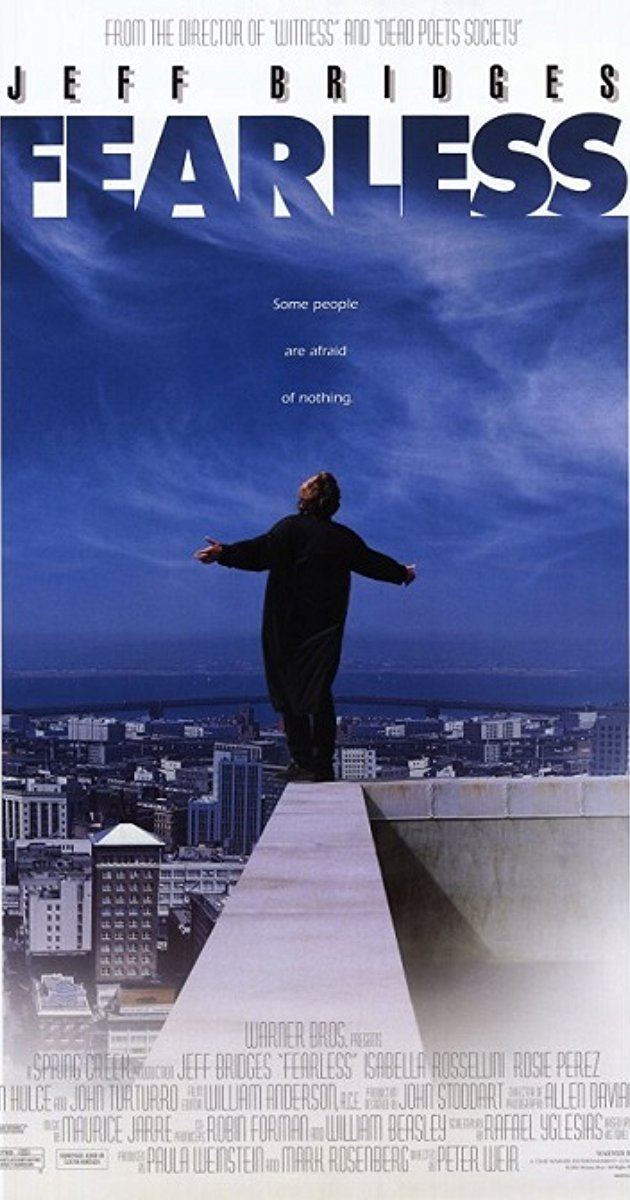 Dr. Perlman accompanies Max back to his home where his wife Laura (Isabella Rossellini) begins noticing his strange behavior. Max matter-of-factly tells Nan Gordon (Deirdre O'Connell), the wife of his friend and business partner, that her husband Jeff (John de Lancie) died in the crash. The media dubs Max "The Good Samaritan" and tries to interview him as Byron comes to publicly thank him for the way he comforted the passengers during the crash, but Max avoids making a statement. Over time Max becomes distant from Laura and his son Jonah (Spencer Vrooman) because of his preoccupation with his near death experience. He begins drawing abstract pictures of the crash and his sense of a hole opening in the sky before him. He comes to think of himself as invulnerable to death causing Dr. Perlman to become concerned that Max is delusional. Perlman encourages Max to meet with another survivor, Carla Rodrigo (Rosie Perez), in the hope that the two can help support one another. Carla, who lost her baby son in the crash, struggles with survivor's guilt, punishing herself for not holding onto him tightly enough when his seat belt on the plane malfunctioned. Max and Carla bond and develop a close friendship as he helps her to get past her depression and free herself from her guilt.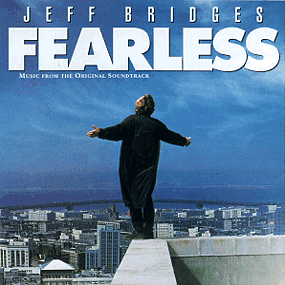 Max, Laura and Nan meet with attorney Steven Brillstein (Tom Hulce), who encourages Max to exaggerate his testimony in order to increase Nan's compensation settlement offer from the airline. Max states his discomfort with lying but reluctantly agrees when he considers Nan's financial predicament as a widow. The unease of lying causes Max to have a panic attack and he runs out of the office to the roof of the building where he climbs onto the ledge. As Max stands on the ledge, looking down at the streets below, his panic attack subsides and he rejoices in his fearlessness. Laura follows Max onto the roof and upon finding him, blindly spinning around on the ledge with his overcoat billowing across his face, she believes him to be suicidal.
Eventually Max's increasingly dramatic attempts (culminating with an intentional car crash into a brick wall) at pushing the boundaries between life and death succeed in jolting Carla from her uncertain state. Afterwards, Carla meets with Laura and the two clarify the misunderstanding that she and Max are past a co-dependency state and are in fact, in love with each other. Moreover, Carla explains that she regards Max as he sees himself - an angel - and Laura now understands their shared delusion. However, after Carla reluctantly parts company with Max, he remains aloof in his relationship with his wife and son, struggling to come to terms with his implied immortality. One night, Brillstein arrives at the Klein home to celebrate the pending settlement offer, and brings a basket with an assortment of fruits. Max eats one of the strawberries but, unlike at the restaurant, this time he experiences an immediate allergic reaction and suffocates. As he lies choking, Max goes into a state of vision where he sees various flashbacks and starts toward the proverbial light at the end of the tunnel (in the guise of an aisle in the airplane fuselage) as Laura's voice is overheard repeatedly "calling him back" to the world. Max accepts the reality of his imminent death when suddenly he's resuscitated by Laura. He survives and (it's implied) recovers his emotional connection to his family, to the world and to the reality of yet another chance at life.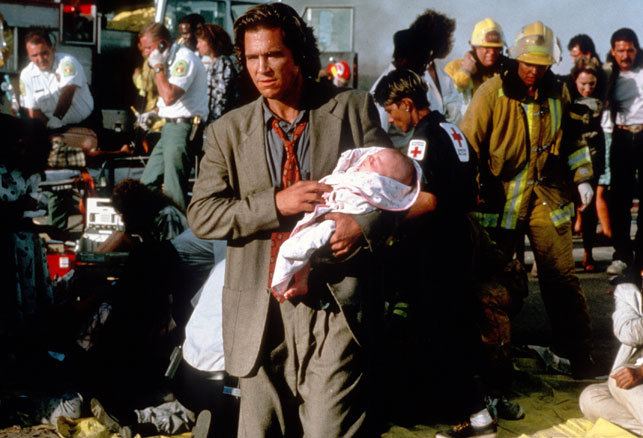 Jeff Bridges as Max Klein
Isabella Rossellini as Laura Klein
Rosie Perez as Carla Rodrigo
Tom Hulce as Brillstein
John Turturro as Dr. Bill Perlman
Benicio del Toro as Manny Rodrigo
Deirdre O'Connell as Nan Gordon
John de Lancie as Jeff Gordon
Debra Monk as Alison
William Newman as the Elderly Man
A book containing the painting The Ascent into the Empyrean by Hieronymus Bosch is shown, and it is said that the dying go into the light of heaven "naked and alone". Near the finale as Max lies on the ground, he relives moving from the fuselage of the aircraft and for a moment moves towards the tunnel of light that appears to be modeled on the painting.
The film was positively received by critics as review aggregator Rotten Tomatoes evaluates that 86% of critics have given the film a positive review, based on 35 reviews, with an average score of 7.8/10. Its consensus states "This underrated gem from director Peter Weir features an outstanding performance from Jeff Bridges as a man dealing with profound grief."
With video and audio quality superseding previous home video releases, Fearless was released on Blu-ray Disc by the Warner Archive Collection in November 2013.