Fayetteville patriots basketball 2005
The Fayetteville Patriots were an NBA Development League team based in Fayetteville, North Carolina, United States. Its logo design features a bald eagle's head and a basketball in the middle of a capital letter "P" with stars and stripes filling the rest of it.
Contents
Fayetteville patriots new season
Franchise history
In 2001, the Fayetteville Patriots became one of the NBA Development League's eight charter franchises. They played their home games at the Cumberland County Crown Coliseum in Fayetteville, North Carolina. On May 2, 2006, The D-League decided to no longer field a team in Fayetteville. The announcement came a day after the league decided the same fate for the Roanoke Dazzle franchise, based in Roanoke, Virginia.
2005–2006 season
The Fayetteville Patriots finished last in the NBDL with a 16-32 record. They got a lift in late February and early March, with the acquisition of Amir Johnson and Alex Acker from the Detroit Pistons.
Players of note
Chris Andersen, 1st ever draft pick of the NBDL, 1st ever call-up to the NBA from the NBDL with the Denver Nuggets in 2001, 2013 NBA Finals champion, Former New Orleans Hornet; Currently playing with the Memphis Grizzlies
2007 NBA Slam Dunk Contest Champion – Gerald Green, Former Minnesota Timberwolf, Houston Rocket, Dallas Maverick, New Jersey Net, Indiana Pacer, Phoenix Sun, and Miami Heat; Currently playing with the Boston Celtics
Mateen Cleaves, 2000 NCAA National Champion & Most Outstanding Player of the Final Four, Former Detroit Piston, Sacramento King, Cleveland Cavalier, & Seattle SuperSonic
Amir Johnson, Former Detroit Piston and Toronto Raptor; Currently playing with the Boston Celtics
Alex Acker, Former Detroit Piston & Los Angeles Clipper
Terrell McIntyre, Italian Club "Mens Sana Basket" player.
Matt Barnes, Former Orlando Magic, Los Angeles Clipper, Sacramento King, New York Knick, Philadelphia 76er, Golden State Warrior, Phoenix Sun, Los Angeles Laker, and Sacramento Kings
Affiliates
Charlotte Bobcats (2005–2006)
Detroit Pistons (2005–2006)
New York Knicks (2005–2006)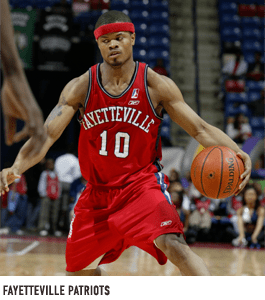 References
Fayetteville Patriots Wikipedia
(Text) CC BY-SA