Farhan Masood is a self-taught Pakistan-born technology inventor. He has received 34 international and 5 local awards. These accolades include being the winner of MIT Enterprise Forum BAP 2012 and being sited by MITEF as one of the most brilliant minds in the world. Other than being a recognized technologist and innovator, Farhan is well known for his philanthropic activities. He was recognized by the US Department of State as one of the most influential thought leaders on Twitter (2013). He is the Founder and CTO of SoloInsight Inc., a pioneer in SaaS and cloud-based global recognition platforms.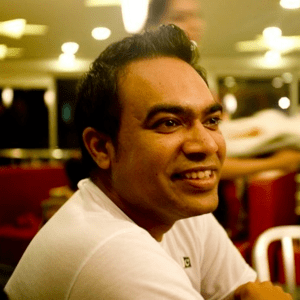 Masood was exposed to gadgets and technology at a very early age. He has worked as an Advisor to the Ministry of Interior and Narcotics as well as the Ministry of Science and Technology in Pakistan. He served as the Director of a $196 million Dubai E-Government Project and worked directly for the Sheikh of Dubai. He became widely known when Voice of America recognized him as the originator of Arabic, Persian and Urdu languages on the Internet in 1997.
Over the last 16 years, Farhan has developed many interesting technologies around accurate identification and recognition. Farhan's company, SoloInsight, is a pioneer in SaaS and cloud-based global recognition platforms. Their latest proprietary technology is called the "CloudGate", which is a recognition engine that unifies time and attendance, access control and security. Farhan is a pioneer in the field of Internet of People and has developed patent pending technology.
He is a huge supporter and believer in Pakistan and runs a movement called Pakistan Go-Green, which was the subject of a Digital Revolution case study at the Cambridge University. This patriotic movement has over 1.5 million members on facebook and serves as a large collective body of active citizens that is instrumental in arranging blood donations, raising fund and volunteers for relief work and community service.
After winning the MIT Enterprise Forum BAP competition and the US Department of State organized Global Innovation Through Science & Technology Award, Farhan's business and technology caught the attention of several VCs and angel investors. This was instrumental in the formation of SoloInsight in the States.
Farhan Masood Won the award of Entrepreneur of the year at eCon14.
Won a Runner Up Award For his product TouchXS at Pakistan Software Houses Association For IT & ITES ICT awards.
Winner - MIT Enterprise Forum BAP 2012 Competition
Recognition at the University of Chicago
Winner - GISTech I competition 2011 - Turkey
Recognition at LUMS - Lahore University of Management Sciences
Winner - Google - [email protected] Social Innovation Fund
Recognition at Educators Development Union
Winner - [email protected] ICT Award 2012
Winner - APICTA - Malaysia 2010
Winner - [email protected] ICT Award 2009
Distinguished Employee Award from Dubai e-Government - UAE 2002
Recognition by Voice of America as the originator of Arabic, Urdu and Persian Languages on Internet
Entrepreneur of the Year 2014