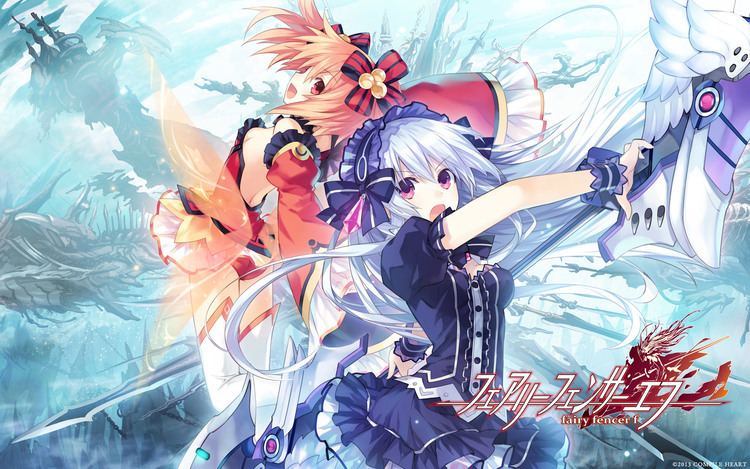 A long time ago there was a conflict between a goddess and an evil god. The two deities didn't fight directly, but created a large number of special weapons for others to use. Eventually, these powers sealed each other and the power vanished from the world. Fast forward to modern times where these leftover weapons are called "Furies" and warriors that wield them are "Fencers." Fury weapons are said to be incredibly powerful, so Fencers constantly scramble to acquire them. By a strange coincidence, two fencers, Fang and Tiara, get caught up in the struggle between the goddess and evil god.
Fang (

ファング

,

Fangu)
Voiced by: Ryōta Ōsaka (Japanese); Kaiji Tang (English)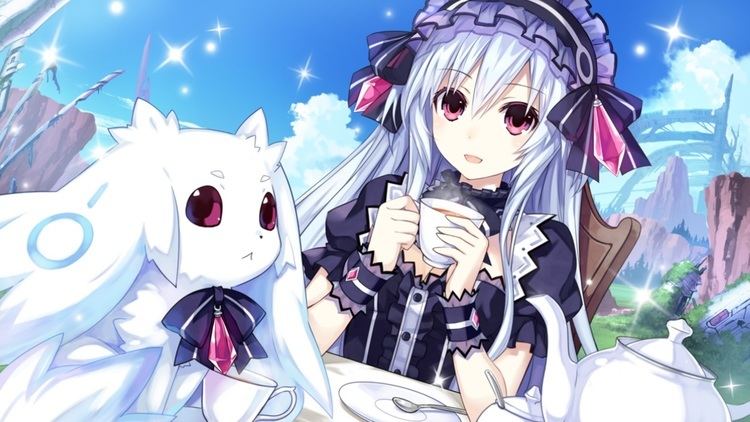 The protagonist. He accidentally becomes a Fencer after freeing the Fairy, Eryn, from her Fury weapon. After meeting Tiara and learning of the goddess, Fang sets off on a journey to collect Furies and help unseal the goddess. Fang is a big eater, lazy, and a bit narcissistic. The reason he wants to revive the goddess is also for his own good. As the story progress, Fang becomes more caring to people around him especially Eryin and Tiara. His skill element is fire.
Tiara (

ティアラ

)
Voiced by: Kaori Ishihara (Japanese); Natalie Hoover (English)
Tiara is a Fencer encountered by Fang and Eryin at Sol Plains. Her pride is high, and is a bit tsundere mixed with masochist, when abused by Fang with his words. She bears a big secret related to her origin and asked Fang to never fall in love with her. Tiara's skill element is water.
Harley (

ハーラー

,

Hārā, Harler)
Voiced by: Nao Tōyama (Japanese); Erika Harlacher (English)
Harley is a Fairyologist, she's always thinking about her research that every single Fairies that joined the party will first be 'examined' by her. She has a sloppy and laid back personality. Also, she doesn't realize yet that her beauty can make men's hearts skip a beat. She suspiciously carries a bag full of test tubes around her waist. Her skill element is earth.
Pippin (

ピピン

,

Pipin)
Voiced by: Asami Shimoda (Japanese); Cristina Vee (English)
Pipin is Fencer who is a mysterious, unknown living thing. Despite not being human no matter how you look at it, it's a very straightforward person. When he talks, he goes off on a tangent. The meaning of the sword stuck in its head or if its brain is okay are completely unknown. His skill element is lightning.
Ethel (

エフォール

,

Efōru, Effole)
Voiced by: Emi Nitta (Japanese); Kira Buckland (English)
Ethel is a silent Fencer who ambushes Fang. Given her cold, almost mechanical, personality, her fairy partner, Karin, interprets her words for her. She has no ambition or greater purpose than fighting Fencers. At first, the only word she say is 'kill' due to it being the only activity that gives her joy. After joining Fang's party, she claimed that 'meal time' is her new favorite activity. Her skill element is ice.
Sherman (

シャルマン

,

Sharuman)
Voiced by: Takuya Eguchi (Japanese); Alan Lee (English)
Sherman is a heroic Fencer who desires world peace, and is collecting the Furies to keep them out of evil hands. Sherman is classy, sophisticated, and has an appreciation for beauty in all its forms. He exudes style, particularly when speaking, and his command of language rivals that of most poets. His skill element is light.
Galdo (

ガルド

,

Garudo, Gald)
Voiced by: Takatsugu Awazu (Japanese); Derek Stephen Prince (English)
Galdo is a Fencer employed by the renowned Dorfa Corporation. Galdo is passionate and hot-blooded, but he's also a bit of an idiot and speaks with a strange accent. He wields a scythe-shaped Fury and battles Fang the first time he meets him. His skill element is wind.
Paiga (

パイガ

)
Voiced by: Yōji Ueda (Japanese); Kyle Hebert (English)
Paiga is one of the Four Heavenly Kings of Dolfa. He's a Fencer, but rarely fights. He acts as scout for the other Four Heavenly Kings by checking the front lines of battle. A coordinator for Hanagata, Bernard and the other Four Heavenly Kings, he's certainly middle management. He works really hard to protect the company, his wife and the lives of his children. He's a man that carries his own middle age woes.
Marianna (

マリアノ

,

Mariano)
Voiced by: Rui Tanabe (Japanese); Dorothy Elias-Fahn (English)
Marianna is one of the Four Heavenly Kings of Dolfa, a Fencer. A high class girl who is doing charity work by playing the harp in an orphanage managed by Dolfa. Extremely loyal towards Dolfa, she's collecting Furies so that Dolfa can rule the world.
Bernard (

バーナード

,

Bánádo)
Voiced by: Kohei Murakami (Japanese); Robbie Daymond (English)
Bernard is Dolfa's high executive, Hanagata's aide. He's also accompanied by the Four Heavenly Kings. Calm, collected, calculating and possessing exceptional fighting skill.
Zenke (

ザンク

,

Zanku, Zank)
Voiced by: Yoshitsugu Matsuoka (Japanese); Sean Chiplock (English)
Zenke is one of the Four Heavenly Kings of Dolfa. A Fencer. He loves brutal, bloodthirsty fights. He takes pleasure in doing misdeeds. Generally speaking, he is an inhumane man.
Apollonius (

アポロ―ネス

,

Aporōnesu, Apollones)
Voiced by: Takuya Satō (Japanese); Matthew Mercer (English)
Apollonius is one of the Four Heavenly Kings of Dolfa, a Fencer. A lone swordsman that lives following the Bushido. Extremely stoic, he only pursues the refinement of his swordplay. Therefore, he prefers fighting formidable enemies.
Eryn (

アリン

,

Arin, Alyn)
Voiced by: Rumi Ōkubo (Japanese); Erica Mendez (English)
Eryn is a fairy with a human form that dwells in Fang's Fury. She suffers from amnesia. She thinks Fang is stupid, and she looks down on him, behaving with an air of greatness. With a pompous attitude in front of anyone, she is actually similar to Fang.
Cui (

キュイ

,

Kyui)
Voiced by: Arisa Noto
Cui is Tiara's fairy partner. It doesn't speak human language, but Tiara and it understand each other. Its bark is "Kyui Kyui".
Bahus (

バハス

,

Bahasu, Bahas)
Voiced by: Masaki Terasoma (Japanese); Ray Chase (English)
Bahas is Harley's partner. An old man with shaved head, wearing suspenders and a fur jacket over his bare chest. He's a earth Fairy. Despite his appearance, he's good at cooking and housekeeping, taking the place of the sloppy Harley.
Soji (

ソウジ

,

Souji)
Voiced by: Yūki Ono (Japanese); Derek Stephen Prince (English)
Souji is Pippin's partner. A handsome young man who wears glasses. He's often mistook for a Fencer due to Pipin's bizarre looks.
Karin (

果林

)
Voiced by: Ayaka Ōhashi (Japanese); Christine Marie Cabanos (English)
Karin is Ethel's Fairy partner. A gentle, easygoing person. She is the spokesperson for Ethel who only says "Kill." She, along with Ethel, later join Fang's group.
Ryushin (

リュウシン

)
Voiced by: Daiki Nakamura (Japanese); Matthew Mercer (English)
Ryushin is Sherman's Fairy partner. A robot type Fairy with a serious and straight-laced personality. Somewhat thickheaded and unable to adapt to the situation.
Marissa (

マリサ

,

Marisa)
Voiced by: Kayano Ide (Japanese); Erika Harlacher (English)
Marissa is Galdo's Fairy partner. An adult woman type Fairy who takes care of the carefree Galdo. She acts just like his mother, babying him calling him Galdy-kins.
Vivian (

ビビア

,

Bibia)
Voiced by: Naoko Yasuda (Japanese); Wendee Lee (English)
Vivia is Paiga's Fairy partner. She sports peculiar mouse-like ears and she's the type of woman with sex appeal. It looks like she's always somewhat listless, she acts seriously towards Paiga, who is torn between his peers and his superiors. Since Paiga is a man with wife and kids, one should be curious about how the presence of this woman can be explained to his wife.
Khalara (

クララ

,

Kurara)
Voiced by: Moe Toyota (Japanese); Kira Buckland (English)
Khalara is Marianna's Fairy partner. A round, small, flying fluffy, a Fairy that really looks like a mascot...or so people are led to believe, then again it has an extremely nasty tongue. He calls those who oppose Marianna "Lower lifeforms" treating them like worms. If children come close, it becomes an extremely dangerous Fairy.
Sanguina (

ブラッディ

,

Buraddī, Bloody)
Voiced by: Yuri Komagata
Sanguina is Bernard's Fairy partner, and an adult woman type. Calm, cool and collected, gifted with both intelligence and beauty. She also acts as secretary to support the busy Bernard. Since her abilities are exceptional, the headhunting for her from other companies never stops but, calling Bernard "Master", she boast absolute loyalty to him.
Della (

デラ

,

Dera)
Voiced by: Yurina Furukawa (Japanese); Kira Buckland (English)
Della is Zenke's Fairy partner. Similarly to the her Fencer, she can be considered as a girl who takes pleasure in cruel behavior. Since both possess such behaviour, their relationship is different from the one of other Fencers and Fairies. A relationship of mutual trust doesn't exist, there is a peculiar relationship in which each other is considered a "tool" that can be used.
Ceguro (

セグロ

,

Seguro)
Voiced by: Toshifumi Maeda
Ceguro is Apollonius's Fairy. It has the form of a giant dragon, and also its combat abilities are high. He has a Serious personality.
Lola (

ロロ

,

Roro, Rolo)
Voiced by: Yuka Iguchi (Japanese); Cristina Vee (English)
Lola is a handyman despite her young age, she works as an informant. She sells various things for very low prices. Where this information comes from; it looks like a trade secret. A girl who is supporting Fang in his adventures.
Hanagata (

花形

)
Voiced by: Nobuhiro Fukai
Hanagata is the President and leader of the "Dolfa" company. Dolfa is an excellent company which puts a lot of effort into social contribution, such as managing an orphanage.
Zagi (

ザギ

)
Voiced by: Kenshō Ono (Japanese); Kyle Hebert (English)
After being laid off by Dolfa, Zaggy is picked up by Marianna. From that moment onwards he becomes Marianna's bodyguard leader. He idolizes Marianna, and turns hostile to those against her.
Emily (

エミリ

,

Emiri)
Voiced by: Sachika Misawa (Japanese); Christine Marie Cabanos (English)
A girl who first met Fang at the town, and later revealed to be Apollonius' younger sister who is in a journey to find and revenge her brother's dead, without knowing that her new friend is the killer.
Fairy Fencer F was released on October 10, 2013 in Japan with an English version being released in North America, Europe and Australia on September 16, 19, and 25, 2014. The localization and publishing was handled by NIS America.
A limited Collector's Edition was produced for the English release. In addition to the game, the Limited Edition featured a hardcover art book, a copy of the games soundtrack, and a beanie, all packed in a collectible box. This edition retailed for $74.99, and sold out before the game came out. It was available exclusively on NIS's website.
It features Yoshitaka Amano as a concept artist, Nobuo Uematsu as a co-composer, Tsunako as a character designer, Toshiki Inoue as a screenwriter and the "Neptunia Team" as some of the development team.
On August 31, 2014, an expanded version, Fairy Fencer F: Advent Dark Force was announced during Sony's Tokyo Game Show Press Conference. It is scheduled for release on the PlayStation 4 in 2015. At the time, there were no international release announced. Amano, Uematsu (composer), Tsunako, and Inoue are all returning as well.
Fairy Fencer F received mixed to positive reviews. The PlayStation 3 version received an aggregated score 65/100 on Metacritic based on 31 reviews. The Microsoft Windows version received an aggregated score of 69.37% on GameRankings based on 8 reviews and 66/100 on Metacritic based on 8 reviews.