Country

Spain


Language spoken

Spanish


Area

41,634 km2


Capital

Mérida


Population

1.108 million (2012)




Colleges and Universities

University of Extremadura




Destinations

Mérida, Badajoz, Cáceres, Plasencia, Almendralejo


Points of interest

Monastery of Santa María de Guadalupe, Monastery of Yuste, Acueducto de los Milagros, Emerita Augusta, Alcántara Bridge

Extremadura ( Extremaduran: Portuguese: ) is an autonomous community of western Spain whose capital city is Mérida. Its component provinces are Cáceres and Badajoz. It is bordered by Portugal to the west. To the north it borders Castile and León (provinces of Salamanca and Ávila); to the south, it borders Andalusia (provinces of Huelva, Seville, and Córdoba); and to the east, it borders Castile–La Mancha (provinces of Toledo and Ciudad Real). Its official language is Spanish.
Contents
Map of Extremadura
It is an important area for wildlife, particularly with the major reserve at Monfragüe, which was designated a National Park in 2007, and the project of the International Tagus River Natural Park (Terreno Natural Río Tajo Internacional). The government of Extremadura is called Gobierno de Extremadura.
Turismo plasencia y extremadura
Extremadura birding griffon vultures circling against the moon
Geography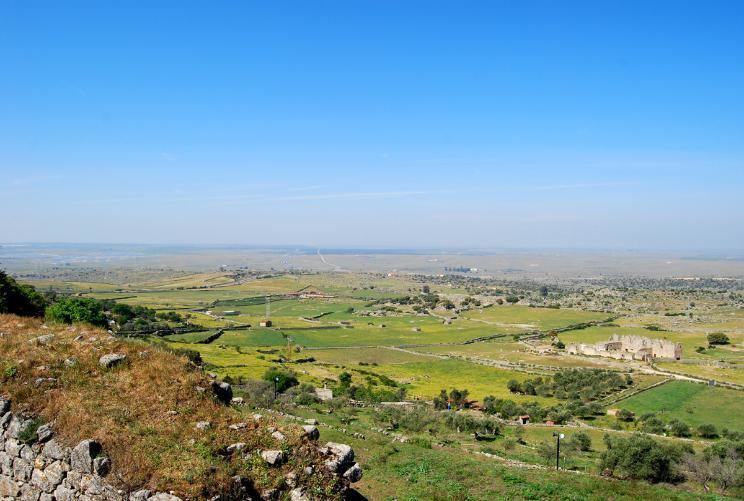 Extremadura is contained within 37° 57 N, 40° 85 N latitude and 4° 39 W, 7° 33 W longitude.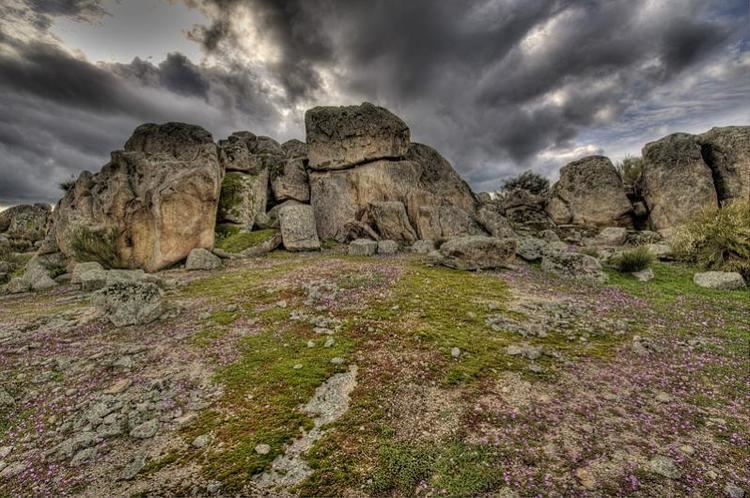 The area of Extremadura is 41,633 km², making it the 5th largest of the Spanish autonomous communities.
It is located in the Southern Plateau (a subdivision of the Central Plateau).
Agriculture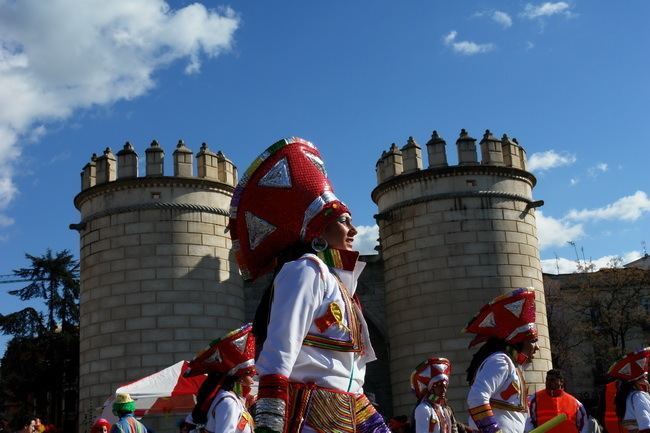 Wild Black Iberian pigs roam in the area and consume acorns from oak groves. These pigs are caught and used for the cured ham dish jamón ibérico. The higher the percentage of acorns eaten by the pigs, the more valuable the ham. For example, Iberian Ham from pigs whose diet consisted of 90%+ acorns can be sold for more than twice as much as ham whose pigs ate on average less than 70% of acorns. In the US, Iberian Ham directly from Extremadura, bone-in, was illegal until around 2005. At that time, enough U.S. restaurants were in demand for the delicacy that Spain decided to ship it bone-out, which the U.S.D.A.s health codes would (and continue to) approve.
History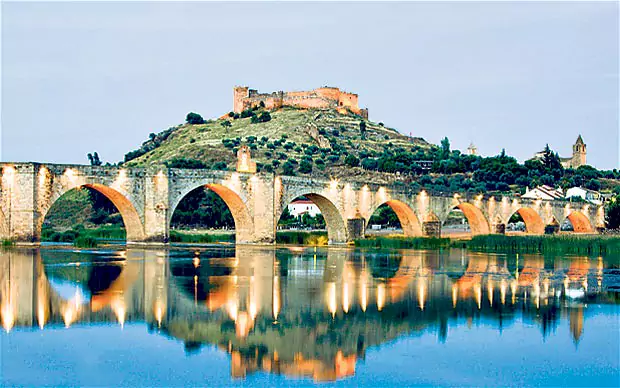 Lusitania, an ancient Roman province approximately including current day Portugal (except for the northern area today known as Norte Region) and a central western portion of the current day Spain, covered in those times todays Autonomous Community of Extremadura. Mérida (now capital of Extremadura) became the capital of the Roman province of Lusitania, and one of the most important cities in the Roman Empire.
During the Andalusian period as of 711, present-day Extremadura was on the north-western marches—extremadura is from Latin words meaning literally "outermost hard", the outermost secure border (the march) of an occupied territory—with Mérida being its head city. It was part of the Umayyad Caliphate of Córdoba, but after its definite collapse in 1031 the Caliphate fragmented into small regional kingdoms, and the lands of Extremadura were included in the Taifa of Badajoz on two taifa periods. The kingdom in turn broke up twice under Almoravid and Almohad push (1094 and 1151). After the Almohad disaster in Navas de Tolosa (1212), Extremadura fell to the troops led by Alfonso IX of León in approx. 1230.
Extremadura was the source of many of the initial Spanish conquerors (conquistadores) and settlers in America. Hernán Cortés, Francisco Pizarro, Gonzalo Pizarro, Juan Pizarro, Hernando Pizarro, Hernando de Soto, Andres Tapia, Pedro de Alvarado, Pedro de Valdivia, Inés Suárez, Alonso de Sotomayor, Francisco de Orellana, Pedro Gómez Duran y Chaves, and Vasco Núñez de Balboa were all born in Extremadura, and many towns and cities in America carry a name from their homeland: Mérida is the name of the administrative capital of Extremadura, and also of important cities in Mexico and Venezuela; Medellín is now a little town in Extremadura, but also the name of the second largest city in Colombia; Albuquerque is the largest city in New Mexico and its name is due to a transcription mistake of Alburquerque, another town in Extremadura. The two (to date) Spanish astronauts, Miguel López-Alegría and Pedro Duque, also have family connections in Extremadura. King Ferdinand II of Aragon died in the village of Madrigalejo, Cáceres, in 1516. Pedro de Valdivia founded numerous cities in Chile with names from small villages in Extremadura, such as Valdivia and La Serena. The capital Santiago de Chile was founded as "Santiago de Nueva Extremadura" (Santiago of New Extremadura).
Extremaduran cuisine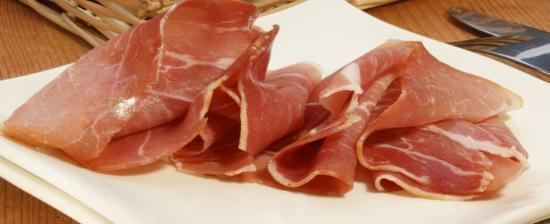 Extremadura, Spain is known for its different ways of preparing the Iberian pork and mutton. The main characteristics of the traditional Extremaduran cuisine were its simplicity, its lack of clutter and its low cost. It is also a cuisine reflecting a generous spirit, for many of its preparations used to be cooked in large pots to share with visitors, friends and neighbors. The resulting dishes are eaten with local bread.
The preferred spices in Extremaduran cuisine are pennyroyal, garlic, bay leaves and anise. Olive oil is used for frying and as an ingredient in many dishes.
Among the pork or mutton-based dishes, some of the most well-known are the callos con manos de cerdo (tripe with pigs feet), caldereta de cordero (mutton stew), cabrito en cuchifrito, frite de cordero (mutton fry) and the cabrito a la hortelana (lamb stew with vegetables).
The chanfaina in Extremadura has nothing to do with similarly named dishes in the Iberian Peninsula, like the Catalan Xanfaina, which is a Spanish version of the Occitan Ratatouille. The Extremaduran chanfaina is a rich stew of mutton liver, brain, heart and kidneys cooked with a mixture of bay leaves, garlic, bread crumbs and boiled eggs.
References
Extremadura Wikipedia
(Text) CC BY-SA
(,)http://i.telegraph.co.uk/multimedia/archive/02302/extremadura4_2302194b.jpg(,)http://www.cellartours.com/blog/wp-content/uploads/2008/08/merida-2.jpg(,)http://media-1.web.britannica.com/eb-media/43/150043-004-0D9C018F.jpg(,)http://www.discover-extremadura.com/img/gastfotos/schaftserena.jpg(,)http://cdn.spanish-fiestas.com//wp-content/uploads/2013/05/extremadura-caceres-01.jpg(,)http://www.stripes.com/polopoly_fs/1.56702.1273630202!/image/2474346549.jpg_gen/derivatives/landscape_804/2474346549.jpg(,)http://www.stripes.com/polopoly_fs/1.56699.1273630201!/image/256638452.jpg_gen/derivatives/landscape_804/256638452.jpg(,)http://i2.mirror.co.uk/incoming/article395889.ece/ALTERNATES/s615/spain-extremadura-653763869.jpg(,)http://www.extremadura-spain.co.uk/uploads/images/pizarro-4.jpg(,)http://www.extremadura-spain.co.uk/uploads/images/puerta%2520de%2520estrella%2520caceres.jpg(,)http://www.extremadura-spain.co.uk/uploads/images/brug%2520bij%2520Alcantara%2520website.jpg(,)http://www.travelextremadura.com/fotowebsite/4.%2520TRUJILLO%2520KASTEEL.jpg
(,)http://www.don-san.com/sitebuilder/images/Extremadura-landscape-744x501.jpg(,)http://www.discoverwildlife.com/sites/default/files/imagecache/800px_530px/gallery/Landscape%2520near%2520Trujillo,%2520%2520%2520%2520%2520%2520Extremadura,%2520Spain.jpg(,)http://worldsofflavorspain.com/sites/default/files/images/Extra_7044381_0.jpg(,)http://www.foodswinesfromspain.com/spanishfoodwine/wcm/idc/groups/public/documents/imagen/mdc3/ndmz/~edisp/77433043.jpg(,)http://farm4.static.flickr.com/3822/8873248187_ba4d8a052b_s.jpg(,)http://www.overbosch.de/photo_gallery/Spanje/Landscapes%2520%2520Extremadura%2520Spain%2520trip%2520report%2520flashgallery/resources/images/medium/Landscape%2520Extremadura%252001%2520.jpg(,)http://p1.pkcdn.com/geography-landscape-and-the-monastery-of-guadalupe-extremadura_581779.jpg(,)http://www.foodswinesfromspain.com/spanishfoodwine/wcm/idc/groups/public/documents/imagen/mdk5/ndq1/~edisp/2099445692.jpg(,)http://www.extremadura-spain.co.uk/uploads/images/steppe%2520in%2520extremadura,%2520bloeiend.jpg(,)http://www.extremadura-spain.co.uk/uploads/images/villuercas.jpg(,)http://www.extremadura-spain.co.uk/uploads/images/dehesa%2520jaraicejo.jpg(,)http://www.extremadura-spain.co.uk/uploads/images/dehesalandschap.jpg(,)https://c2.staticflickr.com/8/7133/7769290590_cea5c255c8.jpg
(,)http://www.spain.info/export/sites/spaininfo/comun/carrusel-recursos/gastronomia/d_extremadura_jamon_s33686203_01.jpg_369272544.jpg(,)http://upload.wikimedia.org/wikipedia/commons/5/55/Chickpea_pods.jpg(,)http://www.spain.info/export/sites/spaininfo/comun/carrusel-recursos/gastronomia/Parador-Jarandilla-67-migas-fritas-con-huevos-fritos-pimientos-y-panceta.jpg_369272544.jpg(,)http://cortijoloscotos.com/en/imagenes/matanzas/matanzas1_1.jpg(,)http://i.ytimg.com/vi/rGJj45eSzo4/sddefault.jpg(,)http://cortijoloscotos.com/en/imagenes/matanzas/matanzas2_2.jpg(,)http://i.ytimg.com/vi/PZjkkEW561c/sddefault.jpg(,)http://www.spain-recipes.com/images/migas.jpg(,)http://www.foodswinesfromspain.com/spanishfoodwine/wcm/idc/groups/public/documents/imagen/mda0/ndu1/~edisp/4455870.jpg(,)http://3.bp.blogspot.com/_7pnNXeuYl04/S725cwMs1ZI/AAAAAAAAAEw/A-v9OdzRZOo/s1600/20080214food_ibericopigs12_500.jpg(,)http://i.ytimg.com/vi/luGkRggSAMY/hqdefault.jpg(,)http://i.ytimg.com/vi/RC3g1ugt6io/maxresdefault.jpg
(,)http://culturetown.org/wp-content/uploads/2013/01/La-Tomatina-tomato-festival-Bunol-Spain-1.jpg(,)http://1.bp.blogspot.com/_jAh0x0uY2-o/THJqsj8Cd7I/AAAAAAAABEk/SNeFvL8ki28/s1600/DSC00774.JPG(,)http://culturetown.org/wp-content/uploads/2013/01/La-Tomatina-tomato-festival-Bunol-Spain-5.jpg(,)http://culturetown.org/wp-content/uploads/2013/01/La-Tomatina-tomato-festival-Bunol-Spain-2.jpg(,)http://culturetown.org/wp-content/uploads/2013/01/La-Tomatina-tomato-festival-Bunol-Spain-6.jpg(,)http://www.deflamenco.com/imgset/image__Mayte_Martin2_2367984296515354395.jpg(,)http://static.ibnlive.in.com/pix/slideshow/08-2008/food-fight-spain/Tomatina6_630.jpg(,)http://www.spain.info/export/sites/spaininfo/comun/carrusel-recursos/reportajes/117_p2_jamon_extremadura_cSecadero-2.jpg_369272544.jpg(,)http://culturetown.org/wp-content/uploads/2013/01/La-Tomatina-tomato-festival-Bunol-Spain-4.jpg(,)https://blakezanardi.files.wordpress.com/2013/06/image-7.jpg(,)http://3.bp.blogspot.com/_jAh0x0uY2-o/THGDAkwlXBI/AAAAAAAABEc/N1WTlHkmUmY/s1600/LISSTR~1.JPG
(,)http://www.visitextremadura.co.uk/images/contenidos/mon_5_festivals_und_feste/foto_3_carnaval_badajoz.jpg(,)http://www.spainisculture.com/export/sites/cultura/multimedia/galerias/monumentos/catedral_plasencia_t1000326.jpg_1306973099.jpg(,)http://www.visitextremadura.co.uk/images/contenidos/5_caceres_als_kulturhauptstadt/foto_1_caceres_festival.jpg(,)http://www.barcelo.com/BarceloHotels/en_GB/Images/barcelo-hotels-caceres-views-621-28997.jpg(,)http://www.parador.es/sites/default/files/users/user1/Navidad2013/BlogIngles/parador-de-jarandilla-11-puente-levadizo.jpg(,)http://www.tealsky.com/spain-extremadura_files/p_spain-extremadura06.jpg(,)http://www.foodswinesfromspain.com/spanishfoodwine/wcm/idc/groups/public/documents/imagen/mda0/ndu1/~edisp/4455875.jpg(,)http://bedandbreakfast-extremadura.co.uk/wp-content/uploads/2014/12/Dehesa_bruggetje.jpg(,)http://www.parador.es/sites/default/files/users/user1/Navidad2013/BlogIngles/parador-de-jarandilla-106-1024x531.jpg(,)http://www.spainisculture.com/export/sites/cultura/multimedia/galerias/propuestas_culturales/guadalupe-panoramica-carlos-criado-2007-c-turismo-extremadura.jpg_1306973099.jpg(,)http://www.unesco.org/culture/ich/img/photo/thumb/01969-BIG.jpg
(,)http://www.hellovisitspain.com/aplicacion/web/uploads/spovmedia/cat_53/de_63_4_0_extremadura.jpg(,)http://www.spain.info/export/sites/spaininfo/comun/carrusel-recursos/genericas/ca_extremadura_im_03.jpg_369272544.jpg(,)http://www.spain.info/export/sites/spaininfo/comun/carrusel-recursos/genericas/ca_extremadura_im_04.jpg_369272544.jpg(,)http://c8.alamy.com/comp/C3YX2C/spain-europe-extremadura-pizarro-monument-riders-statue-tourist-place-C3YX2C.jpg(,)http://media-cdn.tripadvisor.com/media/photo-s/01/5b/11/51/caceres.jpg(,)http://visit-western-spain.com/wp-content/uploads/merida_diana_temple.jpg(,)http://about-spain.net/tourism/photos/alcantara-bridge.jpg(,)http://about-spain.net/photos/maps/map-extremadura.jpg(,)http://previews.123rf.com/images/pedrosala/pedrosala1405/pedrosala140500809/28579477-Miracles-aqueduct-in-Merida-Extremadura-Spain-Stock-Photo.jpg(,)http://www.spainthisway.com/images/places/caceres.jpg(,)http://www.eyeonspain.com/userfiles/sagrada_familia_barcelona_s57258820.jpg_1306973099(1).jpg(,)http://previews.agefotostock.com/previewimage/bajaage/1a752fc8b00b5d3fc13bd4383c26b7ac/h44-10891214.jpg(,)http://cache4.asset-cache.net/gc/495827105-roman-theater-merida-unesco-world-heritage-gettyimages.jpg%3Fv%3D1%26c%3DIWSAsset%26k%3D2%26d%3DiorCXtibTHO1pydI6qXrZIbSaQqLH%252FBZVrPH2Bz38oLWRGk2J%252FMBhxvppiQsWelc(,)http://farm2.static.flickr.com/1028/1015690583_73ed0b252b.jpg