Covid-19
Plantae




Myrtaceae




Eucalyptus macrandra




Species




Myrtales




Eucalyptus




Gum trees






Rotala, Rotala rotundifolia, Gum trees, Whorly rotala, Eucalyptus erythronema
Eucalyptus macrandra, Long-flowered Marlock or River Yate, is a mallee Eucalyptus that is native to the south-west of Western Australia and noted for its large clusters of flowers and fruit. The Noongar peoples know the tree as Twet.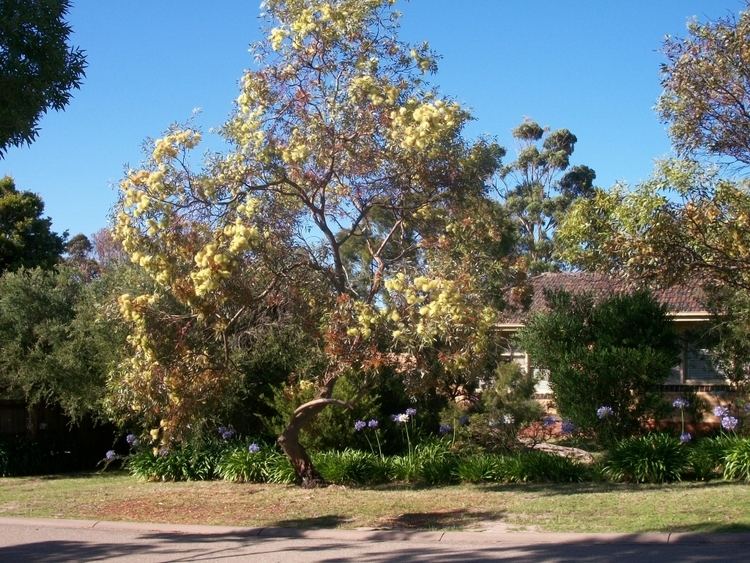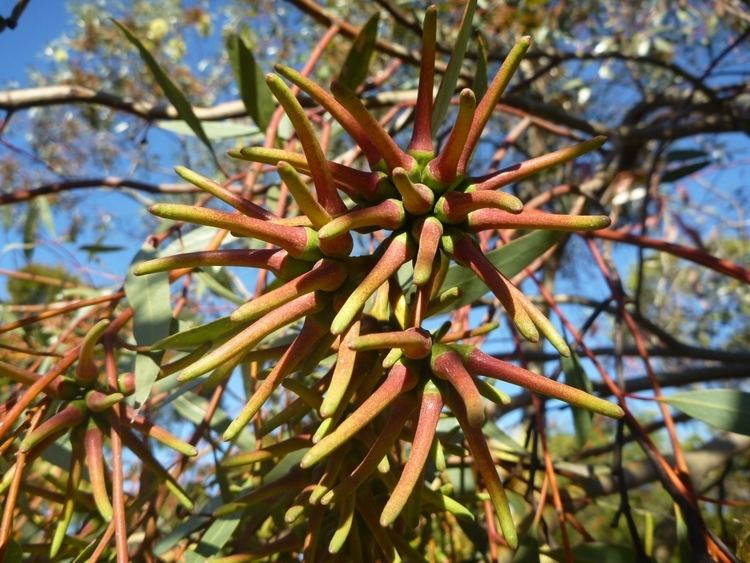 It has a shrub mallee habit and typically grows to a height of 2 to 8 metres (7 to 26 ft). Bark is smooth, pale grey or grey-brown or brown and the forking, reaching limbs slender. The adult leaves are disjunct, dull, green, thick and concolorous. The leaf blade has a lanceolate shape, obtuse, basally tapered or basally rounded. The simple axillary inflorescence has umbellasters that contain over eleven flowers that are yellow to cream to green and form long lasting displays between November and April. The fruit are red which, when massed with flowers and bright green leaves, form an attractive display. Fruits formed are cylindrical or hemispherical or ovoid in shape with flat to raised discs.
It is found in a variety of soil types in areas north of Albany and favours river plains or depressions. It occurs in semi-arid regions of the south-west of the state, such as the Dryandra Woodland. E. macrandra is found in the Avon Wheatbelt, Esperance Plains, Jarrah Forest and Mallee IBRA regions.
The species was first described by the botanist George Bentham in 1867 in the journal Flora Australiensis. Joseph Maiden described the species in 1911 as Eucalyptus occidentalis var. macrandra in the article Notes on Western Australian eucalypts, including description of new species. in the Journal of the Natural History & Science Society of Western Australia.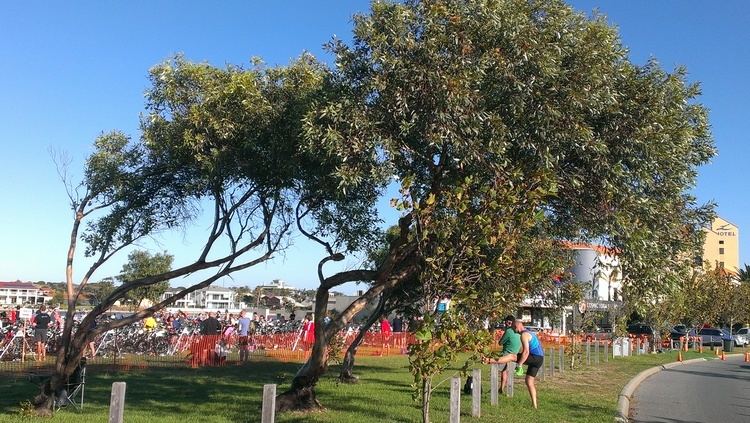 Eucalyptus macrandra is easily grown from seed, but requires good drainage and a dry, frost-free climate. It is used for bonsai, suburban street trees and is cultivated in countries outside of Australia.
Eucalyptus macrandra Wikipedia