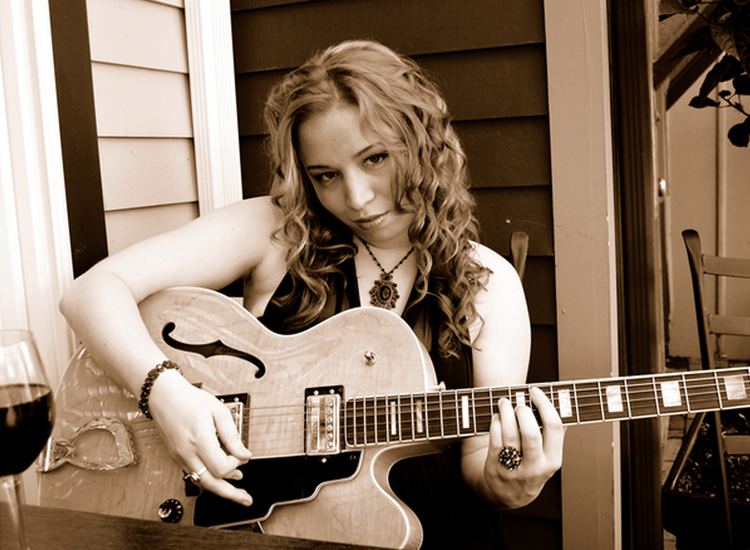 Eryn Shewell was born on June 26, 1984 in Washington D.C. to a family of Dutch, German, and English ancestry. She is the daughter of Larry Shewell of Takoma Park, MD and Dawn Jennings of Freehold, NJ. Granddaughter to William and Martha Shewell on her fathers side and William and Jane Jennings on her mothers side. Her paternal grandfather, William Shewell, was an artist for the US Navy as well as a police officer in Maryland. Her Maternal grandfather, William Jennings was a multi-instrumentalist and introduced Eryn to the guitar at a young age. Eryn has two siblings, a brother, William Shewell and a sister, Jordan VanArsdale.
In 1989 Shewell's parents divorced and she moved with her mother to New Jersey. She traveled back and forth from New Jersey to Maryland till her father finally moved to New Jersey in 1992. The family settled in Jackson, NJ. Where Shewell went to high school and graduated in 2002.
Shewell was married May 27, 2003 to William Schneider shortly after she graduated high school. They have one child named Emily Schneider. Feeling pressure to return to the music business after Emily was born. Shewell separated from the marriage in early 2004.
Shewell is now currently Engaged to guitarist Matt O'Ree who played rhythm guitar for Bon Jovi's Bon Jovi Live tour.
Shewell grew up around music and learned how to sing from her grandfather, mother, and her aunts Lori Jennings and Deana Jennings. Eryn received her first guitar as a gift at age 13 from her father. Who was so influenced by Eryn musically that he became a local singer as well. As a young child Eryn would watch her aunt Lori's country band Sundance and eventually became a permanent member at age 14.
Eryn studied music theory and voice at Jackson Memorial High School in Jackson, New Jersey. She was a member of the Ensemble Choir and the All-State Chorus. During her high school years Eryn started honing her song-writing skills with the guidance of Jody Joseph, She then joined Jody's band as her back up vocalist for a few years. Meanwhile, continuing to sing with Sundance.
After high school Eryn joined the New Orleans funk band The Soul Project and began traveling to New Orleans on a regular basis. Here she met well known New Orleans artist Walter "Wolfman" Washington. He took a liking to Shewell and asked her frequently to perform with him as well as record backing vocals on one of his latest album releases.
Shewell started the Eryn Shewell Band in 2006. Performances often featured nine pieces, including a horn section. Shewell has been nominated for numerous Asbury Park Music Awards. In 2009, Shewell was the recipient of the Asbury Park Music Award for Top Female Vocalist . In 2011, she was again named Top Female Vocalist, and her band (The Eryn Shewell Band) was named the Top Blues Band. Shewell has also received many songwriting accolades including BillBoard world song competition.
During 2011, Shewell and her guitarist Patty "Slidell" Ruh co-wrote and produced an album for their student Lily Ann Riche at Trax East in South River, NJ.
Throughout 2011 and 2012 Shewell began a collaboration with singer/songwriter Alice Leon. Shewell co-wrote and recorded lead and backing vocals on Alice Leon's release "It's All Making Sense".
On June 24, 2012, Shewell and her guitarist Patty "Slidell" Ruh released an acoustic EP called "Children At Play" with all cover songs in an effort to help raise money for their next full length original album. It includes songs like Al Green's "Let's Stay Together" and The Beatles "Oh Darling.
In 2013, Shewell announced her new trimmed down band Eryn Shewell & The Whiskey Devils featuring guitar, bass, drums, and keyboards. At the same time released her self titled 4th album.
In 2015, Shewell won the Belk Southern Musician Showcase award in the blues category helping launch her career to another level. Winning this award gave Shewell opportunities to perform at Belk sponsored events and national music festivals throughout the South.
In December 2015 Shewell signed her first record contract to Therewolf Records.
On September 11th, 2016 Eryn and her husabnd Matt O'Ree were inducted into the NY/NJ Blues Hall of Fame.
2009 Semi-Finalist - Songwars Songwriting Competition,
2009 Top Ten Finalist - 100% Music Songwriting Competition.
2009 Honorable Mention - Gary Allen Music City Song Competition,
2009 Honorable Mention - BillBoard World Song Competition,
2009 Asbury Music Award Top Female Vocalist,
2009 International Blues Competition – Regional Finalist,
2010 International Blues Competition - Regional Finalist,
2011 Asbury Music Award Top Female Vocalist,
2011 Asbury Music Award Top Blues Band
2015 BELK Southern Musician Showcase
2016 NY/NJ Blues Hall of Fame
Window Pane (2008, September 9). Rewbie Music LLC
4th And Broadway (2009, December 19). Rewbie Music LLC
Children at Play (2012, June 24). Rewbie Music LLC
Eryn Shewell (2013, June 2). Rewbie Music LLC
"You Angel You" Single on "DYLAN:Philadelphia pays tribute to a legend" 2012
It's All Making Sense (2013, Feb) Alice Leon's 2013 release.
A Day Like This (2012, June) Lily Ann Riche's debut release
"Santa Baby" (2015, November) Belk Commercial
Brotherhood (2016, November) Matt O'Ree Band, Therewolf Records
Pantyhose (2017, January) Kristin Rose Kelly debut release.