Riot grrrl




Guitar





1990-present




Erin Smith





October 11, 1972 (age 43) (

1972-10-11

)


Kill Rock Stars, Lookout!




Bratmobile, Cold Cold Hearts
Erin Smith (born October 11, 1972) is best known for being the guitarist of Bratmobile, a riot grrrl band with drummer Molly Neuman and vocalist Allison Wolfe, active from 1991-1994 until they went on hiatus. During the hiatus she and Wolfe started a new band, Cold Cold Hearts. Bratmobile reformed in 1999, but split again in 2003 after two more albums. Erin later took over management of Lookout! records.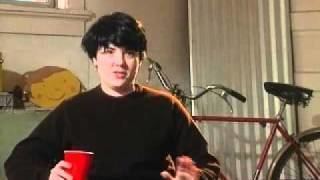 Pottymouth (1993) LP/CD/CS (Kill Rock Stars)
Ladies, Women and Girls (2000) CD/LP, (Lookout! Records)
Girls Get Busy (2002) CD/LP (Lookout! Records)
The Real Janelle (1994) LPEP/CDEP (Kill Rock Stars)
The Peel Session CDEP (Strange Fruit)
Kiss & Ride 7" (Homestead Records)
Tiger Trap/ Bratmobile split 7" (4-Letter Words)
Heavens to Betsy/ Bratmobile split 7" (K Records)
Brainiac/ Bratmobile split 7" (12X12)
Veronica Lake/ Bratmobile split 7" (Simple Machines)
Kill Rock Stars compilation, CD/LP, (Kill Rock Stars)
A Wonderful Treat compilation cassette
The Embassy Tapes cassette
Throw compilation CD (Yoyo Recordings)
International Pop Underground live LP/CD/CS (K Records)
Neapolitan Metropolitan boxed 7" set (Simple Machines)
Teen Beat 100 compilation 7" (Teen Beat)
Julep compilation LP/CD (Yo Yo)
Wakefield Vol. 2 V/A CD boxed set (Teen Beat)
Plea For Peace Take Action compilation CD (Sub City)
Boys Lie compilation CD (Lookout! Records)
Yo Yo A Go Go 1999 compilation CD (Yoyo Recordings)
Lookout! Freakout Episode 2 compilation CD (Lookout! Records)
Songs For Cassavetes compilation CD (Better Looking Records)
Lookout! Freakout Episode 3 CD (Lookout! Records)
Turn-On Tune-In Lookout! DVD (Lookout! Records)
Cold Cold Hearts (1997)
Yer So Sweet (Baby Donut) (1996)
Erin Smith Wikipedia