In Australian rules football, Phillips was best on ground in the 2017 AFLW Grand Final with the Adelaide premiership team, and has received both the AFLW best and fairest medal and the AFLW Players' most valuable player award.
Phillips was born on 19 May 1985 in Carlton, Victoria. She is from South Australia. She is the daughter of former Port Adelaide and Collingwood Australian rules footballer Greg Phillips. Her brother-in-law is former Port Adelaide and current Hawthorn footballer Shaun Burgoyne.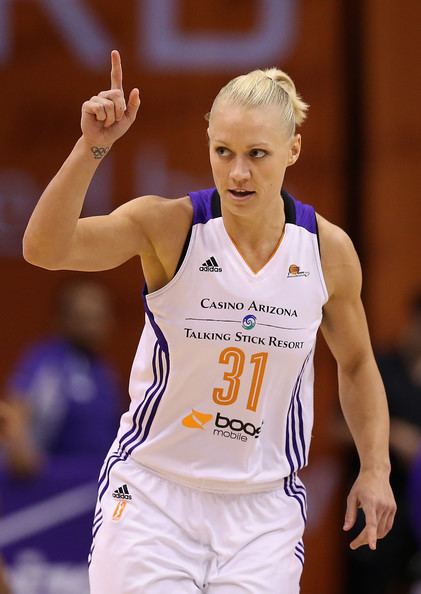 When not playing basketball, she is a community youth worker.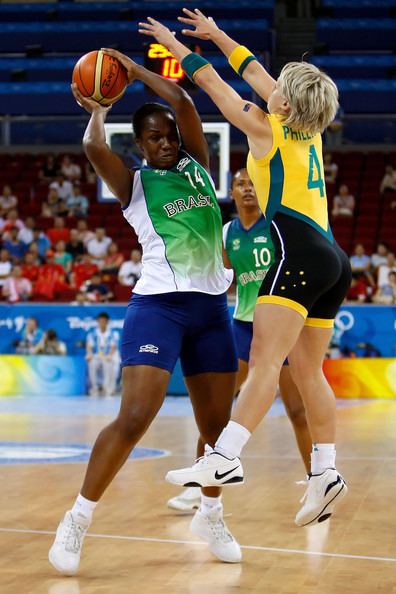 Phillips has two children with former Adelaide Lightning teammate Tracy Gahan. Phillips and Gahan married in the United States.
Phillips is 173 centimetres (68 in) tall. In 2006, she weighed 73 kilograms (161 lb). She had knee reconstruction surgery prior to March 2007.
Phillips is a guard. In 2003, she had a scholarship with the Australian Institute of Sport. As a competitor at the 2004 Australian Under-20 national championships, she won the Bob Staunton Award. In March 2007, she was recovering from a knee reconstruction. In 2008, she was featured as a basketball star on myFiba.
Phillips had a scholarship with and played for the Australian Institute of Sport in 2003 in the WNBL.
In 2005, Phillips was named to the WNBL's All-Star Five. She played for Adelaide Lightning in 2005/2006 and 2006/2007 where she was coached by Chris Lucas. In 2007/2008, she played for the Adelaide Lightning.
In 2006, Phillips was playing for Connecticut Sun. It was her first season in the league. In 2008, she was playing in the WNBA, taking leave from the early part of the season in order to prepare for the Olympics. Prior to the start of the 2011 WNBA season, she had signed a training camp contract with the Seattle Storm. However, before the season started, Seattle traded her to the Indiana Fever to make room for Katie Smith who had demanded a trade to the Storm from the Washington Mystics. She helped the Fever win the WNBA Championship in 2012, averaging 13.5 points per game in the finals after an injury to Katie Douglas. Prior to the 2014 season, she was traded to the Phoenix Mercury with a second-round draft pick in return for forward Lynetta Kizer and a first-round draft pick. Philips would win her second WNBA championship with the Mercury in 2014. On February 11, 2015, Phillips signed with the Los Angeles Sparks. In March 2016, Phillips was traded to the Dallas Wings for Riquna Williams and the sixth pick in the 2016 WNBA Draft. In May 2017, Phillips was waived by the Wings. She announced her retirement from the WNBA on Mothers Day, 14 May 2017, saying it would allow more time with her wife and their twins.
Following her retirement as a player, the Dallas Wings on 22 May 2017 announced the appointment of Phillips as their director of player and franchise development.
Phillips was playing for Ramat Hasharon (Israel) during the 2008/2009 WNBA off-season. She played for Lotos Gdynia in Poland in 2009/2010.
In 2010/11 she played for TS Wisla Can-Pack Krakow. Phillips played for this Polish team again during the 2011/2012 season. The Wisła fans have been very supportive of her in the 2012 season, despite having missed a month of play. They applauded loudly for her upon her return. She was playing for the team as a 27-year-old and was older than many of her teammates. In the 2012 season, she ranked fifth with 3.7 free throws made per game, ranked sixth in the league with an average of 4.6 fouls drawn per game, ranked eighth with 4.8 free throw attempts a game, ranked thirteenth with 32.3 minutes per game, ranked sixteenth with a free throw percentage of 77.6%, ranked sixteenth with an average of 3.3 assists per game, and ranked twentieth with a 3-point field goal percentage of 39.5%.
Phillips is a member of the Australia women's national basketball team. In 2006, she was a member of the Australian women's senior team that won a gold medal at the Commonwealth Games. She wore number 10. In 2006, she was a member of the Australian women's senior team that won a gold medal at the World Championships in Brazil. In March 2007, she was named to the national team what would prepare for the 2008 Summer Olympics. In 2008, she participated in the Good Luck Beijing 2008 held in China in the lead up to the Olympics. Her team was joined by national teams from United States, Cuba, Korea, New Zealand and China. She was a member of the 2008 Summer Olympics Australian women's team that won a silver medal at the Olympics. In mid-2010, she participated in a tour of China, USA and Hungary. In 2010, she was a member of the senior women's national team that competed at the World Championships in the Czech Republic. She was named to the 2012 Australia women's national basketball team. She was scheduled to participate in the national team training camp held from 14 to 18 May 2012 at the Australian Institute of Sport. Phillips was not selected to the 2012 Australian Women's Basketball Olympic team and said in an interview with reporter Jayda Evans that she was devastated by the news, but knew that she was taking a risk by not staying in Australia up until the Olympic games to practice full-time with the team (unlike Lauren Jackson who did not play for the Seattle Storm in 2012 until after the Olympics).
Phillips often attended her dad Greg's SANFL games for Port Adelaide as a kid and would join in huddles during breaks. As a junior, Erin played for St. Michael's Old Scholars. John Cahill, former Port Adelaide coach, said that Erin Phillips was "one of the most talented junior footballers [he had] seen." However, Phillips was unable to continue with the sport after the age of 13 as there were no pathways for girls to continue with the sport at the time. During 2004, Phillips played in the "Slowdown" charity match for the Little Hero's foundation.
In December 2015, the Port Adelaide Football Club signed Erin Phillips as the club's inaugural AFL Women's captain on the proviso the club received a licence for the 2017 AFL Women's season. In March 2016 Port Adelaide Football Club decided not to place a bid for a licence to enter the 2017 AFL Women's League due to its focus on playing a game in Shanghai China in 2017. As a result, Erin Phillips was recruited to play for the Adelaide Crows Football Club. In June 2016, Mike Fitzpatrick announced the teams that would gain an AFL Women's licence for 2017 with Adelaide Crows successful in joining the 8 team competition. When Port Adelaide didn't receive an AFL Women's licence, Phillips thought her "time had passed at playing football." However, in September 2016, the Adelaide Football Club announced they had signed Phillips as a rookie for the inaugural AFL Women's season in 2017. She had not played the sport competitively since starring in the "Slowdown" charity match in 2004. In January 2017, she was announced as one of the two inaugural captains of Adelaide, along with Chelsea Randall. Although Phillips received approval from the Dallas Wings to play Australian football, medical insurance on her WNBA contract does not cover injuries received playing the full-contact sport. An injury could void her WNBA contract. Nonetheless, she decided to play at her own risk.
Phillips had a stellar season in the debut AFL Women's competition, kicking the goal of the year in round three, and standing out in the victory against Brisbane in the AFLW Grand Final with a best on ground performance. Phillips was named vice-captain of the All-Australian team, received the AFLW best and fairest medal, and won the AFLW Players' Most Valuable Player Award.
Adelaide football administration general manager Phil Harper revealed on 16 May 2017 that Adelaide would sign Phillips as a marquee player for the 2018 season. She signed a week later.
Statistics are correct to the end of the 2017 season