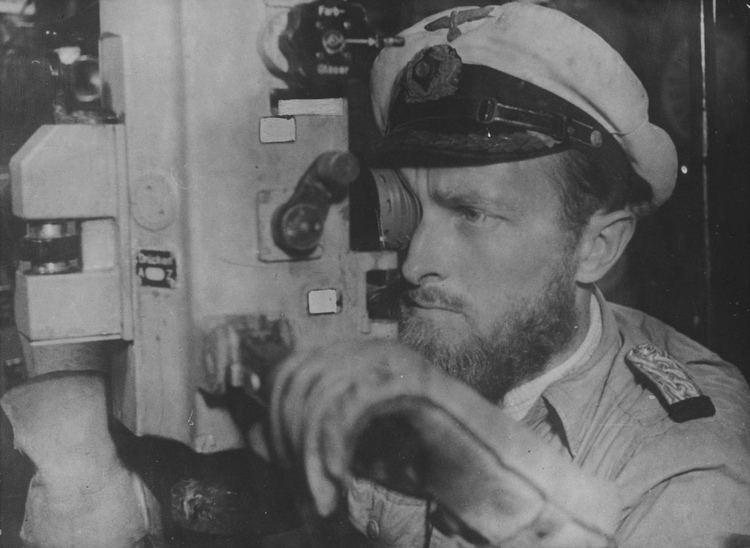 Topp was born in Hannover, the son of an engineer, and joined the Reichsmarine in 1934, serving on the light cruiser Karlsruhe in 1937, before transferring to the U-Bootwaffe (submarine fleet) in October 1937. In May 1933, Topp joined the Nazi Party and in 1934 also joined the Allgemeine-SS.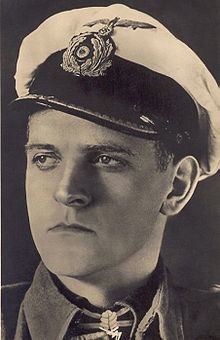 He served as Watch Officer on U-46 under the command of Herbert Sohler and took part in four combat patrols before he was given his first command on U-57 on 5 June 1940. He led U-57 on two missions during which the boat managed to sink six ships. She was sunk after a collision with a Norwegian vessel on 3 September 1940.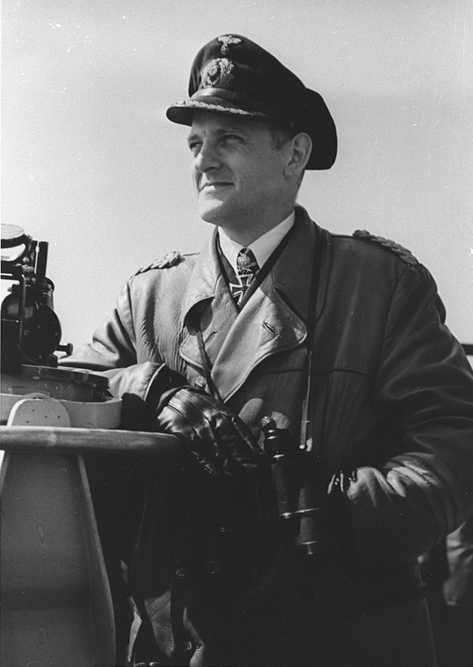 Topp survived to take command of U-552, a Type VIIC boat — on 4 December 1940. With U-552, Der Rote Teufel, he operated mainly against convoys in the North Atlantic, sinking 30 ships and crippling several others on ten patrols. One of his victims during this period was the destroyer USS Reuben James, the first US warship to be sunk in World War II on 31 October 1941. While leading to diplomatic consequences with the United States, it was his sinking of the SS David H. Atwater the following year that some writers have elevated into a controversy. When Topp spotted the coastal steamer David H. Atwater off Chincoteague, Virginia on 3 April 1942 (often mistakenly dated 2 April 1942), he surfaced U-552, overtook it from astern, and attacked with his deck gun, which was common practice. Topp fired 93 rounds and set the ship on fire. From his KTB: "93 shots 8.8 cm, ran off at high speed." Steamer sinks. Most of the crew jumped overboard and drowned. At least one writer claims Topp's gunners turned machine guns on the crowded small craft, but this unverified claim falls apart upon close examination. First, the flames and gun damage made it impossible to use the damaged and destroyed lifeboats. Second, it was dark and other than the outline of the ship, there was little to be seen because U-552 was between 600 and 800 yards distant. Third, using a machine gun against a ship made no sense whatsoever, especially when ammunition was limited and it might be needed to fight off aircraft. Fourth, Topp's KTB is absolutely silent on the matter. Last, Topp would never been allowed into the diplomatic corps after the war and stationed in Washington, DC, had he intentionally machine-gunned American merchant sailors. Twenty-four of the 27 sailors aboard were killed. Almost certainly many men were killed or wounded by the gunfire, but there is absolutely no evidence that this was intentional, or that machines guns were used, although it has been reported that way in a few books.
In October 1942, he was given command of the 27th U-boat Flotilla, based in Gotenhafen (now Gdynia, Poland), which put him in charge of introducing the new Type XXI Elektro Boot boats to active service. He wrote the battle manual for the Type XXI, and shortly before the end of the war, he took command of U-2513, on which he surrendered on 8 May 1945, in Horten, Norway. From 20 May to 17 August 1945, Topp was a prisoner of war in Kragerø (Norway).
On 4 June 1946, he started at the Technical University of Hanover, studying architecture, and graduated in 1950 with a degree in engineering. He also served as technical advisor for the 1957 film Sharks and Little Fish.
After his re-entry into the Bundesmarine on 3 March 1958 and a briefing at the Naval Staff, he served from 16 August 1958 as Chief of Staff at NATO's Military Committee in Washington DC. Subsequently he was on 1 October 1963 appointed Chief of Staff in command of the fleet, and served from 1 July 1965 as Deputy Director in the Naval Staff, employed in the Ministry of Defence. Promoted to flotilla admiral on 15 November 1965, he was simultaneously appointed chief of the operations staff of the Navy and Deputy Chief of the Navy. Promoted to Rear Admiral on 21 December 1966, as a tribute to his efforts in rebuilding the navy and the establishment of the transatlantic alliance, on 19 September 1969 he was awarded the Commander's Cross of the Order of Merit of the Federal Republic of Germany. He retired on 31 December 1969.
After retiring from the Bundesmarine, for a few years Topp was a technical advisor to the German shipyard HDW AG. His service as a NATO advisor was loosely portrayed (as "Commodore Wolfgang Schrepke") in the 1965 movie The Bedford Incident. His memoirs "The Odyssey of a U-Boat Commander: The Recollections of Erich Topp" was published in 1992. When Topp was asked in 1996 by publisher/historian Theodore P. Savas to contribute a Foreword for a collection of essays on German U-boat commanders, he instead submitted a contribution about his close friend Engelbert Endrass, who was lost with his crew and boat U-567 off Gibraltar in late December 1941. Topp had privately penned the piece about their friendship on his next patrol to the east coast of America, but had never submitted it for publication. The essay was translated from German and footnoted by Dr. Eric Rust, and appeared as the opening chapter in "Silent Hunters: German U-boat Commanders of World War II" (1997, 2003, 2005). Savas also recruited Topp to serve as the technical adviser for the 2001 submarine simulation computer game Silent Hunter II, and a series of interviews with him appears in the game. He was interviewed on World War II submarine operations for the Nova (TV series) special Hitler's Lost Sub, which detailed the efforts of a team of divers, led by John Chatterton and Richie Kohler to identify an unknown German U-Boat wreck 65 miles off the coast of New Jersey; the wreck was identified as U-869.
Topp died on 26 December 2005, in Süßen at the age of 91; he was survived by two sons, Peter Kay (b. 1945) and Michael (b. 1950), and five grandchildren.
As commander of U-57 and U-552, Topp is credited with the sinking of 35 ships for a total of 197,460 gross register tons (GRT), further damaging four ships of 32,317 GRT and sinking one warship, USS Reuben James, of 1,190 long tons (1,210 tonnes).
U-boat War Badge (7 November 1939) & with Diamonds (11 April 1942)
War Merit Cross 2nd Class with Swords (30 January 1944) & 1st Class with Swords (1944)
Iron Cross (1939) 2nd Class (1 January 1940) & 1st Class (1 September 1940)
Knight's Cross of the Iron Cross with Oak Leaves and Swords
Knight's Cross on 20 June 1941 as Oberleutnant zur See and commander of U-552
Oak Leaves on 11 April 1942 as Kapitänleutnant and commander of U-552
Swords on 17 August 1942 as Kapitänleutnant and commander of U-552
Großes Verdienstkreuz des Verdienstordens der Bundesrepublik Deutschland (19 September 1969)