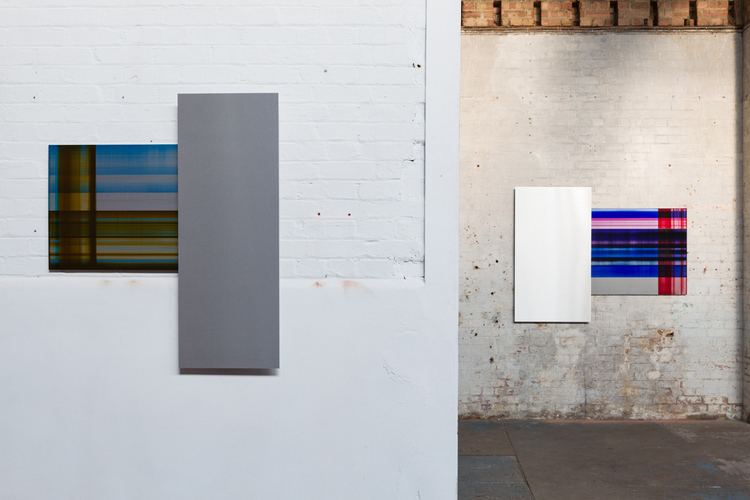 Eric Butcher was born in Singapore in 1970. He read philosophy at Corpus Christi College, Cambridge, graduating in 1994 and in 2001 he completed an MA in Fine Art at Wimbledon School of Art. He has exhibited extensively in the UK and internationally with shows in Germany, Italy, Australia and the USA. He currently shows with Toomey Tourell gallery, San Francisco and Galerie Robert Drees in Hannover. He has received awards from the Arts Council, England and the Arts and Humanities Research Council. He has also held an Arts Institute at Bournemouth Research Fellowship (now the AUB) and was the Centre for Arts International Research/Liverpool School of Art & Design Multiple Perspectives Fellow 2007.
Butcher's earliest exhibited works were compositions of oil, resin and spray paint on large, tablet-like MDF supports. The combination of painted surface and exaggerated depth of the support made the works deliberately and obviously three-dimensional objects – an 'attempt to deny the viewer the desire to see the surface as anything other than surface'. This composed physical presence was inherent in even the most restrained of Butcher's works, as William Packer would go on to say in his introduction to Butcher's 2005 catalogue, Carbon Candy, 'even when hung conventionally, flat to the wall, they remain obviously and directly physical'. Although characterised by their appearance – an abstract 'accretion of paint, resin and various other fluids' - their manufacture was faithful to the rules that govern Butcher's creative process. Butcher has said of his practice that 'the application or subtraction of paint as a set of processes is achieved through a variety of continually evolving techniques which draw attention to the physical properties of my materials', a result that would be most clearly manifest in his subsequent metal works. The introduction of metal as a support revolutionised Butcher's creative output and his approach to the act of painting, 'it may just be a flat piece of metal… But they all have little nicks, edges and imperfections… the end result is an accumulation of what I have learnt about that surface'.
'The application or subtraction of paint' in Butcher's practice is executed through the use of 'a metal blade drawn across the painting's surface' pulling a thin transparent monochrome of oil and resin over the metal support, 'this procedure is then repeated and repeated, building up a surface of accumulated residues'. The outcome of each painting is determined by 'variations in colour modulation' and largely 'by the physical characteristics of the support'. Paint is registered in vertical and horizontal bands across the surface of the metal plane, with areas of metal left unpainted and its polished face exposed to the viewer. Although Butcher has a uniform approach to each work, they nevertheless differ vastly from one another as the artist may encounter subtle material differences in the surface of each extrusion; burrs in the metal itself or unexpected variations in the applied paint wash. Almost every piece will seek to preserve some element of the metal as well, 'the aluminium asserts itself as the artwork's true substance'. As Butcher seeks to articulate the surfaces of aluminium structures, he does so not only through the repetitive layers of colour application, but also through the preservation of the support's original condition (before his intervention) – both make for an overall representation of that particular structure's history.
For the Material Witness exhibition at Toomey Tourell gallery in 2010, Butcher exhibited fourteen of his painted aluminium extrusions. Hung vertically and spaced asymmetrically with a measured and careful distance between one another, the display articulated Butcher's increasing awareness of, and preoccupation with, 'installation' in creating a total cohesive experience rather than an isolated object. As Kenneth Baker, in his San Francisco Chronicle review, wrote of the work's interaction with the space it occupied, 'to walk this piece is to compose and recompose it through observation. Its geometry and built-in illusionism dictate that it cannot be seen whole'. This can also be said of Butcher's curatorial practice, where, as in the Definite Article exhibition curated by the artist himself, he deals with the scale and arrangement of works by Roger Ackling, Marc Vaux and Cathy Wade, as well as his own. Butcher's attempts within his own works in that exhibition to, 'engage the space around the painted surface' were similarly factors that he encountered in his curation of the exhibition as a whole, 'each of the artists… employs a range of techniques to encourage the viewer to engage with the work physically'.
As a consequence of this preoccupation with installation, some of Butcher's most recent pieces, his works on paper, experiment diagrammatically with possible arrangements for his large-scale installations of aluminium pieces, introducing elements of chance. In these paper works, impressions of metal plates are embossed into sheets of saturated paper by running it through a printing press. Some sections of the plates' impressions are then highlighted by ink, whereas some sections are cut out altogether – some left purely as a trace. Butcher refers to this register of trace in his paper works as speaking, metaphorically, of loss and absence.