Prior to his election to the New York State Senate, Adams served as a police officer in the New York City Police Department (NYPD) for 22 years. Adams graduated from the New York City Police Academy in 1984 as the highest ranked student of his class. He started in the New York City Transit Police and worked in the 6th Precinct in Greenwich Village, the 94th Precinct in Greenpoint, and the 88th Precinct covering Fort Greene and Clinton Hill. While serving, he co-founded 100 Blacks in Law Enforcement Who Care, an advocacy group for black police officers, and often spoke out against police brutality and racial profiling. During the 1990s Adams served as president of the Grand Council of Guardians. Adams rose to prominence during the 90s, after a series of "friendly fire" shootings by white police officers against black officers.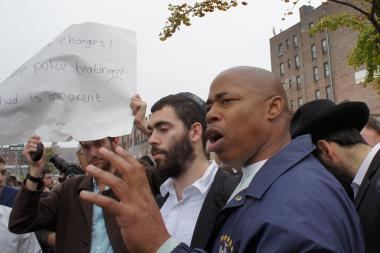 Eric Leroy Adams was born in Brownsville, Brooklyn on September 1, 1960.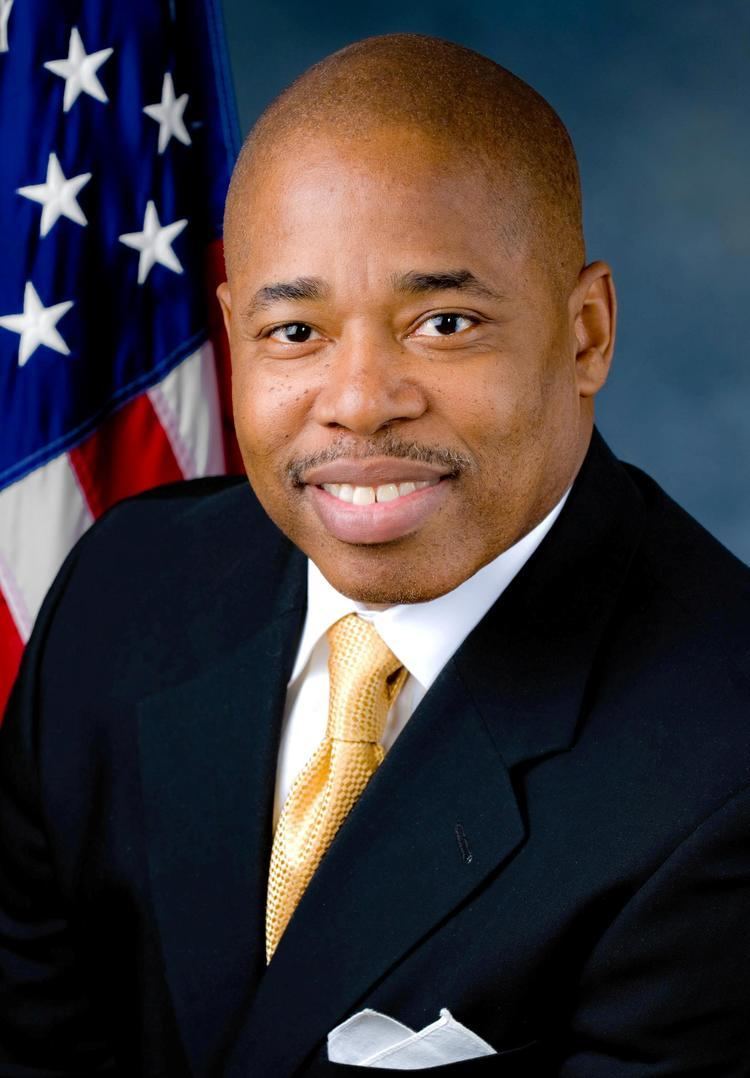 Adams was raised in Bushwick, Brooklyn and South Jamaica, Queens. He attended Brooklyn Technical High School before graduating from Bayside High School. He subsequently received an A.A. from the New York City College of Technology, a B.A. from the John Jay College of Criminal Justice and an M.P.A. from Marist College.
In 1994 Adams unsuccessfully ran against Major Owens for the 11th Congressional seat in Central Brooklyn.
Adams was first elected to the New York State Senate in 2006. While a state senator, Adams served as co-chair of New York's State Legislators Against Illegal Guns.
Adams was a vocal opponent of the NYPD's "stop and frisk" policy, which predominantly affected young Black and Latino men. He has sought to stop the NYPD from gathering data about individuals who have been stopped but not charged. In 2000, the United States Commission on Civil Rights concluded the City of New York's street-stop policy constituted racial profiling. Adams supported calling for a federal investigation into current "stop-and-frisk" practices.
Adams was among the legislators who suggested a pay raise in 2008.
Adams and fellow state lawmakers wore hooded sweatshirts in the legislative chamber on March 12, 2012, in protest of the shooting of Trayvon Martin, a Florida teen who was killed by George Zimmerman.
On December 2, 2009, Adams was one of the 24 senators to vote in favor of marriage equality in New York State. Adams spoke in support of the freedom to marry during the debate before the vote.
On November 5, 2013, Adams was elected Brooklyn borough president with 90.8 percent of the vote, more than any other candidate for borough president that year.
Adams, in his role as Brooklyn borough president, appoints the members of each of the 18 Community Boards in Brooklyn, half of whom are nominated by local members of the City Council. Members of community boards represent their neighbors in matters dealing with land use and specific neighborhood needs.
In 2016, Adams launched a digital application process for membership, which has increased applications by 10 percent, and he intends — under the authority granted by a 2015 state law — to appoint youth members to every community board.
Under the New York City Charter, borough presidents must submit Uniform Land Use Review Procedure (ULURP) recommendations on certain uses of land throughout their borough.
Adams has used his ULURP recommendations to propose additional permanently affordable housing units in the rezoning of East New York; the relocation of municipal government agencies to East New York to reduce density in Downtown Brooklyn and create jobs for community residents, and the redevelopment of 25 Kent Avenue in Williamsburg as manufacturing space, with increased property taxes directed to the acquisition of the remaining proposed sections of Bushwick Inlet Park as well as its continued development as a community resource.
Adams has encouraged New York City to build affordable housing on municipally-owned properties such as the Brownsville Community Justice Center, over railyards and railways, and on space now used for parking lots.
Adams created the Faith-Based Property Development Initiative, which supports religious institutions that want to develop property for the benefit of the community, such as affordable housing and space for the community.
Adams has introduced policy initiatives on a broad range of issues:
Adams formed a partnership with flowthings.io, a Brooklyn-based startup, and Dell computer to access and collect Real-time data (RTD) on conditions in Brooklyn Borough Hall, with device counters to monitor occupancy in rooms that sometimes experience overcrowding, multi-sensors to determine whether equipment has been operating efficiently, sensors such as smart-strips and smart-plugs to measure energy usage around the building, and ultrasonic rangefinders to identify that ADA-designated entrances are accessible in real-time.
Adams also partnered with tech startup Heat Seek NYC to allow tenants to be able to report conditions in their apartments with sensor hardware and web applications.
Adams opposed efforts to limit the number of new e-hail cars such as Uber, explaining that such technologies provide opportunities for people of color to find work and travel in their communities.
In partnership with Medgar Evers College, Adams created the Brooklyn Pipeline, which provides developmental learning and enrichment opportunities to public school students in Brooklyn, teaches parents to better support their children's education, and facilitates professional development training to teachers and school leaders.
Adams wrote an editorial in the New York Daily News calling on the New York City Department of Education (DOE) to test all pre-Kindergarten students for gifted and talented programs, including African-American and Latino children who have historically been excluded.
Adams launched the Code Brooklyn initiative to support the teaching of coding and computer science at public schools in Brooklyn. Adams entered Brooklyn into the "Hour of Code" challenge with Chicago Public Schools. Brooklyn students were victorious, with more than 80 percent of the district schools throughout Brooklyn participating in the program.
Based on a report prepared by the Independent Budget Office of New York City (IBO) at his request, Adams urged the City University of New York (CUNY) system to explore reinstating free tuition for two-year community colleges, which could improve graduation rates and lead to increased earnings potential and taxpayer contribution, as well as expand access to higher education.
To address the displacement of longtime residents by gentrification, Adams has held a series of town halls in Bedford–Stuyvesant and East Flatbush to investigate cases of tenant harassment, and also organized legal clinics in East New York, Prospect Lefferts Gardens, and Sunset Park to provide free legal assistance to tenants.
Adams stood on the damaged roof of 110 Humboldt Street, a seven-story residential building in the Borinquen Plaza II development in Williamsburg, as he called on Governor Andrew Cuomo to restore $100 million in State funding for New York City Housing Authority (NYCHA) roof repairs.
Adams launched the Family Friendly Brooklyn initiative by creating a lactation room in Brooklyn Borough Hall, with open access to the public.
Adams introduced a bill in the New York City Council that would require all municipal buildings providing services to the public to have lactation rooms. The bill was passed by the City Council on July 14, 2016.
Adams has worked to build and repair the relationship between the people of New York City and the NYPD. He has criticized the use of excessive force in the arrest of Eric Garner, who died after being placed in a chokehold prohibited by NYPD regulations, and the arrest of postal carrier Glen Grays, who was determined not to have committed any crime or infraction.
After the killings of police officers Wenjian Liu and Rafael Ramos, Adams wrote an editorial for the New York Daily News calling on police officers and the community to work with each other to build a relationship of mutual respect.
Together with Manhattan Borough President Gale Brewer and civil rights attorney Norman Siegel, Adams held a series of seven public forums and four Google Hangouts for community residents to share their experiences with the police. Used to compile information for a report, it was concluded that New York City should work to involve the public in the work of the NYPD, improve training for police officers, and allow independent investigations when police misconduct has been alleged.
An estimated 15 million people visited Brooklyn in 2014. Adams has redesigned the Brooklyn Tourism Visitors Center and Gift Shop inside Brooklyn Borough Hall, continued "Dine in Brooklyn" restaurant week, started the BK Sings Karaoke Contest, and hosts annual events such as New Year's Eve celebrations in Coney Island and Grand Army Plaza, as well as a Jamaican patty eating contest on Labor Day weekend.
Each month, Adams honors as "Hero of the Month" a Brooklyn resident who has acted selflessly on behalf of the community. Those individuals honored include officers from the Sea Gate Police Department who saved a five-month-old from choking to death; a Park Slope woman who saved a dog from freezing in Prospect Park; an emergency room doctor who formed an anti-gang-violence initiative at NYC Health + Hospitals/Kings County in East Flatbush; a firefighter who saved an unconscious two-year-old from an early morning fire in Marine Park; a Metropolitan Transportation Authority (MTA) worker who rescued a woman on the subway tracks at the Franklin Avenue station in Crown Heights; and police officers who saved the life of a choking infant in Bensonhurst.
Calling on Brooklyn residents to "Embrace Your Hyphen," Adams hosts celebrations in honor of Black History Month, Lunar New Year, Greek-American Heritage Month, Irish-American Heritage Month, Nowruz, Arab-American Heritage Month, Garifuna Heritage Celebration, Asian-American and Pacific Islander Month, Caribbean-American Heritage Month, Russian-American Heritage Month, Ramadan, International Day of Friendship, the Autumn Moon Festival, Hispanic Heritage Month, and Italian-American Heritage Month.
In March 2016, Adams was diagnosed with type 2 diabetes. Within a month, he switched to a vegan, whole food diet that cut out all animal products as well as sugar, salt, oil and processed starches. He also began exercising regularly, including using an exercise bike and treadmill in his office. As a result, within six months he had dropped 30 pounds and no longer required treatment for diabetes. He has stated that he wants to encourage others to switch to a more healthy diet, as well as to try to redirect public health spending for diabetes to focus more on lifestyle changes rather than just treating the disease.