9

/

10

1

Votes

Alchetron

Rate This





South Korea




27 September 2009




1






The Iron Empress




3 January 2009




78




Korean






Son Young-mok Lee Sang-min Kang Young-ran




Shin Chang-suk Hwang In-hyuk




Chae Shi-ra Kim Suk-hoon Choi Jae-sung Lee Deok-hwa Kim Ho-jin Shin Ae




"Opening" (various artists)




Korean drama, Drama, History, Historical drama




Dae Jo Yeong, King Sejong the Great, The King's Dream, Queen Seondeok, Ja Myung Go
Empress Cheonchu (Hangul: 천추태후; Hanja: 千秋太后; RR: Cheonchu Taehu; also known as The Iron Empress) is a 2009 South Korean period television series based on the title character, an actual historical figure and her lifelong struggle to protect the country her ancestors built. The granddaughter of Goryeo Dynasty founder Taejo Wanggeon, the empress ruled as the regent for her son Mokjong, the dynasty's seventh ruler. Determined to realize her ambitious goals for the kingdom of Goryeo, she dons armor, battles against foreign invaders, and tramples her lover, her son and brother in her rise to power.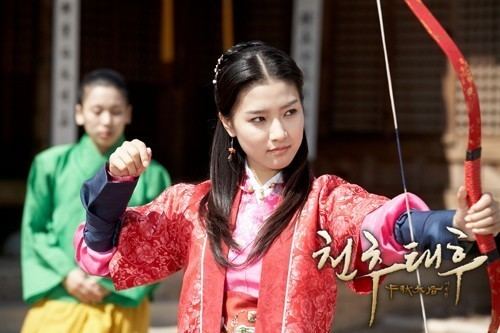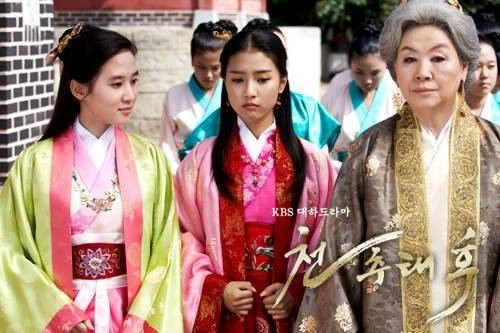 The drama is based on the historical Dowager Queen Empress Cheonchu of the Goryeo, who fought against the Liao Dynasty in order to achieve her Grandfather's personal dream of reclaiming old lands lost over the years to other associated tribes and countries such as the Khitans and some Jurchens.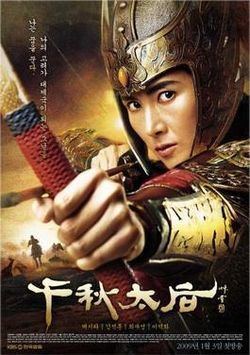 The series largely revolves around her desire to influence and win back her son (later known as Mokjong) from her brother Seongjong when he decided to have his nephew succeed him as ruler. Seongjong deemed her unacceptable to raise the boy in preparation of his future as Emperor and has his barren wife raise the boy as their son.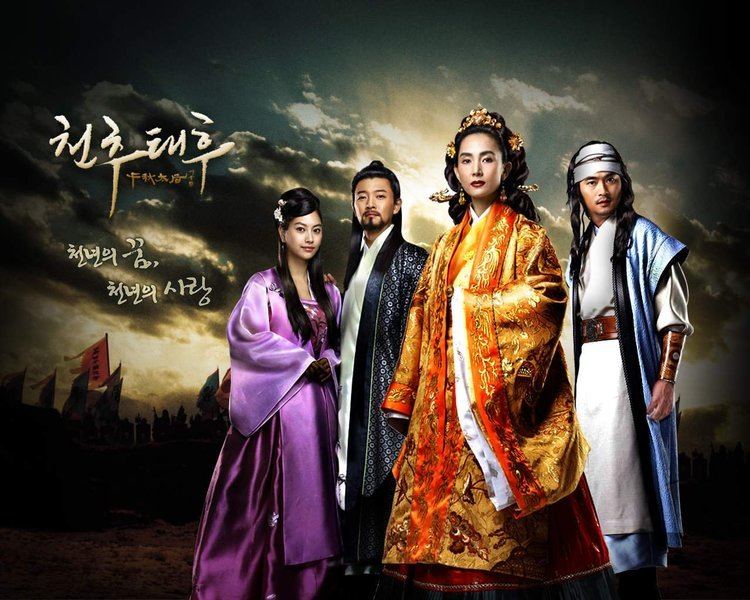 This causes a lot of conflict between Seongjong and his sister despite their continual working together to maintain the country from external and internal threats such as the Khitan invasion and various royal court intrigues and power struggles.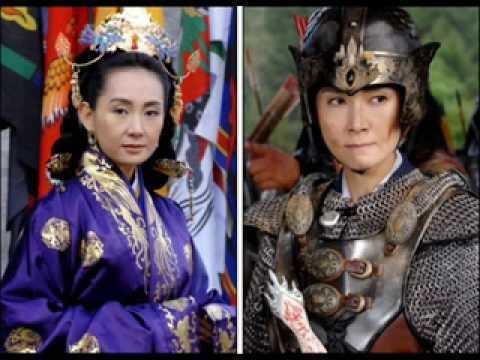 There are several liberties taken in the series the most obvious is that Mokjong is depicted as having epilepsy which is part of the reason General Gang Jo later removes him from ruling the country. There are no known records supporting the supposition that the historical Mokjong had epilepsy.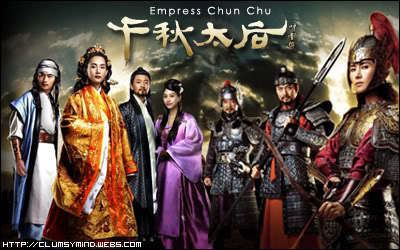 Chae Shi-ra as Hwangbo Soo / Empress Cheonchu
Kim Suk-hoon as Kim Chi-yang
Choi Jae-sung as Gang Jo
Lee Deok-hwa as General Gang Gam-chan
Kim Ho-jin as Wang Uk / Prince Gyeongju (Gyeongjuwongun)
Shin Ae as Hwangbo Seol / Empress Heonjeong (the Empress's younger sister)
Ban Hyo-jung as Empress Sinjeong (Taejo's 4th wife)
Lee Young-ah as Empress Daemok (Gyeongjong's mother)
Choi Cheol-ho as Gyeongjong (The 5th Emperor and the Empress's husband)
Kim Myung-soo as Seongjong (The 6th Emperor and the Empress's older brother)
Moon Jung-hee as Empress Munhwa / Lady Kim (Seongjong's 2nd wife)
Lee Hyun-kyung as Empress Mundeok / Lady Yu (Seongjong's 1st wife)
Lee In as Mokjong (The 7th Emperor and the Empress's son)
Lee In-hye as Empress Seonjeong (Mokjong's wife)
Kim Ji-hoon as Hyeonjong (The 8th Emperor and Empress Heonjeong's son)
Park Si-eun as Empress Wonjeong (Hyeonjong's wife)
Im Hyuk as Seo Hui (Minister of Foreign Affairs)
Jeon Moo-song as Lee Ji-baek
Won Suk-yeon as Lee Kyum-ui
Lee Ki-yeol as Choi Sum
Kim Byung-ki as Kim Won-seung
Kim Jong-kyeol as Choi Ryang
Kim Ha-kyun as Choi Hang
Park Ji-il as Kim Shim-eon
Oh Wook-chul as Jo
Jo Byung-kyun as Lee Yang
Lee Joon-woo as Seol Shin-yoo
Jeon Seong-hwan as Choi Ji-mong
Maeng Ho-rim as Park Yang-yoo
Im Byung-ki as Han Un-kong
Choi Jun-yong as Lee Hyun-woon
Choi Dong-joon as Dae Do-soo
Park Cheol-ho as Kim Hoon
Choi Wang-soon as Choi Jil
Lee Won-bal as Yoo Bang
Hong Il-kwon as Yang Kyu
Shim Hye-jin as Empress Xiao of Liao
Jang Dong-jik as Emperor Shengzong of Liao
Oh Gun-woo as young Emperor Shengzong of Liao
Ji Dae-han as So Son-nyung
Jung Heung-chae as So Bae-ap
Kim Myeong-kuk as Ya Yool Juk Ryeol
Kim Sung-Hyun as Ya Yool Boon No
Lee Han-sol as Ya Wool Moo Ki
Hong In-young as Chun Hyang-bi
Kim Ye-won as young Chun Hyang-bi
Lee Chae-young as Sa Il-ra
Kim Hyeong-min as Sa Ka-moon
Jung Jin as Ko Hyun
Ahn Hae-sook as court lady Yoon
Kim Mi-ra as Lee Seol-hwa
Kim So-eun as young Hwangbo Soo
Park Eun-bin as young Hwangbo Seol
Kim Min-ji as young Lady Kim
Han Bo-bae as young Seonjeong
Park Ji-bin as young Mokjong
Choi Woo-hyuk as young Seongjong
Empress Cheonchu Wikipedia