Occupation

Actress




Height

1.70 m




Role

Actress




Name

Emily Wickersham




Years active

2006–present








Born

April 26, 1984 (age 39) (

1984-04-26

) Kansas


Spouse

Blake Anderson Hanley (m. 2010)




Education

Muhlenberg College (2006–2008)


Parents

John Wickersham, Amy Wickersham




Movies and TV shows

NCIS, Gone, I Am Number Four, Definitely - Maybe, How I Got Lost


Similar People

Cote de Pablo, Sasha Alexander, Pauley Perrette, Brian Dietzen, Sean Murray


Profiles




Twitter

Instagram

Facebook
Ncis emily wickersham the late late show with craig ferguson
Emily Kaiser Wickersham (born April 26, 1984) is an American actress best known for her role as NCIS Special Agent Eleanor Bishop on NCIS.
Contents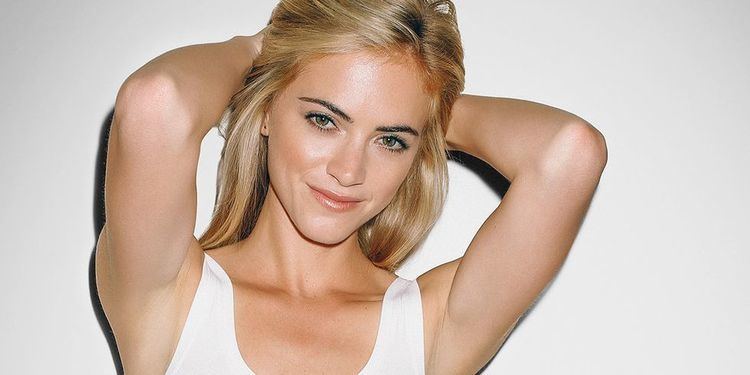 Emily wickersham all actresses are vegetarian her only appearance 1080p
Career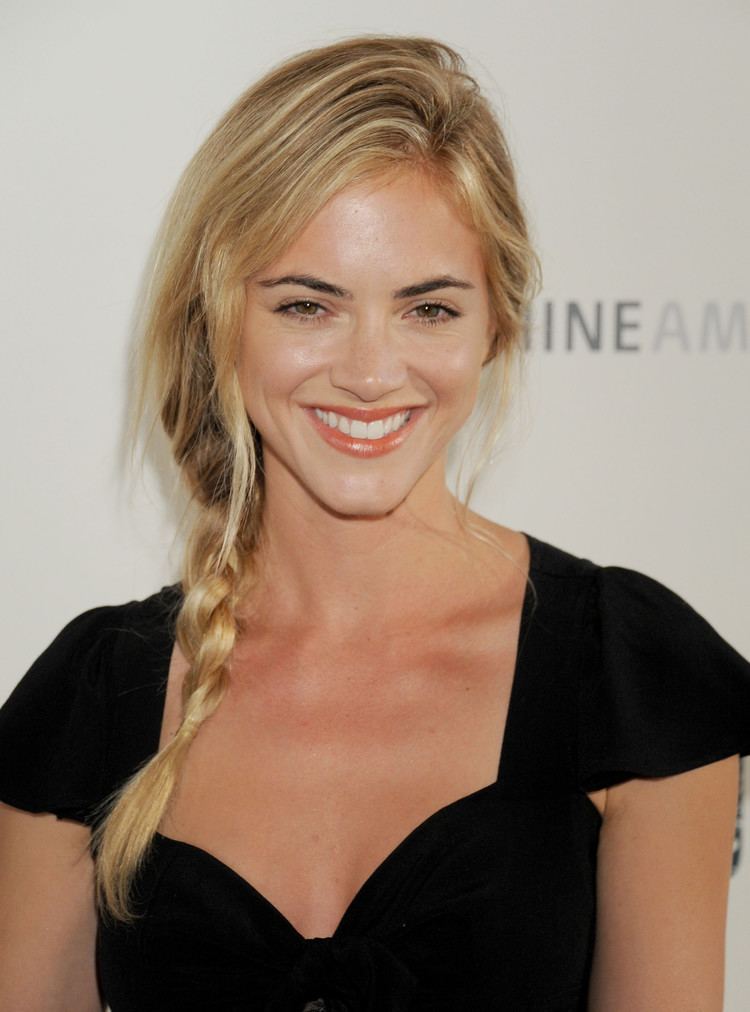 In 2013, following the departure of actress Cote de Pablo, Wickersham was cast as NSA Analyst Eleanor "Ellie" Bishop in a three-episode arc on NCIS, starting November 19, 2013, on CBS. She was subsequently promoted to series regular. Wickersham has also appeared in the feature film Gone and made a number of guest appearances on television.
Personal life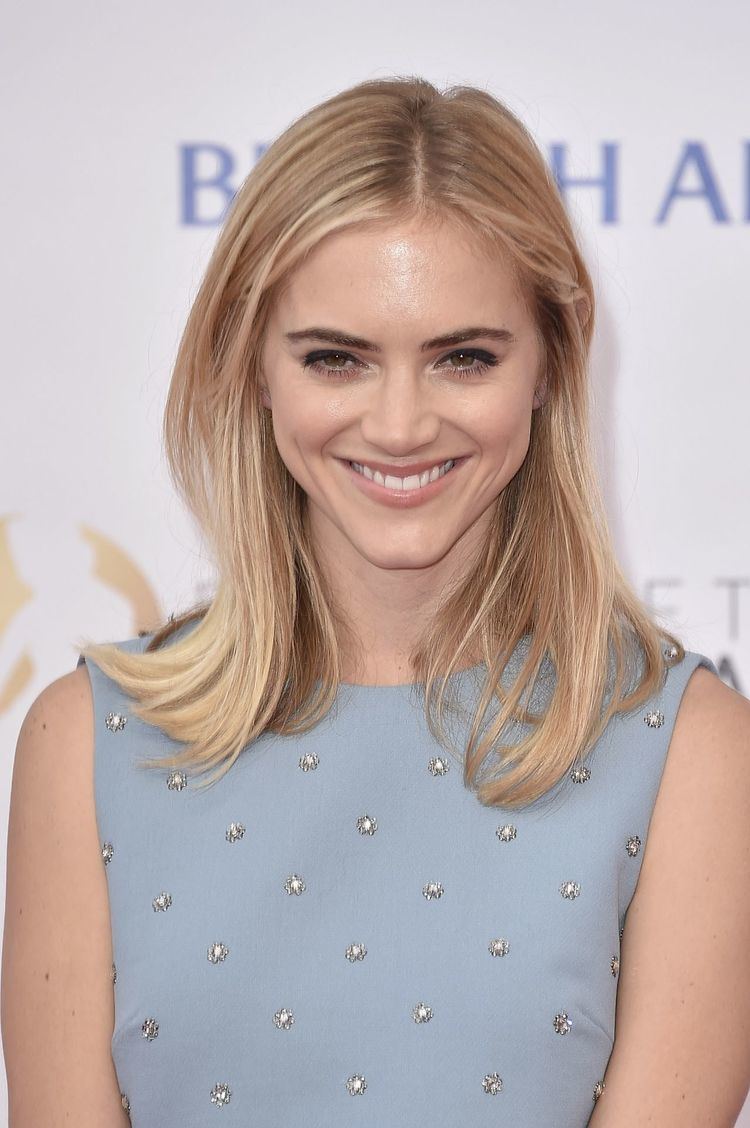 Wickersham, who has Austrian and Swedish (Värmland) ancestry, was born in Kansas but grew up in Mamaroneck, New York. She married musician Blake Hanley on November 23, 2010, on Little Palm Island in the Florida Keys.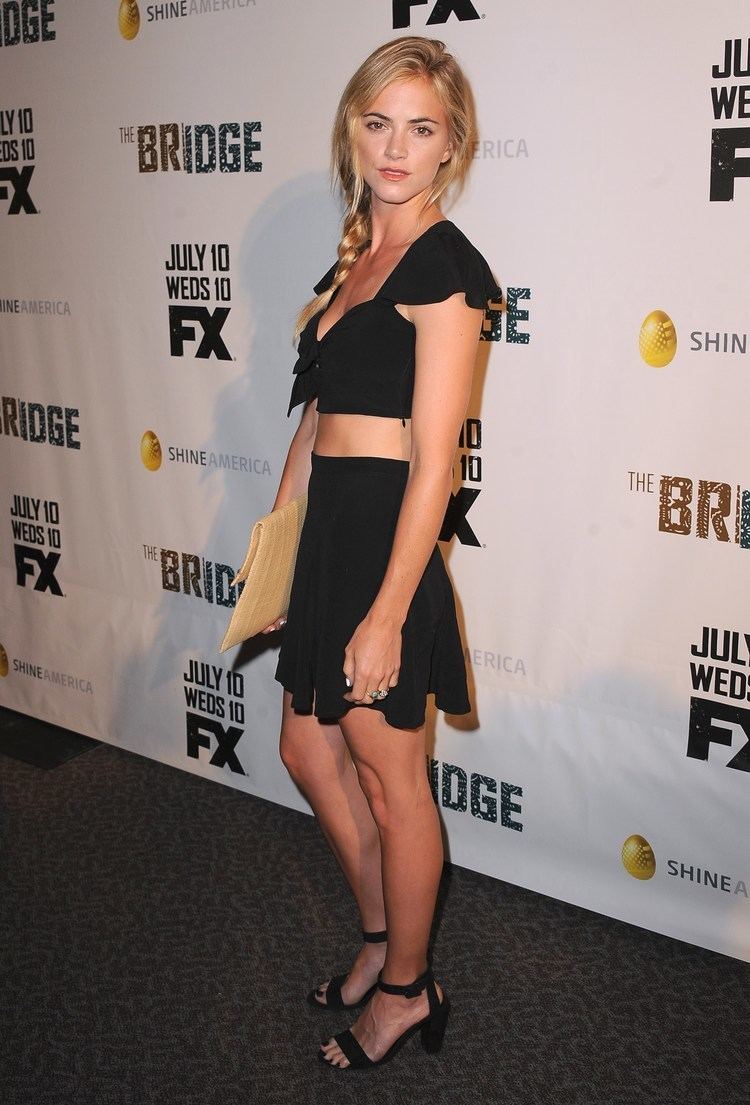 Filmography
Actress
2013
NCIS (TV Series)
as
Ellie Bishop / Eleanor Bishop / Flashback Annie Downing
- Rule 91 (2021) - Ellie Bishop
- Blown Away (2021) - Ellie Bishop
- Unseen Improvements (2021) - Ellie Bishop
- Misconduct (2021) - Ellie Bishop
- Sangre (2021) - Eleanor Bishop
- Gut Punch (2021) - Eleanor Bishop
- Watchdog (2021) - Eleanor Bishop
- Winter Chill (2021) - Eleanor Bishop
- True Believer (2021) - Ellie Bishop
- The First Day (2021) - Eleanor Bishop
- 1mm (2021) - Ellie Bishop
- Sunburn (2021) - Eleanor Bishop
- Head of the Snake (2021) - Ellie Bishop
- Blood and Treasure (2020) - Ellie Bishop
- Everything Starts Somewhere (2020) - Ellie Bishop
- Sturgeon Season (2020) - Ellie Bishop
- The Arizona (2020) - Ellie Bishop
- Blarney (2020) - Ellie Bishop
- Schooled (2020) - Ellie Bishop
- In a Nutshell (2020) - Ellie Bishop
- Ephemera (2020) - Ellie Bishop / Flashback Annie Downing
- Lonely Hearts (2020) - Ellie Bishop
- On Fire (2020) - Ellie Bishop
- Sound Off (2020) - Ellie Bishop
- Flight Plan (2020) - Ellie Bishop
- In the Wind (2020) - Ellie Bishop
- The North Pole (2019) - Ellie Bishop
- IRL (2019) - Ellie Bishop
- Musical Chairs (2019) - Ellie Bishop
- No Vacancy (2019) - Ellie Bishop
- Institutionalized (2019) - Ellie Bishop
- Wide Awake (2019) - Ellie Bishop
- Someone Else's Shoes (2019) - Ellie Bishop
- Going Mobile (2019) - Ellie Bishop
- Into the Light (2019) - Ellie Bishop
- Out of the Darkness (2019) - Ellie Bishop
- Daughters (2019) - Ellie Bishop
- Lost Time (2019) - Ellie Bishop
- -and Executioner (2019) - Ellie Bishop
- Judge, Jury- (2019) - Ellie Bishop
- Hail & Farewell (2019) - Ellie Bishop
- Perennial (2019) - Ellie Bishop
- Mona Lisa (2019) - Ellie Bishop
- Silent Service (2019) - Ellie Bishop
- Bears and Cubs (2019) - Ellie Bishop
- Crossing the Line (2019) - Ellie Bishop
- Once Upon A Tim (2019) - Ellie Bishop
- She (2019) - Ellie Bishop
- The Last Link (2019) - Ellie Bishop
- Toil and Trouble (2019) - Ellie Bishop
- What Child is This? (2018) - Ellie Bishop
- Tailing Angie (2018) - Ellie Bishop
- Friendly Fire (2018) - Ellie Bishop
- A Thousand Words (2018) - Ellie Bishop
- Beneath the Surface (2018) - Ellie Bishop
- Fragments (2018) - Ellie Bishop
- Third Wheel (2018) - Ellie Bishop
- Boom (2018) - Ellie Bishop
- Love Thy Neighbor (2018) - Ellie Bishop
- Destiny's Child (2018) - Ellie Bishop
- Date with Destiny (2018) - Ellie Bishop
- Fallout (2018) - Ellie Bishop
- Two Steps Back (2018) - Ellie Bishop
- One Step Forward (2018) - Ellie Bishop
- Sight Unseen (2018) - Ellie Bishop
- The Numerical Limit (2018) - Ellie Bishop
- Death From Above (2018) - Ellie Bishop
- One Man's Trash (2018) - Ellie Bishop
- Handle with Care (2018) - Ellie Bishop
- Keep Your Enemies Closer (2018) - Ellie Bishop
- Keep Your Friends Close (2018) - Ellie Bishop
- Family Ties (2018) - Ellie Bishop
- Dark Secrets (2018) - Ellie Bishop
- High Tide (2018) - Ellie Bishop
- Double Down (2017) - Ellie Bishop
- Ready or Not (2017) - Ellie Bishop
- Voices (2017) - Ellie Bishop
- Burden of Proof (2017) - Ellie Bishop
- Trapped (2017) - Ellie Bishop
- Fake It 'Til You Make It (2017) - Ellie Bishop
- Skeleton Crew (2017) - Ellie Bishop
- Exit Strategy (2017) - Ellie Bishop
- Twofer (2017) - Ellie Bishop
- House Divided (2017) - Ellie Bishop
- Rendezvous (2017) - Ellie Bishop
- Something Blue (2017) - Ellie Bishop
- Beastmaster (2017) - Ellie Bishop
- One Book, Two Covers (2017) - Ellie Bishop
- A Bowl of Cherries (2017) - Ellie Bishop
- The Wall (2017) - Ellie Bishop
- M.I.A. (2017) - Ellie Bishop
- What Lies Above (2017) - Ellie Bishop
- A Many Splendored Thing (2017) - Ellie Bishop
- Pandora's Box, Part I (2017) - Ellie Bishop
- Nonstop (2017) - Ellie Bishop
- Keep Going (2017) - Ellie Bishop
- Off the Grid (2017) - Ellie Bishop
- Willoughby (2017) - Ellie Bishop
- The Tie That Binds (2016) - Ellie Bishop
- Pay to Play (2016) - Ellie Bishop
- Enemy Combatant (2016) - Ellie Bishop
- Home of the Brave (2016) - Ellie Bishop
- Shell Game (2016) - Ellie Bishop
- Philly (2016) - Ellie Bishop
- Love Boat (2016) - Ellie Bishop
- Privileged Information (2016) - Ellie Bishop
- Being Bad (2016) - Ellie Bishop
- Rogue (2016) - Ellie Bishop
- Family First (2016) - Ellie Bishop
- Dead Letter (2016) - Ellie Bishop
- Homefront (2016) - Ellie Bishop
- Return to Sender (2016) - Ellie Bishop
- Charade (2016) - Ellie Bishop
- Reasonable Doubts (2016) - Ellie Bishop
- Scope (2016) - Ellie Bishop
- After Hours (2016) - Ellie Bishop
- Loose Cannons (2016) - Ellie Bishop
- React (2016) - Ellie Bishop
- Decompressed (2016) - Ellie Bishop
- Déjà Vu (2016) - Ellie Bishop
- Sister City, Part I (2016) - Ellie Bishop
- Spinning Wheel (2015) - Ellie Bishop
- Blood Brothers (2015) - Ellie Bishop
- Day in Court (2015) - Ellie Bishop
- Saviors (2015) - Ellie Bishop
- 16 Years (2015) - Ellie Bishop
- Viral (2015) - Ellie Bishop
- Lockdown (2015) - Ellie Bishop
- Double Trouble (2015) - Ellie Bishop
- Incognito (2015) - Ellie Bishop
- Personal Day (2015) - Ellie Bishop
- Stop the Bleeding (2015) - Ellie Bishop
- Neverland (2015) - Ellie Bishop
- The Lost Boys (2015) - Ellie Bishop
- Troll (2015) - Ellie Bishop
- Lost in Translation (2015) - Ellie Bishop
- No Good Deed (2015) - Ellie Bishop
- Patience (2015) - Ellie Bishop
- Status Update (2015) - Ellie Bishop
- The Artful Dodger (2015) - Ellie Bishop
- Blast from the Past (2015) - Ellie Bishop
- Cabin Fever (2015) - Ellie Bishop
- Cadence (2015) - Ellie Bishop
- We Build, We Fight (2015) - Ellie Bishop
- The Enemy Within (2015) - Ellie Bishop
- Check (2015) - Ellie Bishop
- House Rules (2014) - Ellie Bishop
- Grounded (2014) - Ellie Bishop
- Semper Fortis (2014) - Ellie Bishop
- The Searchers (2014) - Ellie Bishop
- Parental Guidance Suggested (2014) - Ellie Bishop
- The San Dominick (2014) - Ellie Bishop
- Choke Hold (2014) - Ellie Bishop
- So It Goes (2014) - Ellie Bishop
- Kill the Messenger (2014) - Ellie Bishop
- Twenty Klicks (2014) - Ellie Bishop
- Honor Thy Father (2014) - Ellie Bishop
- The Admiral's Daughter (2014) - Ellie Bishop
- Shooter (2014) - Ellie Bishop
- Alleged (2014) - Ellie Bishop
- Page Not Found (2014) - Ellie Bishop
- Crescent City: Part 2 (2014) - Ellie Bishop
- Crescent City: Part 1 (2014) - Ellie Bishop
- Rock and a Hard Place (2014) - Ellie Bishop
- Dressed to Kill (2014) - Ellie Bishop
- Bulletproof (2014) - Ellie Bishop
- Monsters and Men (2014) - Ellie Bishop
- Double Back (2014) - Ellie Bishop
- Kill Chain (2014) - Ellie Bishop
- Homesick (2013) - Ellie Bishop
- Devil's Triad (2013) - Ellie Bishop
- Gut Check (2013) - Ellie Bishop
2016
NCIS: New Orleans (TV Series)
as
Ellie Bishop
- Sister City: Part II (2016) - Ellie Bishop
2013
The Bridge (TV Series)
as
Kate Millwright
- Old Friends (2013) - Kate Millwright
- Maria of the Desert (2013) - Kate Millwright
- Rio (2013) - Kate Millwright
2011
Gossip Girl (TV Series)
as
Leading Lady
- Yes, Then Zero (2011) - Leading Lady
2011
I Am Number Four
as
Nicole
2010
Remember Me
as
Miami Blonde
2009
Trauma (TV Series)
as
Jessica
- Stuck (2009) - Jessica
2009
Bored to Death (TV Series)
as
Emily
- The Case of the Stolen Skateboard (2009) - Emily
2009
Law & Order: Criminal Intent (TV Series)
as
Ceci Madison
- Major Case (2009) - Ceci Madison
2009
Taking Chance (TV Movie)
as
Kelley Phelps
2008
Definitely, Maybe
as
1998 Intern
2007
Mitch Albom's for One More Day (TV Movie)
as
Maria Benetto Lang
2007
The Gamekillers (TV Series)
as
The Girl
- Marcus & Aja (2007) - The Girl
2007
The Bronx Is Burning (TV Mini Series)
as
Suzy Steinbrenner
- Caught! (2007) - Suzy Steinbrenner
2006
The Sopranos (TV Series)
as
Rhiannon Flammer / Rhiannon
- Made in America (2007) - Rhiannon Flammer
- The Blue Comet (2007) - Rhiannon Flammer
- Cold Stones (2006) - Rhiannon
- Johnny Cakes (2006) - Rhiannon
2006
Late Show with David Letterman (TV Series)
as
Jules
- Episode dated 25 January 2006 (2006) - Jules
Self
2022
Hollywood on the Sound (Short)
as
Self
2021
Talking Sopranos (TV Series)
as
Self
- Moe n' Joe (2021) - Self
2015
Entertainment Tonight (TV Series)
as
Self
- The Voice Winner! (2021) - Self
- Episode #40.56 (2020) - Self
- Episode dated 12 May 2015 (2015) - Self
2018
NCIS: Season 15 - NCIS: Inside Season 15 (Video short)
as
Self
2018
Harry (TV Series)
as
Self
- "NCIS" Star Emily Wickersham/Money Saving Tips with Your Smartphone/My DIY: Earth Day Edition/12-Year-Old Dancer (2018) - Self
2018
Rachael Ray (TV Series)
as
Self
- "The Kitchen's" Katie Lee Is Here with Bites for Your Next Binge-Watching Party! How Good Do Buffalo Chickie Hoagies Sound?! (2018) - Self
2017
NCIS: Season 14 - Above Board: A Look at Season 14 (Video short)
as
Self
2017
NCIS: Season 14 - Table Read Nonstop (Video short)
as
Self
2015
Home & Family (TV Series)
as
Self
- John Michael Higgins/Emily Wickersham/Michelle Ebbin (2017) - Self
- Emily Wickersham/Toby & Brenda Willis (2015) - Self
2016
Extra (TV Series)
as
Self
- Episode #23.182 (2017) - Self
- Episode #22.137 (2016) - Self
2016
NCIS - Season 13: All's Fair in Love and War (Video short)
as
Self
2016
NCIS - Season 13: Inside Season 13 (Video short)
as
Self
2016
NCIS - Season 13: The Difinitive Dinozzo (Video short)
as
Self
2016
NCIS: New Orleans - Season 2: Crossing Over: A Look at Sister City (Video documentary short)
as
Self
2014
The Talk (TV Series)
as
Self - Guest
- Cast of "NCIS"/Mary Elizabeth Ellis (2016) - Self - Guest
- Lisa Kudrow/Emily Wickersham/Chef Wolfgang Puck (2014) - Self - Guest
2014
The Insider (TV Series)
as
Self
- Episode #12.80 (2015) - Self
- Episode dated 4 March 2014 (2014) - Self
2015
NCIS: Season 12: Pre-Flight Jitters - Shooting on Location (Video short)
as
Self
2015
NCIS: Season 12 - Inside Season 12 (Short)
as
Self
2014
NCIS: Season 11 - Deleted Scenes (Video documentary short)
as
Self
2014
NCIS: Season 11 - Game Change (Video documentary short)
as
Self
2013
The Late Late Show with Craig Ferguson (TV Series)
as
Self - Guest
- Actor Cuba Gooding Jr.; actress Emily Wickersham. (2013) - Self - Guest
2006
Parco P.I. (TV Series)
as
Grace Carr
- Just Another Pretty Face (2006) - Grace Carr
Archive Footage
2020
Entertainment Tonight (TV Series)
as
Self
- Episode #42.150 (2023) - Self
- Episode #40.60 (2020) - Self
References
Emily Wickersham Wikipedia
(Text) CC BY-SA