Emilie ullerup in battlestar galactica
Emilie Ullerup (born 27 October 1984) is a Danish actress. She is best known for playing Ashley Magnus on the television series Sanctuary.
Contents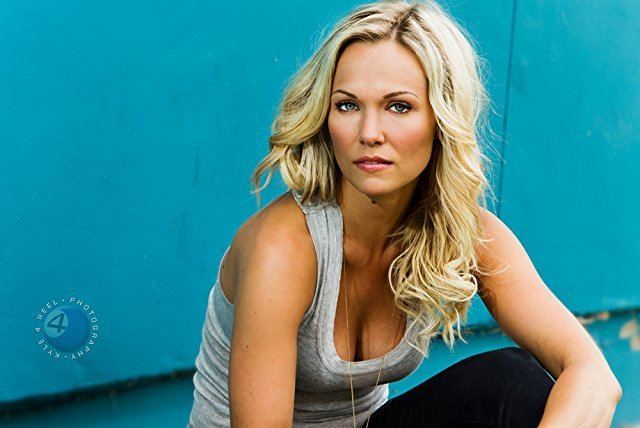 Emilie Ullerup visits - Home & Family
Early life and education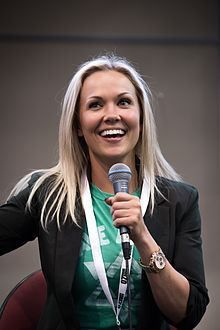 Ullerup was born in Copenhagen, Denmark as a child of a diplomatic family, daughter of Ove Ullerup-Petersen. After graduation from high school in Copenhagen in 2003, she moved to Vancouver, British Columbia, Canada and attended the Vancouver Film School, graduating in 2005.
Career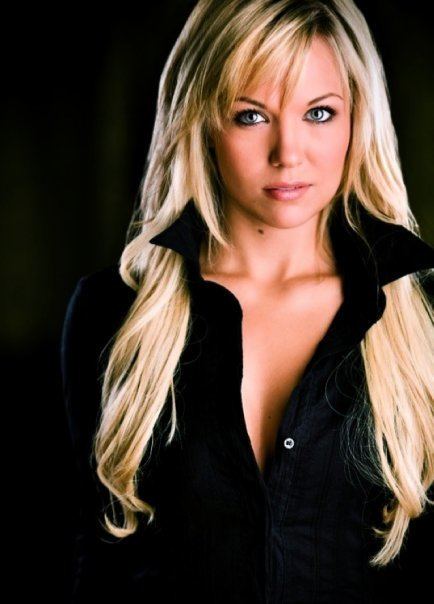 Ullerup's first role was that of Julia Brynn on the remake television series of Battlestar Galactica in 2006, which aired on the Sci Fi Channel. She played Ashley Magnus in the first and second seasons of the television show Sanctuary until her character was written out. Her departure remained a topic of heated debate among fans, with many of them wanting her brought back in future episodes, until the show was cancelled in 2012.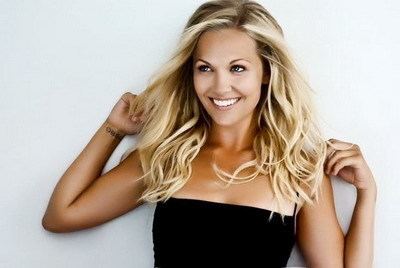 In 2016 Ullerup was cast as Bree O'Brien in Chesapeake Shores.
Personal
Ullerup speaks Danish and English. Her father held the title of Lord Chamberlain for the Danish Royal Family. In 2008, she was found to have a benign but aggressive tumor wrapped around her spinal nerves. She underwent surgery to remove the tumor in 2009, at which time her coccyx and half of the sacrum of her pelvis was removed. After about five months, she recovered enough to return to work.
Awards
2008 Leo Award – Best Lead Performance by a Female in a Drama Series for her role as Kaitlin Joyce on JPod
Nominations
2012 Leo Award - Best Supporting Performance by a Female in a Dramatic Series (Arctic Air)
2013 Leo Award - Best Supporting Performance by a Female in a Dramatic Series (Arctic Air)
2013 Leo Award - Best Supporting Performance by a Female in a Motion Picture (Death Do Us Part)
2013 UBCP/ACTRA Awards - Best Actress (Arctic Air)
Filmography
Actress
-
Anti-Social (Short) (post-production)
as
Juniper Juice
2023
Assassin's Fury (post-production)
as
Michelle Moretti / Shadow
2016
Chesapeake Shores (TV Series)
as
Bree O'Brien
- All or Nothing at All (2022) - Bree O'Brien
- Spring Can Really Hang You Up the Most (2022) - Bree O'Brien
- I Get a Kick Out of You (2022) - Bree O'Brien
- It's Not for Me to Say (2022) - Bree O'Brien
- Straighten Up and Fly Right (2022) - Bree O'Brien
- L-O-V-E (2022) - Bree O'Brien
- That's All There Is to That (2022) - Bree O'Brien
- Night and Day (2022) - Bree O'Brien
- Memories Are Made of This (2022) - Bree O'Brien
- The Best is Yet to Come (2022) - Bree O'Brien
- That Old Feeling (2021) - Bree O'Brien
- What a Difference a Day Makes (2021) - Bree O'Brien
- Where or When? (2021) - Bree O'Brien
- What's New? (2021) - Bree O'Brien
- Love Is Here to Stay (2021) - Bree O'Brien
- They Can't Take That Away from Me (2021) - Bree O'Brien
- Happy Trails (2021) - Bree O'Brien
- Are the Stars Out Tonight? (2021) - Bree O'Brien
- Nice Work If You Can Get It (2021) - Bree O'Brien
- A Kiss Is Still a Kiss (2021) - Bree O'Brien
- Watercolors, Wishes and Weddings (2019) - Bree O'Brien
- All The Time In The World (2019) - Bree O'Brien
- Breaking Hearts and Playing Parts (2019) - Bree O'Brien
- A Sonnet for Caroline (2019) - Bree O'Brien
- Leap of Faith (2019) - Bree O'Brien
- The End Is Where We Begin (2019) - Bree O'Brien
- Before a Following Sea (2018) - Bree O'Brien
- Forward to the Past (2018) - Bree O'Brien
- All Our Tomorrows (2018) - Bree O'Brien
- It's Just Business (2018) - Bree O'Brien
- Here and There (2018) - Bree O'Brien
- Love Eventually (2018) - Bree O'Brien
- Once Upon Ever After (2018) - Bree O'Brien
- The Rock Is Going to Roll (2018) - Bree O'Brien
- The Way We Were (2018) - Bree O'Brien
- An Open Book (2018) - Bree O'Brien
- Freefall (2017) - Bree O'Brien
- The Royal Court (2017) - Bree O'Brien
- Forest Through the Trees (2017) - Bree O'Brien
- All Our Yesterdays (2017) - Bree O'Brien
- Grand Openings (2017) - Bree O'Brien
- Buried Treasures (2017) - Bree O'Brien
- It's Always Nashville (2017) - Bree O'Brien
- Photographs and Memories (2017) - Bree O'Brien
- Pasts and Presents (2017) - Bree O'Brien
- Secrets, Lies, and School Supplies (2017) - Bree O'Brien
- Exes Mark the Spot (2016) - Bree O'Brien
- Deals Undone (2016) - Bree O'Brien
- Second Chances (2016) - Bree O'Brien
- Georgia on My Mind (2016) - Bree O'Brien
- We're Gaining a Daughter (2016) - Bree O'Brien
- We're Not Losing a Son- (2016) - Bree O'Brien
- Home to Roost: Part 2 (2016) - Bree O'Brien
- Home to Roost: Part 1 (2016) - Bree O'Brien
- Pilot (2016) - Bree O'Brien
2022
Motherland: Fort Salem (TV Series)
as
Kara Brandt
- But I Don't Even Have a Dress- (2022) - Kara Brandt
- Book Club (2022) - Kara Brandt
- Happy Yule! (2022) - Kara Brandt
- Oh Elayne- (2022) - Kara Brandt
- The Price of Work (2022) - Kara Brandt
- Homo Cantus (2022) - Kara Brandt
2022
Brazen
as
Kathleen / Desiree
2021
Don't Forget I Love You (TV Movie)
as
Taylor Jones
2020
Nature of Love (TV Movie)
as
Katie Ryan
2019
Stalked by My Doctor: A Sleepwalker's Nightmare (TV Movie)
as
Michelle
2019
Winter Castle (TV Movie)
as
Jenny
2018
Christmas Bells Are Ringing (TV Movie)
as
Samantha
2018
Extracurricular
as
Hilda Randall
2017
With Love, Christmas (TV Movie)
as
Melanie Welch
2017
Signed, Sealed, Delivered: Home Again (TV Movie)
as
Dale Travers
2017
Sleepwalking in Suburbia (TV Movie)
as
Michelle Miller
2016
Hearts of Christmas (TV Movie)
as
Jenny Miller
2016
True Memoirs of an International Assassin
as
Stephanie
2016
Signed, Sealed, Delivered: Lost Without You (TV Movie)
as
Dale Travers
2016
Signed, Sealed, Delivered: One in a Million (TV Movie)
as
Dale
2016
Signed, Sealed, Delivered: From the Heart (TV Movie)
as
Dale
2015
Life on the Line
as
Becky
2015
Asteroid: Final Impact (TV Movie)
as
Maggie Thomas
2015
The Blackburn Asylum
as
Chelsea
2015
Immersion (Short)
as
Riley
2014
Package Deal (TV Series)
as
Chelsea
- Two Half Men (2014) - Chelsea
2014
Leprechaun: Origins
as
Catherine
2014
Signed, Sealed, Delivered (TV Series)
as
Present Day Marie Moore
- Soulmates (2014) - Present Day Marie Moore
2014
Death Do Us Part
as
Emily Hawkins
2012
Arctic Air (TV Series)
as
Astrid Poulsen
- The Fall PT.2 (2014) - Astrid Poulsen
- The Fall PT.1 (2014) - Astrid Poulsen
- Last Drop (2014) - Astrid Poulsen (credit only)
- Rites of Passage (2014) - Astrid Poulsen
- The Fugitive (2014) - Astrid Poulsen
- Flying Solo (2014) - Astrid Poulsen
- On the Edge (2014) - Astrid Poulsen
- The Devils You Know (2014) - Astrid Poulsen
- The Finish Line (2014) - Astrid Poulsen
- The Fling (2014) - Astrid Poulsen (credit only)
- High Water (2014) - Astrid Poulsen
- The River (2014) - Astrid Poulsen
- Ts'inada (2013) - Astrid Poulsen
- Fool Me Once (2013) - Astrid Poulsen
- Blood Is Thicker Than Water (2013) - Astrid Poulsen
- Skeletons in the Closet (2013) - Astrid Poulsen
- Hell Hath No Fury (2013) - Astrid Poulsen
- Secrets & Lies (2013) - Astrid Poulsen
- There's Gold in Them Thar Hills (2013) - Astrid Poulsen
- Dangerous Cargo (2013) - Astrid Poulsen
- Old Wounds (2013) - Astrid Poulsen
- Stormy Weather (2013) - Astrid Poulsen
- Open Season (2013) - Astrid Poulsen
- Bombs Away (2013) - Astrid Poulsen
- Wildfire (2013) - Astrid Poulsen
- Drop in for Lunch (2012) - Astrid Poulsen
- New North (2012) - Astrid Poulsen
- Vancouver Is Such a Screwed Up City (2012) - Astrid Poulsen
- All the Vital Things (2012) - Astrid Poulsen
- Hijacked (2012) - Astrid Poulsen
- All In (2012) - Astrid Poulsen
2014
Almost Human (TV Series)
as
Sarah Courtney
- Beholder (2014) - Sarah Courtney
2013
Fatal Performance (TV Movie)
as
Leesa Thomas
2012
Unexpected Guest (Short)
as
Sam
2011
True Justice (TV Series)
as
Anna Zemenko / Angelina
- The Shot (2012) - Anna Zemenko
- Fired (2012) - Anna Zemenko
- The Cut-Out Man (2012) - Anna Zemenko
- Dead Drop (2012) - Anna Zemenko
- Dirty Money (2012) - Anna Zemenko (uncredited)
- Black Magic (2011) - Angelina
2012
The Music Teacher (TV Movie)
as
Dee Dee
2012
The Philadelphia Experiment (TV Movie)
as
Molly Gardner
2012
Witchslayer Gretl (TV Movie)
as
Ehren
2012
A Little Bit Zombie
as
Penelope Pendleton
2012
This Means War
as
Ex-Girlfriend (uncredited)
2011
The House
as
Liz Carrington
2011
Supernatural (TV Series)
as
Mia
- Defending Your Life (2011) - Mia
2011
Mr. Young (TV Series)
as
Sidney Finkelbaum
- Mr. Younger Man (2011) - Sidney Finkelbaum
2011
Complexity
as
Clara Belmont
2010
Concrete Canyons (TV Movie)
as
Maggie
2009
Riese (TV Mini Series)
as
Aliza
- Retribution (2010) - Aliza
- Prey (2010) - Aliza
- Spares (2009) - Aliza
- Fragments (2009) - Aliza
- Bind (2009) - Aliza
2008
Sanctuary (TV Series)
as
Ashley Magnus
- Kali: Part II (2010) - Ashley Magnus (uncredited)
- Kali: Part I (2010) - Ashley Magnus (uncredited)
- Haunted (2010) - Ashley Magnus (uncredited)
- Sleepers (2009) - Ashley Magnus (uncredited)
- Eulogy (2009) - Ashley Magnus
- End of Nights: Part 2 (2009) - Ashley Magnus
- End of Nights: Part 1 (2009) - Ashley Magnus
- Revelations, Part 2 (2009) - Ashley Magnus
- Revelations, Part 1 (2008) - Ashley Magnus
- Instinct (2008) - Ashley Magnus
- Warriors (2008) - Ashley Magnus
- Requiem (2008) - Ashley Magnus (credit only)
- Edward (2008) - Ashley Magnus
- The Five (2008) - Ashley Magnus
- Nubbins (2008) - Ashley Magnus
- Kush (2008) - Ashley Magnus
- Folding Man (2008) - Ashley Magnus
- Fata Morgana (2008) - Ashley Magnus
- Sanctuary for All: Part 2 (2008) - Ashley Magnus
- Sanctuary for All: Part 1 (2008) - Ashley Magnus
2009
Smallville (TV Series)
as
Catherine Grant
- Crossfire (2009) - Catherine Grant
2008
JPod (TV Series)
as
Kaitlin Joyce
- Colony Collapse Disorder (2008) - Kaitlin Joyce
- Senseless Prom Death (2008) - Kaitlin Joyce
- The Hero's Journey (2008) - Kaitlin Joyce
- Fine China (2008) - Kaitlin Joyce
- The Last Shot (2008) - Kaitlin Joyce
- Sprite Quest (2008) - Kaitlin Joyce
- Crappy Birthday to You (2008) - Kaitlin Joyce
- A Fine Bro-Mance (2008) - Kaitlin Joyce
- Steve Leaves (2008) - Kaitlin Joyce
- The Betty and Veronica Syndrome (2008) - Kaitlin Joyce
- I Love Turtles (2008) - Kaitlin Joyce
- Feed the Need (2008) - Kaitlin Joyce
- Emo-tion Capture (2008) - Kaitlin Joyce
2007
Sanctuary (TV Mini Series)
as
Ashley Magnus
- Episode #1.8 (2007) - Ashley Magnus
- Episode #1.7 (2007) - Ashley Magnus
- Episode #1.6 (2007) - Ashley Magnus
- Episode #1.5 (2007) - Ashley Magnus
- Episode #1.4 (2007) - Ashley Magnus
- Episode #1.3 (2007) - Ashley Magnus
- Episode #1.2 (2007) - Ashley Magnus
- Episode #1.1 (2007) - Ashley Magnus
2007
Secrets of an Undercover Wife (TV Movie)
as
Receptionist
2007
Blood Ties (TV Series)
as
Sandra
- Blood Price: Part Two (2007) - Sandra (credit only)
- Blood Price (2007) - Sandra
2006
Battlestar Galactica (TV Series)
as
Julia
- Torn (2006) - Julia
- Exodus: Part 2 (2006) - Julia
Thanks
2014
Death Do Us Part (special thanks)
2013
A Ghost Within (Short) (special thanks)
2010
Empty Spaces (Short) (the filmmakers wish to extend their personal thanks to: for their contribution to the making of this movie)
Self
2016
Home & Family (TV Series)
as
Self
- Emilie Ullerup/Jordan Smith (2018) - Self
- Emilie Ullerup & Aaron O'Connell/Jennie Garth/Judy Joo (2017) - Self
- Brooke Burns/Bruce Boxleitner/Emilie Ullerup/Lonnie Chavis (2017) - Self
- Emilie Ullerup/Mary Beth Evans, Ron Moss, Matt Ashford & Jaclyn Zelman/Alison Sweeney (2016) - Self
2013
The 15th Annual Leo Awards (TV Special)
as
Self - Presenter
2012
The 14th Annual Leo Awards (TV Special)
as
Self - Presenter
2009
The 11th Annual Leo Awards (TV Special)
as
Self - Presenter
2008
Séries express (TV Series)
as
Self
- Episode #2.5 (2008) - Self
2008
The 10th Annual Leo Awards (TV Special)
as
Self - Winner: Best Lead Performance by a Female in a Dramatic Series
Archive Footage
2011
Sanctuary (TV Series)
as
Ashley Magnus
- Chimera (2011) - Ashley Magnus
References
Emilie Ullerup Wikipedia
(Text) CC BY-SA