Emilie Loring





Novelist






March 13, 1951, Wellesley, Massachusetts, United States




Emily Frances Bowles, George Melville Baker




The Trail of Conflict, Keepers of the faith, The Solitary Horseman, Behind the Cloud, For all your life
Emilie Baker Loring (September 5, 1866 – March 13, 1951) was an American romance novelist of the 20th century. She began writing in 1914 at the age of 50 and continued until her death after a long illness in 1951. After her death, her estate was managed by her sons, Selden M. and Robert M. Loring, who, based on a wealth of unfinished material they discovered, published twenty more books under her name until 1972. These books were ghost-written by Elinore Denniston.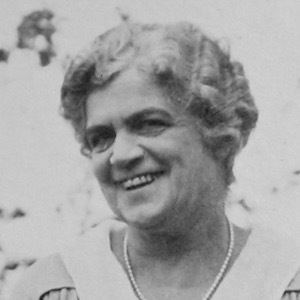 Emilie Loring was born in Boston, Massachusetts in 1866 to George M. Baker and Emily Frances (Boles) Baker. Her father was a playwright and publisher and her mother was a homemaker. Loring married Victor J. Loring, who was a lawyer. She died in Wellesley, Massachusetts on March 13, 1951. At the time of her death, Loring had sold more than a million copies of her first thirty books.
Loring's sister, Rachel Baker Gale, wrote a number of suffrage parlor plays.
Loring's son, Selden M. Loring was also an author. He wrote Young Buckskin Spy (Lantern Press, 1954) and Mighty Magic: An Almost-True Story of Pirates and Indians (Holliday House, 1964).
The papers of Emilie Loring are housed in the Department of Special Collections, Boston University, Mugar Memorial Library.
Loring's books are highly formulaic and focus on the "wholesome love" and independent spirit of women who still value homemaking and motherhood. There are no sexual situations in her novels, and most are tinged with action-adventure plots that stimulate the main characters' emotions and provide drama. It was not until the 1960s that her male characters were allowed to say "damn." The majority of her novels are not overtly religious, although a few of her novels do give reference to prayer to a greater or lesser degree, or have clergy as secondary characters, such as Gay Courage, published in 1936. Her novel Swift Water outlines her religious views most explicitly, as her main character undergoes a conversion of sorts. Most of her novels include heroines who come to rely on a higher power as part of their character development. Beyond romance, her books also explore a selection of topics including, but not limited to marriage, love, American patriotism, freedom, and optimism.
She enjoyed painting pictures with her words, often describing the environment, architecture, dress, and physical features of characters in exacting detail. Like time capsules, a great deal can be learned about the dress, etiquette, social classes, and political and economic conditions of the year each book was written in.
Her work features several repeating motifs. Among them are a girl who is twenty-three with red hair, a dark-haired lawyer or aspiring politician for a hero, a secondary character predisposed toward speaking in quotations, a fan back chair, a Mandarin coat, a Chinese lacquer screen (room divider), New England as a setting or character trait ("New England granite"), and a black-and-white spotted dog. She also favored the surname "Shaw", which was the maiden name of Herman Melville's wife, who was the daughter of noted Massachusetts jurist Lemuel Shaw. The middle name of both her sons is Melville. Given what is known of her life, such as her connections to New England, the name "Shaw", and a predilection toward lawyers, it is possible that these recurring details are somewhat autobiographical.
Often-used plot devices in her novels include a lost will, a ward coming of age, an orphaned character, a sickly sister, a marriage of convenience or contract, and a clandestine marriage.
Emilie Loring often re-uses favorite phrases including "gay courage," "try, everlastingly try," and "ideas and ideals." Her book Beyond the Sound of Guns (1945) is referenced nine times in America's Popular Sayings: Over 1600 Expressions on Topics from Beauty to Money and Everything In Between by Gregory Titelman, citing phrases that turn out to be quotes or paraphrases from someone else.
1939 Across the Years (Little, Brown)
1937 As Long As I Live (Penn)
1947 Beckoning Trails (Little, Brown)
1958 Behind the Cloud (Little, Brown)
1945 Beyond the Sound of Guns (Little, Brown)
1946 Bright Skies (Little, Brown)
1964 A Candle in Her Heart (Little, Brown)
1925 A Certain Crossroad (Penn)
1931 Fair Tomorrow (Penn)
1963 Follow Your Heart (Little, Brown)
1952 For All Your Life (Little, Brown)
1965 Forever and a Day (Little, Brown)
1971 Forsaking All Others (Little, Brown)
1928 Gay Courage (Penn)
1936 Give Me One Summer (Penn)
1924 Here Comes the Sun! (Penn)
1938 High of Heart (Little, Brown)
1933 Hilltops Clear (Penn)
1960 How Can the Heart Forget? (Little, Brown)
1948 I Hear Adventure Calling (Little, Brown)
1954 I Take This Man (Little, Brown)
1968 In Times Like These (Little, Brown)
1935 It's a Great World! (Penn)
1944 Keepers of the Faith (Little, Brown)
1967 A Key to Many Doors (Little, Brown)
1930 Lighted Windows (Penn)
1957 Look to the Stars (Little, Brown)
1949 Love Came Laughing By (Little, Brown)
1969 Love with Honor (Little, Brown)
1954 My Dearest Love (Little, Brown)
1970 No Time for Love (Little, Brown)
1942 Rainbow at Dusk (Little, Brown)
1955 The Shadow of Suspicion (Little, Brown)
1972 The Shining Years (Little, Brown)
1927 The Solitary Horseman (Penn)
1966 Spring Always Comes (Little, Brown)
1941 Stars in Your Eyes (Little, Brown)
1929 Swift Water (Penn)
1940 There Is Always Love (Little, Brown)
1962 Throw Wide the Door (Little, Brown)
1950 To Love and to Honor (Little, Brown)
1938 Today Is Yours (Little, Brown)
1922 The Trail of Conflict (Penn)
1932 Uncharted Seas (Penn)
1934 We Ride the Gale (Penn)
1956 What Then Is Love (Little, Brown)
1943 When Hearts are Light Again (Little, Brown)
1941 Where Beauty Dwells (Little, Brown)
1934 With Banners (Penn)
1955 With This Ring (Little, Brown)
"Box from Nixon's." Woman's Home Companion, vol. 48, p. 9-10, May 1921. For information on this periodical, see
"Glycerine tears." The Delineator, vol. 106, p. 8-9, March 1925.
Where's Peter? (Penn, 1928)
For the comfort of the family; a vacation experiment (George H. Doran Company, 1914)
The Mother in the Home (Pilgrim, 1917)
"Rush order for fancy dress." St. Nicholas Magazine, Vol. 41, p. 977, September 1914.
"Gossip; an endless chain." St. Nicholas Magazine, Vol. 42, p. 508-9, April 1915.
"The delicate art of being a mother-in-law." Woman's Home Companion, vol. 46, p. 100, June 1919.
Her earlier books, published from 1922 to 1937, were originally published in hardcover by William Penn & Company in Philadelphia. Her books from 1938 to 1950 were originally published by Little, Brown and Company, as were all of her posthumous works. All thirty of her novels written during her lifetime were reprinted by Grosset (now Grosset & Dunlap) in 1961. Later all of her works were reprinted in mass market paperback editions by the romance division of Bantam Books.
As late as 2005, Thorndike Press, an imprint of Thomson Gale, was reprinting select titles in large-print format, although their website did not show them in their 2007 catalog. Little, Brown and Company owns the copyright on books dated (1952?) to 1954. Emilie Loring's sons, Robert and Selden, are listed as "Child of the author" in searchable copyright renewal records.
Selden was listed first in the copyright information from 1955 to 1960 (or 1961?). From 1962 to 1971, Robert is listed first in the copyright information. In the 1972 novel The Shining Years, only Robert is listed as the copyright owner as the Executor of the Estate of Emilie Baker Loring.
Emilie Loring Wikipedia