Emerson Swinford, a native of Chicago, is a Los Angeles-based guitarist, composer/songwriter and producer. He is currently a guitarist in the Rod Stewart band. In 2016 he released a self titled album available on his website (HERE) and on iTunes. Also his guitar work can be heard on much of the 2015 album release by Stewart, called Another Country and 2013's Time, which went to number 1 on the UK Albums Chart and has reached Double Platinum sales status there. Time also went to number 7 on the US Billboard chart. On Another Country, Emerson also has bass, vocal and co-writing credits including "The Drinking Song." Along with writer/producer Kevin Savigar and Rod Stewart, Emerson co-wrote two songs on the Time album, "Finest Woman" and the title track "Time." Emerson's theme and under-score music composed for the hit comedy Hot in Cleveland won him a 2011, 2012 and 2014 ASCAP Film and Television Music Awards. He is also a composer for the TV Land network comedy series The Soul Man (TV series) and Retired at 35 and has had many TV and film song placements including MTV/"The Hills", " The Ghost Whisperer", and "The Tonight Show with Jay Leno." As a session guitarist, Emerson has recorded with a diverse roster of artists such as Jennifer Love Hewitt, Delerium, Rod Stewart, Paul Oakenfold, Liz Phair, Jim McGorman, P. J. Olsson, Fisher (band), Kimberley Locke, Natalie Cole, Kenny G and many others, as well as performing on the soundtracks for the movies Just Like Heaven, Planet of the Apes (2001) and "Power Rangers." His guitar work is also featured on several national TV commercial spots including "St. Ives" and "Coors Light." Emerson is a co-writer of the hit single "Barenaked" for actress and singer Jennifer Love Hewitt. He was the musical director and touring guitarist for Tony award-winning actress and singer Idina Menzel, famous for her roles in Disney's Frozen (2013 film), Broadway's Wicked, Rent and the TV show "Glee." Also see *"emersonswinford.com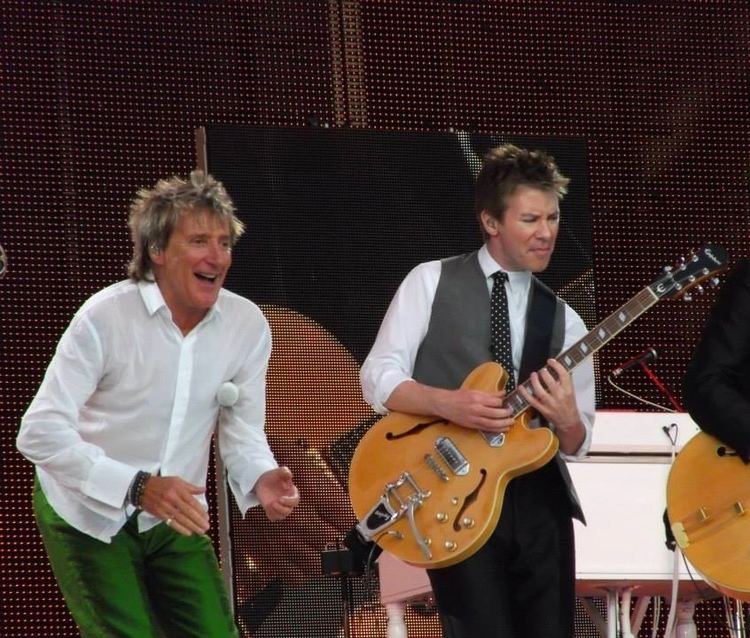 Main source for discography:
Graduated James B. Conant High School, Hoffman Estates, IL. 1986
Graduated Millikin University, Decatur IL. Bachelor of Music, 1990
Graduated University of Southern California, Master of Music, 1992
Links to guitars, amps, and other gear that Emerson uses and/or endorses
Merida Acoustic guitars. Great acoustic and nylon string guitars!
Nash Electric Guitars. Fantastic "vintage" sounding instruments with that worn in look and feel.
Thorn Custom Electric Guitars. A true craftsman, making custom guitars that are works of art!
Radial/Tonebone Massive array of audio products that are well designed and built like tanks!
Germino Amplification Hand-built amps by amp guru, Greg Germino. Been using these for years in the studio and on stage!
Valvetech Amplifiers Rob hand builds an amazing AC 30 style amp as well as his own designs. Great stuff! Also been a using these for many years in studio and on stage.
Seymour Duncan Pickups Legendary builder of pickups!
Tone King Amps The name says it all.
Barber Pedals Dave Barber makes some of the best pedals on the market at THE BEST prices! My favorite overdrive and distortion units are Barbers!
Strymon Pedals Genius delay and chorus pedals.