Full Name

Emek Golan




Role

Artist





Name

Emek Golan




Spouse(s)

Ronni Kobrin







Born

March 27, 1970Israel


Nationality

American (United States)


Known for

Posters, Art, Flyers, Painting, Rock concerts


Website

emek.net (gallery) emekstudios.com (store)




Education

California State University, Northridge




Notable works

Mirror Ball, Water on the Road, New Amerykah Part One (4th World War)


Movement

Printmaking, Punk rock, Politics
Emek mini documentary on pbs oregon art beat
Emek x is a designer, illustrator and fine art painter. Famously penned "The Thinking Man's Poster Artist" by punk- rock singer Henry Rollins while working on his album cover for A Rollins in the Wry, amongst other Rollins' album covers and gig poster commissions. Emeks' art has appeared in films, galleries, and walls of fans and venues worldwide. His prints are often signed and numbered where the limited quantity of the edition increases the rarity of the product. Emek's work is highly sought after by collectors of his work, as well, as fans of the performer(s). Emek regularly attends the annual "Hall of Flowers" (poster show) in San Francisco, California hosted by TRPS (The Rock Poster Society). The largest collection of Emek art and merchandise to browse and purchase is at The Peoples Art of Portland Gallery in Portland, Oregon's Pioneer Square Mall. As resident artist, Emek releases new and rare works to the gallery with frequency. New release gig posters, prints and merchandise are available for purchase through his online store at: https://www.emekstudios.com
Contents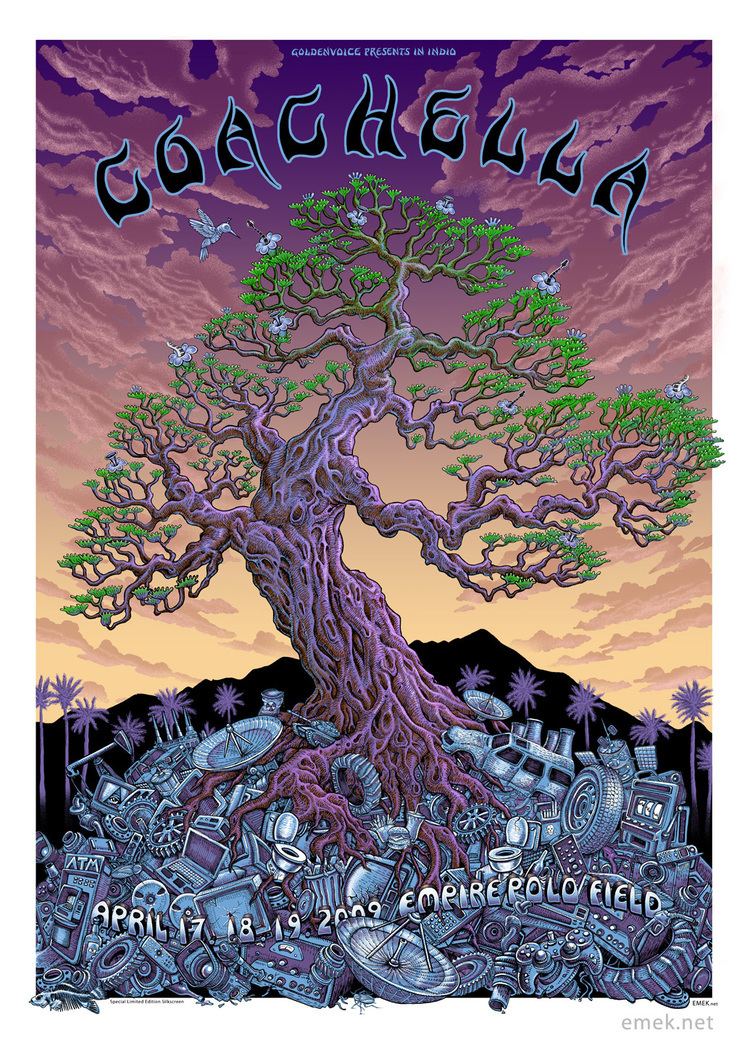 Career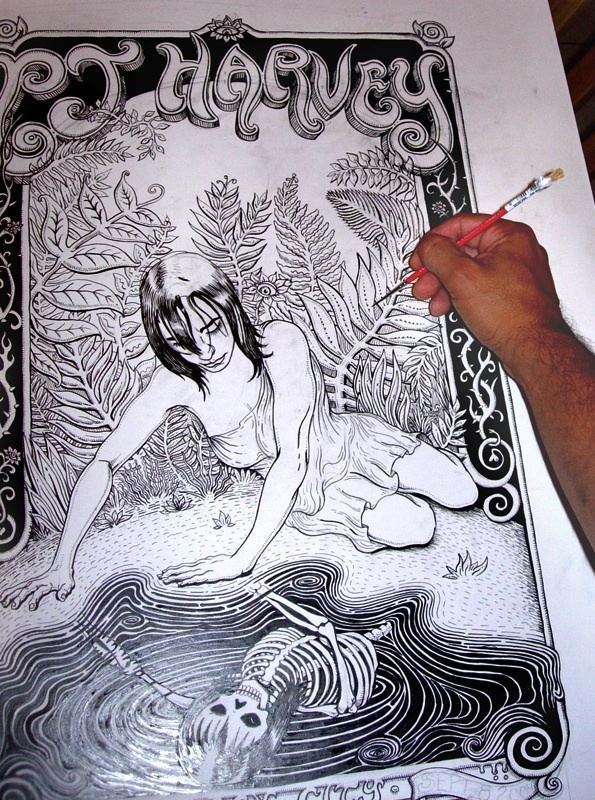 Emek's style, known for its attention to detail and layers of meaning, infuses socio-political commentary into pop culture imagery. All of Emek's artwork is originally hand-drawn and then hand-silkscreened for each actual concert or event, usually in limited editions of around 300. In recent years Emeks' file separations are digital, favoring the time saving method over the traditional hand- cut rubilith separations he would make to produce posters like The Black Crowes 2001 show at the Santa Barbara Bowl & Greek Theater. Over the last decade, Emek's work has been shown in galleries across the United States, in Berlin, London and Tokyo.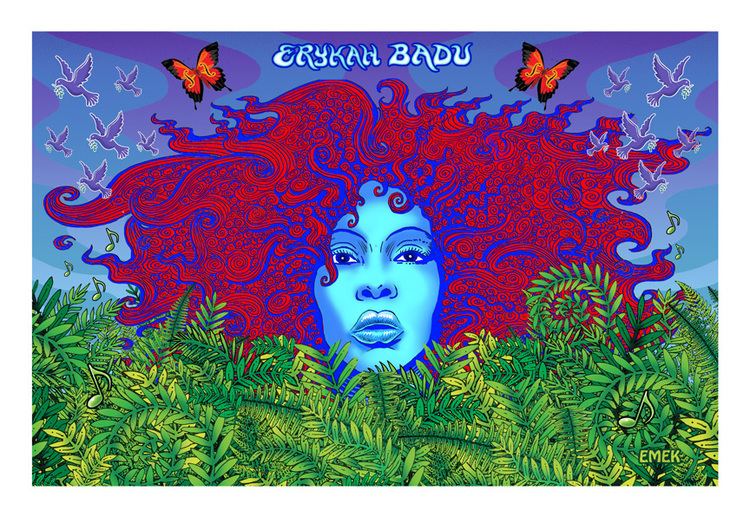 He has painted album covers for Neil Young and Pearl Jam as well as for many popular musicians and alternative bands, notably for singer/ songwriter Erykah Badu. Their creative partnership has developed several stunning works, like "New Amerykah" voted #12 of the Top 20 Album Covers of All Time. In 2008 Emek completed the art and packaging for Erykah Badu's album, New Amerykah. In addition to a gig poster for Badu's February 2, 2008 concert in Israel, he created album art for "Honey", which also featured in her video for the song "Honey". In similar fashion, the video for "Annihilation Blues"" by moe features Emek's artwork from the album cover for No Guts, No Glory, released May 27, 2014 by Sugar Hill Records.

In the Hall of Flowers, fans treat the mono-monikered artist like a rock star, snapping photos as he signs posters. Many had seen Emek's work on eBay, where some of his posters fetch hundreds of dollars, and know exactly what they want. They call them out: Radiohead. Death Cab for Cutie. Bright Eyes. The Pixies. Paul Simon.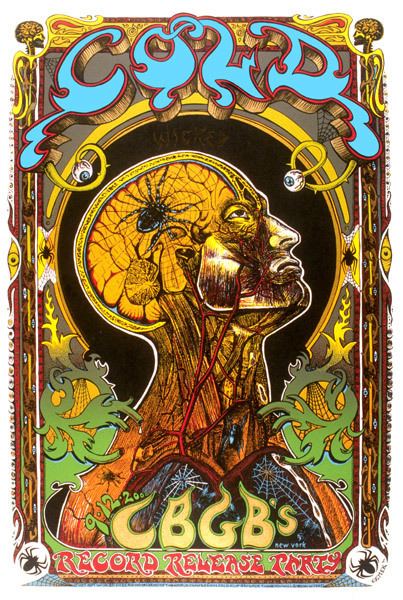 Emek's unique visual style has graced music posters on a diverse musical spectrum, from blues legend B.B. King to Queens of the Stone Age, Coachella Music & Arts Festival and most recently for astrophysicist Neil deGrasse Tyson. He was invited to exhibit at the opening of the Rock and Roll Hall of Fame and Museum "History of Rock Posters" exhibition in Cleveland, Ohio. The museum cites Emek as an "internationally recognized poster artist" and has a collection of 37 Emek posters for various concerts and festivals from 2004–2012 in its "Library and Archives".
Media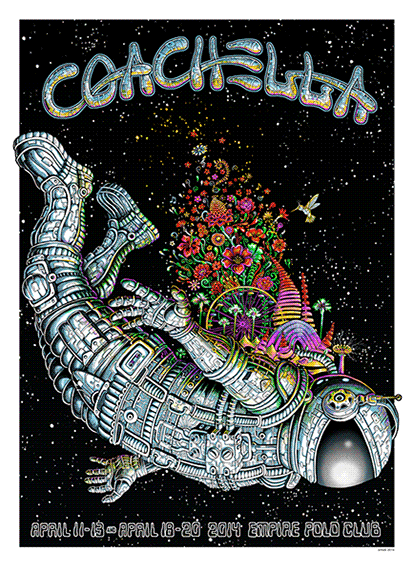 Emek's first major cover appearance was for Cal Mag in 1996 (now out of circulation) where the magazine introduced California to the artist with a three-page article. Since, his art has appeared in several other magazines including Juxtapoz, Pollstar, Rolling Stone, Wired (magazine), and High Times.
During the September 17, 2014 program of Jimmy Kimmel Live! the talk show host introduced Emeks' album cover art for "Top of the World" by Slightly Stoopid to his audience. Emek was interviewed for the televised programs Oregon Public Broadcasting, Last Call with Carson Daly, and CNN. Similarly his gig posters were used as set decorations on the syndicated shows New Girl, Justified and That '70s Show. Emek art also appears in scenes of blockbuster movies, such as, 22 Jump Street, Dude, Where's My Car, Small Soldiers, and Get Shorty Part Two with John Travolta.
He has illustrated several movie posters for Spike and Mike's Festival of Animation. Also for The Hangover and Reservoir Dogs "Mr. Blonde" 10th Anniversary poster.
Emek incorporates traditional styles, from Russian constructivism to Asian woodblock. But he is also known for melding the mechanical with the organic, part of a statement on technology, consumerism and conservation. Take the poster promoting a show for Ween and the Flaming Lips. A robot riding a robot horse, a green plant in his pouch, bows his head in the middle of a barren field of tree stumps. "At the end of the trail, tired old robots are the only ones left to mourn mankind's destruction of the planet," Emek explains. People get it. College professors use his political imagery in classes and textbooks.
Emek's art and socio commentary of his art appears in the Sixth Edition of "Rockin' In Time" by David P. Szatmary. "Rockin' in Time" is included in collegiate curriculum, attempts to be as impartial as possible and emphasizes several main themes, including the importance of African-American culture in the origins and development of rock music.
The YouTube channel Emek Studios showcases videos of interviews, contests, new release announcements offering the viewer a personalized narrative of the artist and his work.
Emek Collected Works of Aaarght
In November 2010, Emek released his first book, a 300-page retrospective of his career as a rock poster artist. The eponymous volume (published by Gingko Press) features hundreds of full-color posters and a glow in the dark hard cover. Gingko Press released a secondary collector's edition of "Emek Collected Works of Aaarght" with a laser cut alien hard cover. A book signing at Mr. Music Head Gallery in Los Angeles attracted a crowd of hundreds that stretched around the block for hours. In an article on the book before the event, Shelley Leopold of LA Weekly wrote, "Emek helped usher back the popularity of rock poster art and perhaps reminded us of its cultural importance right on the heels of iTunes and the impending disappearance of 'the album cover.'" "Emek: The Thinking Man's Poster Artist: Collected Works of AaarghT" is organized by theme, not chronologically or by musician. A gorgeous poster of a whale from a 1995 Phish concert is next to a rattlesnake turning into a guitar from a 2003 Neil Young concert and some "space amoebas" from a Stereolab show in the "Wild Kingdom" section, to take one of hundreds of examples. Categories include "The Personality," "The Machines," "Robots"—Emek is big on robots -- "In Human Form," "Politixxx" and several other oddly spelled and visually spectacular sections.
"It seemed most appropriate to the way I draw," Emek said. "Collectors don't necessarily ask me for something from a particular band; they might ask for a big robot."
Career Beginnings
His first poster commission was in 1992 for a unity rally and concert after the Rodney King verdict on Martin Luther King Day in Los Angeles. The poster was part of a grassroots effort and benefit to acknowledge the acquittal of the Rodney King verdict, and also bring healing to the riots that followed. The image—a scratchboard visage of Martin Luther King Jr. rising above a concert crowd—was stapled to the city's burnt-out buildings. It is speculated that no copies of this poster exist today.
Early on, he had difficulty getting record stores to sell leftover posters from a Pearl Jam show. The poster was only $12.50. Today, when the poster is auctioned on eBay, the same Pearl Jam poster sells for upwards of $1,500. Similarly, a gig poster made for the band Phish December 8, 1995 concert at Cleveland State has sold for $2,500, a large sum for a living gig poster artist.
Emek's poster-making career accelerated in the late 1990s with art for alternative rock acts from Europe and North America, including Pearl Jam, Radiohead, Queens of the Stone Age, Tool, and Marilyn Manson. Some earlier works were painted acrylic art on canvas from which limited edition litho posters were made. One such example is the 1998 litho for the Beastie Boys Portland Rose Garden (2 August) and Oakland Coliseum (13, 14 September 1998) shows.
Personal life
Emek was born on a kibbutz in Israel to artists Lynda (Jikai) Golan and Yuval Golan. There was no TV in the home, just a radio and a well-equipped art studio. As a youth his family moved to the Los Angeles, California area, where Emek's father worked as a muralist/ kinetic sculptor and caretaker of a property owned by a Universalist Unitarian Church, his mother a psychologist/ fine art painter, respectively. After relocating to America, his brother Gan Golan, The New York Times Best Seller list book writer/ illustrator of The Adventures of Unemployed Man and Goodnight Bush and sister Yasmin, a culinary artist/ illustrator were born. His parents remained active in political causes from social justice and the peace movements to environmentalism. All together Emek was raised within a family of five artists. Emek continues familial traditions, marrying an art teacher/ sculptor and raising their two children with similar artistic influence.
Influences
Emek has cited Rick Griffin, R. Crumb as inspiration to his work.
Philanthropy
Emek created a poster to promote the Music for Relief "Tsunami Benefit Gig" on February 18, 2005 at Arrowhead Pond in Anaheim, CA, USA. His poster, along with performances by No Doubt, Linkin Park, Jay-Z, Ozzy Osbourne, Blink-182, Rob Zombie, The Crystal Method and Jurassic 5 helped to raise over one million dollars for UNICEF and Habitat for Humanity. Music for Relief's Brad Delson thanked Emek for his contribution, stating that the money raised would be used to fund "vital projects in South Asia, as part of the long-term effort to rebuild those areas" affected by the December 2004 disaster.
Following the Tuesday, 12 January 2010 Haiti earthquake, Emek released a limited-edition, 7-color silkscreen print with hand-illustrated type that simply reads, "Haiti". All profits, totaling $24,000, from the poster sale were donated equally to Partners in Health, Mercy Corps and Doctors Without Borders for the Haiti Earthquake Relief on February 3, 2010.
At 12pm PST May 23, 2013 Pangea Seed released the fourth print release of the 2013 print-suite "Sea of Change: The Year of Living Dangerously". Emek's edition titled "There Is Only One", a 5-color silk screen print with [metallic and glow-in-the-dark] inks, was printed on both special blue paper and glitter foil paper. The combined sales of the art prints with variant edition raised almost $10,000 toward the conservation, awareness and education of the Whale Shark (the subject of his art).
Emek donated artwork and posters for the Saturday, 24 August 2013 "Third Annual Rock and Roll Carnival" benefiting Musack, a 501(c)3 charity that provides musical instruments, scholarships and cultural exchanges for children. He also made a special limited-edition silkscreen poster for The Rock Poster Society (TRPS). The poster raised $15,000 towards TRPS Artist Relief Trust. The organization uses the fund to assist poster artists who may be going through a rough patch in their lives.
Accolades
An infographic map of the United States released from eBay on December 16, 2014 named Emek as Oregon's most-searched artist. In order to make the map, "we used the top 50 most searched artists on eBay, compared with industry trends and search engine data to determine which artists were the most searched in each state," the company says.
December 2007 Billboard named the top 25 rock posters of all time. Emek garnered three spots on the list #4 Coachella Valley Music and Arts Festival April 27–29, 2007 Empire Polo Field, Indio, California #19 Paul Simon October 7, 2006 Santa Barbara Bowl, Santa Barbara, California and #23 Ben Harper May 26–28, 2006 Sasquatch Music Festival, The Gorge Amphitheatre, George, Washington, the most nods to any single artist.
Again, his work was widely celebrated February 7, when Emek's 2007 posters for the Coachella and 10,000 Lakes festivals won 1st and 3rd place, respectively, for the annual Pollstar poll of the years' best rock posters. It was the third year in a row that Emek swept the awards.
Pollstar Awards 2015 Poster(s) of the Year: First Place, Electronic Daisy Carnival, Las Vegas - Second Place, Jane's Addiction, McMenamins Crystal Ballroom, Portland, OR - 3rd Place ALT-J, Santa Barbara Bowl. 2014: Second place– Coachella Music and Arts Festival poster. 2013: First place Poster of the Year – Radiohead at Santa Barbara Bowl. Submitted by Nederlander Concerts. 2011: First place Poster of the Year– Coachella Music and Arts Festival poster submitted by Goldenvoice. Second place– Van Morrison Live at the Santa Barbara Bowl submitted by Nederlander. 2009: Second place – Sigur Ros at Red Rock Amphitheatre. 2008: First place Poster of the Year– Coachella Music and Arts Festival. Third place – 10,000 Lakes Festival. 2007: First place Poster of the Year– 'House of Blues Concerts' for their submission of Emeks' Ben Harper at the Sasquatch Music Festival. Third place – 'Nederlander Presents' for Emeks' Paul Simon at the Santa Barbara Bowl. 2006: First place Poster of the Year was awarded to 'Nederlander Presents' for their submission of Emeks' Velvet Revolver at the Santa Barbara Bowl. 'House of Blues Concerts' was awarded second place for Emeks' Pixies at Sasquatch! Music Festival. 'Nederlander Presents' The Mars Volta at The Greek Theatre took third place honors. Please note: In a first for the [Pollstar] Poster Contest [2005], all three award-winning posters were created by one designer – Emek, "The Thinking Man's Poster Artist." 2005: First place – and a full-page, four-color advertisement in Pollstar magazine – was awarded to 'Nederlander of California' for their submission of Emeks'Pixies at the Santa Barbara Bowl. 2004: Third – Queens of the Stone Age was submitted by 'Nederlander Concerts'.
Expresso Beans Awards: 2015: 1st Place Poster of the Year Grateful Dead Chicago 15 EMEK. 1st Place Primus Morrison Art of the Week 05/20/15. 2014: 2nd Place Poster of the Year and Art of the Week 09/03/14 Nine Inch Nails and Soundgarden – Seattle, Washington and Portland, Oregon; 1st Place, Coachella Indio; 1st Place, QOTSA San Francisco Gan/ Emek. 2013: Show, for Pearl Jam Portland; 1st QOTSA Brooklyn; Show, for Pearl Jam Chicago. 2012: 1st Primus Orlando. 2011: 1st Widespread Panic Chicago. 2010: Show, for Pearl Jam Kansas City. 2007: 1st Coachella; 1st 10,000 Lakes Festival. 2006: 1st Pearl Jam Santa Barbara; 1st Paul Simon Santa Barbara; Grey Sky- Ben Harper Sasquatch!; 1st Nick Cave Manchester; Grey, for Tool Denver; OG Sketch – Gravetown, Nick Cave Manchester. 2005: Velvet Revolver Santa Barbara. 2004: 1st Pixies Santa Barbara. 2003: 1st Built to Spill Englewood Colorado; 1st Unnatural Resources 1 (The Wave); 1st Endangered Bees; 1st White Stripes. 1999: Poster, for NIN Berlin. 1996: 1st Pearl Jam Charlotte; 1st Rage Against the Machine Mesa Arizona. 1995: 1st Phish Cleveland.
References
Emek Wikipedia
(Text) CC BY-SA